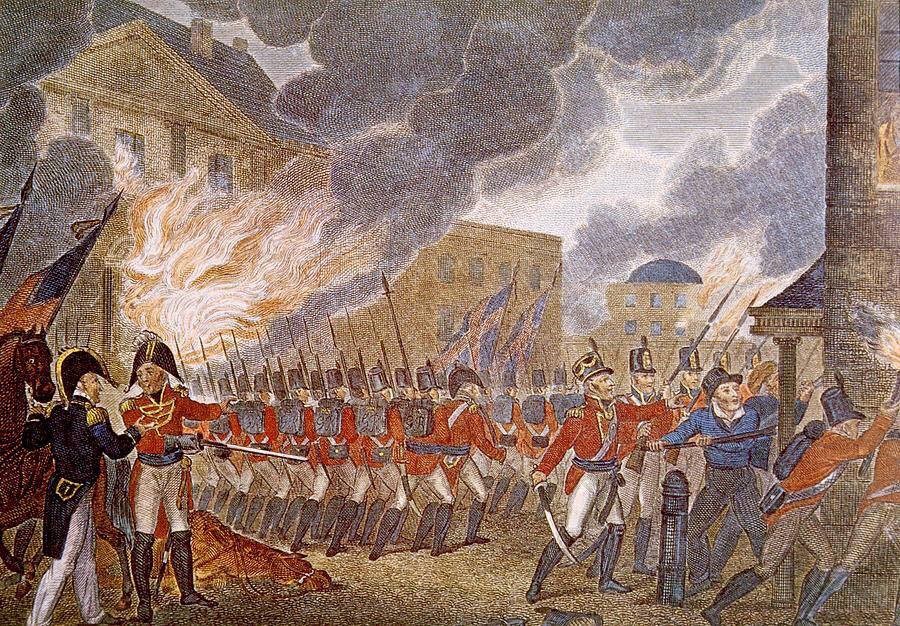 On August 24, 1814, British forces marched into Washington, DC following their victory at
Bladensburg
. It was just before sunset. An advance party, personally commanded by Major General
Robert Ross
, moved down Maryland Avenue and onto Capitol Hill. As they approached the stately Sewall House (today
Belmont-Paul Women's Equality National Monument
), a cry went up from inside.
"Here come the English buggers!"
Shots were fired and two corporals from the 21st Regiment of Foot, John Anderson and James Donaldson, were immediately killed. Several others were wounded. General Ross' horse is also killed; it was the second one shot out from under him that day.
Michael Shiner, a 9-year-old enslaved boy, who watched the entire incident, recorded that the Sewall House was surrounded "in a twinkle of the eye." Most of the assailants escaped except for three. They were American sailors, some of Commodore Joshua Barney's flotillamen who had fallen back from Bladensburg and laid a trap from inside the vacant building.
Sewall House was destroyed in retaliation. According to Shiner, the British "put a slow match to the house and then stood a certain distance...firing those Congreve rockets." He added that the explosions "made the rafters fly East and West." General Ross and his men then
moved on to the US Capitol
.