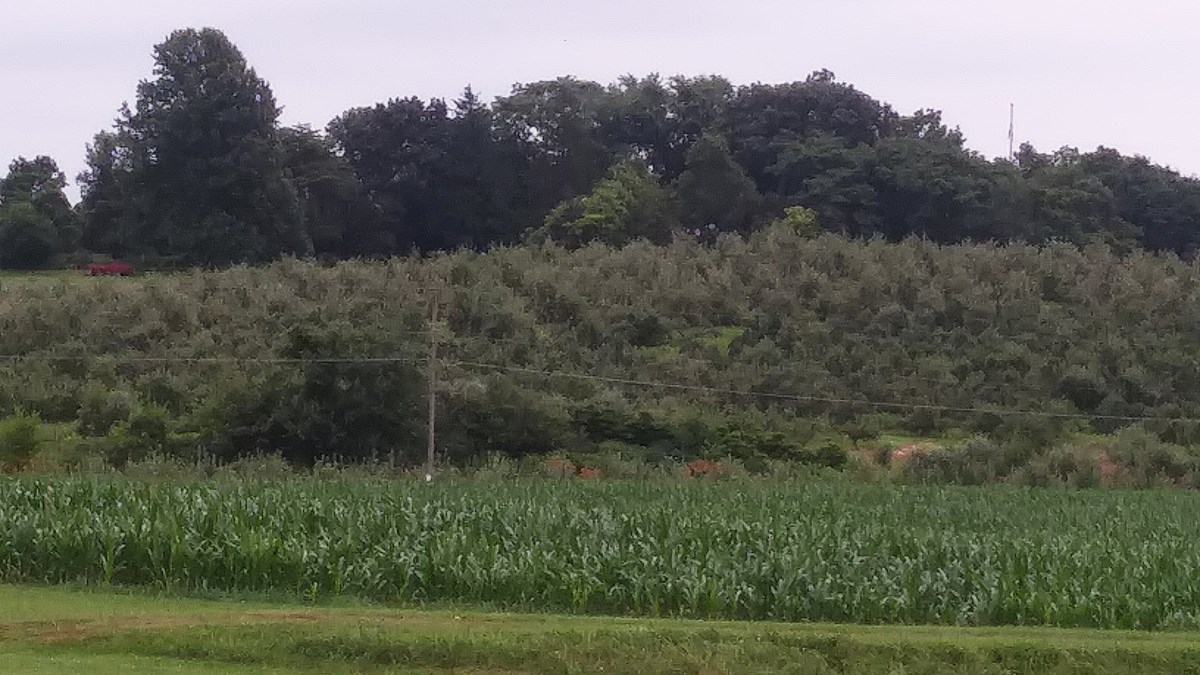 "They sent the shot after me, but I would not halt…My clothes were pierced with bullets, but my skin was not cut. I did not want to serve my time in a Confederate prison,"

Pvt. Lorenzo Barnhart, 110th Ohio
Following their decisive flank attack and victory at Chancellorsville, Confederate General Robert E. Lee and his Army of Northern Virginia soldiers were confident they could defeat any United States Army force. Lee soon decided he would again take the Civil War out of Virginia by crossing the Potomac River to invade the North, threatening both Philadelphia and Washington, D.C.
Second Winchester Battlefield
Second Winchester Battlefield is within historic Old Town Winchester as well as west of the city, preserved in part by Shenandoah Valley Battlefields Foundation (SVBF). Visit Second Winchester Battlefield »
Lee's Army Marches North
There were several reasons for such a bold move. Lee wanted to provide relief to the citizens, towns, and farms of war-ravaged northern Virginia. He felt his army was close to its peak as a fighting force while his main opposition, the US Army of the Potomac, was at a low point and poorly led. 
Lee wanted to strike fear in northern hearts and fight a decisive battle on northern soil. Although very slim, there was also still a chance that Britain or France, with another great Confederate victory, would recognize the Confederacy and send troops and resources to support Lee's army.
Despite the great victory at Chancellorsville, Lee had lost his most dependable subordinate, Lt. Gen. Thomas J. "Stonewall" Jackson, to gunfire from his own men. Feeling forced to realign his army to make it more flexible, Lee created three corps from the original two. He left Lt. Gen. James Longstreet in command of the First Corps, but put Lt. Gen. Richard S. "Dick" Ewell in command of Jackson's Second Corps. The new Third Corps was awarded to Maj. Gen. A. P. Hill. 
By June 7, 1863, Lee had consolidated most of his army of roughly 70,000 men near Culpeper, Virginia, with the intent to invade north of the Potomac. On June 9, however, the plans took a temporary setback when Federal cavalry attacked at nearby Brandy Station. The raid was driven off by Confederate cavalry under Maj. Gen. J.E.B. Stuart and some infantry, but the Federal horsemen proved they were now equal, or close, to the legendary Confederate riders. 
On June 10, Ewell's corps left for the Shenandoah Valley with two objectives: first, head north toward invasion using the Blue Ridge Mountains as a screen, and second, wipe out the division of 8,000 or so Federals occupying the key crossroads town of Winchester, Virginia, under Maj. Gen. Robert Milroy. While Ewell accomplished this, Lee and most of the rest of the Army of Northern Virginia would advance north through the Valley and cross the Potomac following Ewell. Stuart's cavalry would provide a screen east of the Blue Ridge.   
The next day, June 11, cavalry brigades under Brig. Generals Albert Jenkins and John Imboden led Ewell's corps northwest, and on June 12, the entire corps of nearly 20,000 men entered the Shenandoah Valley near Front Royal. The division under Maj. Gen. Robert Rodes headed north to seize Berryville, Virginia, before marching on to secure Potomac River crossing sites. Ewell, with the other two divisions under Maj. Generals Jubal Early and Edward "Allegheny" Johnson continued north to attack Winchester. 
Despite rumors and reports of Confederate activity throughout northern Virginia, US Gen. Milroy at Winchester and other leaders were skeptical and puzzled by the Confederate maneuvers. Some of Milroy's own scouts predicted a Confederate attack as early as June 10, but Milroy shrugged it off. 
Rather than heed the reports and recommendations to evacuate, Milroy decided to dig in and hold his ground in pro-Confederate Winchester. His position was strong with several earthen forts covering the town's approaches. Milroy was apparently unaware that Ewell and his two divisions under Early and Johnson outnumbered his Federals by almost two to one, about 14,000 Confederates versus approximately 8,000 Union defenders. 
The forts anchoring Milroy's defense had been built by Confederates early in the war and improved by both sides during the various occupations of Winchester. Over the previous six months, Milroy had overseen substantial improvements in all the earthen forts, particularly the largest site, Star Fort, which covered the main approach from the north, the Martinsburg Pike. 
Star Fort and two other major forts, West Fort and Fort Milroy, were each buttressed by a battery (six guns) of artillery. Several other gun emplacements around Winchester had two or four cannons. Although strong, these positions were separated enough that an enemy could isolate and destroy them, one by one. 
On June 12, lead cavalry elements of Ewell's force skirmished with Federal troops near Middletown, Virginia, only twelve miles south of Winchester. This action woke Milroy up and forced him to send a detachment of infantry under Brig. Gen. Washington Elliott and an artillery section (two guns) to occupy Pritchard's Hill, high ground two miles south of Winchester overlooking the Valley Turnpike. 
Around 3 a.m. on June 13, Ewell quietly woke his army to close in on Winchester from the south, Jubal Early's division along the Valley Turnpike, and Edward Johnson's division along the Front Royal Pike. Despite encountering light resistance from Federal pickets, cavalry, and artillery fire, Johnson's division marched north and east of Winchester, closing off potential Union escape routes. 
Meanwhile, Early's division continued north on the Valley Pike where lead elements of Marylanders met fire from the Federal infantry and artillery on Pritchard's Hill. Wanting to clear this strong enemy position before marching on, Early sent a brigade of Louisiana Tigers under Brig. Gen. Harry Hays a mile west to curl back to the northeast and flank the Federals. He also sent a brigade under Brig. Gen. John Brown Gordon even further out the left flank, also to turn northeast toward Winchester. 
These flanking attacks eventually forced Federal Gen. Elliott's two infantry regiments, two cannons, and the 12th West Virginia Infantry Regiment to pull back two miles to high ground on Winchester's southern edge known as Bowers Hill and Milltown Heights. 
Early's troops pursued until being stopped by blistering Federal artillery fire from Bowers Hill and Milltown Heights. Gen. Elliott followed with a vicious infantry counterattack that locked the Confederates in place for the night but left the enemy in control of all roads south and southeast of Winchester. 
While Gen. Ewell called off any further attacks and considered his options for the next day, Federal commander Gen. Milroy realized he was in a tough spot. Outnumbered and surrounded, with his telegraph lines cut, he pulled his various units closer to Winchester and the earthen forts.   
The following morning, Sunday, June 14, Ewell probed the Federal lines in the Bowers Hill area. Despite some brisk skirmishing, the Confederates easily seized the high ground. The Federals had abandoned it, taking with them their battery of 3-inch Ordnance Rifles. Confederate Gen. John B. Gordon occupied the area and brought in a battery of 10-pound Parrott cannons to strike the Federal forts.  
Meeting with Jubal Early, Gen. Ewell decided to assault West Fort, northwest of Winchester, to acquire more high ground. Leaving Gordon's brigade and plenty of artillery to secure the Bowers Hill area, Ewell sent the rest of Early's division and about 20 cannons on a long, looping, 10-mile flank march west of Winchester. 
Arriving at a position just west of West Fort around 5:00 p.m., Early deployed his artillery of 12-pound Napoleons, 3-inch Ordnance Rifles, and 10-pound Parrotts on nearby ridges and opened a barrage lasting nearly an hour. By about 7:00 p.m., Early sensed it was time for an infantry assault to capture West Fort. 
Ordered to attack with his brigade, Gen. Harry Hays of the Louisiana Tigers claimed, "the order to charge was given, and so rapidly did this brigade push forward that the enemy had time to give us but a few volleys of musketry and only four or five rounds of canister from their field pieces before the position was reached and carried." 
After a brief, ferocious fight, the Federal defenders, some armed with lever-action Henry Rifles, retreated less than a mile east to Fort Milroy, also called the Main Fort. Back inside West Fort, victorious Confederates seized a battery of 3-inch Ordnance Rifles and plundered abandoned Federal food and equipment. 
Early's artillery barrage stunned Federal commander Milroy. Thinking the main threat was from the south, he had earlier sent Gen. Elliott and three infantry regiments to the Bowers Hill area to clear out Gordon's Confederates. Now, with the new threat from the west, Milroy withdrew Elliott and other units back toward Fort Milroy. 
As darkness approached, a furious exchange of cannon fire commenced between the Confederate artillery near West Fort and Bowers Hill, and the Federal artillery in Star Fort and Fort Milroy. Captain Frederick Alexander, artillery commander inside Star Fort, kept up a hot fire against the Confederates with his 3-inch Ordnance Rifles, pinning the enemy in place below the fort until after dark.
One Federal artillerist remarked, "we had to work our guns on our knees, the shell killing our horses and wounding our men." Around 9:00 p.m., the guns fell silent and Confederate infantry attacked Fort Milroy, but the Federals fought fiercely, and the brief attack was repulsed. 
While all this action to the north, south and west of Winchester raged, Confederate maneuvers to the east threatened Federal escape routes. Edward "Allegheny" Johnson's division had fended off Federal patrols through the day and by late evening was closing in on the Martinsburg Pike northeast of Winchester. Since the Pike was the last significant lifeline left if Milroy decided to evacuate, Ewell sent Johnson north to block it. 
Further east was more trouble for the Federals as the Confederate division under Gen. Robert Rodes had earlier cleared a small Federal force out of Berryville, Virginia, and was on its way to capture Martinsburg.
Knowing his force was in a bad situation, but not totally surrounded, Milroy held a council of war with his senior officers around 9:00 p.m. and decided to abandon Winchester. Not only were his soldiers in danger, they were down to one day's rations and minimal artillery ammunition. 
Around 1:00 a.m. on Monday, June 15, Milroy's troops started filing out of Winchester. All wagons and artillery pieces were left behind to minimize noise; the cannons were spiked. Federal battery commanders Captains Frederick Alexander and John Carlin requested permission to salvage their guns but were denied. A traffic jam of men, horses, and mules ensued on Martinsburg Pike, but most of Milroy's men left Winchester safely. 
Unfortunately for Milroy, "Allegheny" Johnson's Confederates had marched approximately seven miles through the night to intercept Milroy's force near Stephenson's Depot, about four miles north of Winchester. Taking cover in a railroad cut parallel to the Pike, some of Johnson's Virginians fired on Milroy's lead elements at about 3:30 a.m. There was much confusion in the early morning darkness, as both armies struggled to establish cohesive firing lines. 
Milroy tried to stabilize the situation by placing the 110th, 122nd, and 123rd Ohio regiments in line and sending them east toward the railroad cut to crush the Confederate right flank. The Confederate line held. 
After over two hours of fighting, and realizing his command was in danger of annihilation, Milroy tried to exploit both enemy flanks, but the Louisiana Pelican Brigade held the Confederate left flank and regiments of the famed Stonewall Brigade blocked Federal escape on the Martinsburg Pike. Confederate artillery consisting of Napoleons, Parrotts, and 3-inch Ordnance Rifles under Lieut. Colonel R. Snowden Andrews neutralized Federal infantry who tried to fight on or run away. 
The battle became a rout. Although some Federal troops, including Colonel J. Warren Keifer and many of his 110th Ohio troops escaped, many other Union officers and soldiers surrendered. Harrowing tales of Federal escapes abounded as troops fled not only to Harpers Ferry, but northwest toward Hancock, Maryland, and on to Pennsylvania. 
The desperate and confused Federal commander, Gen. Robert Milroy, avoided capture by fleeing through fields toward Harpers Ferry. Along the way, he was heard to say, "Men, save yourselves!" and "Every man fight your way through to Harpers Ferry."    
Although casualty estimates vary, the jubilant Confederates had suffered only about 300 casualties at Second Winchester, while the Federals lost approximately 4,400 including close to 4,000 prisoners. Whatever the exact numbers, it was an impressive Confederate victory. Gen. Ewell made the right tactical moves to force Milroy out of Winchester and then rout the escaping Federals. 
The discredited Milroy was relieved and sent to the western theater of war. For the people of Winchester, it was a time to celebrate the expulsion of Milroy's occupation force. The citizens' happiness was short-lived, however, when many of the Confederates returned in agony three weeks later after their bloody defeat at Gettysburg.