Article from the proceedings from Are We There Yet? Preserving Roadside Architecture and Attractions, April 10-12, 2018, Tulsa, Oklahoma. Watch a non-audio described version of the presentation on YouTube.
Neon Sign Restoration along Route 66
By James J. Thole Chairman, Neon Heritage Preservation Committee (NHPC) Route 66 Association of Missouri(aka "Team Neon")
Abstract
The Neon Heritage Preservation Committee (NHPC) is a subgroup of the Route 66 Association of Missouri. The goals of the committee are to restore existing neon signs that are still in place and to preserve orphaned signs in a neon sign park. The success of the NHPC's sign restoration efforts is based on four elements: 50-50 matching grants awarded through the National Park Service (NPS) Route 66 Corridor Preservation Program; the expertise of committee members; partnerships at many levels; and the popularity of Route 66 neon signs. Physical aspects of sign restoration addressed by the committee include reconditioning of the metal cabinet, re-making of the neon tubing, and replacement of the internal electrical components. This paper includes information and images of the committee's completed sign restoration projects and of a project currently underway.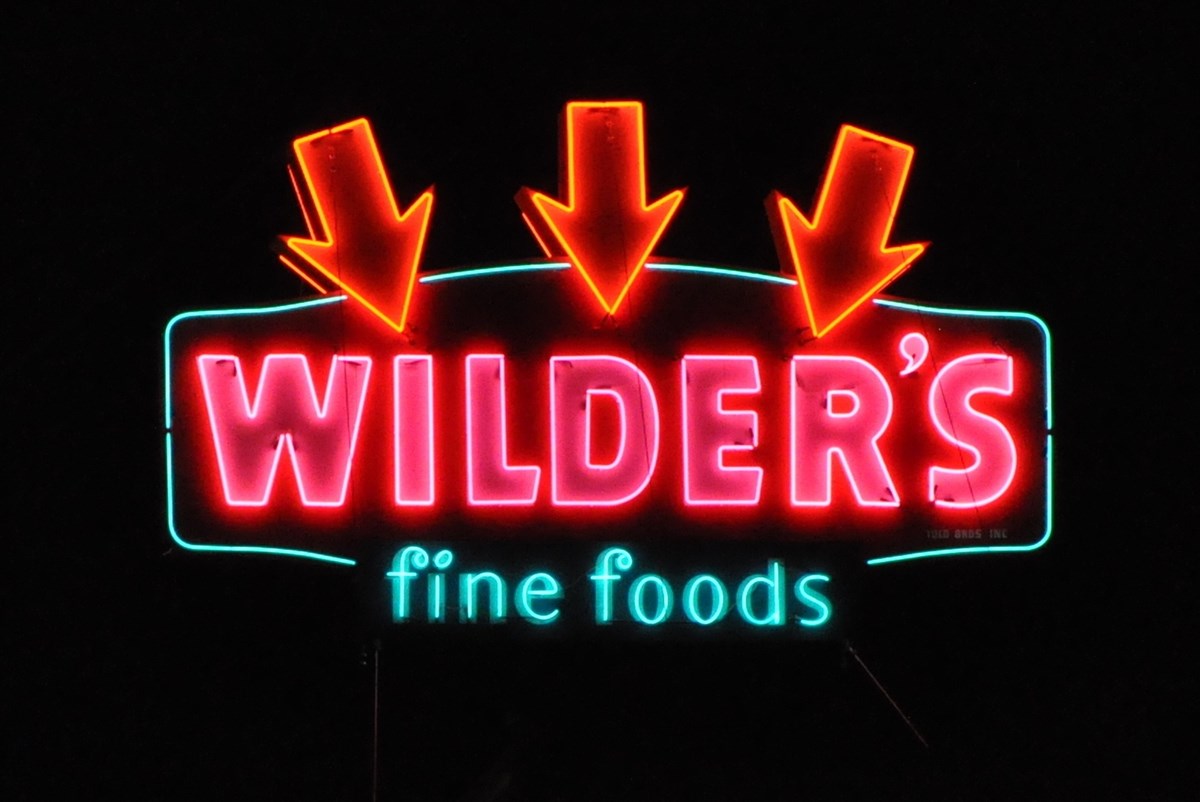 Genesis of the Enterprise
In recognition of the significance of Route 66 to America's cultural heritage in the mid-20th century, Congress passed an act in 1999 to create the Route 66 Corridor Preservation Program. Administered through the National Park Service, the program is dedicated to preserving the rich and diverse characteristics of the historic highway. It is designed to collaborate with and assist individuals, organizations and government agencies in identifying and addressing preservation needs of Route 66. One of the program's primary features is to provide cost-share grants to successful applicants to help preserve the most significant and representative historic properties from the route's heyday.

The New Mexico Route 66 Association, led by its President, Johnnie V. Meier, was the first to take advantage of this grant program toward neon sign restoration – and did so in a big way. In 2001, the first year of grant availability, the Missouri Association applied for and received a grant to restore five neon signs; and that was followed by a second grant to restore four more signs in 2002. By the end of 2003, nine vintage neon signs along Route 66 in New Mexico had been restored to their original condition as those eye-catching sentinels from the Mother Road era. The success of this admirable venture was documented on a DVD produced in collaboration with KNME-TV (Albuquerque) entitled "Route 66: The Neon Road."

The Route 66 Association of Missouri Board of Directors, recognizing the success of the New Mexico Route 66 Association with its neon preservation and restoration program, decided to undertake a similar endeavor. In 2006, the Board formed the Neon Heritage Preservation Committee (NHPC). The goals of the NHPC are: (a) to find a home for the orphaned neon signs from along Route 66 that came into the Missouri Association's possession, and (b) to preserve and restore with historical accuracy those inactive neon signs still remaining at their original post. While the rest of this paper will deal with part (b), which is the more successful endeavor thus far, it is pertinent to briefly address what has been achieved with part (a) to date. A handful of orphaned signs have been accumulated from their former business locations in Missouri and are in storage at the present time.

Three years ago, the Missouri Association partnered with the City of St. Robert and the Pulaski County Tourism Bureau to embark on the establishment of "Route 66 Neon Park" in St. Robert, MO. Pulaski County Route 66 Preservation (a 501(c) (3) organization) has been established to solicit and secure donations toward this initiative. Progress on the fulfilment of this objective has been slow, but steady, with funding being the primary hurdle.
Elements to the NHPC Success Story
From 2008 to 2017, the NHPC has now been directly or indirectly involved in the restoration of a dozen neon sign or scene projects along Route 66 in Missouri and Illinois. As one journeys down the Mother Road in the twilight of these two states, twelve more beacons of light to welcome travelers to take a respite – to stop for a meal, stay for the night, or just reminisce beside a historical icon that takes one back to when driving down "the Neon Highway" was just as much a part of the journey as the destination itself. The success of the NHPC's restoration efforts over the last decade can be attributed to four factors:
The cost share grants available through the Route 66 Corridor Preservation Program
The professional expertise of the committee's membership
Building partnerships at many levels, and
The popularity of restoring neon signs and scenes on the Mother Road
Cost Share Grants
The cost share grants awarded by the National Park Service (NPS) Route 66 Corridor Preservation Program (generally a 50/50 match) have been a vital element to the NHPC success because all of the projects required substantial outlays for restoration – amounts which small "mom & pop" businesses simply could not afford in today's competitive environment. Reducing their share to 50% of the total cost puts funding the sign/scene restoration cost within their reach.
These matching grants, however, are not simply available for the asking. Because of the limited funding available each year, it is a competitive process, whereby only about 30-40% of the applicants receive an award. Applications are reviewed (and awards determined) based on the merits of various criteria, including eligible travel-related properties and relevancy to the Route 66 experience in its heyday (i.e. highly visible vs. rather obscure). Since this grant program will sunset in 2019, the NHPC is now beginning the process of seeking other grant opportunities.
Professional Expertise
Shortly after its creation in 2006, the NHPC carefully recruited a team of four professionals from the Missouri Association's membership who would later be called "Team Neon" by a St. Louis newspaper when the NHPC was given a "Best of St. Louis" award in 2013. They are as follows:
Jim Thole (Chairman), a retired banker/certified public accountant – the team grant writer & presenter
Bob Gehl, a marketing and public relations specialist – the "Team Advisor"
David Hutson, neon restoration consultant and owner of NeonTime in St. Charles, Missouri
Esley Hamilton, the now retired Preservation Historian for St. Louis County for many years – the historical consultant

It is especially noteworthy to recognize that all four team members do for the NHPC what they do (or did) in their professional lives. This, we believe, is one of the most critical elements to the committee's success. It was also very helpful that all four members lived in the St. Louis area, which made for easily coordinated communication and management.

It is especially noteworthy to recognize that all four team members do for the NHPC what they do (or did) in their professional lives. This, we believe, is one of the most critical elements to the committee's success. It was also very helpful that all four members lived in the St. Louis area, which made for easily coordinated communication and management.
Partnerships
It was evident from the beginning that the future success of the foray into this neon restoration endeavor would be greatly enhanced by building partnerships with other organizations and entities that had interests and goals consistent with the NHPC. As the years went on, more and more partners joined hands with Team Neon toward a common goal of "relighting the night" on the Mother Road. After a decade of forging such partnerships, the list had grown to include a rather substantial and significant group.

First, it was obvious that a good rapport with the management of the NPS Route 66 Corridor Preservation Program had to be established – and indeed that did happen. Kaisa Barthuli, Program Manager, has been an indispensable ally in coordinating and assisting with NPS grant applications.

After three years of projects in Missouri, NHPC joined with the Route 66 Association of Illinois to submit the first jointly sponsored grant application to the National Park Service, for the restoration of the Luna Café neon sign in Mitchell, IL -- a "natural" because it is only four miles across the Mississippi River Chain of Rocks Bridge, in the St. Louis metro area. Five years later, a third Illinois project would reach as far north as the Chicagoland area when the Chicken Basket neon sign was restored.

A similar collaborative effort was also forged to the west with the Oklahoma Route 66 Association for potential neon restoration projects in that state as well (although none have yet materialized there thus far).

Other Route 66 organizations have also joined hands with the NHPC to support its mission – most notably the "Friends of the Mother Road," who were very supportive of the Luna Café project (and kudos also to said group for releasing a cherished, orphaned sign to the Route 66 Neon Park collection). Over in Illinois, the "Illinois Route 66 Scenic Byway" has been an avid supporter of Team Neon and was in fact the conduit that laid the foundation for the 2016 Chicken Basket project.

At the state level, Team Neon has formed very meaningful relationships with the Missouri Division of Tourism and the Missouri Department of Natural Resources – both of which have consistently endorsed NHPC in-state restorations. In Illinois a similar relationship exists with the Illinois Office of Tourism and the Illinois State Historic Preservation Office.

Needless to say, having the support of the local Route 66 leadership in the communities affected by NHPC projects is a welcomed sponsorship. Two good examples of that would be the Lebanon/Laclede County Route 66 Society in 2010 and the Litchfield Museum & Route 66 Welcome Center Association in 2013.

Last but not least, the property owners themselves for all the NHPC projects became fundamental partners to accomplish the goal of relighting their historic neon icons. It's only with their cooperation and financial commitment that any restoration project can proceed and succeed.
Popularity of Neon Sign Restoration
The fourth and final contributing element to the NHPC success is the recent popularity of restoring neon sign and scenes along the Mother Road. Neon signs came of age, and became affordable to local businesses on Main Street, in the mid-to-late 1940s, and continued to proliferate for the next twenty years, the same period of time as the heyday of Route 66. Hence, Route 66 would naturally become "the Neon Highway" – simply because the growth in popularity of both coincided.

During this era, a "lighted sign" was synonymous with a neon sign. A consumer business catering to the traveling public had to have one in that heyday period, in order to generally be viewed as modern and up-to-date. Conversely, if a business did not have one, its roadside calling card might be greeted with less enthusiasm.

Neon signs have always been captivating, although there has been a noticeable resurgence in restoration – "bringing them back," since the turn of the twentieth century. It seems to have begun with Johnnie Meier's magnificent effort in New Mexico in 2001-2003. As mentioned above, that endeavor was the inspiration for the Missouri Association's NHPC; and it has been remarked on a couple occasions that NHPC inspired other groups to address the restoration of theirs signs as well. There has been, for example, a notable neon restoration movement in Kingman, Arizona recently. Whatever the reason, neon sign restoration has definitely been "in vogue" over the last decade and that, in turn, has provided impetus to some of NHPC past sign owner/partners to "get on the band wagon."
Completed Neon Heritage Preservation Committee Projects

| Year | Business Name | Location | Partners/Current Owners |
| --- | --- | --- | --- |
| 2008 | Donut Drive-In | 6525 Chippewa Street St. Louis, MO | The four Schwarz brothers |
| 2009 & 2011 | Sunset Motel | on State Highway AT near Villa Ridge, MO | Herman & Connie Grimes |
| 2010 | Munger Moss Motel | 1336 Route 66 Lebanon, MO | Robert & Ramona Lehman |
| 2011 | Luna Café | 201 E. Chain of Rocks Rd. Mitchell, IL | Larry Wofford |
| 2012 | Crestwood Bowl | 9822 Watson Road Crestwood, MO | Ray & Mike Bluth |
| 2013 | "Vic Suhling / Gas for Less" sign | Litchfield Museum & Rt. 66 Welcome Ctr. - Litchfield, IL | The LM & Rt 66 WC Association |
| 2014 | Skylark Motel | 1087 N. Service Road St. Clair, MO | VFW Post 2482 |
| 2014 | "Modern Cabins" sign (Graystone Heights) | 9323 State Hwy. 266 Springfield, MO | John & Alexa Schweke, R&S Memorial Decorations |
| 2015 | Boots Court (architectural neon) | Garrison & Central Ave.Carthage, MO | Debye Harvey and Priscilla Bledshaw (sisters) |
| 2016 | Chicken Basket | 645 Joliet Road Willowbrook, IL | Patrick Rhea |
| 2017 | Wilder's Steakhouse (rooftop sign) | 1216 S. Main StreetJoplin, MO | Mike & Marsha Pawlus |
Physical Aspects of the Sign Restoration
There are three basic parts to restoring a neon sign (typically, one mounted on a pole): reconditioning of the metal cabinet, re-making of the neon tubing, and replacement of the internal electrical components. Each of these functions requires the skills of different craftsmen, unless one person is skilled in all of them. In addition to these three primary functions, there is a need to address two other aspects of the installation – one before the basic restoration, and one after.

Condition of the Pole

The first element to address is the condition of the pole (or support structure) itself – namely:
Can it be re-used? Just need a repainting? Or is its condition beyond salvaging?
Was the pole capped when originally installed? If not, then water has probably collected inside at the bottom, likely causing rust.
What is the condition of the base? Cracked? Both base and pole tilted from settling of the ground over time?
Can the sign be removed and "taken to the shop" for restoration? (This is a much better approach, rather than working on site, if possible, for financial, quality control and weather reasons. Eight of the NHPC's twelve projects were done that way – two were too large to move, and two were architectural neon scenes.)
Are there any obstacles or barriers to removal that must be overcome?

Reconditioning of the Metal Cabinet

The reconditioning of the metal cabinet is the first basic part of the sign restoration, and the initial determination to be made is whether the sign facings are painted or have a porcelain enamel finish (i.e. porcelainized steel). Painted signs are cleaned and repainted.

Porcelain signs are frequently "re-painted" by cheap sign vendors for an immediately attractive appearance – only to begin peeling off in a year or two because the paint did not adhere well to porcelain. So, then it's really ugly – worse than before. Porcelain signs should never be "re-painted," but polished with rubbing compound to bring back the original luster – and such has been the case with most of NHPC's projects. Figure 2 includes before and after photographs of a porcelain sign restored in 2009, taken under the same lighting conditions.

Just to "complete the picture" of the Sunset Motel, Figure 3 depicts two additional photographs of this sign – the first taken at sunset to capture that rich, twilight gleam of the low sun on the horizon (after all, this is the Sunset Motel); and second, the dazzling, night-time glow of the neon.

Lastly, parts of the sign facing, but mostly the sign cabinet between the facings, might need to be replaced when too deteriorated – especially the bottom of it (if it's even still there).
Neon Tubing
While any existing, intact neon tubing (with no mercury) can be re-pumped and reused, NHPC has rarely done so. There is usually nothing left to begin with on older signs that have been inoperative for a long time. But even on restorations of partially working signs, it is usually better to re-make it all in order to assure uniform color and brilliance.

The color of the neon is always a question on older signs with apparently no surviving neon. Upon closer inspection of the sign, there may still be a few fragments hanging on, or some pieces may be found on the ground by the pole. Even the smallest fragments are all that's needed for the neon craftsman to determine the exact color, because:
Neon gas in a clear tube will burn red – and with certain phosphorous coatings inside the tube, will yield pink or orange.

Argon gas in a clear tube (with a drop of mercury) will burn blue – and with certain phosphorous coatings, will yield all other colors, like white, purple, green & yellow.

Other guidelines for quality neon craftsmanship, and for fulfilment of accurate historic preservation, include:
Strict adherence to original glass diameter and period tube bending techniques (older, vintage neon generally had more pronounced angular corners and styles).

Placement of neon tubing in the center of its background letters on the cabinet facing.

Neon tube supports that are glass, not plastic.

Neon electrode housings (also glass or ceramic, not plastic) that extend back into the inside of the sign so that wire connections are not exposed to the weather.

Electrical Components
The whole inside of the sign cabinet should generally be gutted – i.e. all of the existing internal electrical components removed, and start over with new, modern devices that meet current electrical code.

In older signs, there is usually an accumulation of old devices that were never removed when failed devices were replaced, or when sign modifications were made. All of these obsolete devices create many "nooks & crannies" that are ideal for bird nests, collection of moisture, and shorting out to other nearby devices – not to mention all the weight they add to the sign. In only one of the NHPC's twelve projects were any of the existing electrical components retained.

While the inside of the sign is being gutted, however, it is important to be on the lookout for any flashing, chasing or other animation devices that need to be replicated. Flashing is obvious; "chasing" is the term applied to arrows or circles or other such patterns where the lighting sequence seems to make them move in one direction, such as on the 2010 and 2011 projects shown in Figure 4.

"Other animation devices" can be anything imaginable and are generally very creative – usually attracting attention because of their bizarre visual effects.

One good example of this was NHPS's first neon sign restoration in 2008 – the Donut Drive-In ("DDI") in St. Louis, Missouri. The opportunity to launch the first successful foray into the NHPC's mission was provided by Mother Nature on May 6, 2007, when a windstorm left this iconic neon sign dangling from its top pole mounting. Even though it had been dark for about twenty years, the owners agreed to partner with NHPC and have it restored rather than taken down permanently. As shown in Figure 5, the neon donuts are again dropping down the arrow pointing to this legendary establishment, which opened in 1952.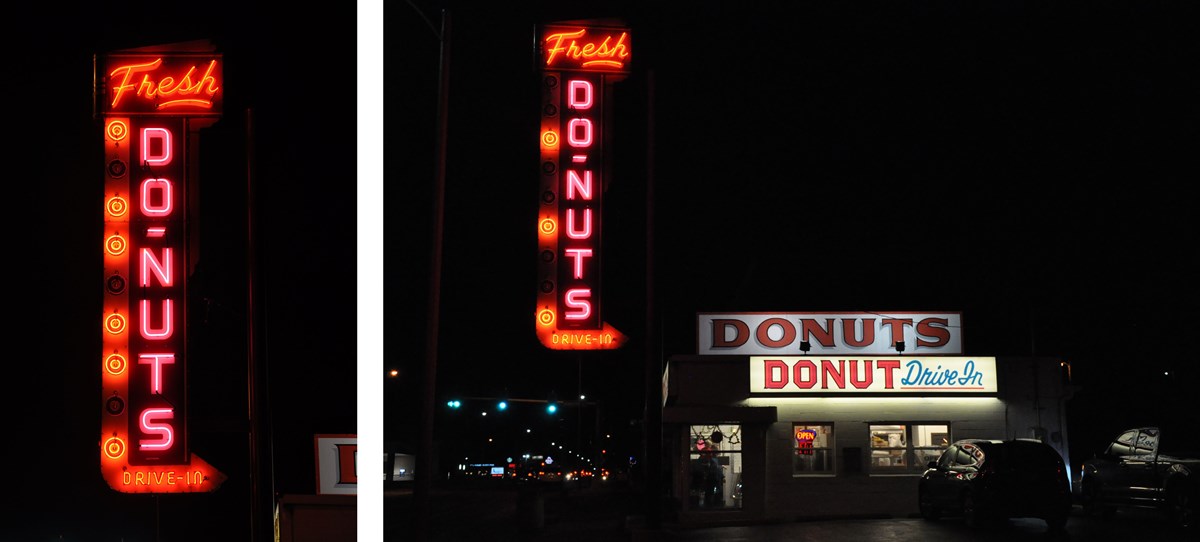 After being fully restored in the shop, a neon sign is ready to be transported back to the business site and placed on a new or refurbished pole.

Electrical Distribution to the Pole

The pole should be evaluated for power adequacy.
Is the original electrical distribution network still intact and operational?
What are the voltage and amperage requirements for the restored sign, and will that existing system support that?
If no longer operational, or if not adequate to support the requirements, then a new primary electric service connection will need to be installed to power the sign correctly.
Below is a summary of the restorative steps taken on a past NHPC project: a double-sided, pole mounted neon sign of porcelainized steel with exposed neon and animated incandescent illumination, circa 1947. This list could essentially become a "checklist" for a general course to follow in a neon restoration project.
Sign removed from pole and taken to workshop in St. Louis, MO

Sign partially disassembled and all internal neon electrical components removed.

Interior wiring, hardware, mountings, hazardous transformers removed.Porcelain exterior polished and retouched where necessary.

Electrical connections inspected, repaired and all neon housings replaced.Neon removed from site and patterned. Color verified. Missing neon patterned from original sign panels.

Neon glass remade to new patterns. Strict attention paid to original glass diameter, color and period tube bending technique.

Block-out areas completed with cloth tape and enamel paint.Some neon tube supports repaired or replaced where missing.

Original type of incandescent light bulb assessed; some sockets replaced and repaired.Incandescent light bulb "chase" mechanism replaced.

New UL listed secondary ground fault neon transformers installed.

Original access panels remounted or replaced.

Original support pole adapted with addition of exterior "sleeve" and mounting plates.

On site remaining pole fitted with new steel sleeve, affecting a "double pole" and mounting plate to accept the refinished complete sign.

New primary electrical service connection made to power the sign correctly.
A Brief Tour of Additional Restorations Completed by Team Neon

The Vic Suhling sign was a porcelainized steel sign that had been abandoned and neglected for forty years. The porcelain quality was so poor that it had deteriorated beyond recovery. The remaining porcelain was scraped off and the sign was painted (NHPC's only example of this occurrence).

The Skylark Motel sign, now the VFW Post for St. Clair Missouri, is perhaps NHPC's most gratifying project and the first of its two solely "architectural" neon restorations. This complete neon scene includes the spectacular neon-lit Art Deco tower, a unique sight not found anywhere else on the Mother Road. A total rehab of the tower itself and replacement of all the glass blocks were also a part of the project.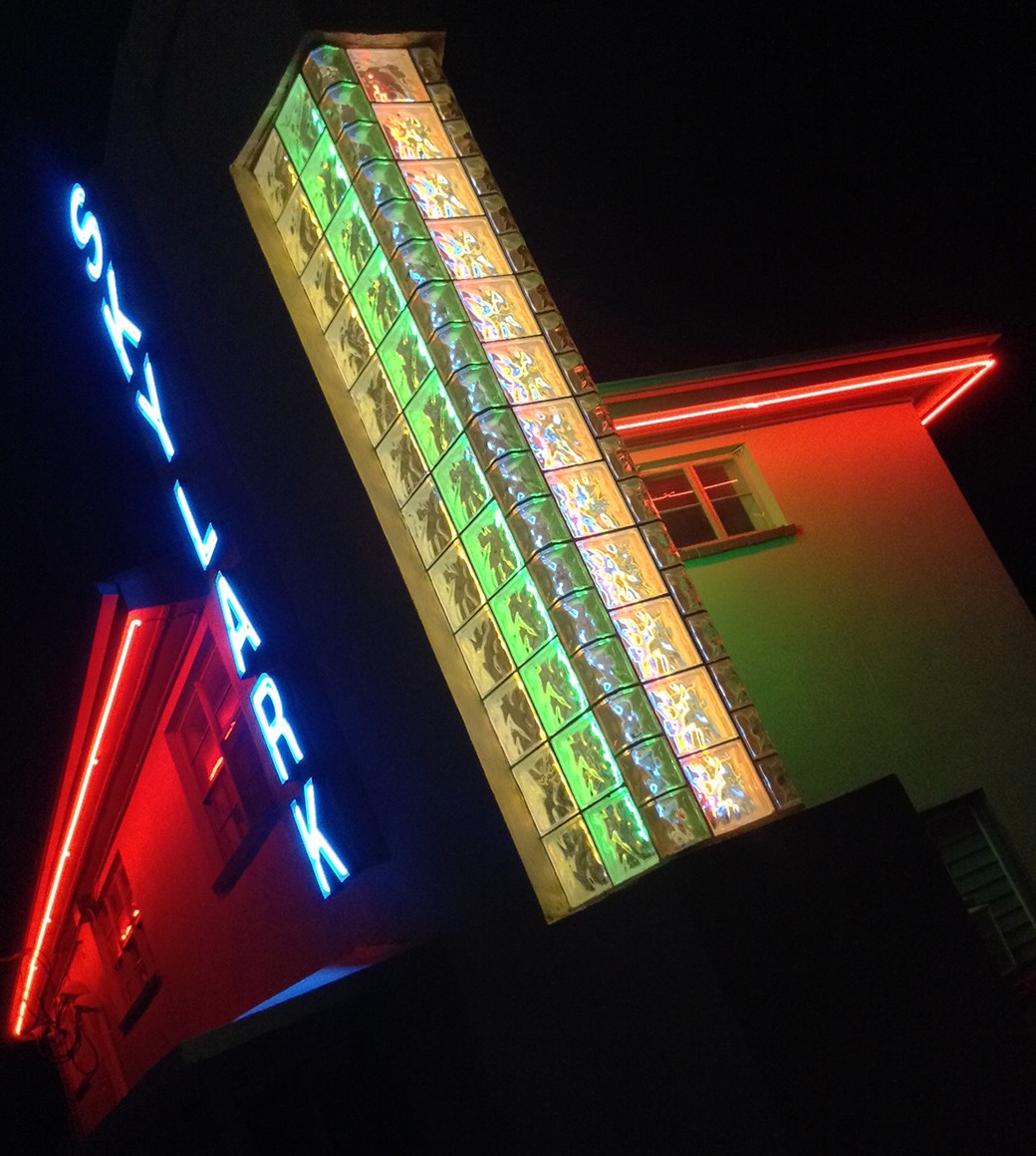 The Boots Court in Carthage, MO is one of the most famous, iconic motels on Route 66. It was noted for its green architectural neon, especially the "neon curtains."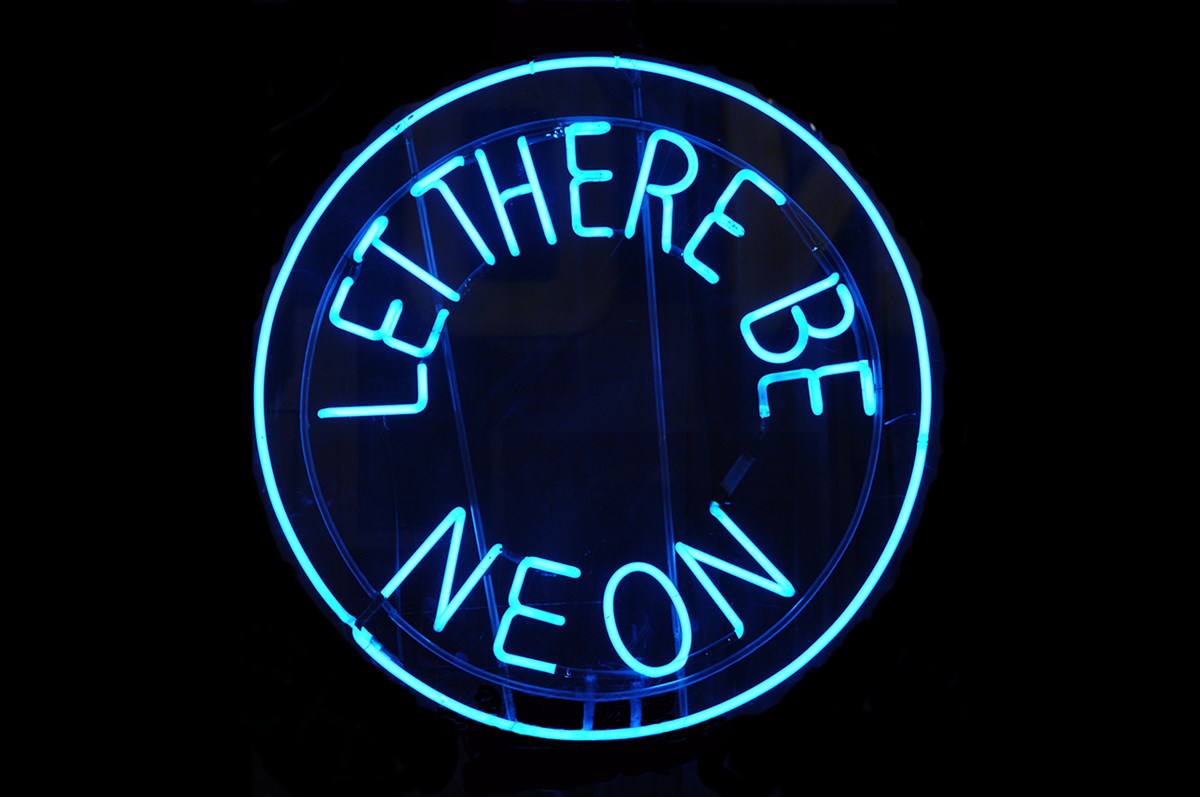 Conclusion
There's something special about the nostalgic appeal of a vintage neon sign ……. something special about that vivid neon color at night – and also that distinctive neon buzz..zz..zz. And if it's animated, even better -- it can become mesmerizing just to watch it.
There's something special about those distinctively unique, customized business names in the heyday of Route 66 (before all those national chains) ….… something special about the creative sign design that can be developed around those unique names – they are in fact often recognized as American Folk Art.

John Murphey of the NPS Route 66 Corridor Preservation Program said it best in 2010 when he spoke at the Munger Moss relighting ceremony:

"The Munger Moss sign restoration is important not only because it refurbished a remarkable sign, but also because it is attached to one of the Mother Road's true icons. Signs such as these are not just calling cards for Route 66; they are local landmarks and symbols of pride."

And with those final words, we really pinpoint the ultimate underlying reason for the passion to save these historic neon signs. Time has transformed them into something special – they have become cherished members of the community itself.