Pittsburgh, PA (June 26, 2020) –
Earlier this month, Rivers of Steel National Heritage Area reopened the Carrie Blast Furnaces, the National Historic Landmark that was once part of the massive Homestead Steel Works. The NHA is offering new, safer ways for visitors to get outside and enjoy the historic site without putting themselves at risk. Visitors must register for tours in advance and abide by the local COVID-19 prevention rules to see the industrial landmark's iron-making facility. Once on-site people can learn about the culture and lives of ironworkers, and get a glimpse of renowned industrial artwork associated with the site.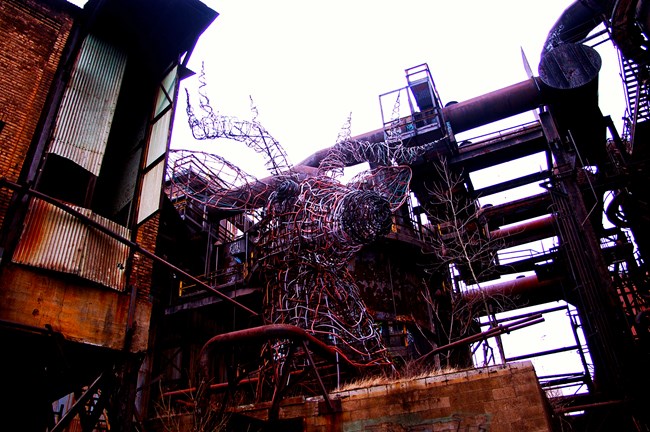 The metal sculpture of a head of a deer, known as the Carrie Deer, rests between blast furnaces 6 and 7. Its metal face and eyes look toward visitors as they enter the interior of the site. The sculpture, created in 1997, almost two decades after the furnaces were closed in 1982, was built by several artists. They had trespassed on the then privately-owned property and created the deer out of metal pipes, tubing, and wires found at the site. The sculpture, technically the product of vandalism, is now a beloved and iconic part of Pittsburgh's industrial arts scene and is so highly regarded by community members that they organized a Kickstarter campaign to preserve it several years ago, when it badly needed structural repair.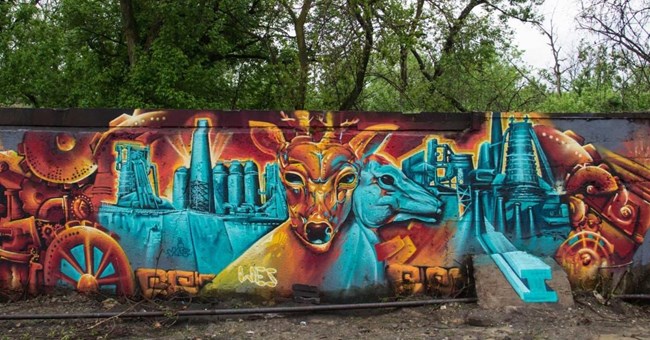 University of Pittsburgh professor and co-founder of Hemispheric Conversations Urban Art Project, Dr. Caitlin Bruce, highlighted the role and art of disobedience in transforming and preserving historic sites in a recent article about Rivers of Steel's Graffiti Arts Program (GAP). An often misunderstood form of art, due to its sometimes rebellious and unexpected appearance on structures, Dr. Bruce through the GAP shows that graffiti can be considered a fine art and offers unique and unlimited possibility for the transformation of post-industrial spaces.
Graffiti murals often become iconic in major cities, even when they may have been painted on buildings without the owner's permission, and this artwork becomes widely accepted by the surrounding communities. In some cities, Dr. Bruce writes, there exist designated "permission walls" where people can express themselves through the art. This is especially important, Bruce says, in communities where low-income, at-risk youth need safe places to express who they are. Instead of attempting to contain and control this creativity, Bruce says, communities can empower young voices and embrace the fresh perspective they bring to old spaces. This also can often deter illegal graffiti. That's why Bruce's Urban Arts Project partnered with Rivers of Steel to create the Graffiti Arts Program. GAP empowers youth to express themselves and transform forgotten, underutilized sites into refreshingly creative works of art. In this way, GAP both beautifies its community and brings it closer together.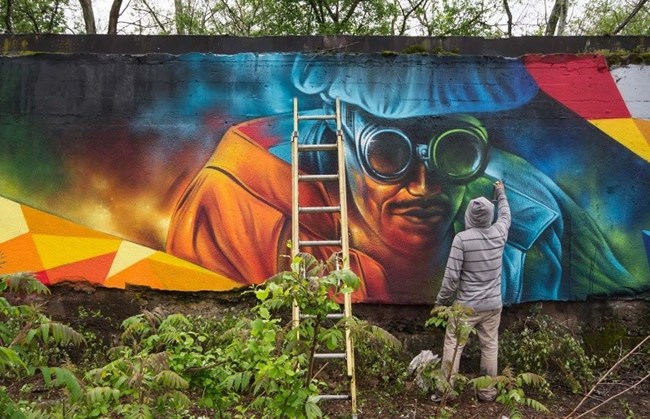 The Graffiti Arts Program runs from September to May, with virtual classes offered. Following public health guidance, program participants can practice at the "permission wall" provided by Rivers of Steel and GAP, in Pittsburgh. Learn more about graffiti technique, public art, and other art forms in single day programs, series of classes, or even via an artist's residency. In the meantime, you can watch video tutorials online.