Article from the proceedings from Are We There Yet? Preserving Roadside Architecture and Attractions, April 10-12, 2018, Tulsa, Oklahoma. Watch a non-audio described version of the presentation on YouTube.
Sixty-Six Phillips 66 Stations: From the Walking Dead to American Restoration
By Michael B. Kertok, Artchitect


Abstract
This paper is an informative and entertaining look at the iconic Tudor cottage-style gas stations built by Phillips 66 in the late 1920s and 1930s. Once numbering over five hundred, less than one hundred have survived, and the number is dwindling. The paper examines sixty-six stations, divided into categories represented by television shows such as Lost, The Walking Dead, Survivor, This Old House, The Office, Mysteries at the Museum, Superstore, Breaking Bad, Rehab Addict, American Restoration, and Diners, Drive-Ins and Dives, among others, to paint a broad picture of what happens to old buildings that have out lived their original purpose.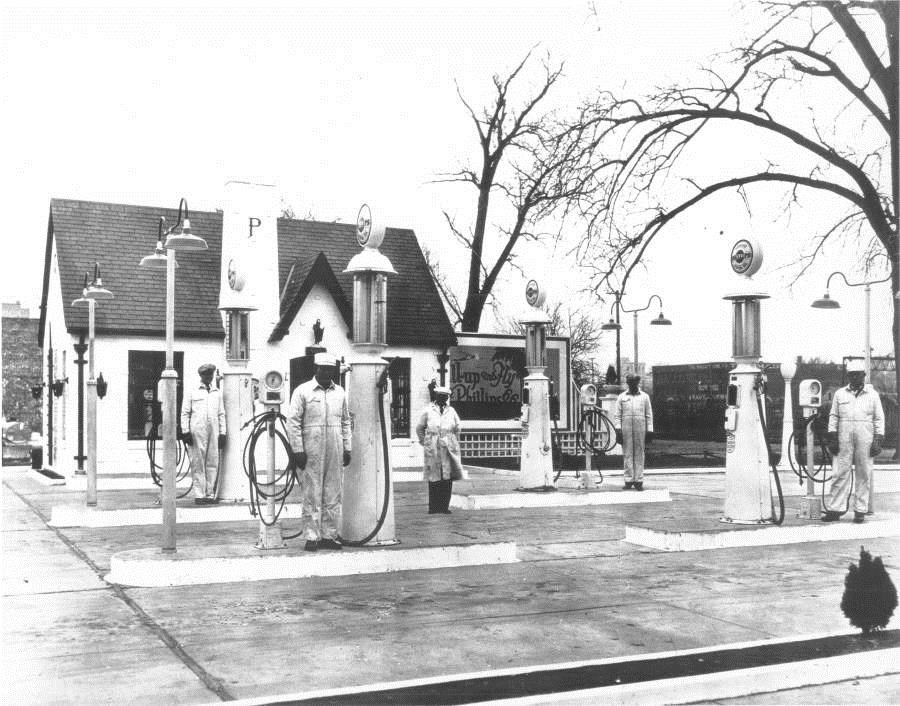 Opening day, first Phillips 66 station, Wichita, Kansas (Conoco Phillips Petroleum Company)
Phillips 66
Phillips Petroleum Company of Bartlesville, Oklahoma was founded in 1917 by brothers Frank and L. E. Phillips. Originally an oil exploration company, it expanded into refining in the 1920s and finally into retail with the opening of the first Phillips 66 station in Wichita, Kansas in 1927. Phillips used a Tudor cottage style for the design of their first station, a small brick structure with a gable roof, a cross gable over the front door, and a chimney expressed on the exterior adjacent to the front door. Cottage style gas stations became popular in the 1920s and 1930s due to a public backlash against early gas stations which were often little more than unsightly wood or tin sheds. Other oil companies before and after Phillips introduced their own versions of the cottage style station, including Conoco, Pure Oil, Mobil, Wadhams, and Cities Service, but the Phillips design possesses an enduring charm – not too plain and not too garish – and is instantly recognizable.

Phillips tweaked their initial design and introduced their Standard Type B station, with the fifth one built in Borger, Texas. Variations on the basic design and associated outbuildings were assigned letters sequentially up to Type U, but the Type B would be the most common of the Phillips cottage station designs, accounting for approximately seventy-five percent of the total built. All told, Phillips built more than five hundred of the cottage-style structures across the mid-section of the country over the period of a decade, stretching from Texas to Minnesota, and from Colorado to Illinois.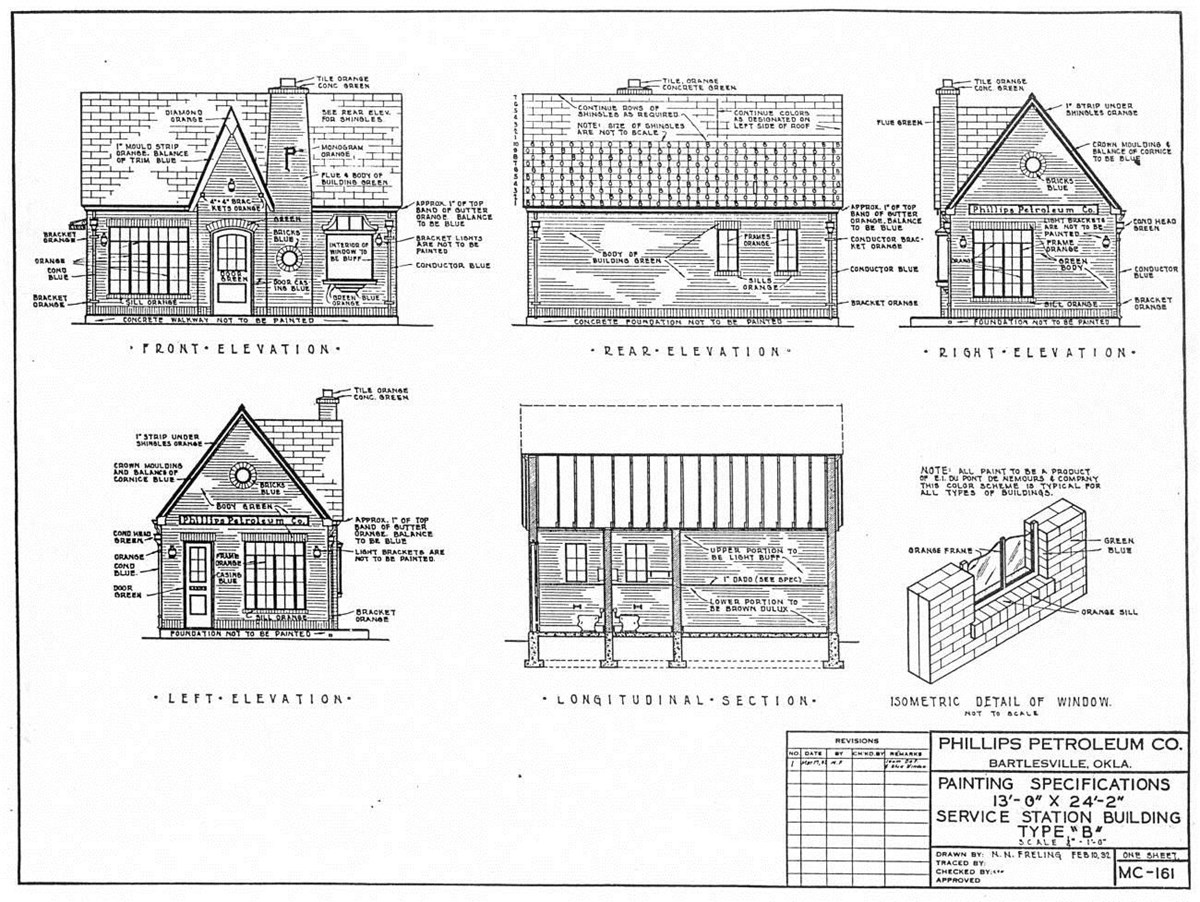 Type B Service Station Building (Conoco Phillips Petroleum Company)

Phillips made several design tweaks to the Standard Type B station over the years. The earliest Type B stations had a back door from the office, which was deemed superfluous and eliminated. Stations in colder climates were built with thicker walls. In 1931, Phillips enlarged the Type B station slightly and added a projecting showcase window on the front, a design detail that was adopted from the Independent Oil and Gas Company, which Phillips acquired the previous year.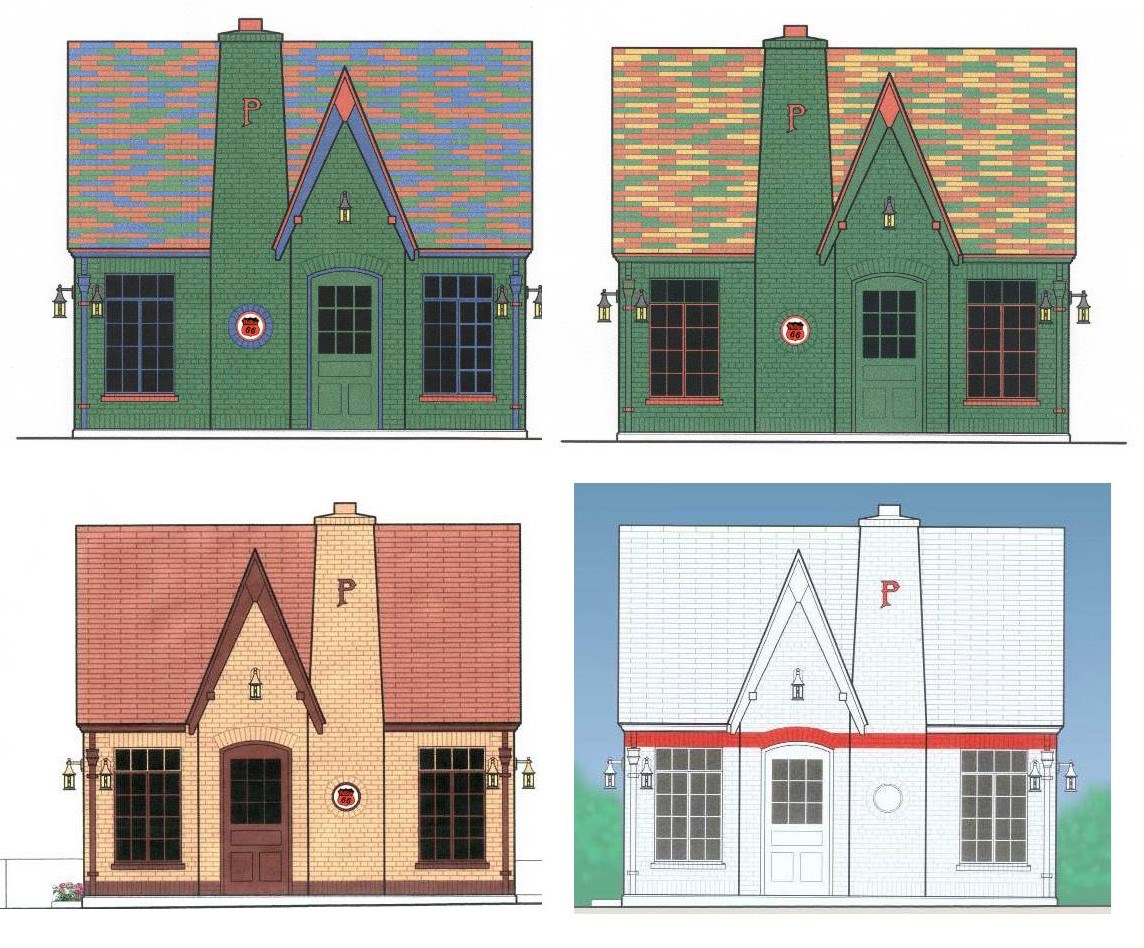 Station paint schemes: top: 1928, 1943, bottom: 1947, 1959 (Michael B. Kertok's drawings)

The first few Phillips 66 stations were painted white, with brown shingle roofs, but Phillips quickly changed the color scheme to green with orange and blue trim and a multi-colored roof of green, orange, and blue. In 1943, the blue was removed from the color scheme and replaced with a crème color on the roof. In 1947, the stations received a complete color makeover, changing to tan with maroon trim and an orange roof. And in 1959, with the introduction of the now-familiar red and white Phillips shield logo, the stations were painted white with a continuous red band above the windows and door.

Phillips 66 stations were built either "left-handed" (the door to the left of the chimney when viewed from the front) or "right-handed" (the door to the right of the chimney). Whether a station was built left-handed or right-handed depended upon the characteristics of each specific site.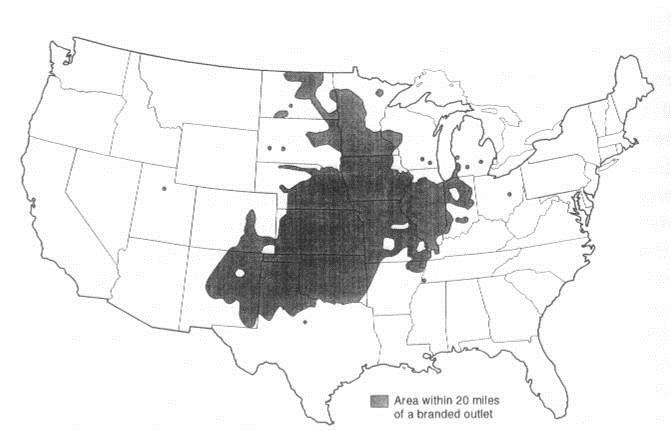 Of the over five hundred cottage-style station buildings built, less than one hundred have survived the ensuing years. What has become of these buildings runs the gamut from demolished to totally restored and everything in between. Only one is known to be still serving the function of a gas station. Many are vacant. Others have been converted to offices, retail establishments, restaurants, museums, even residences. Some have grown old gracefully, others have been horribly abused, and a precious few have been lovingly restored or rehabilitated.

The following are sixty-six (mostly) surviving Phillips 66 stations that provide a broad example of what happens to essentially identical ninety-year-old buildings, spread out over a large geographic area, in both urban and rural settings, that have exceeded their original purpose. The sixty-six stations are divided into categories, each category represented by a television show. (All photos are by the author unless noted otherwise).

LOST: Recently Demolished Stations
Local preservationists wanted to save the Kinsley, Kansas station, but lacked the resources. It was demolished to clear the site for construction of a new high school gymnasium. The Des Moines, Iowa station was located across the street from Drake University. It was razed to make room for construction of a new basketball arena. The Turpin, Oklahoma station was a case of demolition by neglect, until what remained was finally removed. The site is currently a vacant lot.

Left to right: Kinsley, KS, demolished 2014 (Kinsley Library); Des Moines, IA, demolished 2014 (Google); Turpine OK, demolished c. 2014
THE WALKING DEAD: Endangered Stations
The front of the Vallient, Oklahoma station was covered by an addition that was removed several years ago, revealing the shell of the original station, which was still standing in 2015. The scaffold in front of the Little York, Illinois station holds the promise that some restoration work may be underway, however, the scaffold has been in place since at least 2013 and no improvements have been made since then. The building continues to deteriorate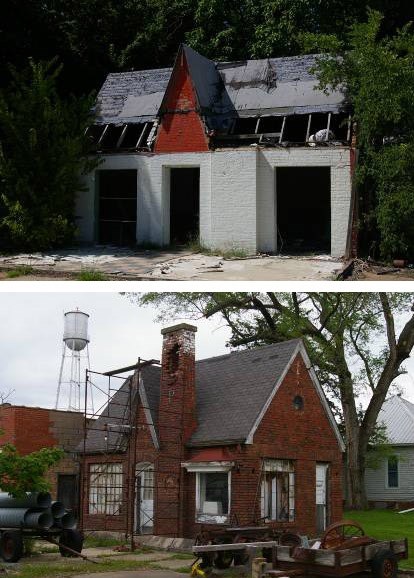 SURVIVOR: Vacant Stations
These stations are vacant, but in reasonably good condition. They are survivors. The three stations in Chanute, Kansas; Brunswick, Missouri; and Jones, Oklahoma had their chimneys lopped off. I refer to these as "emasculated stations"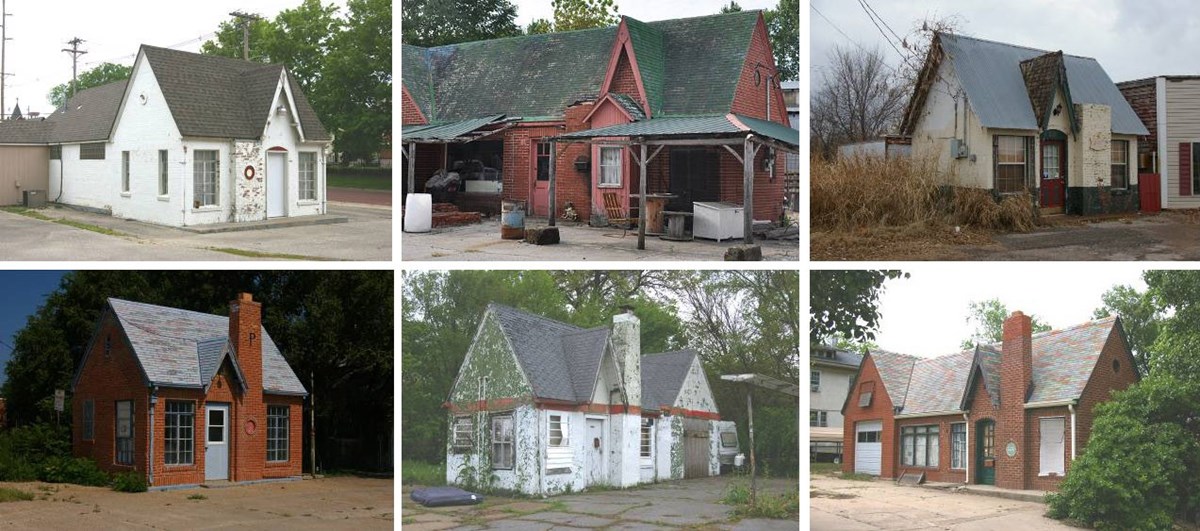 Top (left to right): Chanute, KS (2016), Brunswick, MO(2010, Debra Seltzer), Jones, OK (2015); Bottom (left to right): Stratford, TX (2015), Omaha, NE (2016), Arkansas City, KS (2016).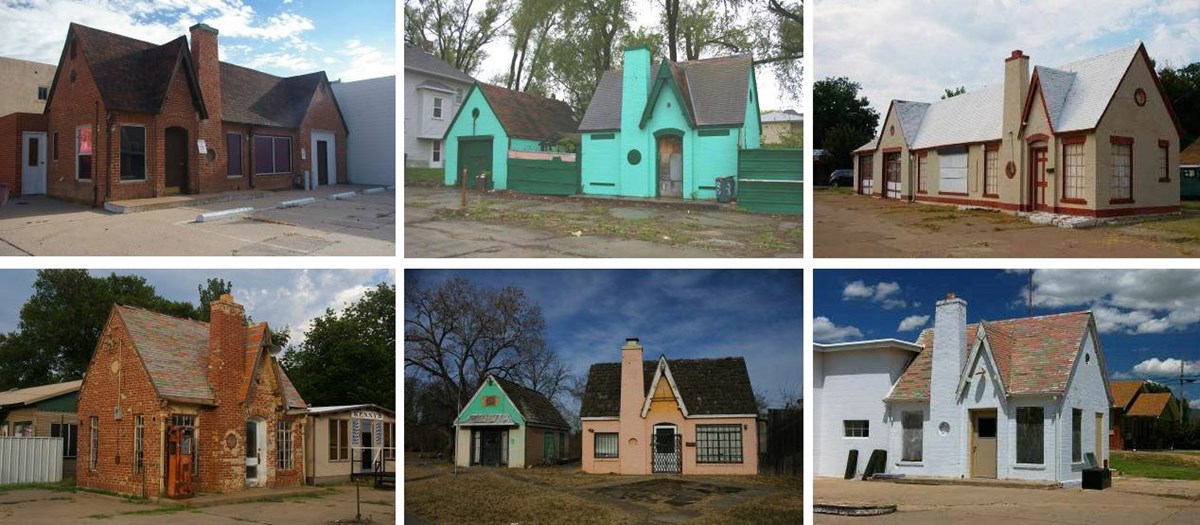 Top (left to right): Pueblo, CO (2015), Omaha, NE(2015), Childress, TX(2015); Bottom (left to right): Clarendon, TX (2015), Kansas City, KS (2014), Follett, TX (2016)
COUNTING CARS: Automobile-Related Businesses
A small number of stations are still being used by automobile-related businesses, including one O'Donnell, Texas that is still a functioning gas station. The former station in Cedar Rapids, Iowa is a car repair shop and the station in Blackwell, Oklahoma a muffler shop. A few station properties are used car lots, including the stations St. Louis, Missouri; Emporia, Kansas; and the very first Phillips station in Wichita, Kansas. The Las Vegas, New Mexico station is a car detailing shop, and Richmond, Indiana station is the home of Hoosier Battery.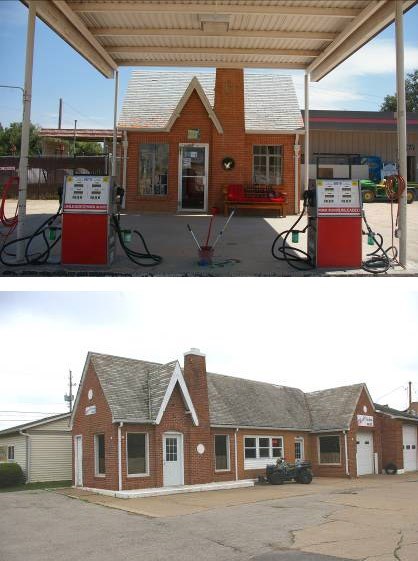 Top: O'Donnell, TX (2015); Bottom: Cedar Rapids, IA (2016)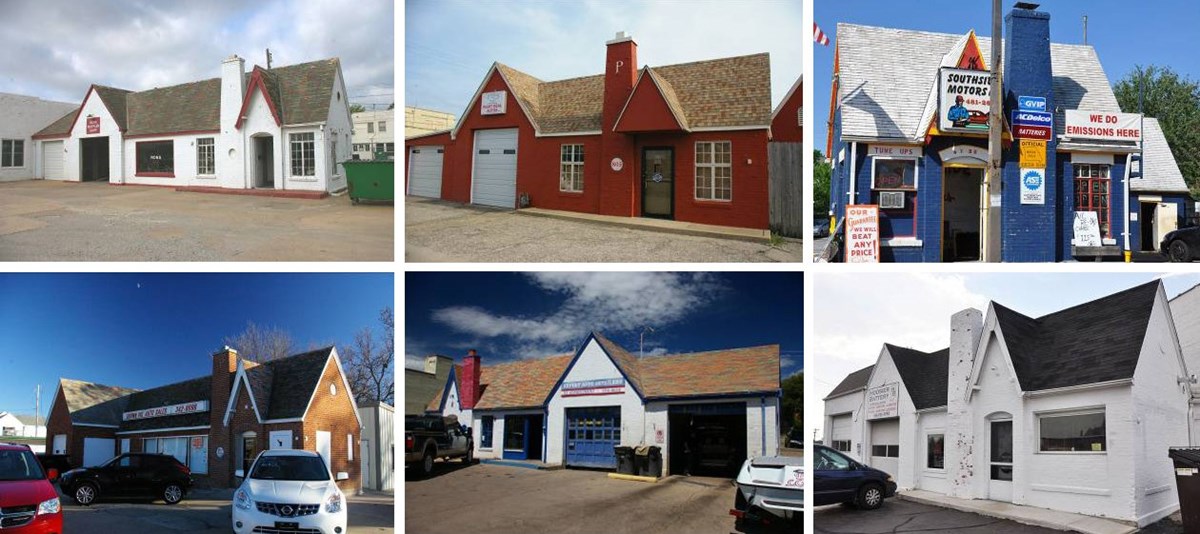 Top (left to right): Blackwell, OK (2016), Wichita, KS (2014), St. Louis, MO(2012, Debra Seltzer); Bottom (left to right): Emporia, KS (2014), Las Vegas, NM (2015), Richmond, IN (2010, Debra Seltzer)
THE OFFICE: Office Space

Woodward Main Street Program occupies the Woodward, Oklahoma station, and former stations in Oklahoma City house a design firm and a car loan business. The Atoka Chamber of Commerce office is located in the Atoka, Oklahoma station, a law firm is located in the Pampa, Texas station, and the station in St. Louis Missouri is now home to Computer Applications Research Co.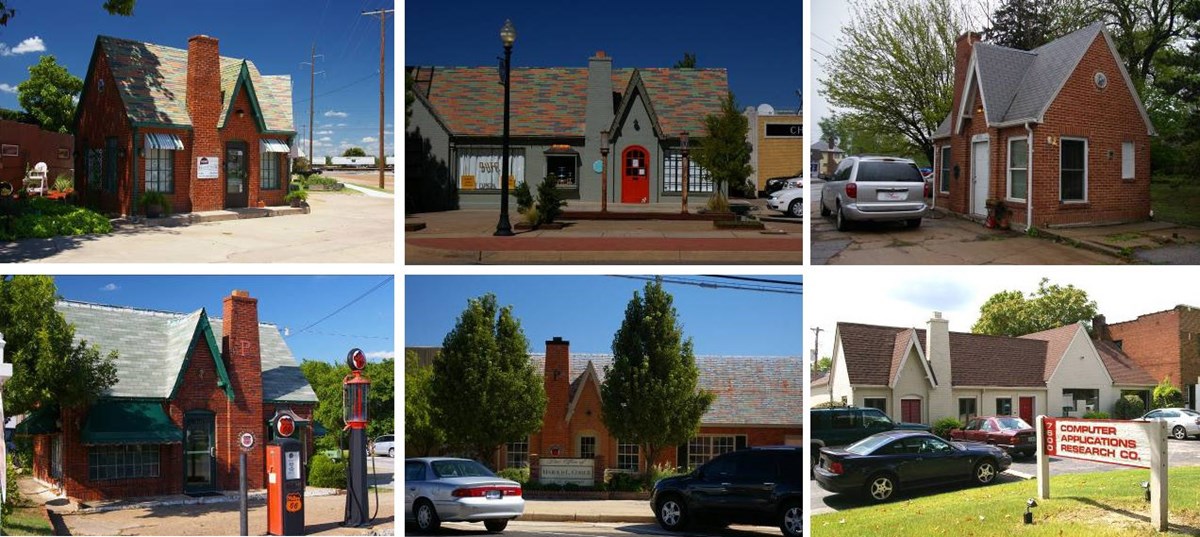 Top (left to right): Woodward, OK (2016), Oklahoma City, OK (2013), Omaha, NE (2016); Bottom (left to right): Atoka, OK (2015), Pampa, TX (2011), St. Louis, MO (2006)
DINERS, DRIVE-INS AND DIVES: Restaurants

Phillips stations repurposed as restaurants include Mort's Cigar Bar in Wichita, Kansas; Burrito's Betty in Pueblo,Colorado; Ink!, a coffee shop in Denver, Colorado; Bricktown 29 Pizza in Oklahoma City, Oklahoma; Redband Coffee Company in Davenport, Iowa; Piccolino's in Artesia, New Mexico; and Home Plate Barbecue in Carlyle, Illinois.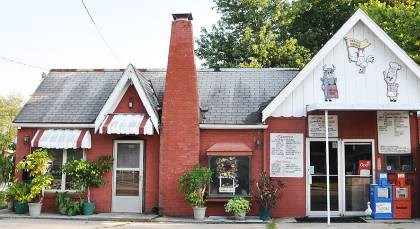 Carlyle, IL (2012, Debra Seltzer)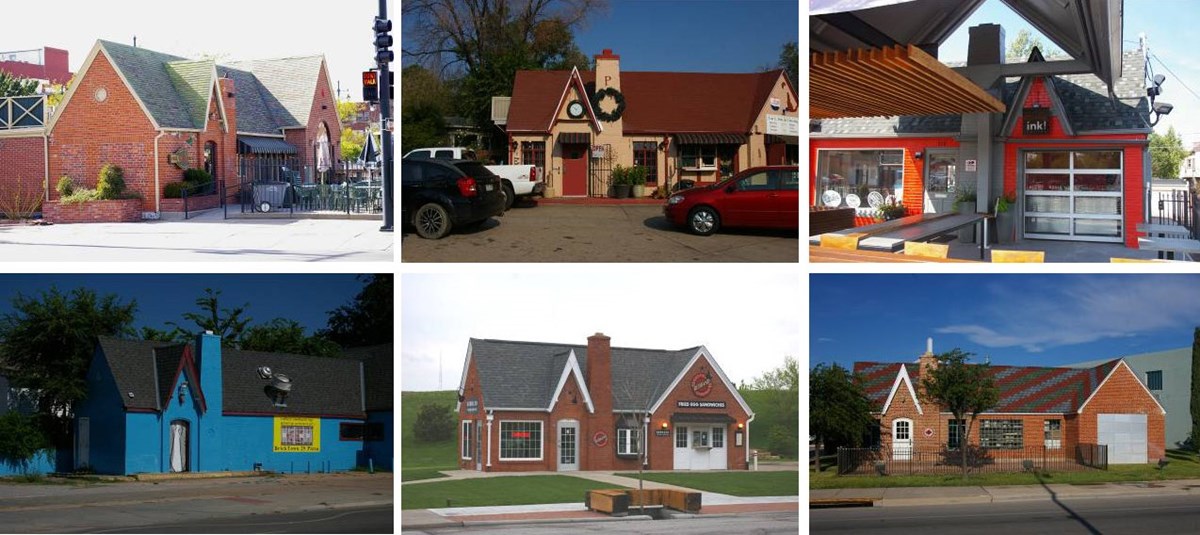 Top (left to right): Wichita, KS (2006), Pueblo, CO (2015), Denver, CO (2015); Bottom (left to right): Oklahoma City, OK (2015) Davenport, IA (2016), Artesia, New MM (2015)
SUPERSTORE: Retail Establishments
Lawn and garden equipment and supplies are sold at the Pampa station. Lawrence is home to Sunfire Ceramics. The St. Louis station housed a gift shop when the photo above was taken but has since been converted to a day care facility.

Left to right: Pampa, TX (2016), Lawrence, KS (2014), St. Louis, MO (2006)
BEAUTY AND THE BEAST: Salons
Katharine Victoria's Hair Boutique occupies the Tulsa, Oklahoma station. The Bethany, Missouri station is also home to a hair salon.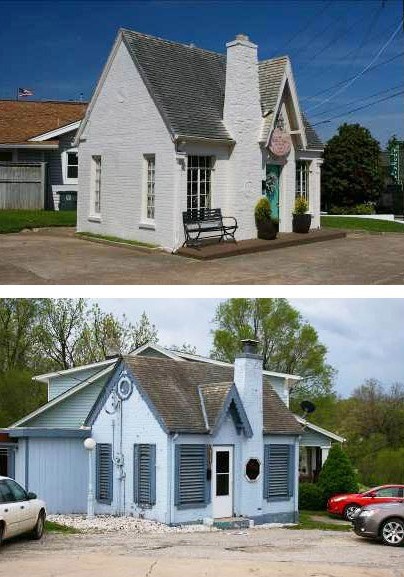 Top to bottom: Tulsa, OK (2015), Bethany, MO (2016)
HOME IMPROVEMENT: Cabinet Shop, JUNKYARD EMPIRE: Recycling, and DEAD LIKE ME: Mortuary Storage

The Ponca City, Oklahoma station is home to Old West Cabinets; the Raton, New Mexico station houses a business that sells and repairs reconditioned appliances; and the Pratt, Kansas station is next door to a mortuary, which also owns the former station. They use the station for "storage," though I didn't ask what they store there. I really don't want to know

Left to right: Ponca City, OK (2016), Raton, NM (2015), Pratt, KS (2014)
THIS OLD HOUSE: Residences
A few stations have been converted to residences, including these in Wellington, Texas, Dresden, Missouri, and Larned Kansas.

Left to right: Wellington, TX (2015), Dresden, MO (2013, Google), Larned, KS (2014)
MYSTERIES AT THE MUSEUM: Museums and Roadside Attractions
Although not fully restored and not properly painted, some stations have been reconditioned and put on display as roadside artifacts, complete with restored vintage gas pumps. The Oberlin, Texas station was moved from its original site to the grounds of the Last Indian Raid Museum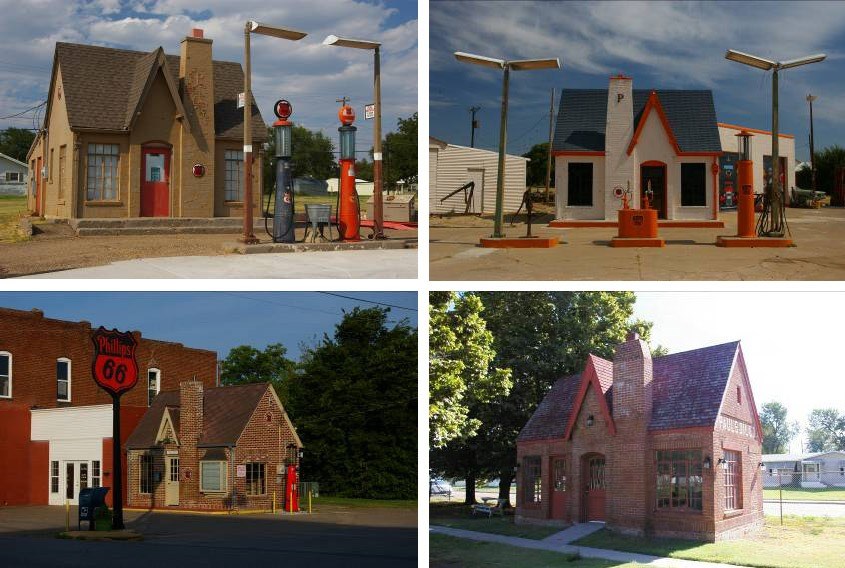 Top (left to right): Turkey, TX (2015), Ralls, TX (2015), McAlester, OK (2015), Oberlin, KS (2014
BREAKING BAD: What Not to Do (or "What the heck were they thinking?!")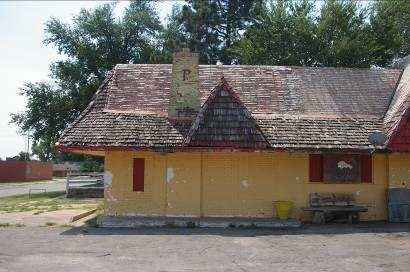 One word: Ugly. Erick, OK (2015)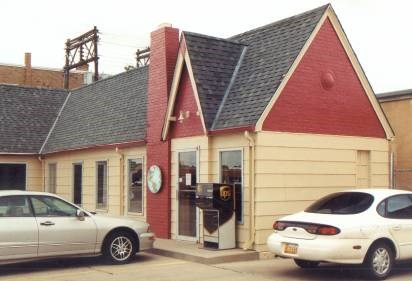 Why would you put siding over brick? Clovis, NM (2004)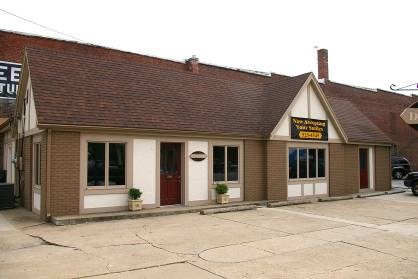 How to turn an interesting building into a boring building. Seymour, IN (2006)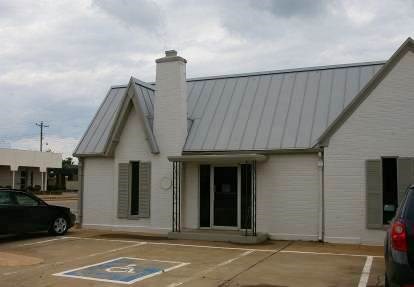 Door changed to window, window changed to door, inappropriate roofing. Enid, OK (2016)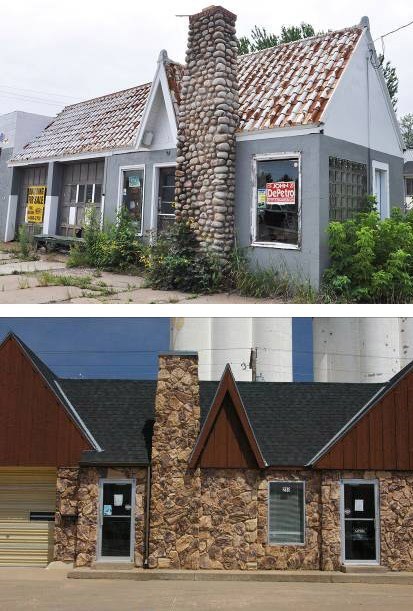 Inappropriate roofing and stone exteriors. Top to bottom: Marquette, MI (2011, Debra Seltzer), Hays, KS (2014)

Before (2013, left) and after (2016, right), Jackson, MN.
ARRESTED DEVELOPMENT: On Hold
The owner of the Chandler station intended to restore it to its original condition in every detail. He did a considerable amount of work on the building, then everything came to a halt, and no progress has been made for several years.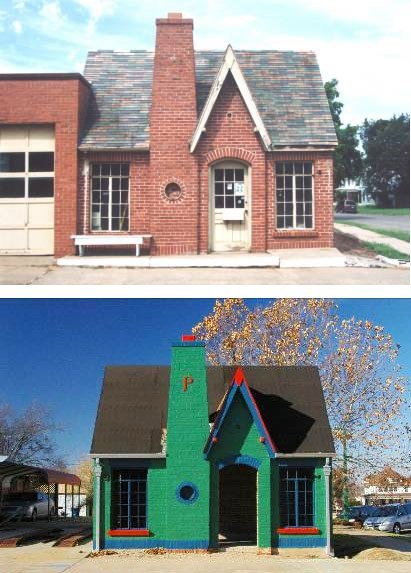 Before (2002, top) and after (2014, bottom), Chandler, OK
REHAB ADDICT: Rehabilitated Stations
Restoration requires the use of original materials, while rehabilitation requires the use of appropriate materials, and this is a fine example of a rehabilitated station. The new energy efficient windows on this Kansas City, Kansas former station match the original windows in style (divided lights) and operation (casement). The cement asbestos shingles used on the original buildings are no longer available, but the multi-tone slate recalls the original multi-colored roof. This station houses a coffee shop.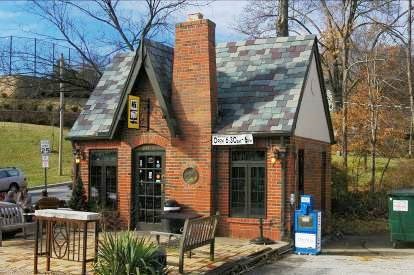 Kansas City, KS (2014)
AMERICAN RESTORATION: Restored Stations

Before (2003, left) and after (2016, right), Wellington KS. It's just a paint job, but it makes a world of difference.

Before (2006, left) and after (2007, right), Tulsa, OK. Restored except for paint colors. The tenant (Avis) insisted that their corporate colors be used.

Before (2003, left) and after (2006, right), Cuba, MO. Fully restored to the 1943 color scheme. The additions behind were built after the station was re-branded a Standard Oil station.

The last station differs in appearance because it was not built by Phillips Petroleum Company, but by the Independent Oil and Gas Company. Independent began building their own version of a Tudor cottage station early in 1930, including this one in Baxter Springs. Later that year Phillips acquired Independent and re-branded the stations with the Phillips color scheme and signage. The original Baxter Springs station was just a small cottage on the left side of the photos, from the left end of the building to the chimney. Phillips added the L-shaped addition on the right in the early 1940s, using the same style as the original structure.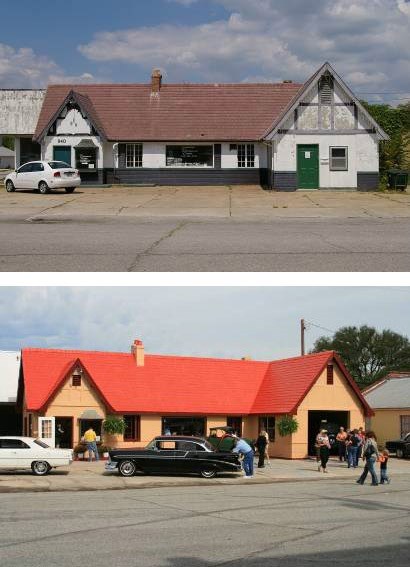 Before (2006, left) and after (2007, right), Baxter Springs, KS. Restored to the 1947 color scheme. Strictly speaking, not a Phillips station but an Independent Oil and Gas Co. station.