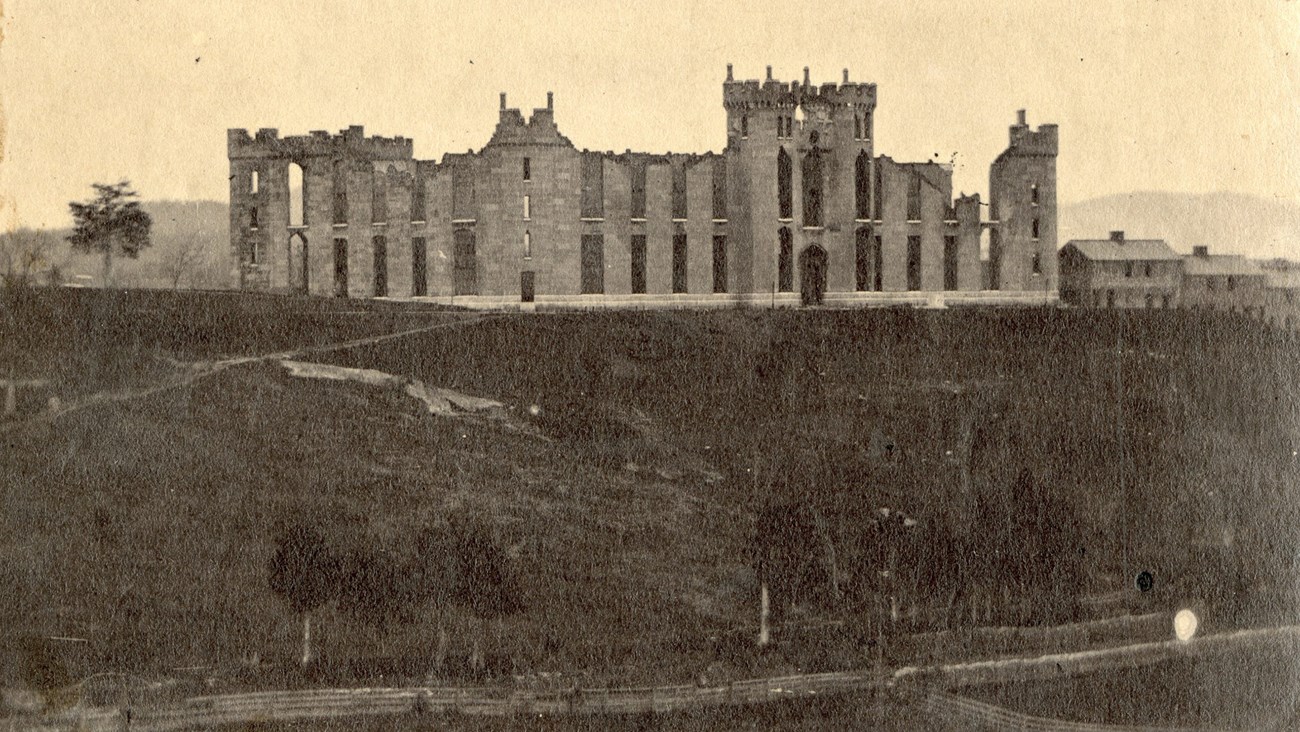 After their victory at Piedmont on June 6, 1864, Federal troops occupied and raided Staunton, Virginia, before moving on to Lexington, where they burned the Virginia Military Institute (VMI). The raids were part of a campaign to destroy the Confederacy's economic base.
Destruction in Staunton
US Gen. David Hunter marched his army into Staunton, an important Shenandoah Valley town for the Confederacy on June 5, 1864. The Valley Pike, the Staunton-Parkersburg Turnpike, and the Virginia Central Railroad all came together in Staunton. Staunton served as a supply center. Food came in from all over the Valley, then went to Confederate troops elsewhere in Virginia. Also in Staunton were an army depot, quartermaster and commissary posts, and a military training camp.
Beginning on June 7, Hunter's troops destroyed railroad depots, a woolen mill, storehouses, a military workshop, and anything else they found of importance to the Confederacy. Hunter would write later that, while in Staunton, "large quantities of commissary and ordnance stores were destroyed or distributed among the troops. All the railroad bridges and depots, and public workshops and factories in the town and vicinity, were all destroyed."
On to Lexington
Arriving from the mountains of West Virginia (a new Federal state as of June 20, 1863) on June 8, 1864, was US Gen. George Crook's Army of West Virginia. Hunter's combined Federal army now numbered some 18,000. Hunter completed his work of destruction in Staunton, and then on the 10th , started his troops south to Lexington.
Facing Hunter now was only Confederate Gen. John McCausland's cavalry brigade of perhaps 1,000 men. McCausland could do little against Hunter's superior numbers. His delaying tactics—burning the bridge over the river north of Lexington and posting sharpshooters on the cliffs that bordered the Valley Pike—only served to aggravate Hunter. Hunter wrote later that McCausland's actions "might have brought justifiable destruction upon the whole town, but as this was not rendered imperative by any military necessity, I preferred to spare private property and an unarmed population."
Burning of VMI
Despite Hunter's preference to "spare private property," Federal troops did destroy quite a bit in Lexington, and that started on June 12, 1864. Hunter's troops looted almost every house, business and institution in the town, but burning of the barracks at Virginia Military Institute (VMI) stood out.
The military academy's cadets were gone, and the campus was left undefended. Hunter and many others considered VMI a military target. Col. David Hunter Strother, the general's first cousin and chief of staff, wrote that he "…looked upon [VMI] as a most dangerous establishment where treason was systematically taught." Strother felt that the school had
"… the express purpose of educating the youth of the country into such opinions as would render them ready… to overthrow the government of the country when the hour and opportunity arrived… There were military reasons besides. The professors and cadets had taken the field against government troops, as an organized corps."
Most notably, the VMI cadets had helped in the Confederate victory at New Market just one month before.
While on the VMI campus, Federal soldiers also removed a statue of George Washington, and sent it off to Wheeling, West Virginia, where it remained until 1866, when it was returned to VMI.
Not all Federals were happy with the decision to have the VMI barracks, several faculty residences, the school's library, and some lab equipment burned. Future president Colonel Rutherford B. Hayes wrote that "…this does not suit many of us. General Crook, I know, disapproves."
Southern newspapers were outraged with the destruction in Lexington. The Republican Vindicator called Hunter's actions "one of the most wanton and barbaric acts of the war."
More Destruction in Lexington
The destruction in Lexington didn't stop with the Virginia Military Institute. After having former Virginia governor John Letcher's home burned, Hunter intended to burn Washington College (now Washington and Lee University), but "…so many of his officers protested so vigorously that it was spared." They insisted on this because of the school's connection to George Washington, and because it was a civilian educational institution. Though the college was not burned, Federal troops ransacked and defaced the buildings, destroyed labs and lab equipment, and took some school property.
Now having wreaked havoc on the Shenandoah Valley towns of Staunton and Lexington, Hunter left Lexington on June 14, 1864, and turned his sights on Lynchburg.