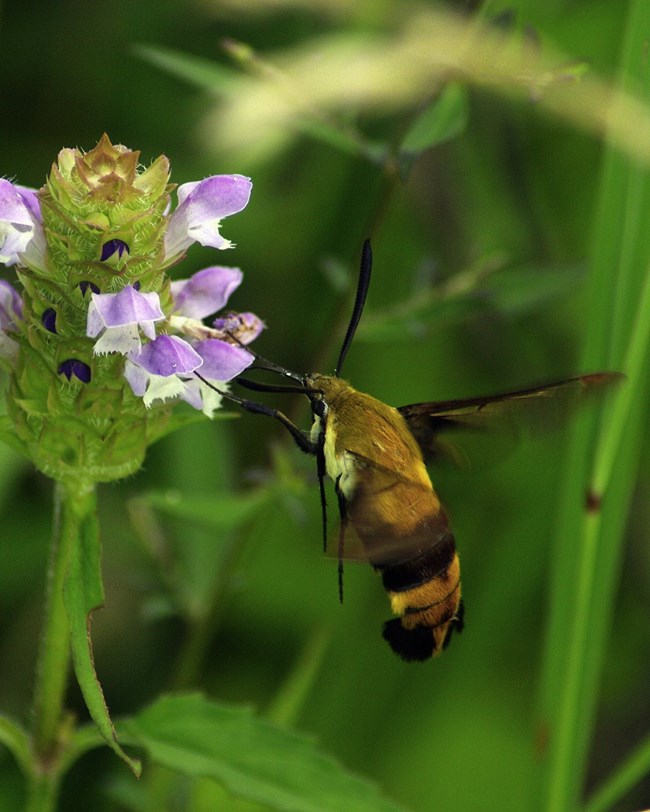 Improved Habitat and Biodiversity
Over the past 20 years, Manassas National Battlefield Park has converted and upgraded about 1,000 acres of grasslands from non-native to native grasses. (That's pretty impressive for a park of roughly 4,400 acres!)
These planted native grasslands may not look much different to human eyes, but they can make a huge difference for wildlife, including pollinators. This is especially important as grassland habitat nationwide is lost to forest succession or land development, and as many pollinator populations—most notably native bees—are in decline. That's why Manassas is currently working with the Virginia Department of Conservation and Recreation, Division of Natural Heritage (DNH) to survey bees, butterflies, skippers, and moths in its grasslands. The project titled, "Has diversity increased? An inventory of Lepidoptera and Bees," is made possible through an agreement with the Chesapeake Watershed Cooperative Ecosystem Studies Unit.
Biodiversity Before and After
The current survey of butterflies and moths (Lepidoptera) and bees seeks to document what species are present in the park and identify any rare, threatened, or endangered species (like the federally listed rusty-patched bumble bee: Bombus affinis). New data will be compared to a similar earlier survey from the year 2000, also by the Virginia DNH, that identified 33 species of butterflies and skippers and 25 species of moths in Manassas grasslands.
Researchers will use sweep nets to capture butterflies and skippers and night-time ultra-violet light traps for moths. Bees will be surveyed by bee bowls/pan traps, vane traps, and netting while they are on flowers. Researchers hope to complete their survey by the end of 2022. Stay tuned for the results.
In addition to the current DNH study, Manassas is also part of a study by the U.S. Geological Survey's Northern Prairie Wildlife Research Center entitled, "Quantifying native bee and flowering plant variation across grassland site types at four National Parks in the Mid-Atlantic region, U.S." and a Smithsonian Museum of Natural History study entitled, "Battlefield biodiversity – Manassas National Battlefield Park."
Grasslands in Virginia, Maryland, and D.C.
A Grassland Work Group was recently organized by the National Capital Area's Natural Resource Advisory Team (NAT). In fall 2020, the workgroup organized a series of grassland workshops with the NPS Biological Resource Division and the Society for Ecological Restoration (SER). The workshops included park sessions focused on restoration projects planned for Harpers Ferry National Historical Park, Monocacy National Battlefield, and Rock Creek Park. For more information on the workgroup contact J. Patrick Campbell by NPS email.

The CW CESU promotes stewardship and integrated ecosystem management of natural and cultural resources in the Chesapeake Watershed through collaborative research, technical assistance, and education. To learn more about the CW CESU, please contact Danny Filer at 301-491-2465 or browse the CW CESU Newsletter.
References
Chazal, A. C. 2000. Surveys for rare insects and crustaceans in Manassas National Battlefield Park. Natural Heritage Technical Report 00-06. Virginia Department of Conservation and Recreation – Division of Natural Heritage. Richmond, Virginia. 29 pp. plus appendices.