Article
Franklin Delano Roosevelt Memorial - The Prologue Room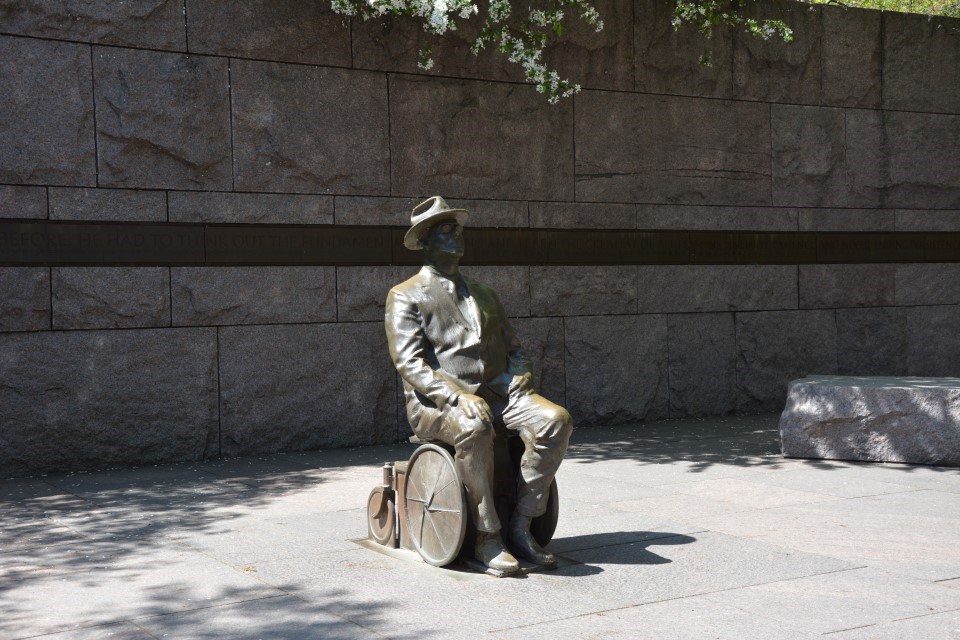 It is now common knowledge that President Franklin Delano Roosevelt (FDR) had a serious physical disability. He was diagnosed with polio age 39 and could not walk unaided. FDR used leg braces and a cane to help him stand, and wheelchairs, many of his own design, to move around. Despite being in the public eye, FDR felt it was necessary to hide the extent of his disability. Perhaps he was worried that people at that time would believe it would make him a weak leader. Or perhaps he had already experienced discrimination.
A master of perception and problem solving, FDR creatively limited the public's view of him using a wheelchair. He retrofitted the train he took so that he could board on the other side, out of view. At events, he would be seated behind the podium until he needed to speak and then would use carefully disguised handrails and his upper body strength to pull himself up. FDR also pressured the press to never publish images of him in a wheelchair. Of hundreds of thousands of photos taken of FDR, only 4 photos exist that show him in a wheelchair. During his lifetime, the majority of the public remained unaware of the extent of the president's health complications.
When the Franklin Delano Roosevelt Memorial Commission selected landscape architect Lawrence Halprin to design the memorial in 1974, Halprin and his team had to decide how to address FDR's disability. Halprin carefully designed the memorial to be accessible for people with all kinds of ability levels, adding in wheelchair ramps even before the American Disabilities Act required them, encouraging people to touch the statues, using fountains to help tell the story both visually and auditory, and by scattering elements of braille into the mural on the New Deal. However, FDR was only shown as most people saw him, with only a hint of his disability. The large statue of Roosevelt by Neil Estern in the third room shows him seated in a chair with small casters. The bas relief in the first room shows President Roosevelt riding in a car at his first inauguration. The team considered that if FDR did not show his disability to the public in his life, the memorial shouldn't either.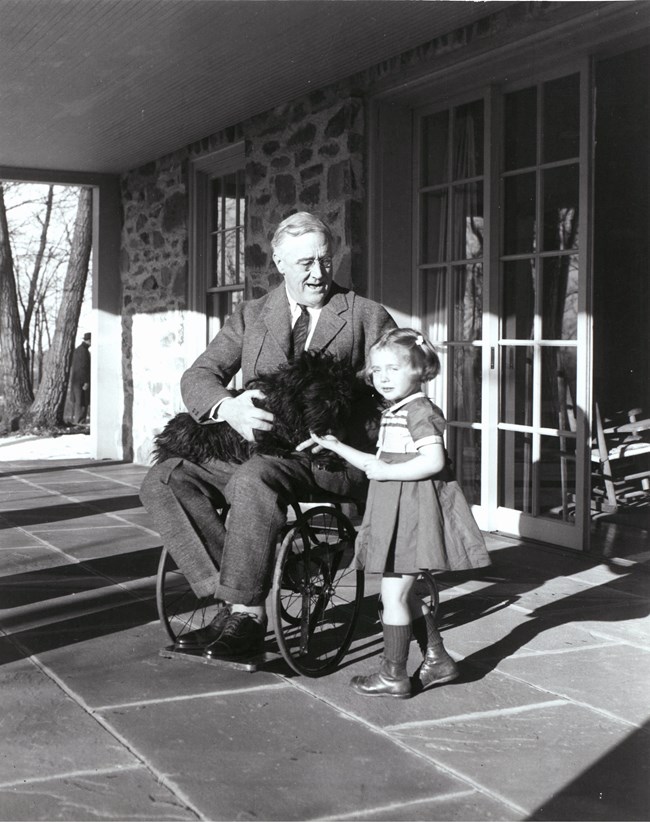 In the time since Roosevelt's death in 1945, and even since the original memorial plans were created in the 1970s, disability awareness grew. Even before the memorial was dedicated in 1997, a growing contingency of people, including most of FDR's grandchildren, thought it was important that the FDR Memorial have a statue of him clearly depicted in a wheelchair. A campaign led by the National Organization on Disability and legislation was passed just before the Memorial opened.
On January 10, 2001, the Prologue Room was dedicated, complete with a statue of FDR by sculptor Robert Graham. The statue is life size, at ground level, and depicts FDR seated in a wheelchair of his own design- a kitchen chair modified with tricycle wheels. It is set away from a nearby wall to ensure total access. On the wall is a quote from Eleanor Roosevelt, "Franklin's illness...gave him strength and courage he had not had before. He had to think out the fundamentals of living and learn the greatest of all lessons - infinite patience and never-ending persistence."
Last updated: May 3, 2022