Article
Franklin Delano Roosevelt Memorial - The Prologue Room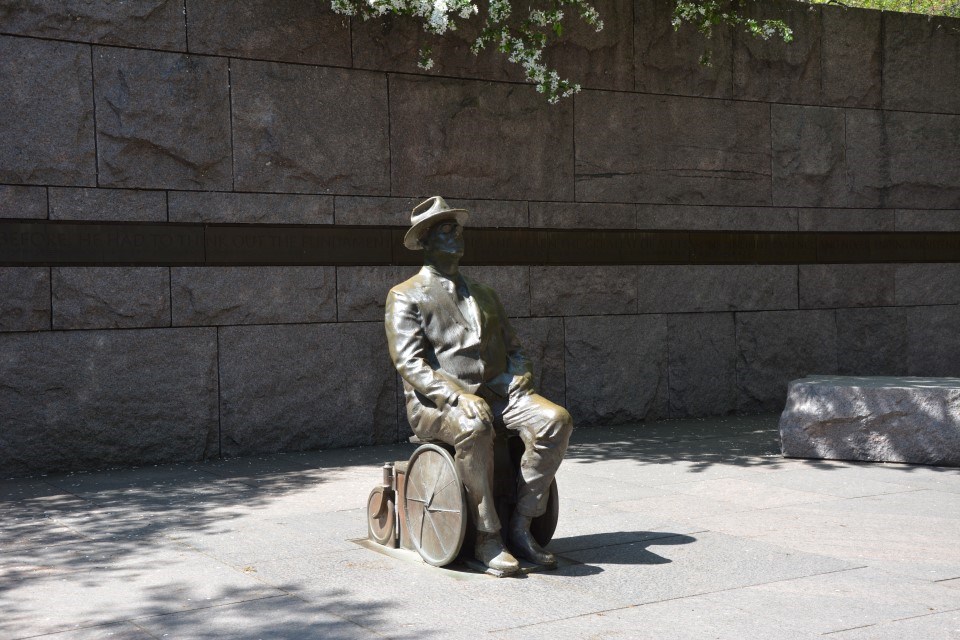 After more than 40 years of planning and construction, the Franklin Delano Roosevelt Memorial on the National Mall was dedicated on May 2, 1997. Divided into four outdoor rooms, the memorial stretches across a seven-acre plot with stone walkways leading past waterfalls, bronze sculptures and FDR's own powerful words carved on the granite walls. Built to honor the president who led the nation through the Great Depression and World War II, every aspect of the memorial was conceived to educate and inspire. However, a controversy loomed.
It is common knowledge now that Roosevelt had a serious physical disability. After a battle with an illness – often identified as polio – Roosevelt could not walk unaided. For the second half of his life, he struggled to overcome his lack of mobility and the stigma associated with it. Concerned of how the public would perceive him, FDR and his associates hid the extent of his illness. He used leg braces and a cane to help him move. He had special wheelchairs made that didn't look like wheelchairs. And he pressured the press to never publish images of him in a vulnerable state. Of hundreds of thousands of photos taken of FDR, only a handful exist that show him in a wheelchair. During his lifetime, the vast majority of the public remained unaware of the president's health complications.
When the Franklin Delano Roosevelt Memorial Commission selected landscape architect Lawrence Halprin to design the memorial in 1974, Halprin and his team had to decide how to address FDR's disability. Halprin carefully designed the memorial to be accessible for people with all kinds of ability levels, but the original plans did not include a sculpture of Roosevelt in a wheelchair. The large statue of Roosevelt by Neil Estern in the third room shows him seated in a chair with small casters, but not a wheelchair. The bas relief in the first room shows President Roosevelt riding in a car at his first inauguration. The team considered that if FDR did not show his disability to the public in his life, the memorial shouldn't either.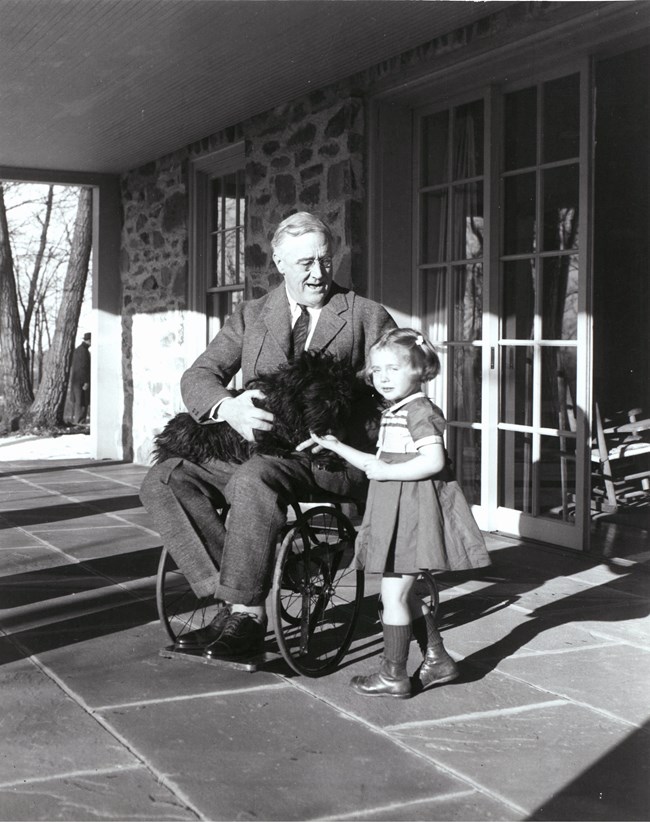 Of course, in the time since Roosevelt's death in 1945, and even since the original memorial plans were created in the 1970s, attitudes towards disabilities have changed. Franklin Roosevelt's incredible impact on our nation is now considered even more impressive due to the fact that he struggled with a serious illness. He is a hero to people in the disabled community and a powerful example of perseverance and courage to all. And so, when the memorial was set to be dedicated in 1997, many people were troubled that FDR's disability was not openly displayed. A campaign led by people with disabilities and the National Organization on Disability pushed then-President Bill Clinton to act.
Shortly before the dedication ceremony, President Clinton recommended that Congress create legislation to add a statue of FDR in a wheelchair to the memorial. The legislation passed and was mentioned by President Clinton at the dedication, "I'm pleased to offer this legislation so that generations of Americans will know that this great President was great with his disability."
One of the sculptors who already had work in the original memorial was brought back to create the statue. Robert Graham's bronze statue of Roosevelt shows the president seated on a wheelchair of Roosevelt's own design with his chin optimistically thrust forward. It is the centerpiece of the Prologue Room, dedicated on January 10, 2001. Behind the statue is a quote from Eleanor Roosevelt, "Franklin's illness...gave him strength and courage he had not had before. He had to think out the fundamentals of living and learn the greatest of all lessons - infinite patience and never-ending persistence."
Last updated: February 28, 2021