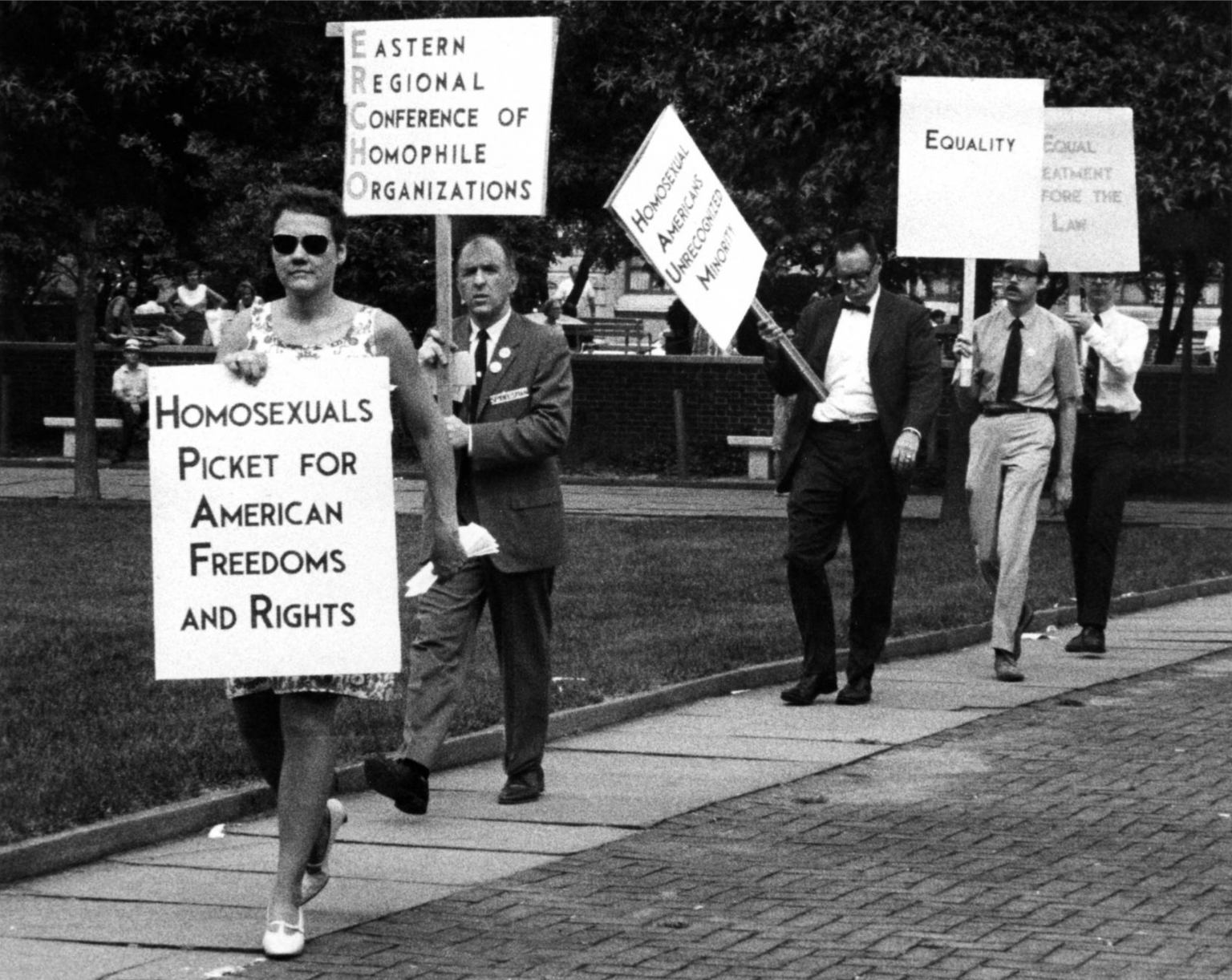 "Article II Section 1.a of Constitution of the Mattachine Society of Washington: To secure for homosexuals the right to life, liberty and the pursuit of happiness, as proclaimed for all men by the Declaration of Independence; and to secure for homosexuals the basic rights and liberties established by the word and spirit of the Constitution of the United States."
The beginning of the '60s was drastically different then the ending of the decade for members of the LGTBQ+ community, launching the modern LGBTQ+ movement. To fully grasp how the decade ended, with the Stonewall uprising and the first Pride Marches, it is important to know the Annual Reminders. The Annual Reminders were among the earliest LGBTQ+ demonstrations in the United States and would occur each until just after the Stonewall Riots. These marches were intended to show assimilation with the community over the issue of employment. The Mattachine Society, Daughters of Bilitis, and other organizations during the '60s were also actively engaged with the insurmountable task of changing the way the public viewed the LGBTQ+ community. In addition to housing local conventions, staging peaceful protests, and creating publications, the inner structure of these groups began to change almost immediately with the start of the '60s. Younger members didn't share the same mindset of those older members and more radical members began to create divides within the organizations. In 1962, an attempt to bridge cooperation between the groups resulted in several regional Conferences of Homophile Organizations. These conferences tried to seize on the growing efforts by local organizations to further support for LGBTQ+ civil rights and these ended up laying the groundwork for the next decade in politics and growing radicalization.
Several other events during the '60s would also lay the groundwork for the Stonewall Riots like Compton's Cafeteria and the Black Cat Tavern Riots, both were spontaneous acts of resistance against police brutality. Legal progress was made by acts like the Sip-In, where a group from the Mattachine Society, set on changing the restrictive liquor laws in New York, staged a photo that effectively changed public opinion and began to change the public and legal discourse on LGBTQ+ rights. This fragmented and fed-up group of people became the backdrop for the Stonewall Riots. What started as a typical police raid ended up being the catalyst for the modern LBGTQ+ civil rights movement. A year prior to the uprising, there were roughly 50 LGBTQ+ organizations, both local and national chapters; a year after the uprising, there were over 1000 groups. A changing tide began to roll over the LGBTQ+ community, and not everyone agreed what to do next.