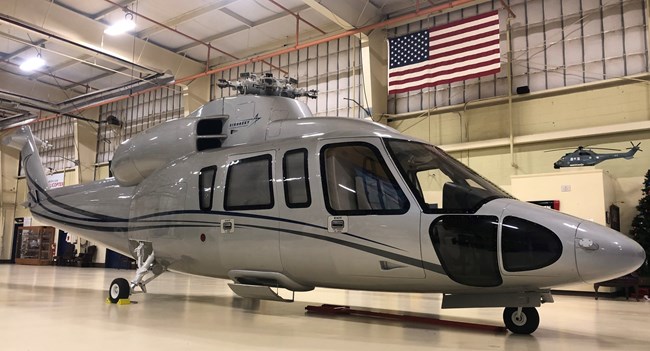 American Helicopter Museum
Catherine Cooper: Thank you for joining me today.
Allison Titman: Thanks for having me, it's great to be here.
Catherine Cooper: I'd like to start with asking you to introduce yourself and the museum.
Allison Titman: Sure. I've been at the museum a little under a year. It's a really cool place and has about 35 helicopters on display outside and inside. When we're open and not in the conditions of a pandemic, several of those helicopters are actually interactive because we want people to understand—as much as they can without taking flight—what it's like to really sit at the controls and to pilot a craft like that. We also offer helicopter rides, have special events for holidays, do all the fun museum type activities that everybody else does.
Prior to being at this museum, I was actually at the American Alliance of Museums as an Accreditation Program Officer, where I worked with museums of all types and sizes as they prepared for, and then achieved, accreditation. And in case all of that isn't enough work, I've also been involved with the Small Museum Association for about ten years. I am currently the President Emeritus of the Board.
Catherine Cooper: How is small museum defined in the United States?
Allison Titman: I would get that question all the time when I was the one fielding emails for SMA and my answer generally is, if you feel like your museum is small, then it is small. People throw around different definitions based on budget and staff size; it used to be under 250,000 dollars annual budget, now I hear more under half a million, something like less than five staff members or less than ten, but it's really hard to define. So, what I say is a small museum is one that feels like it doesn't usually have the resources it needs to meet its goals but figures out innovative ways to meet them anyway.
How the Pandemic Affected the Staff and Museum
Catherine Cooper: You have mentioned that we are currently in pandemic times, how has that affected your museum?
Allison Titman: Well like every other museum, we've had to close. We closed on March 13th [2020] and are still closed, though we've just been notified that museums in our region will be able to open over the next few weeks. During that closure, myself and the one other full-time person transitioned to working from home. Unfortunately, I did have to furlough my six part-time staff members because without earned revenue, we just weren't able to sustain our usual staffing levels.
During the closure, we've been working to maintain operations in terms of finances and the essential tasks we have to do to keep the place running. I'm also trying to take advantage of this time to do some behind the scenes work on how we use technology and other systems to make sure that we're streamlining our work as much as possible, so that when we go back, our lives are hopefully a little easier. I'm also, like every other museum, applying for all the various funding opportunities to help us get through this crisis. And I've had to work on a phased reopening plan, looking at what kinds of cleaning and disinfecting procedures and safety protocols we're going to have to institute to open safely and then putting those on paper, so that our staff and our volunteers and our visitors all feel safe reentering the facility.
Catherine Cooper: Could you tell us any details about that plan, sort of how it fits in with the phased reopening of your region or museum practices that everyone has been discussing?
Allison Titman: Sure, so it's a combination of information from my region, information from federal sources like the CDC, and then thinking about how our museum works and how to integrate those things into our operations. And I think all Directors and all operations staff members and other people with similar responsibilities have been cobbling together the same things. It's challenging to take a set of CDC protocols on cleaning and disinfecting and then think about how that applies at my 30,000 square foot building, 15,000 square feet of which is a big gallery full of helicopters, but which also has a museum store, staff offices, two commercial tenants, a theater space, an archives, a library and I'm sure other people are grappling with the same things.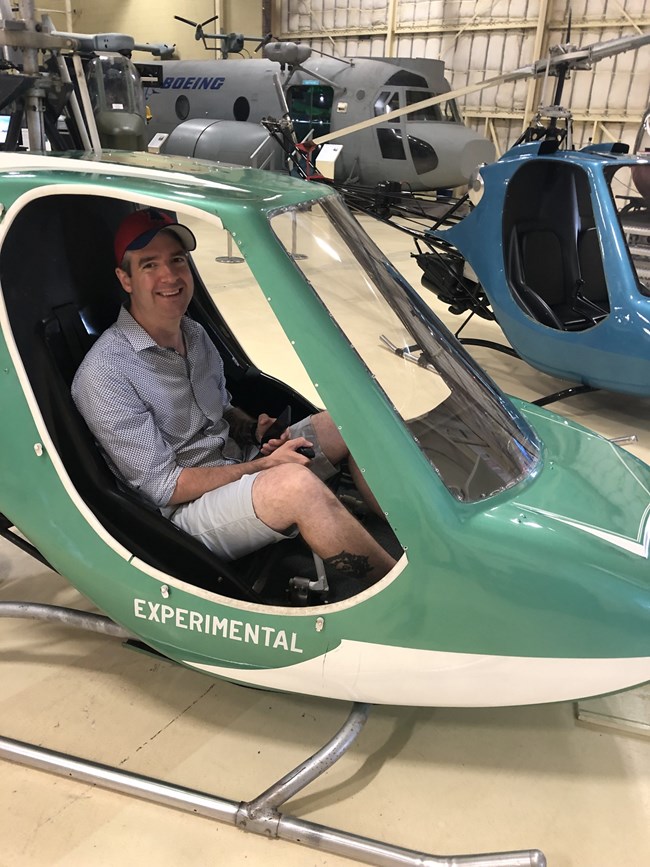 Kids' Helipad & Interactive Helicopters
Our most popular spaces are our kids' helipad area and then our interactive helicopters. Both of those spaces are meant to be really heavily hands on. They're supposed to engage all ages, but especially those learners who might not be reading yet but who can really experience things using their other senses. We use helicopters as a gateway to STEM education, and we feel like those hands-on experiences help to make that connection between helicopters and aviation to larger concepts for people of all ages.
So, we have had to think through what spaces have to close because they're just too high touch we can't keep them open, versus what we can keep open if we make sure to clean more heavily, and to make sure that people understand really what the experience is going to be like in the new normal that we're all having to deal with.
Pandemic Experience & Other Museums
Catherine Cooper: From speaking with colleagues who work at other small museums, how similar or different have their pandemic experiences been from yours at the American Helicopter Museum and Education Center?
Allison Titman: My friends and colleagues have really had a variety of experiences. For me, I've been at the helicopter museum less than a year, so I was still in a phase of doing some organizational transformation in terms of our goals and our programming and what we were really trying to put in place to build on for the future. So, I have colleagues whose institutions are more settled who have solid programs in place, who have been able to make really impressive pivots into virtual programming. Friends are doing things like virtual story times, and turning an education program that was previously in person into a zoom-based experience. And then being able to reach out to institutions like local libraries that are looking for virtual programming and partner with them.
I used to be on the Board of the Greenbelt Museum in Greenbelt, Maryland and as they think about reopening, they're seeing a phased approach, where the first thing they bring back is their walking tours of Greenbelt. That's an outdoor experience that people can engage in more safely, whereas the museum itself is a house from the late 1930s that's less than 1000 square feet. So, you can't put too many people in there at one time at this point.
So, people are really thinking through what kind of existing programming they have and how to pivot to make it fit our current conditions. And then we're all dealing with some uncertainty around the future. Whether that's financial uncertainty, whether it's not knowing if visitors are going to come rushing back to our institutions when we reopen or whether it's going to be a trickle at first. And then how people will respond as we have to make adjustments over time. If we can't have our signature events or if we have to really reduce our capacity, will our audiences understand why and really work with us to follow the safety protocols we feel like we have to put in place.
How Can the Public Help?
Catherine Cooper: How can members of the public help small museums at this time?
Allison Titman: So, during the pandemic I got a new phone system at the museum because we had a traditional system where the phones rang to our desks, which didn't work when we weren't at our desks. So now the museum's phone rings through to my cell phone, and I'm the frontline staff picking up all the calls.
So, the first thing the public could do that would be really helpful is just to be understanding. I know that there are people who really want to get out of the house, and who really need a place to take their bored kids now that their summer breaks have started, but some museums just aren't permitted to be open yet, and some are still putting their safety practices and protocols in place and aren't ready.
So, members of the public should just keep an eye on museums' Facebook pages, websites, anywhere they're posting information to see when they're reopening, if they've had to adjust their hours, if they're asking people to buy tickets online in advance. It's really helpful if people take a second to plan their visit and to look up the information before making a phone call or before just showing up. And then if the public really care about an institution, it's great if there is a way for them to financially support that museum. If they can't do that, can they share the museum's Facebook post, or forward the emails, or tell their friends how long they've been a member of the museum and what a great experience that's been? So, whether people have dollars or can just extend the museums reach, that's all really helpful right now.
I think right now, we're all trying to figure out what the future looks like. And we're having to think about the short term because that's where our heads are, that's where we're all working. Either our museums have just reopened their doors or they're working towards that, decisions are having to be really immediate.
What I think is coming, and we're starting to have to grapple with, are the longer-term implications of this pandemic and what the lessons we take away from it are.
When I worked in accreditation in 2018, we were still seeing museums who had not rebounded to their pre-2008 recession levels. So, cataclysmic events like this affect museums for years and years and years. But on the bright side, these kinds of events give us a good opportunity to plan for the future. What can we put in place now or over the next year or two years, that will help us weather the next crisis? How do we build more sustainable institutions and how do we become more resilient? And I don't say that lightly, I know it's not easy. I know that small museums in particular, but all museums in general, tend to feel under resourced and to feel like it's really today that they can handle and the future that has to wait. But I think that if we can learn from this crisis, that we have to plan and we have to put a strong foundation in place, we can at least take something positive out of what has been a fairly negative experience.
And if nothing else, at least it shows that we are all in this together. It really is museums across the globe that have had a hard time and it's been wonderful to see people talking to each other. We might be stuck at home, but we have access to people across the country and across the world and our museum professional organizations have really stepped up to offer helpful resources. So, the American Alliance of Museums, AASLH, ASTC, all of the museum umbrella organizations and then the disciplines specific organizations, have really tried to help their members and the field at large.
So hopefully, no one feels like their museum is struggling through this alone.