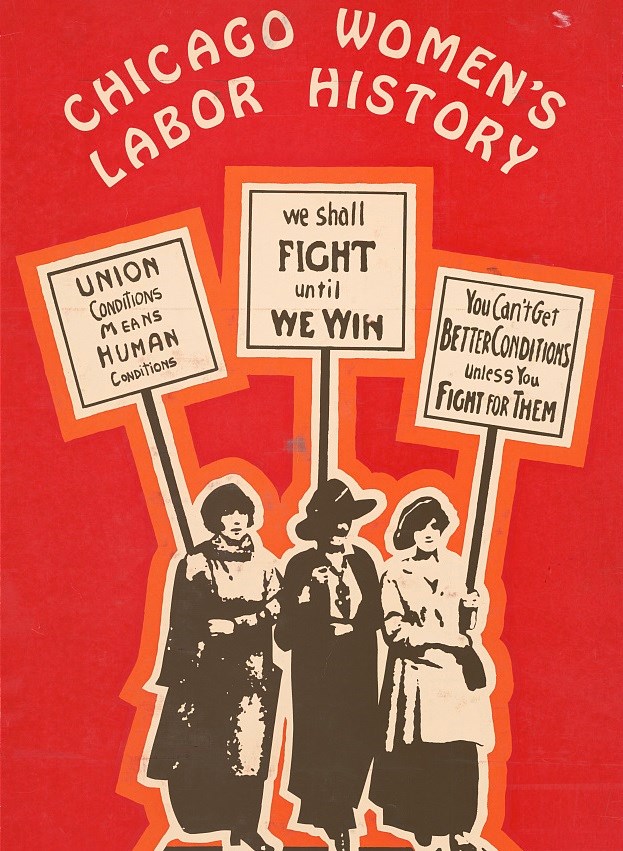 The content for this article was researched and written by Jade Ryerson, an intern with the Cultural Resources Office of Interpretation and Education.

This article features places associated with working-class women who became labor rights activists. Kate Hyndman, Vicky Starr, and Sylvia Woods came to Chicago to find work during the 1930s, a decade beset by the Great Depression. The economic crisis hit working-class and immigrant laborers the hardest. People became desperate as banks failed, farms and factories closed, and unemployment spiked.
The Communist Party (CP) of the United States of America viewed the Depression as a clear sign of capitalism's failure. It also voiced public support for workers' rights, racial equality, and class solidarity. This message appealed to thousands of disillusioned workers. Between 1928 and 1935, party membership swelled. During the early 1930s, the CP organized the unemployed in protests against evictions and cuts in relief. By mid-decade, the party refocused on union organizing in the meatpacking, garment, and auto industries.
Rank and file CP members like Hyndman, Starr, and Woods played key roles in organizing massive rallies and walkouts. Yet, they rarely received recognition from labor leaders and faced gender discrimination in the unions.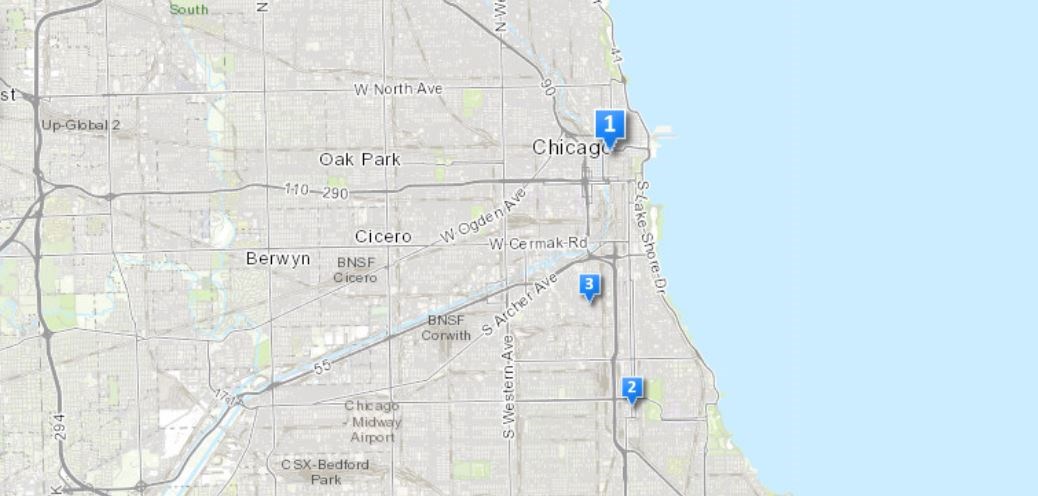 This map shows the locations of the different places featured in this article.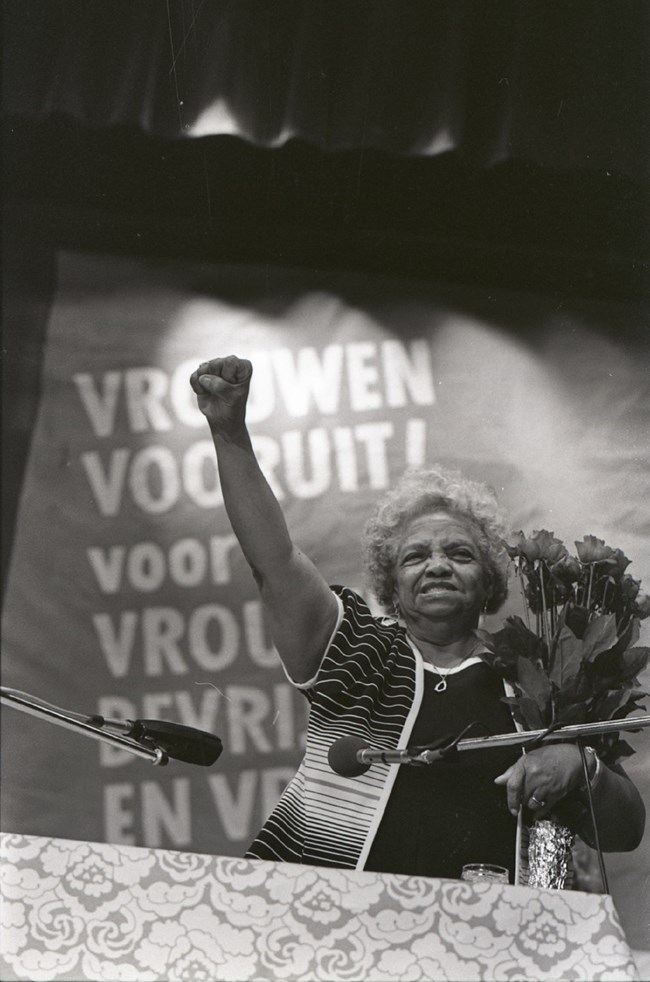 1. West Loop – LaSalle Street Historic District
When Sylvia Woods moved to Chicago, she got her first job at Great Western Laundry on the Near West Side. After a few years of back-breaking work, a promotion became available. Although Woods and the other African American women who already worked there were more qualified, their boss gave the position to an inexperienced white woman. Woods urged her coworkers to strike in protest. She later claimed they launched the first sit-down strike of the 1930s.
Woods remained active in the labor movement and the fight for racial justice throughout her life. During World War II, she worked at Bendix Aviation in South Bend, Indiana. Under her leadership, the local United Auto Workers union adopted a resolution prohibiting discrimination based on sex. In 1971, Woods and other Communist organizers gathered at the Midland Hotel in Chicago, where she served as the chair of the Chicago Committee to Free Angela Davis. Davis was an African American political activist who was wrongfully prosecuted for three capital felonies and imprisoned for over a year.
The Midland Building is a contributing property in the West Loop – LaSalle Street Historic District, which is listed in the National Register of Historic Places.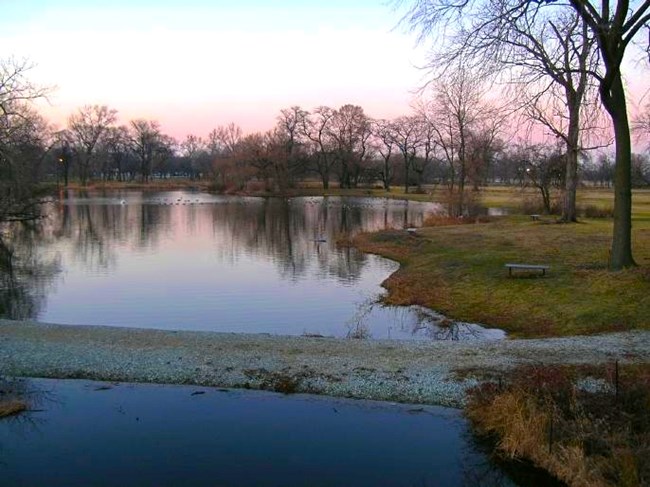 2. Washington Park
Kate Hyndman got her start in the labor movement by protesting a major layoff at Bauer and Black, a medical supplies company. The company wanted to keep only the most efficient workers, regardless of seniority. To offset the smaller number of workers, the company would also increase production by 50%.
As an assistant forelady, Hyndman spoke out on behalf of the women she supervised. Her superiors initially ignored her objections, but Hyndman soon gained their attention. She wrote an anonymous report in the CP's official newspaper, the Daily Worker. She also posted copies around the factory, energizing the other workers. Although Hyndman was fired, her actions inspired other women at the company to unionize and strike a few years later.
Hyndman continued to speak out against injustice as an organizer for the CP-backed Unemployed Council. This organization protested a 50% cut in unemployment relief and fought evictions on the Near West Side. Despite violent resistance from the local police, the Unemployed Council also staged massive, public demonstrations in Union Park and Washington Park.
Washington Park was added to the National Register of Historic Places in 2004.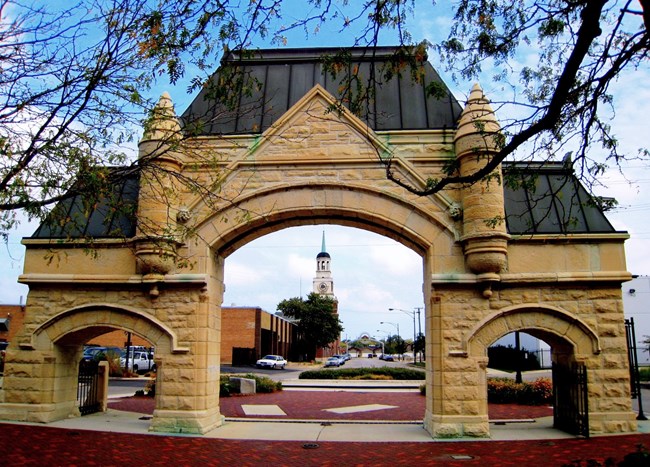 3. Old Stone Gate of Chicago Union Stockyards
Vicky Starr worked in the cook room of a packinghouse on the South Side. She worked six hour shifts for 37.5 cents per hour, cutting up steamed meat to distribute to people on relief. The heat blistered her fingers and caused some of her coworkers to faint. Conditions were not much safer in other departments. After a meat chopper cut off another woman's fingers, Starr finally convinced the other women to stage a sit-down strike. The strike forced the company to put in safety devices, but Starr was fired and blacklisted. She began distributing The Yard's Worker leaflets and made contacts with workers at other packinghouses in the Union Stock Yards meatpacking district.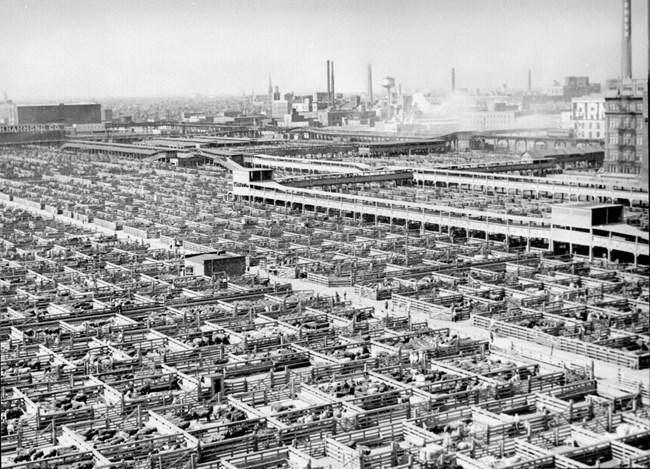 By the time the Packinghouse Workers Organizing Committee (PWOC) formed in 1937, Starr had collected names and addresses from dozens of women. She was one of three women and fourteen men that organized the PWOC, but she could not progress in the union. Many men did not take women seriously and believed they were only active in the union as an excuse to look for dates. Yet, Starr and other union women often performed tedious tasks that men could or would not do. Starr recalled typing and hand-cranking copies of leaflets and Communist shop papers on mimeographs until late at night. Although women had to balance union activities with their domestic duties and day jobs, the PWOC only extended paid positions to men.
The Old Stone Gate of Chicago Union Stockyards was listed in the National Register of Historic Places in 1972 and designated a National Historic Landmark in 1981.
Selected Sources:
Klein, James, Miles Mogulescu, and Julia Reichert, dir. Union Maids. 1976; Ho-Ho-Kus, NJ: New Day Films, 1977. Accessed January 4, 2020. https://www.youtube.com/watch?v=74gvcvXlgnM.
Lynd, Alice and Staughton Lynd, eds. Rank and File: Personal Histories by Working-Class Organizers. Boston: Beacon Press, 1973.
Storch, Randi. "Mapping Red Chicago: Grassroots Communist Party Activism 1928-1935." Mapping American Social Movements Through the 20th Century. Accessed January 4, 2020. http://depts.washington.edu/moves/CP_chicago.shtml.