Article
Partner Spotlight | Nashua, Squannacook, and Nissitissit Rivers Wild and Scenic Stewardship Council Conservation Networking Gatherings
by Emma Lord, Natural Resources Specialist, NPS

Starting in February 2019, the Nashua, Squannacook, and Nissitissit Rivers Wild and Scenic Stewardship Council (Stewardship Council) began hosting periodic in-person breakfast gatherings for town conservation agents focused on resource protection. Speakers from state agencies, consulting firms, universities, and other organizations have presented on conservation topics relevant to rivers and the watershed. Since March 2020, these gatherings have moved to a virtual format and the audience has been expanded to include land trust members, Stewardship Council members, and other members of the local conservation community. Working to advance the Stewardship Council's goals, to protect biodiversity, cultural, and ecological resource values, these networking gatherings have been well attended and provide a valuable opportunity for the local conservation community to learn about and discuss conservation topics. Upcoming Networking Gathering topics may include ATV-use concerns, water quality, and fluvial geomorphology.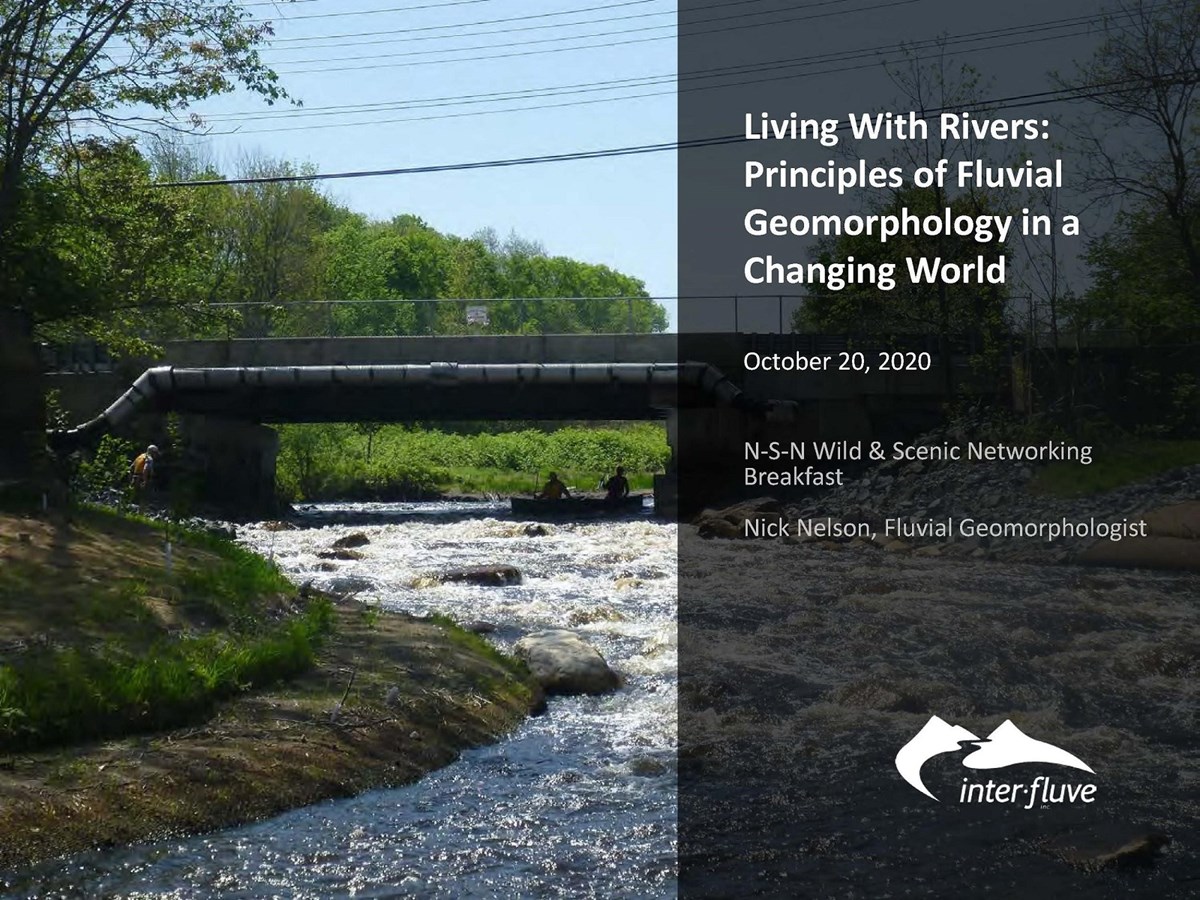 List of Networking Gathering Speakers and Topics

Feb. 12, 2019
Appropriate Siting of Solar Arrays by Judith Schmitz, MA DEP Central Regional Office Circuit Rider

April 9, 2019
Invasives by Joan Deely, Land Stewardship Inc.

June 18, 2019
Conservation Leadership by Kathy Sferra, Stow (MA) Conservation Commission

August 6, 2019
Creative Land Protection by Janet Morrison, Land Conservation Consulting

Sept. 17, 2019
Assessing Culverts for Fish and Wildlife Passage by Martha Morgan, Nashua River Watershed Association

January 7, 2020
Forest Legacy and Community Forest Programs by Lindsay Nystrom, Mass Department of Conservation and Recreation

Sept. 1, 2020
Freshwater Mussels in Massachusetts by Jason Carmignani, Mass Wildlife's Natural Heritage & Endangered Species Program

Oct. 20, 2020
Living With Rivers: Principles of Fluvial Geomorphology in a Changing World by Nick Nelson InterFluve

Dec. 1, 2020
An Eagle's Eye View of the Nashua River Watershed - MA Natural Heritage & Endangered Species Program by Lynn Harper, Mass Wildlife's Natural Heritage & Endangered Species Program (retired)

January 12, 2021
Rivers Without (Modern) Humans: The Ecological Baseline is Messy and Complicated by Denise Burchsted, Keene State University

February 23, 2021
Importance and Function of Headwater Streams by Sarah Widing, InterFluve

Upcoming events may be found on the Stewardship Council's Events webpage. For more information on the natural history of the Nashua River Watershed, see the Nashua River Watershed Association's Life Long Learner webpage. Past programs at the River Resource Center have ranged from the river's natural and cultural history to opportunities for increasing its resilience to climate change.


---
Last updated: March 17, 2021