This article was developed from three sets of primary sources: a series of essays that Mary Kwart wrote in 2020 describing her career in wildland fire management; an oral history interview conducted with Kwart in 2021 by Lu Ann Jones and Leah Baer of the National Park Service Park History Program; and a cache of photographs and documents from Kwart's personal archive. These materials contribute to
Women's Voices: Women in the National Park Service Oral History Project,
and will be archived at
Harpers Ferry Center.
A grant from the National Park Foundation made the project possible. Baer, a National Council for Preservation Education intern, wrote the article.
---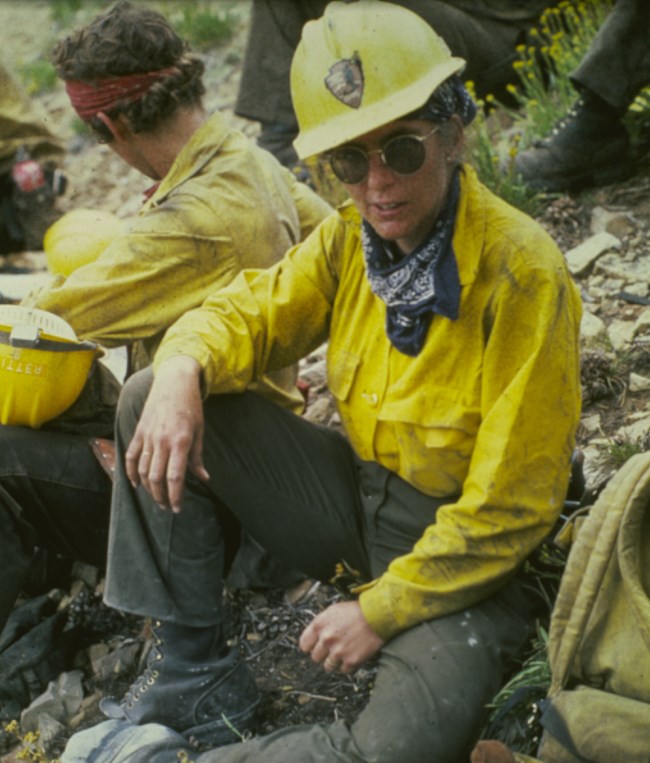 Mary Kwart came of age during the 1960s and 1970s, when feminist ideas inspired some young women to seek radically new career possibilities. Kwart was among them. She combined a spiritual connection with nature and a respect for and fascination with fire to become a wildland firefighter. In the early 1980s she was among the first women to join the Arrowhead Interagency Hotshots, an elite National Park Service crew, stationed at Sequoia & Kings Canyon National Parks in California. Throughout her life, Kwart defied gender stereotypes to create new spaces for herself and for future generations of women in land management agencies.
Early Years
Kwart was born and raised in California. Her appreciation of nature stemmed from annual family camping trips to Yosemite National Park. During one hiking trip at Yosemite at about the age of 10, Kwart spotted a solo female hiker and knew right then she wanted to be like her. Kwart's initial interest in forest fires emerged while she was attending a summer camp in southern California. A fire forced the campers to evacuate. While the fire scared and alarmed her fellow campers, it intrigued Kwart. In 1971 she ventured out on her first solo backpacking trip from Berkeley to Yosemite with a pound of sunflower seeds and a pound of raisins stuffed inside a $5 Boy Scout pack to keep her fed and a cotton sleeping bag to keep her warm. About this time Kwart committed herself to the burgeoning feminist movement and to spirituality.
Mary Kwart: Spiritual Growth

In an oral history interview, Mary Kwart describes her experience in nature.

Credit / Author:

NPS Park History Program

Date created:

05/10/2021
Mary Kwart: "Committed to a feminist vision of my life"

In an oral history interview, Mary Kwart remarks on her commitment to a feminist vision of her live that took shape in the 1970s, even before her position with the Arrowhead Interagency Hotshots.

Credit / Author:

NPS Park History Program

Date created:

05/10/2021
Before long, Kwart was headed down a career path new for women. In 1977 she secured a job as a seasonal firefighter with the U.S. Forest Service. After working with the USFS and later the Bureau of Land Management, in 1982 Kwart believed she had enough experience to apply for a position with the newly established Arrowhead Interagency Hotshots. The crew agreed.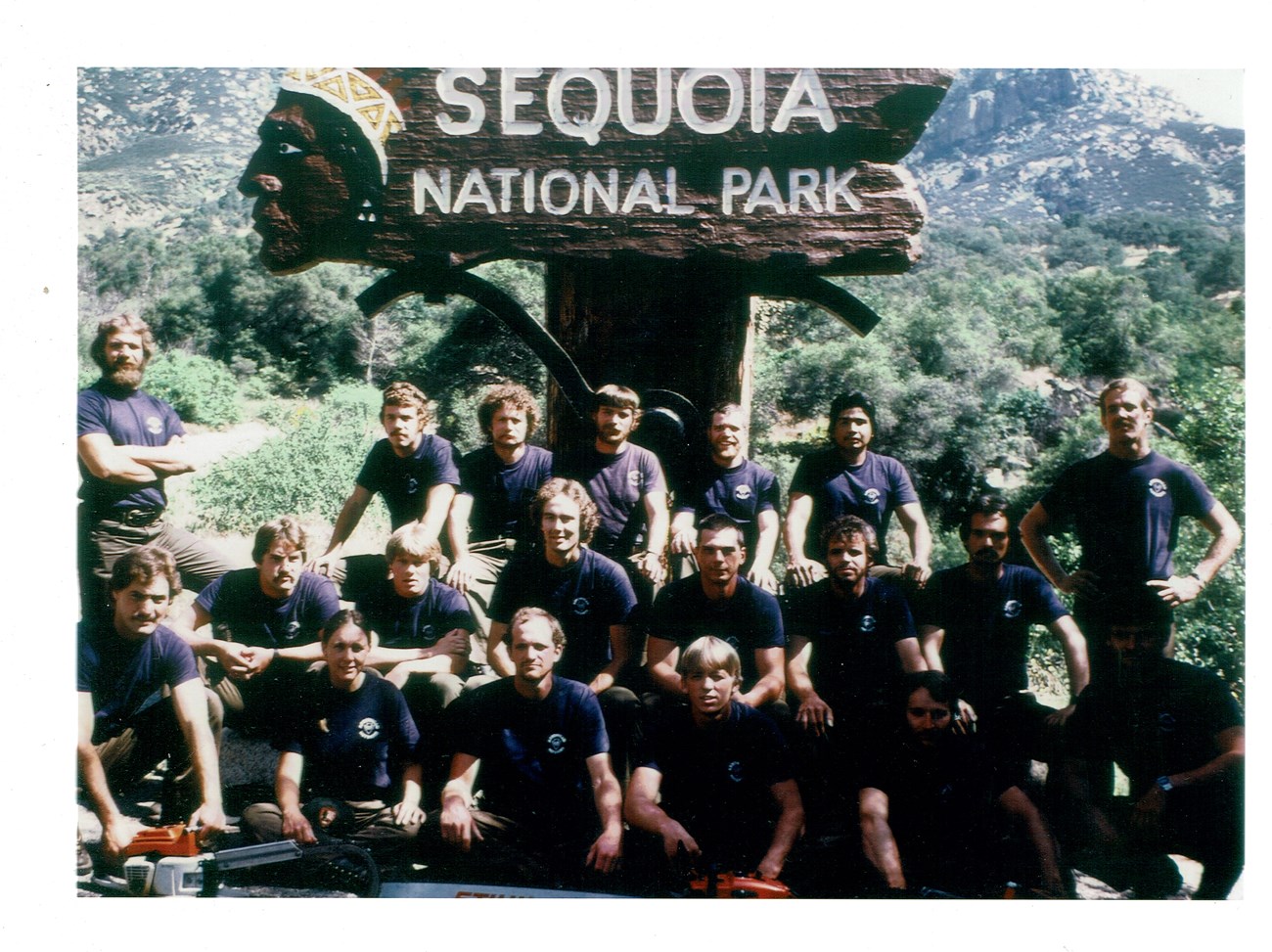 Culture of the NPS Arrowhead Interagency Hotshot Crew
Candidates for the elite hotshot crew had to pass a series of physical fitness tests. The test standards reflected male models of fitness by focusing on upper body strength. All crew members had to complete seven pull-ups. Kwart initially struggled to reach this standard, and she spent most of the off-season training to increase her pull-up count. Passing what was known as a step test was another requirement.
KWART: For an entry-level firefighter there was a 40-hour course and you had to pass a step test in the 1980's--walk up and down a step of a certain size to the beat of a metronome. Then your pulse was taken and had to be below a certain level on a chart. This was bad for women who have higher heartrates than men even when they are fit. There used to be only one size step. Then they finally developed a woman's step that was lower than a man's step. I always had a hard time passing the step test despite being in good shape. One trick to make your heartrate slow down was to hold your breath as your pulse was taken. I dread to think of the strain this put on my heart. Now the physical test is a fast walking test with a 45 pound pack—you have to walk 3 miles in 45 minutes. Passing the pack test was fairly easy for me because I was used to carrying a backpack when I hiked.
Mary Kwart: Hotshot Strength and Endurance

In an oral history interview, Mary Kwart describes the fitness requirements when she was on the hotshot crew and the differences between strength and endurance in firefighting.

Credit / Author:

NPS Park History Program

Date created:

05/10/2021
As one of the first women to venture into the firefighting profession in the National Park Service, Kwart knew she was setting an important precedent. If she failed, she might set back opportunities for other women. She had to prove that women could do dangerous and challenging jobs. There was little room for error.
KWART: In the early '70s, there was no one. When I first started firefighting, there was no other women firefighters that I knew. There was no one at supervisory levels, and there was no one—I had some contemporaries on the crew that were the same level as I was. But there was nobody for us to model on or anything. We were just doing it basically because we loved doing the job. So there really wasn't anybody there at that time.
Mary Kwart: "I can't fail because I'm representing all women"

In an oral history interview, Mary Kwart voices the burden of being the only women in her position.

Credit / Author:

NPS Park History Program

Date created:

05/10/2021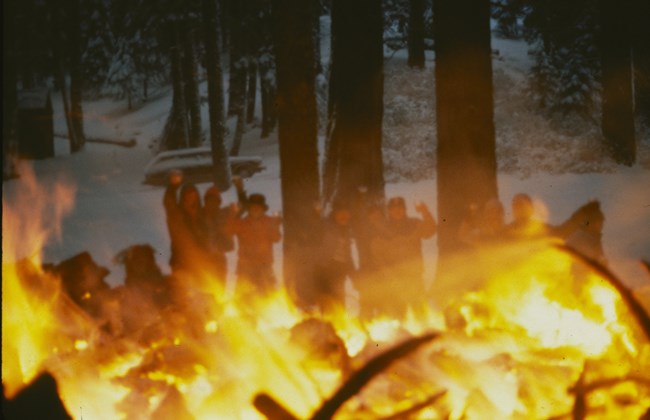 Kwart enjoyed the camaraderie of the hotshots. Considered "the marines of firefighting," hotshots had to be disciplined, prepared to respond at a moment's notice, able to withstand smoke, grime, and fatigue without complaint. Bonds of respect grew from the dangers they faced together and their vow to take care of each other. A macho culture rooted in bravado permeated the crew. Crew members sang ribald songs to pass the time, and profanity laced virtually every sentence. The F-word was a favorite. Kwart adapted to the climate by joining in, telling colorful jokes, and peppering her language with curse words along with the best of them.
KWART: I used the F-word as much as anybody. I enjoyed using it. Although we were discouraged from using it when we were working around the public it slipped out. We were doing project work at the base of the Sequoia Grove near Swale Campground in Sequoia National Park where we were stationed. I slipped up and called out, "Hand me that F—ing shovel." Some older women were passing by and I heard them say, "What a nice looking girl, but such a terrible mouth."
However, when male crew members started singing racist and sexist lyrics, Kwart drew the line. She refused to participate and convinced the supervisor to ban the songs.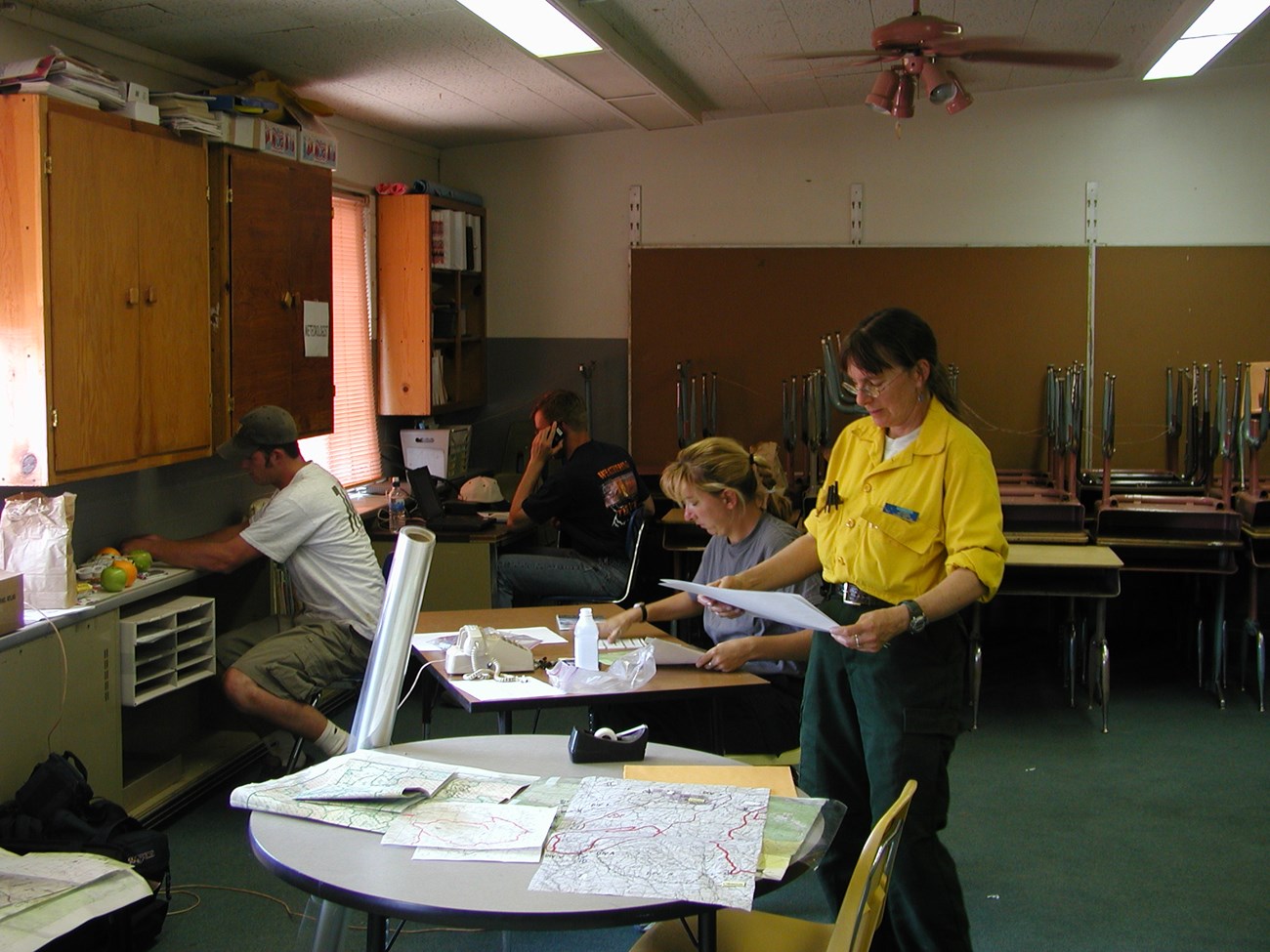 Spiritual Connection to Fire
In addition to furthering the cause of gender equality in non-traditional careers, firefighting and being outdoors served as an extension of Kwart's spiritual practice. Raised a Catholic, Kwart became a Zen Buddhist after an extensive period of reading and reflecting about its values. She took her need for spiritual practice seriously. Oddly enough, the act of firefighting—specifically, the unwavering attention and all-consuming focus that it required—allowed Kwart to enter into a state of mindfulness. Through this relationship with fire, she came to view herself like a "firefighting monk."
Mary Kwart: Finding Mindfulness and Right Livelihood in a Fire Career

In an oral history interview, Mary Kwart describes the relationship between foundations of Buddhist practice and her firefighting career.

Credit / Author:

NPS Park History Program

Date created:

05/10/2021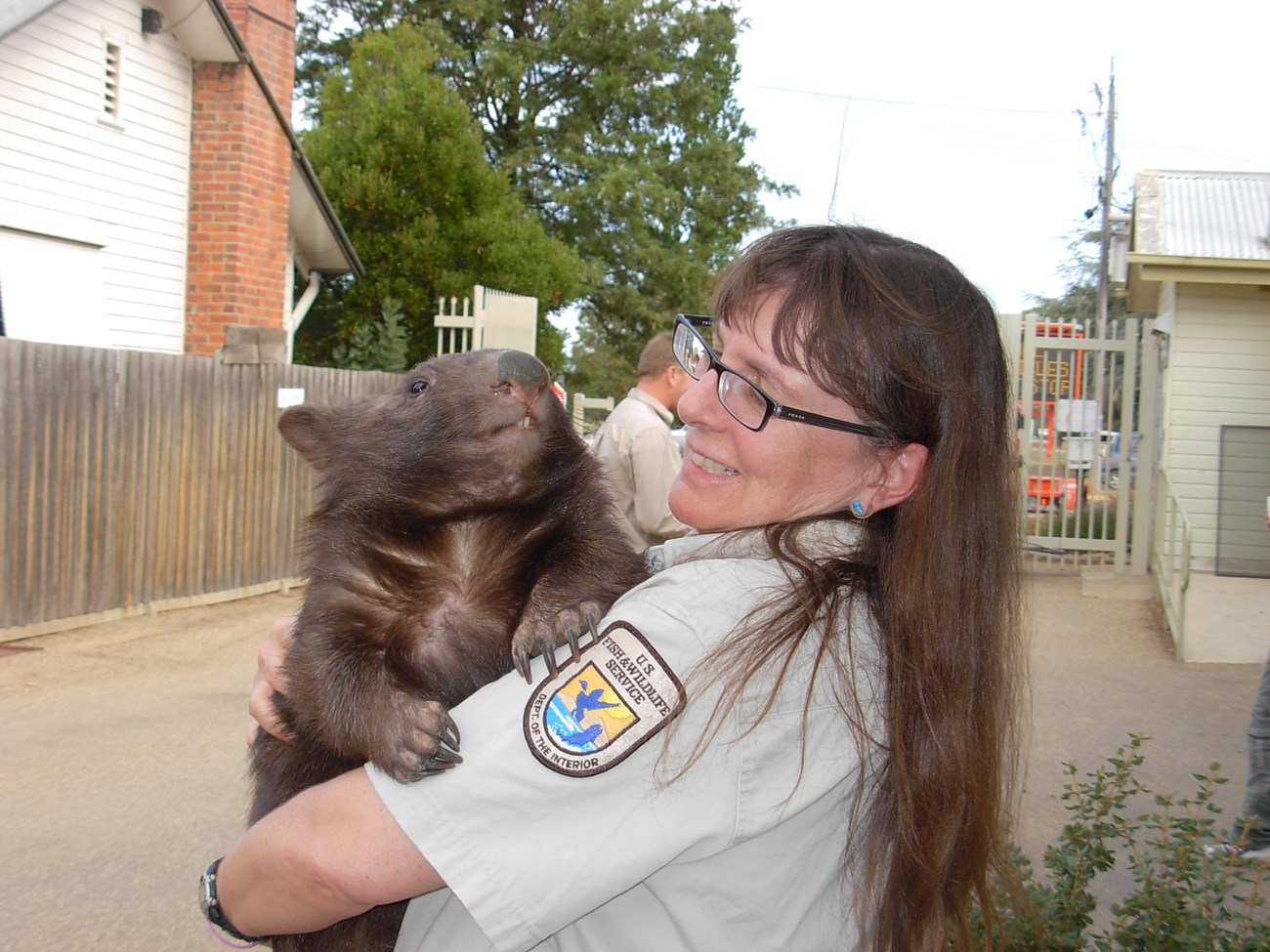 Conclusion
Kwart went on to build a 30-year career in fire management and fire science with several federal agencies before retiring in 2007. The hotshot years were a defining moment. She proved that women could succeed in a career that demanded strength, stamina, and smarts—when they were given a fair chance.