Now That Summer Has Ended
is an exhibit on the second floor balcony at the Heritage Center opening in March - October 31, 2023.
The following selections are from the exhibit, which also includes historical artifacts used during the winter.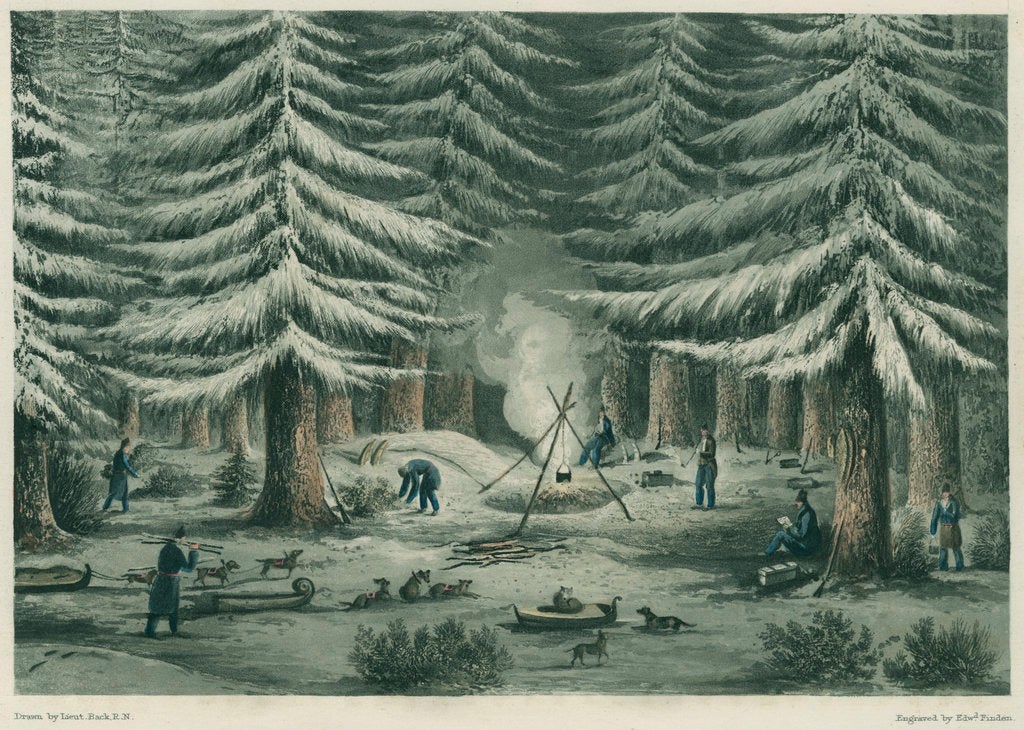 When the hustle and bustle of summer ended and the temperature began to drop, fall was days away. Large canoes arrived at midsummer loaded with trade goods from Montreal, and in early August started the six week journey back, heavy with pelts for a world market. These seasonal voyageurs looked forward to the welcoming arms of loved ones in their home parishes along the St. Lawrence River.
As the seasons changed, so did life for the Anishinaabe and remaining fur traders. Historians know little about Grand Portage during the "off" season. The number of men who stayed dwindled from perhaps a thousand to less than a couple dozen. Several of the buildings were too large to heat in cold weather and some were simple warehouses without chimneys. Archeologists discovered a few smaller buildings with several fireplaces, likely winter homes.
North canoes delivered furs over the summer and headed back carrying trade goods to as many as 100 trading posts among the villages in the continent's interior. Les hommes du nord, or winterers, wasted no time reaching the posts before water routes froze. There, Native trappers eagerly awaited goods paid for earlier in the year with furs they trapped and prepared. The next seven to eight months involved a quest for food, supplies, trapping, and working together to survive the harshest of seasons.
Nearer to Lake Superior, normal seasonal movement for Anishinaabe meant following food and shelter. On foot or in a canoe and eventually with snowshoes and sleds, people left the lakeshore for traditional wintering grounds and sometimes caches for a winter of finding sustenance, beading, sewing, and teaching through story telling.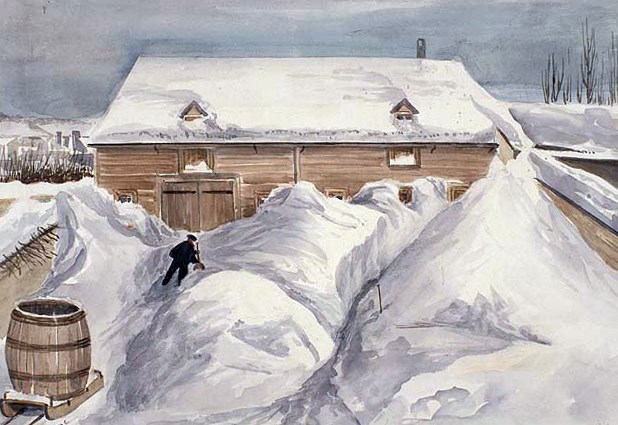 Snow and Cold
...they were stopped by Ice about fifteen miles below Swan River Fort, and from whence they will be obliged to bring the Goods on Sledges.

-Daniel Harmon, Swan River Department/ Manitoba,
October 21, 1802

...coldest day I have experienced – in fact the cold is so intense that our hunters do not like to leave their lodges, and of course kill nothing, yet they as well as ourselves have little to eat.

-Daniel Harmon, February 1, 1802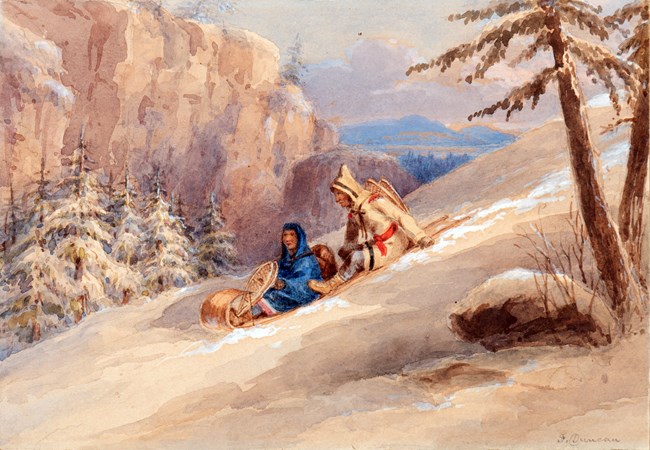 Nabagidaabaan (toboggan)
The word toboggan comes from the Anishinaabemowin words: nabagi (flat) and odaabaan (sled).
My winter stock of provisions is complete- all good, fat buffalo meat, and my men have little to do. They, therefore, amuse themselves by sliding down the bank on sleighs from the S. gate. Their descent is so great as to cause their trains to run across Red River. The Indian women join them, and they have excellent sport.

-Alexander Henry, Pembina River/North Dakota,
January 19, 1801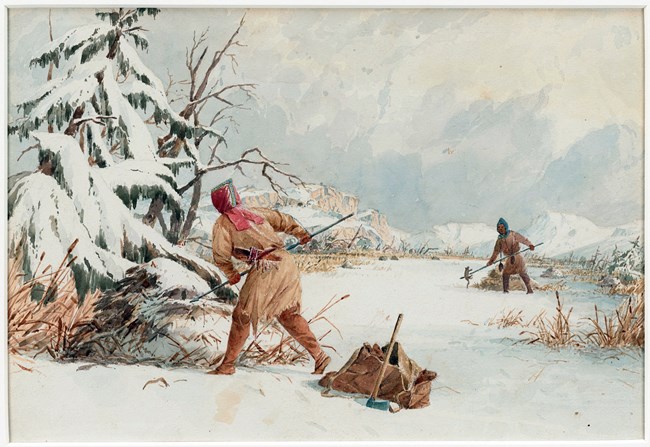 Trapping
...the hunter then cuts a hole with his trench…he introduces his bare arm into the hole, and seizing his prey by the tail, drags it on the ice, where it is dispatched with a spear.

- John McLean, Grand River/Northwest Territories, 1831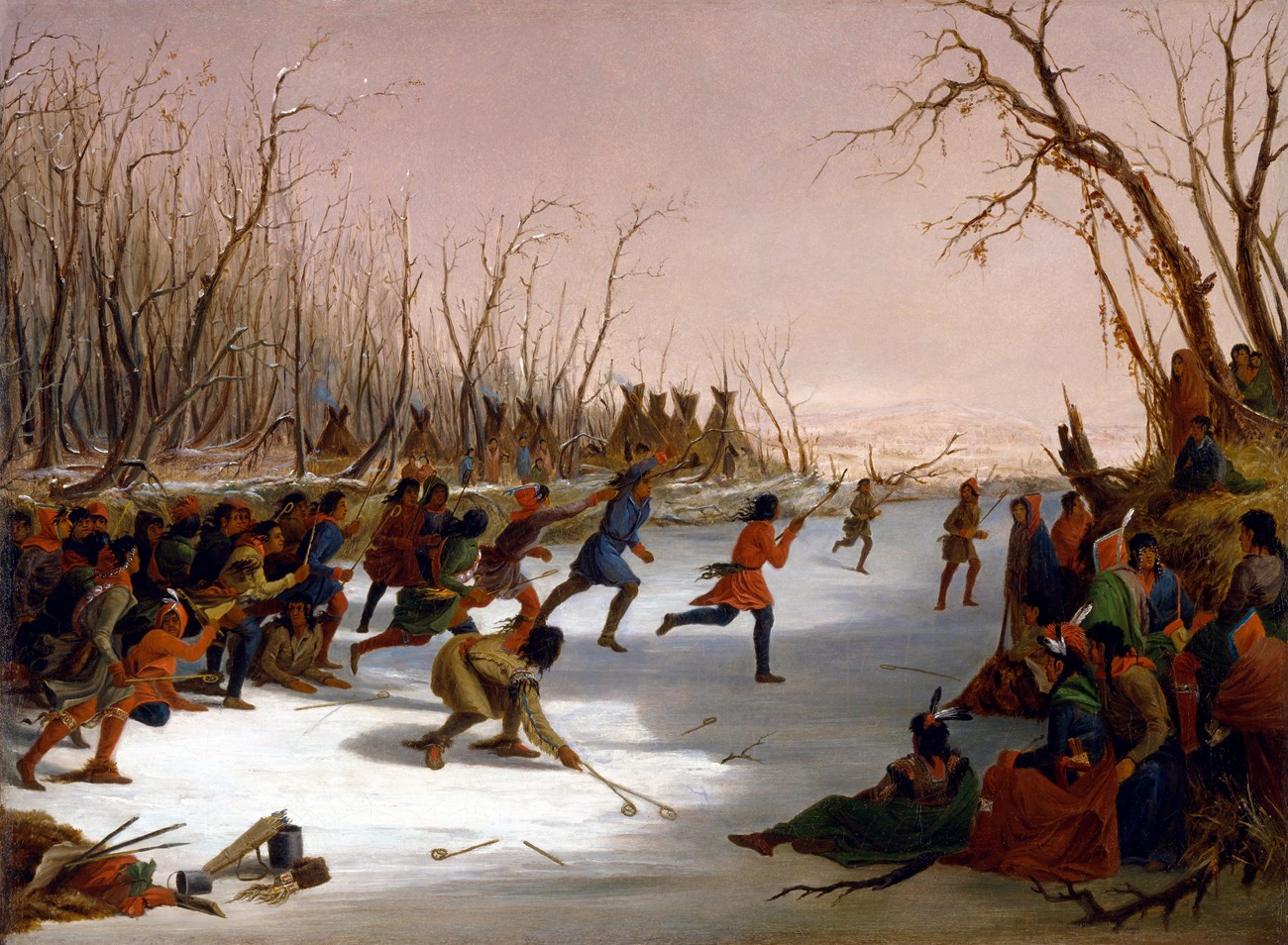 Baaga'adowewin (lacrosse)
This winter sport has long been recognized as one of the great games developed by Indigenous people of North America. Well before the days of hockey and Zambonis, skilled players took to the ice in winter for fun and sometimes to settle disputes.
Bibliography
Bain, James. Travels and Adventures in Canada and the Indian Territories: Between the Years 1760 and 1776. New York: Burt Franklin Publisher, 1969
Bishop, Charles A. The Northern Ojibwa in the Fur Trade. Toronto: Holt, Rinehart, and Winston of Canada, 1974
Burgess, Helen, ed. "The Journal of J. Dufaut," Beaver, Magazine of the North (Autumn 1974)
Burley, David, J. Scott Hamilton, and Knut R. Fladmark. Prophecy of the Swan. Vancouver: University of British Columbia Press, 1996
Coues, Elliott, ed. New Light on the Early History of the NW. Francis Harper, 1897
De Courten, Antoine. A Diary of Lord Selkirk's Expedition on The Banks of The Red River 1816-1817: Un Journal De L'expédition De Lord Selkirk À La Rivière Rouge. Trafford Publishing, 2011
Duckworth, Harry W. Friends, Foes, and Furs: George Nelson's Lake Winnipeg Journals, 1804–1822. McGill-Queen's University Press; Illustrated edition, 2019
Gates, Charles M., ed. Five Fur Traders of the Northwest. Minnesota Historical Society Press, 1965
Gilman, Carolyn. The Grand Portage Story. Minnesota Historical Society Press, 1992
Harmon, Daniel Williams. Sixteen years in the Indian Country, Macmillan Company of Canada, 1957
Keith, Lloyd. North of Athabasca. McGill-Queen's University Press, 2001
Mackenzie, Alexander. Voyages from Montreal Through the Continent of North America to the Frozen and Pacific Oceans, Allerton Book Co., 1922
Mackenzie, Alexander. Voyages to the Arctic. New York: New Amsterdam Book Co., 1902
Malhiot, François Victor. A Wisconsin Fur Trader's Journal. Fur Trade Reprints, 2010
Masson, L. R. Les Bourgeois de la Compagnie du Nord-Ouest. Antiquarian Press, 1960
McLean, John. Notes of a twenty-five years' service in the Hudson's Bay Territory. London: Richard Bentley, 1849
Morton, A. S. The Journal of Duncan McGillivray of the North West Company at Fort George on the Saskatchewan. MacMillan Company of Canada, 1929
Payette B. C. The Northwest. Payette Radio Limited, 1964
Parker, John. The Journals of Jonathan Carver and Related Documents, 1766-1770. Minnesota Historical Society Press, 1976
Peers L. and Theresa Schenck, eds. My First years in the Fur Trade. Minnesota Historical Society Press, 2002
Perrault, Jean Baptiste. Historical Collections, Perrault Narrative, Vol. XXXVII. Lansing: Michigan Pioneer and Historical Society
Podruchny, Carolyn. Making the Voyageur World. University of Nebraska Press, 2006
Sayer, John, and Douglas Birk. John Sayer's Snake River Journal. Institute for Minnesota Archaeology, 1989
Van Kirk, Sylvia. Many Tender Ties. Watson & Dwyer, 1980
White, Bruce M. Grand Portage as a Trading Post. Turnstone Historical Research, 2005 www.nps.gov/parkhistory/online_books/grpo1/fur_trade.pdf
Wood, W. Raymond, and Thomas D. Thiessen. Early Fur Trade on the Northern Plains, University of Oklahoma Press, 1985