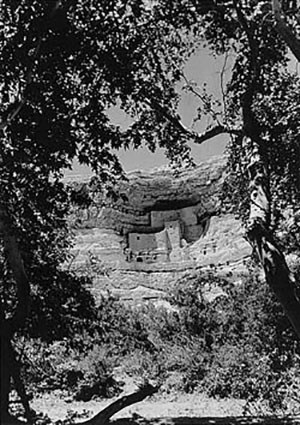 Over 600 years ago, Sinagua Indians lived in this cliff dwelling. Early settlers to the area assumed that the imposing structure was associated with the Aztec emperor Montezuma, but the castle was abandoned almost a century before Montezuma was born.
In December 1895, a group of concerned citizens organized the Arizona Antiquarian Association in response to the increasing loss of prehistoric relics and the destruction of archeological ruins. Within two years the Association had raised sufficient funds for repair work to the Montezuma Castle ruins. The site was withdrawn from the public domain by the General Land Office in 1901 as a provisional and protective measure until more permanent action could be taken.
On August 24, 1906, a few months after signing the Antiquities Act into law, President Theodore Roosevelt signed a draft proclamation for Montezuma Castle National Monument. It was noted for being "of the greatest ethnological value and scientific interest" (Proc. No. 696) and later as having "prehistoric ruins and ancient dwellings ... of great interest to the public" (Proc. No. 2226). The Monument was officially established on December 8 to include 160 acres. In 1917, the National Park Service began repairs and improvements that included new securely-attached ladders, ruins cleaning, damage repair, and scrubbing of graffiti. The first professional excavation took place in the spring of 1927.
Today, approximately 750,000 visitors every year enjoy the 1,658 acres of Montezuma Castle National Monument, one of the best-preserved cliff dwellings in the Southwest. They follow trails to the cliff dwellings, to cavates chipped into the rock to make rooms and caches from rock shelters, and quarries. The Montezuma Well is both an amazing geological feature and an archeological resource. The Monument's collections of over 23,000 items include archeological artifacts, ethnological objects, and natural history specimens. Visitors can see examples of the archeological materials at the Visitor Center.
(Source: Josh Protas, A Past Preserved in Stone: A History of Montezuma Castle National Monument, Western National Parks Association, Tucson, AZ, 2002.)