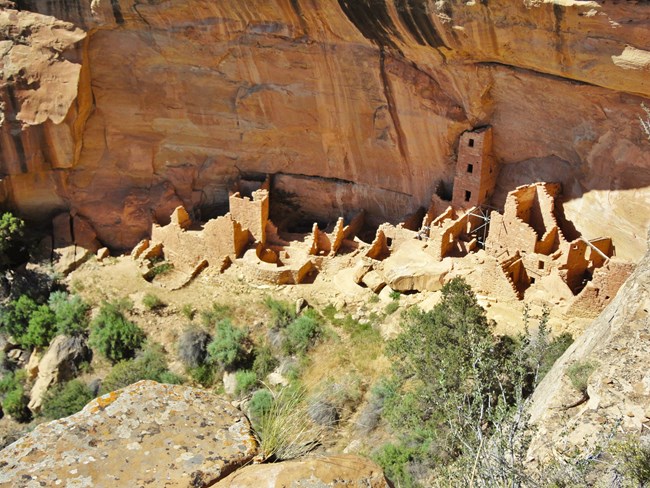 On June 29, 1906, President Theodore Roosevelt established Mesa Verde National Park to "preserve the works of man," the first national park of its kind. Seventy-two years later in 1978 Mesa Verde was inscribed on the World Heritage List as an outstanding example of the culture of the Ancestral Puebloan people.

The cliff dwellings of Mesa Verde are some of the most notable and best preserved in the North American Continent. Sometime during the late A.D. 1190s, Ancestral Pueblo peoples began living in structures they built beneath the overhanging cliffs. These structures ranged in size from one-room storage units to villages of more than 150 rooms. While still farming the mesa tops, they continued to reside in the alcoves, repairing, remodeling, and constructing new rooms for nearly a century. By 1300, the Ancestral Puebloan occupation of Mesa Verde ended. Thus, in a span of a generation or two, the people who built these cliff dwellings left their home and moved away.

Today, with over 52,000 acres, Mesa Verde National Park preserves and protects nearly 5,000 archeological sites, including 600 cliff dwellings and over 3 million associated objects in the park's research collection.

Driving into the park, Montezuma Valley, Park Point, and Geologic overlooks provide a good sense of the Mesa Verde landscape. During the summer months, visitors should plan to spend some time at both Chapin Mesa and at Wetherill Mesa; These sites are very busy from June through early August.. Wetherill Mesa is closed from Labor Day to Memorial Day. In winter, the Chapin Mesa Archeological Museum is the starting point for ranger-led and self-guided tours.

On Chapin Mesa, visitors will find Cliff Palace, Balcony House, Spruce Tree House, the Far View sites, and a self-guided auto tour along Mesa Top Loop Road with numerous mesa-top sites and views of the cliff dwellings. Ranger-guided tours are required to visit Cliff Palace and Balcony House.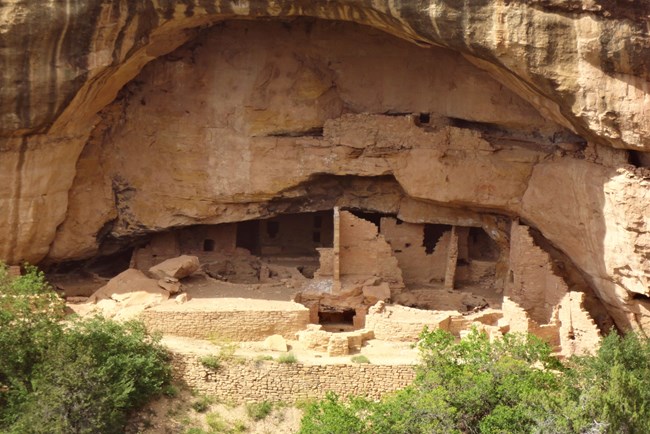 The Ancestral Pueblo people occupied and built upon the flat tops of the mesas throughout their time at Mesa Verde, and found them especially useful for farming, hunting, and gathering wild foods. Mesa-top sites to visit on Chapin Mesa include Cedar Tree Tower, used between A.D. 1000 and 1300 when towers and kivas often were built together—perhaps for religious reasons or as part of a communications system. Nearby, the Farming Terrace Trail allows visitors to learn about water retention and other ancient farming techniques. In the Far View area, you'll find trails to several excavated sites dating from between A.D. 900 and 1300, including Far View House, Pipe Shrine House, Coyote Village, Far View Reservoir, Megalithic House, and Far View Tower. These sites are part of an estimated 50 villages in the Far View area. Along Mesa Top Loop Road, the mesa-top Sun Temple, which contemporary Pueblo Indians describe as a ceremonial space, is accessible by self-guided tour. On Wetherill Mesa, walk the mesa-top Badger House Community, which dates from c. A.D. 600 to c. A.D. 1200, and explore several short trails to overlooks.

Wetherill Mesa offers a quieter, less structured experience than Chapin Mesa; it can be explored on foot or by bicycle. Fewer services are available and visitors should come prepared with snacks, water, and sun protection.

What the Spanish called Mesa Verde, "green table," many Ancestral Pueblo people once called home. Although the ancient inhabitants of the mesa are gone, visitors will marvel at the spectacular cliff dwellings and artifacts that tell of a people adept at building, artistic in their crafts, and skillful at making a living from a challenging land. Ancestral Pueblo people developed a vigorous civilization, whose accomplishments in community living and the arts rank among the finest expressions of human culture in North America. Today, their descendants include the 24 modern pueblos and tribes located in New Mexico, Arizona, Colorado, and Texas, who trace their roots to the cliffs of Mesa Verde.

Plan your visit
Mesa Verde National Park, a World Heritage Site and unit of the National Park System, is located 10 miles east of Cortez, CO. The Mesa Verde Administrative District is a National Historic Landmark. Click here for the National Historic Landmark registration file text and photos. Mesa Verde National Park is open daily year-round, with visitor services changing throughout the year. For more information, visit the National Park Service Mesa Verde National Park website.