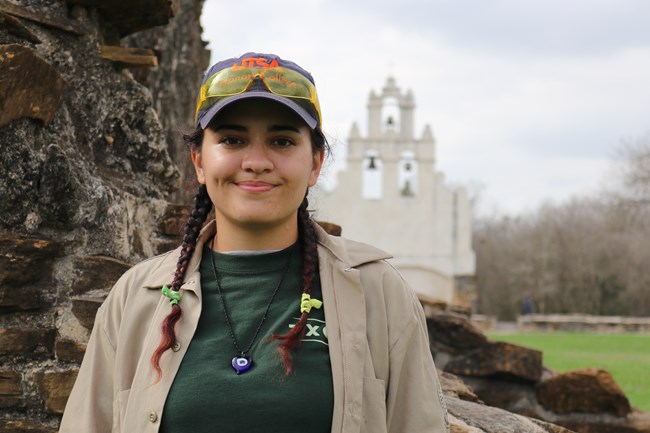 Meet Karli!
She is one of four Cultural Landscape Apprentices at San Antonio Missions National Historical Park. Karli works alongside National Park Service staff to learn important job skills and address deferred maintenance projects such as grounds and acequia preservation, irrigation system management, landscape bed rehabilitation, and associated tasks during their time at San Antonio Missions National Historical Park. She is one of four apprentices who make up the 2021 Cultural Landscape Apprentice team. The Cultural Landscape Apprentice Program is specifically designed to engage local Latinx young adults ages 18-28 who are interested in developing career skills in preservation of cultural resources. The program is made possible in partnership with
Mission Heritage Partners
,
National Park Foundation
, and
Texas Conservation Corps (American YouthWorks.)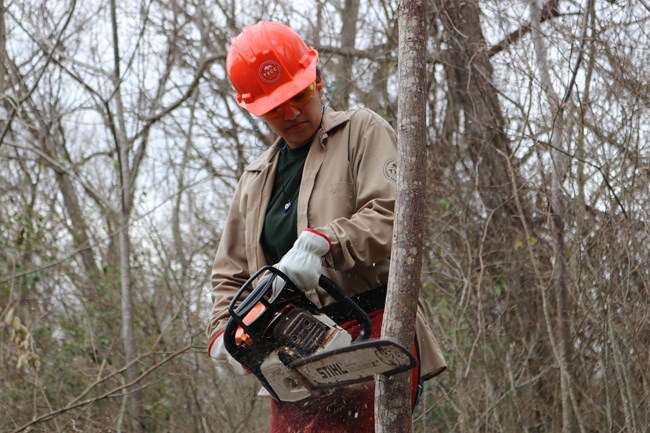 Where did you go to school?
I'm an alumna of UTSA – University of Texas in San Antonio.
What is your favorite part of the apprenticeship so far?
So far, working outside has been a great change of pace. My second favorite part of the apprenticeship has been the people. Our crew is great to be around. We've worked on outdoor projects together like pruning around every mission, replacing bollards, and mowing already in the first month of the apprenticeship.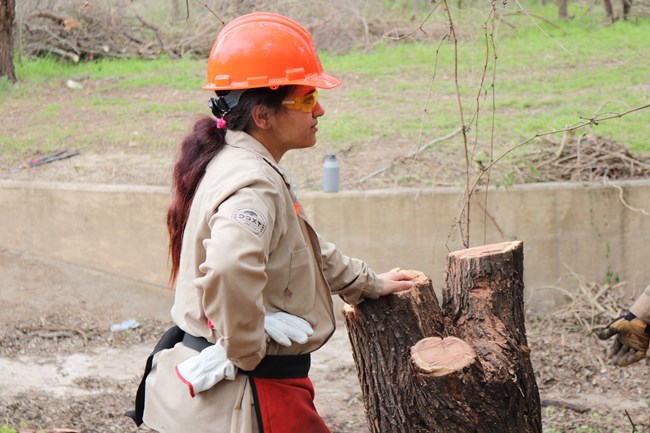 What is your best memory in a national park?
When I was a kid, we used to come here to Texas from California every summer because my grandfather lives here. It was always summer and it was always HOT. My grandfather would say, "I've already seen the missions. You all go explore." He would sit on a bench and send us loose to visit the park.
What is one thing you hope to learn in this apprenticeship?
In this apprenticeship, I hope to learn my potential and learn what I'm capable of doing out here. At first, I thought that I might be limited in what I could physically do. Then, I realized that I can do this. It's amazing, realizing that you can do things and doing them with confidence.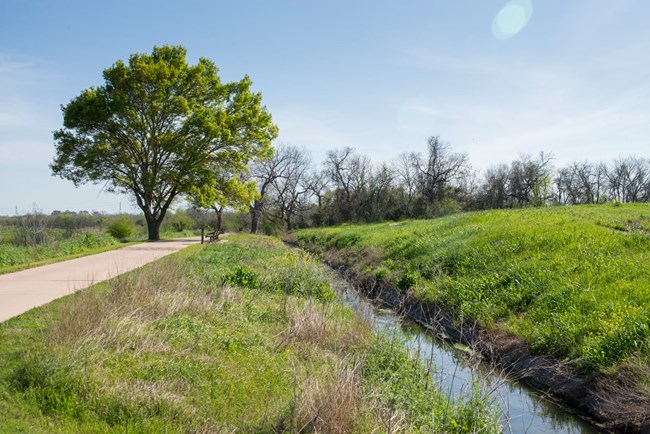 What are your future career goals?
I'm applying for grad school now, so that I can start in Fall 2021. I want to get my Masters Degree in Public Policy. I minored in Public Policy at UTSA, and I realized that I want to use public policy to make an impact through policy and law. Environmental policy is interesting to me.
How will your experience as a Cultural Landscape Apprentice help you to achieve these goals?
Being out here will help me to understand environmental policy. I'll be able to apply this hands-on experience to my future studies in environmental policy. Doing the work now helps me to know what it's like on the ground and better advocate for funding because I've been there in the field. I could apply that to lots of policy.
What advice do you have for current students interested in pursuing cultural and natural resource management?
It's important to get out there. Internships are really important to get your foot in the door and get your feet wet. It can be easy to get intimidated. Just try it and don't miss the opportunity!
What do you like to do in your spare time?
I like to draw. I use charcoal and it's very hands-on, which I like. I've been doing a lot of mythology pieces lately. That's been my theme lately. I've been making a series of those drawings.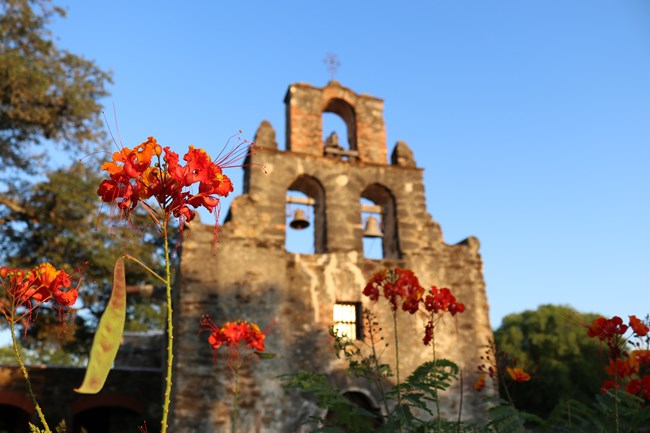 What is your favorite tool that you will use during the apprenticeship?
Definitely the pull saw. No matter what we're doing, I try to approach it with the pull saw because I love it so much. I was intimidated by it at first, as I am with every tool, but now I want one for my own home. It's taller than I am!
If you were stuck on an island, what three things would you bring with you?
I would bring Sarah (fellow Cultural Landscape Apprentice at San Antonio Missions), Yukary (fellow Cultural Landscape Apprentice at San Antonio Missions), and mimosas. All three of those are good company.