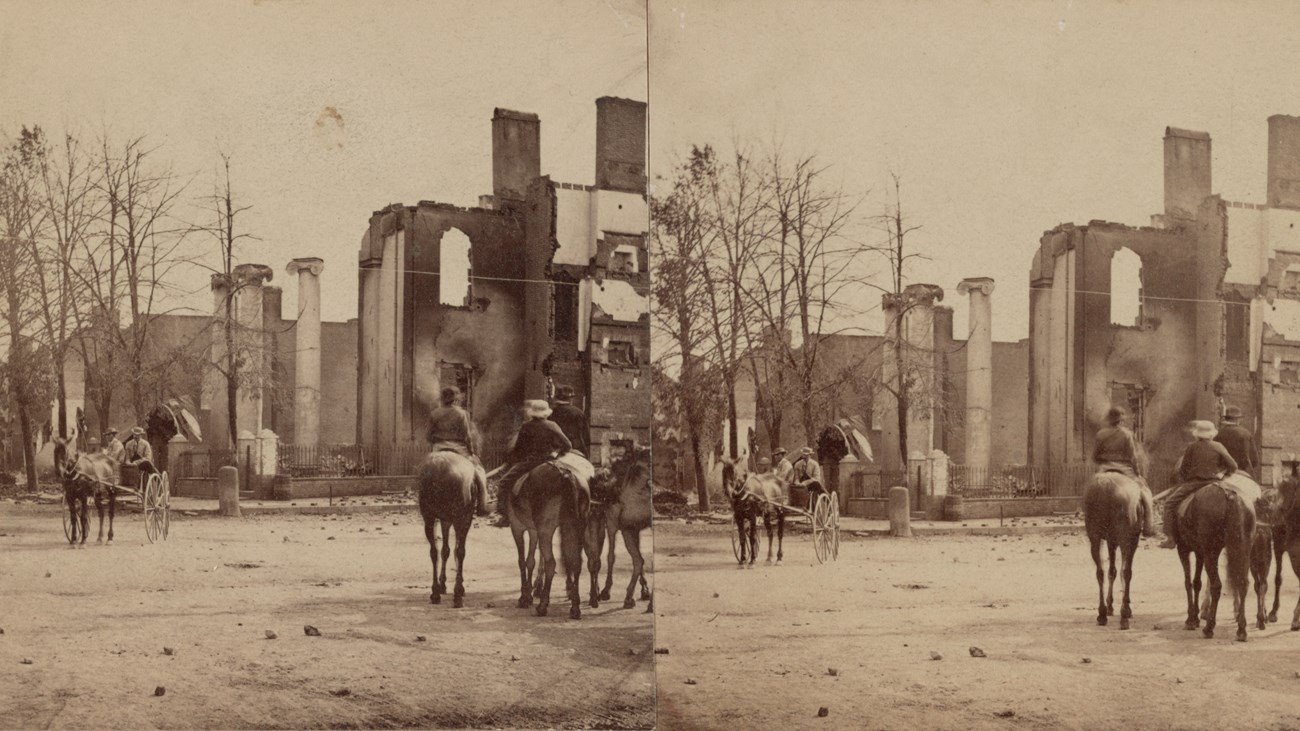 "Tall, black columns of smoke rose up to the very skies… gigantic whirlwinds would lift clothing and light substances into the air, intermingled with… the shrieks of women and children. Cows, dogs, and cats were consumed…"

J. Scott Moore, 14th Virginia Cavalry.
Riding through the night, two brigades of Confederate cavalrymen reached the outskirts of Chambersburg, Pennsylvania, about 3 a.m. on July 30th, 1864. The nearly 3,000 horsemen under Brig. Gen. John "Tiger John" McCausland deployed one mile west of the town, unlimbered their four-gun horse artillery battery, and sent several shells into the town center. At around 5 a.m., having received no response from the citizenry, McCausland sent his troops forward to threaten the residents with the fiery destruction of their hometown.
Orders to Burn
By the summer of 1864, the Civil War in northern Virginia including the Shenandoah Valley had taken a brutal turn. Burnings and hangings by both sides had become more common. Sent to take control of the Valley by United States Army General Ulysses S. Grant in June 1864, Maj. Gen. David "Black Dave" Hunter burned the Virginia Military Institute and former Virginia governor John Letcher's home.
In July, Hunter's troops burned three more homes of prominent southerners including Edmund Lee, cousin of Confederate commander Gen. Robert E. Lee. In retaliation, Confederate Lt. Gen. Jubal Early had ordered the mansion of Montgomery Blair, President Lincoln's Postmaster General, burned down during his raid to threaten Washington, D.C., also in July. 
After returning to the Valley and winning the battles of Cool Spring and Second Kernstown, Early felt confident enough to dispatch a sizeable cavalry force north for another retaliatory strike. Early ordered cavalry leader McCausland to cross the Potomac River and raid into Pennsylvania, demanding $100,000 in gold or $500,000 in cash from the citizens of Chambersburg. If the people refused to pay, McCausland was to "burn the entire town." To Early, McCausland's mission was to be pure payback for "Black Dave" Hunter's depredations; "for this act I, alone, am responsible," said Early, admitting he was ordering the raid on his own, without authorization from above.
Starting for the Potomac on July 28th, McCausland and his brigade were joined by the brigade of Brig. Gen. Bradley Johnson the next day. The entire force forded the river west of Williamsport, Maryland, drove off elements of the 14th Pennsylvania Cavalry, and continued north into southern Pennsylvania. As McCausland advanced, Early created diversions along the Potomac to keep Federal attention away from Chambersburg. 
The primary Federal force expected to defend the Chambersburg area was the Second Cavalry Division of the Army of West Virginia under Brig. Gen. William Averell. With all the Confederate maneuvers near the Potomac River, Averell was confused and simply could not cover all his assigned territory. With his lines of communication to units along the river cut, Averell fell back to Greencastle, Pennsylvania, with the objective to protect Chambersburg.
As Averell slept and rested his troops, however, McCausland's Confederates rode all night, reached Chambersburg around 3 a.m., and chased away a small Federal defense force. With Averell's troops nine miles away and no other significant Federal units nearby, Chambersburg was literally at the mercy of McCausland and his horsemen.
While McCausland turned his horse artillery battery loose to fire on the town, Averell and his troops heard the guns and rode north to intercede. Scouts, however, reported seeing Confederates heading east, away from Chambersburg. Fearing the Confederates might be planning an advance toward Baltimore, Averell chose to get between them and the city. Later realizing his mistake in following just a small enemy patrol, Averell turned his force around and headed back toward Chambersburg. 
Meanwhile, after the artillery shelling, McCausland and his troops entered Chambersburg around 5 a.m. According to Federal cavalryman Sergeant Will Kochersperger, who was in Chambersburg on detached duty and wearing civilian clothes, "the rebels entered town with a force of (I do not think over) 500 mounted men…the main body being encamped…about one and a half miles out of town." 
Few citizens were around in the early morning hours; many were scared to come out of their homes. Confederate officers tried to round up city officials, but the officials had fled with the town's money to safeguard it. Eventually, enough civilians came forward to hear McCausland's demands of $100,000 in gold, or $500,000 in cash. 
Although the monetary demands were preposterous, McCausland took them seriously because they were ordered by his commander, Gen. Jubal Early. McCausland gave the citizens six hours to come up with the money or find the officials who could, otherwise the Confederates would, "burn the entire town."
While waiting for responses, and hopefully money, from the citizens, McCausland and his officers lost control of their soldiers. Many Confederates prowled the streets of Chambersburg stealing personal items and demanding whiskey and "greenbacks." Confederate Brig. Gen. Bradley Johnson stated, "drunken soldiers paraded the streets in every possible disguise and paraphernalia, pillaging, plundering, and drunk." 
With the situation getting out of control, no ransom money anywhere in sight, and Averell's Federals reportedly only about four miles away, McCausland ordered the town burned. Although most of the Confederates complied with the order, some refused. Col. William Peters of the 21st Virginia disobeyed saying, "there were only defenseless women and children in Chambersburg." Other soldiers helped citizens put out some of the fires. 
As if fire wasn't bad enough, McCausland ordered the local courthouse to be blown up. The explosion, along with the many other blazing buildings, caused panic and chaos throughout the town. Approximately 2,000 citizens were made homeless and took refuge wherever they could; over 550 buildings were destroyed. 
Vengeful citizens killed at least three Confederate soldiers. Damage to the town was later estimated at over 1.6 million dollars.  Maj. Gen. Darius Couch, Federal commander of the Department of the Susquehanna, wrote about the Confederates, "an inhuman and savage ferocity characterized their actions." Outraged northerners and The New York Times blamed the easy Confederate access from the Shenandoah Valley, "the old story over again…the back door, by way of the Shenandoah Valley, has been left invitingly open."
With Averell's force closing in, McCausland evacuated Chambersburg around noon. The Confederates, many of them demoralized and disgusted with the burning of the town, rode 21 miles west before stopping to camp near McConnellsburg, Pennsylvania. McCausland threatened to burn this town, too, but nervous citizens provided the Confederates with enough food to avert disaster. 
Early the next morning, July 31st, and feeling some pressure from pursuing Federal cavalry, McCausland left McConnellsburg and headed southwest toward Hancock, Maryland. According to Confederate Brig. Gen. Bradley Johnson, "McCausland demanded of the town authorities a ransom of $30,000 and 5,000 cooked rations" or the town would be torched. 
This time, however, Marylanders including Johnson and Maj. Harry Gilmor stepped in to dissuade McCausland. He might have burned the town anyway but approaching Federal cavalry convinced McCausland to quickly pack up and head west to Cumberland, Maryland, leaving Hancock intact. 
Meanwhile, back in Chambersburg, Averell's force had passed through, offering at least some solace and assistance to the citizens. The stay was short-lived, however, as Averell began a rather leisurely pursuit of McCausland through McConnellsburg and Hancock, where he stopped his march until August 3rd. Along the way, there were occasional skirmishes between McCausland's rear guard and Averell's forward elements.
Approaching Cumberland with thoughts of demanding ransom money, McCausland and his Confederates were met by gunfire from a rag-tag Federal force of infantry and an artillery battery under Brig. Gen. Benjamin Kelley. The artillery fire was intense enough to convince McCausland to avoid Cumberland and head south, across the Potomac River and into the relative safety of West Virginia. 
After a long, night march through the mountains of western Maryland, the Confederates reached the Potomac River at Oldtown, Maryland, only to find their way blocked by approximately 400 Ohioans along the C&O Canal and the south bank of the Potomac. Protected by a blockhouse and an armored train, the Federals offered stiff resistance until McCausland's horse artillery battery destroyed the armored train. 
Finally able to cross the river, the Confederates convinced the remaining Federals to surrender, thus ensuring safe passage south for McCausland's command. Confederate Brig. Gen. Bradley Johnson wrote, "I demanded a surrender and Colonel Stough…with 80 men and officers…surrendered to me."
Other than saddle-weary soldiers and exhausted horses, however, McCausland's raid and the burning of Chambersburg accomplished little for the Confederates. If anything, it caused bitterness, hatred, and calls for revenge in the North. The raid was a key factor prompting Federal commanding general Ulysses S. Grant to adopt his strategy of destroying the Confederate armies and burning their sources of food and supplies, including in the Shenandoah Valley.