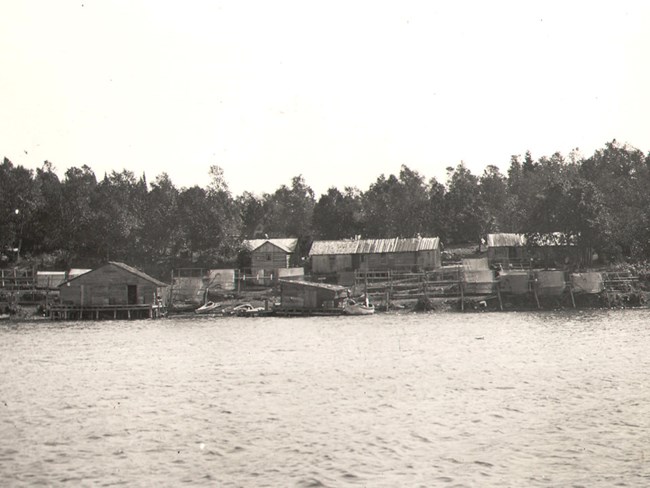 History
The Mattson fishery represents one of only two fisheries situated in the Tobin Harbor area. Folk fishermen, primarily the Mattson family, shared the area with the temporary summer residents and commercial lodge operations that catered to summer tourists. They gathered blueberries for food, and driftwood or pulp logs for buildings and docks, and raised small gardens. Moose and ducks were hunted occasionally during pre-park days. The fishermen also celebrated the Fourth of July with a variety of activities when the fish companies "came out with spirits." At one time, five fish companies were "vying for people to be a fish provider."
The Mattsons were one of the first, and certainly the last, folk fishing family in Tobin Harbor. Other fishermen included numerous members of the extended Mattson family, Victor and Andrew Anderson and their sons Emil (no relation to Emil Anderson of Belle Isle) and Arthur. Although they had more contact with summer residents and tourists, these fishing families had social connections that extended to the other fishing families on the Island and to numerous places outside the region including St. Louis, Missouri and Omaha, Nebraska.
The Mattson family accepted a life lease and $604.50 in consideration for their property. The property is 1.21 acres and included .2 acres under cultivation. While the property officially transfered to the U.S. government on January 18, 1939, members of the Mattson family continued to fish commercially for many years. The family continued to use the Anderson boathouse and dock until 1962, after which the deterioted structure was razed by the NPS.
In 1989, 1990, 1991 and 1993 the last four lessees died and a Special Use Permit was issued to Mr. Louis Mattson and Ms. Louise Mattson McKee. These are the only children eligible for a Special Use Permit.