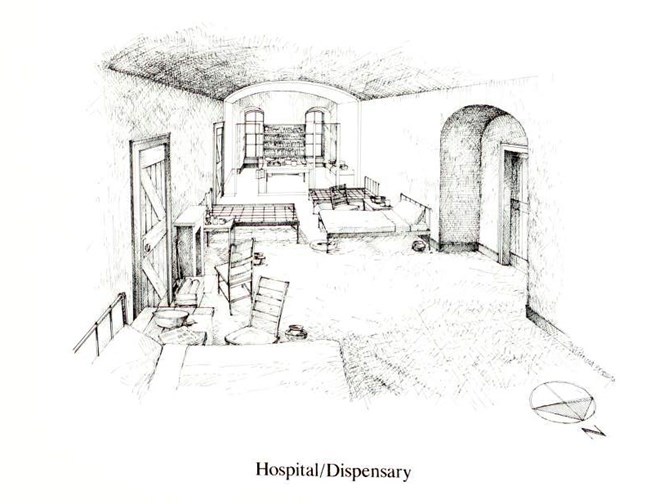 Article written by Louisa Brandt
---
Mary C. Lange served at Fort Point as the sole hospital matron, and one of few women, in the period 1861-1862 at the recently constructed brick garrison that protected Unionist San Francisco from Confederate attack by water during the US Civil War.1 While no military threat materialized, Lange's work exemplifies the expanded roles women began to play in medical support during the Civil War.

Born in Bavaria in 1830, Mary married Charles Lange from the Kingdom of Hanover in 1849, the same year they immigrated to the United States. The couple's decision to emigrate may have been influenced by the unrest of the German revolutions of 1848-1849.2 Charles entered the US Army in approximately 1852, and the birth of their first three children, Charles Jr., John, and Mary, reflect his various postings to Washington Territory, Utah Territory, and Oregon during the 1850s. In 1860, Charles was appointed Ordnance Sergeant in San Francisco, the seat of the Department of the Pacific, and they moved into a house outside Fort Point.3

By the time the Langes arrived in California, the German population of San Francisco was nearly 10,000, largely made up of members of the middle, merchant class.4 According to the 1855 Annals of San Francisco, Anglo Americans did not feel threatened by Germans, unlike less-integrated French immigrants. As the Annals asserted, the Germans were "an orderly and intelligent people" who learned English and often naturalized while also "bearing a strong feeling towards [the Fatherland]" and maintaining German-language newspapers.5

Mary Lange served as Fort Point's hospital matron from June 1861 until at least September 1862.6 Her wartime nursing role was a new type of position for women pioneered only a decade earlier by well-known figures such as Florence Nightingale during the Crimean War between 1853 and 1856. Many women volunteered on Civil War battlefields and in hospitals. They were exposed to a variety of unpleasant and unseemly sights and smells from aiding amputations to changing soiled linens.7 Lange, nursing in a California outpost far removed from the major conflicts of the Civil War, experienced less direct trauma.

Fort Point's hospital was very small, staffed only by an assistant surgeon and steward. Lange's specific duties as matron, a position referencing female oversight of a hospital ward, are unknown. During her tenure, most Fort Point patients suffered from the effects of unremitting wind, dampness, and cold, or from "social ailments" like venereal diseases and inebriation. No soldiers died of wounds at Fort Point, and only a handful from accident, illness, or injury. The only major medical undertaking was the smallpox vaccination administered in March 1862.8 That Lange was not replaced upon vacating this position, possibly due to the forthcoming arrival of her fourth child, may reflect the limited need for nursing at Fort Point.9 The other women known to work at Fort Point were in much less esteemed positions, such as cooks, laundresses, or unemployed officer's wives. Overall, however, medical practice became a more common woman's profession in the late nineteenth-century as major medical schools trained women as nurses and doctors; San Francisco's first female doctor began practicing in 1875.10

Following the Civil War, Charles continued to work as the Ordnance officer of Fort Point, and the growing family still lived at the Presidio Barracks. Even with Mary's experience working in a hospital, the Langes' daughter Lillie died in 1867.11 In total, the Langes had nine children, seven of whom survived to adulthood.12 By 1900, the couple lived on Spruce Street in San Francisco with granddaughter Frances Kates and a Chinese-born cook, Charlie Yeng, who had immigrated in 1880. Charles died on April 11, 1901.13 After his death, Mary lived with her widowed daughter, also named Frances Kates.14 On August 13, 1913, Mary Lange died in San Francisco and was buried alongside her husband in Presidio National Cemetery.15
---
Acknowledgements:
This project was made possible in part by a grant from the National Park Foundation.

This project was conducted in Partnership with the University of California Davis History Department through the Californian Cooperative Ecosystem Studies Unit, CA# P20AC00946
---
1 Fort Point was completed in 1861. For details on the design of Fort Point, modeled on Eastern coastal forts, and its role in the Civil War generally, see J.G. Motheral, Fort Point: "Gibraltar of the Pacific" (Fort Point Museum Association, 1971) and John A. Martini, Fort Point: National Historic Site (San Francisco: Golden Gate National Park Conservancy, 2016).

2 San Francisco County, California, 12 August 1870 census [hereafter 1870 census]; San Francisco County, California, 4 and 6 June 1900 census [hereafter 1900 census]; Carole Cosgrove Terry, "Die Deutschen in Kalifornien: Germans in Urban California, 1850-1860" PhD dissertation, University of Nevada, Las Vegas, (2012), 76-7.

3 1870 census; Mary K. Grassick, "Historic Furnishings Report: Fort Point" (Divisions of Historic Furnishings, Harpers Ferry Center, National Parks Service. 1994), 40-1.

4 Terry, "Die Deutschen in Kalifonrien," 2-3, 10.

5 Frank Soule, John H. Gihon and James Nisbet, The Annals of San Francisco. (1855. Reprint Berkeley: Berkeley Hills Books, 1999), 445-7. For an analysis of the Annals' characterization of Germans, see Roger Lotchin, San Francisco: 1846-1856, From Hamlet to City. (1974, reprint Lincoln: University of Nebraska, 1979), 107-11.

6 Grassick, "Historic Furnishings Report," 55.

7 James McPherson, Battle Cry of Freedom: The Civil War Era (Oxford: Oxford University Press, 1988), 477-84; For a fictionalized tale of Civil War nursing, based on true experiences, see Louisa May Alcott, Hospital Sketches (1863, reprint Bedford, MA: Applewood Press, 1986).

8 Grassick, "Historic Furnishings Report," 55, 68-73; Cases of any severity were sent to the Wright General Hospital at the Presidio, opened in 1864.

9 1870 Census. According to this census, her fourth child Margaret would have been born in 1863.

10 Regina Nguyen, "Charlotte Blake Brown: Historical Essay," FoundSF. https://www.foundsf.org/index.php?title=Charlotte_Blake_Brown, accessed December 17, 2021.

11 Grassick, "Historic Furnishings Report," 42, 55. In Grassick, this child is called "Lulie." See also "Lillie Lange," Findagrave, https://www.findagrave.com/memorial/3532958/lillie-lange. Lillie's tombstone in Presidio National Cemetery includes inscriptions for "Frances Kates," "JF Lange," and "Margaret M. Kelly." A note on Frances Kates says that the death date of 1867 on her headstone is incorrect (she died in 1924), and indeed a Frances Kates is recorded as Charles and Mary's daughter in the 1910 census. It is possible that all of these names represent Lange siblings, although "J.F." or John's birthdate is recorded as 1857, three years older than he would have been in the 1870 census. Due to the gap in ages between the youngest two children in the 1870 census, Lillie most likely born between them. Lillie would have likely died between infancy and three years old.

12 1900 census.

13 "Lange," The San Francisco Examiner, 13 April 1901

14 San Francisco County, California, 1910 census.

15 "Lange," San Francisco Call, 14 August 1913.