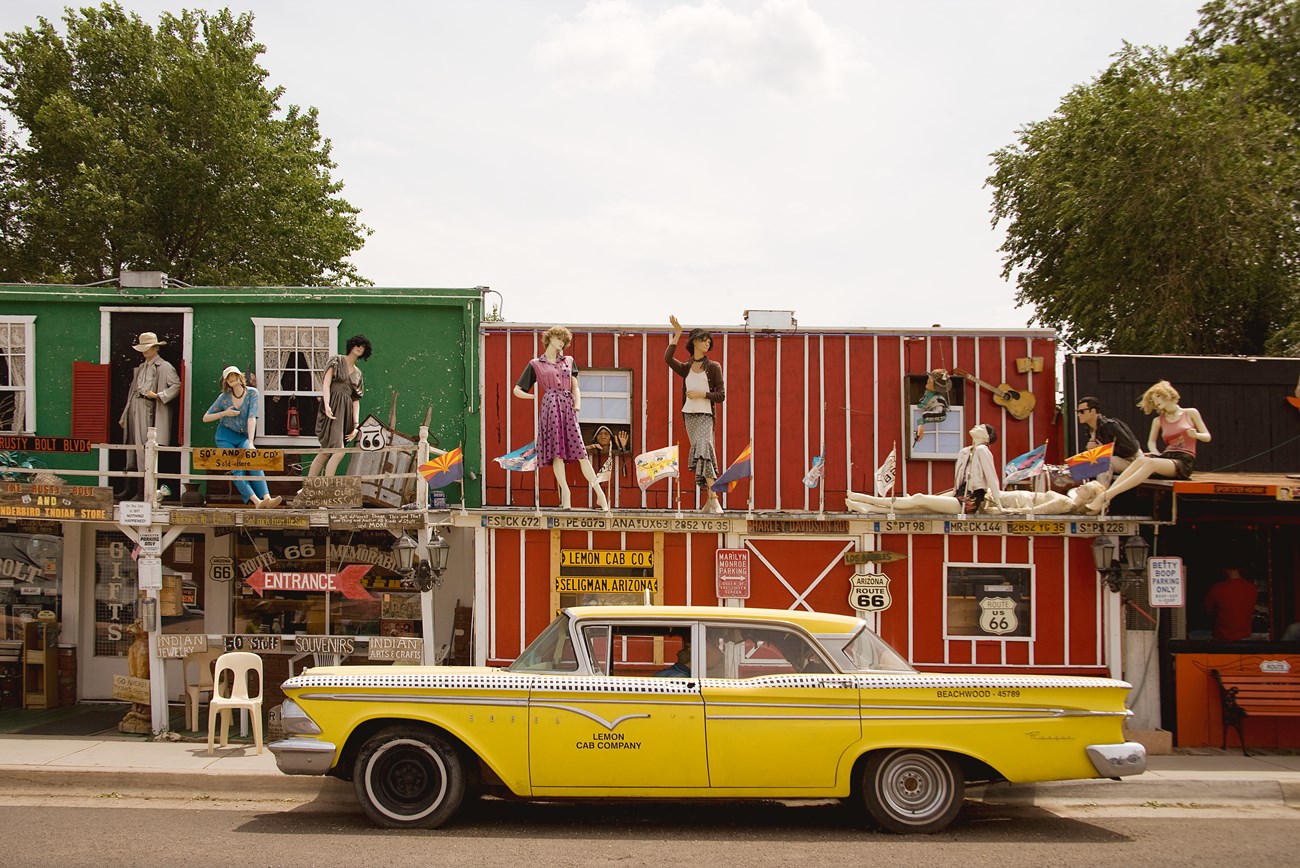 Abstract
During the summer of 2018, the National Trust for Historic Preservation (NTHP), in partnership with the Road Ahead Partnership and other Route 66 organizations, plans to conduct a major marketing campaign focused on supporting federal designation of Route 66 as a National Historic Trail (NHT). The campaign will be a national celebration of Route 66 – the places, the people, and the stories that make it an irreplaceable part of the American landscape. As the National Historic Trail Act celebrates its fiftieth anniversary, it seems appropriate that the twentieth National Historic Trail would tell the story of arguably the most iconic American road in the twentieth century: Route 66.In partnership with a select group of corporate brands, NTHP will launch a larger-than-life road trip that engages hundreds of thousands of people and enlists their support in protecting Route 66. Millions more will follow the journey through earned local and national media, as well as unique social media activations and other interactive online experience. The goal will be to tell the full story of Route 66 and encourage Congress to protect and preserve it as a National Historic Trail.
Introduction
Route 66, also known as U.S. Highway 66 or the "Mother Road," winds across a twenty-four hundred plus mile-long swath of America from Chicago to Los Angeles. Route 66 passes through eight states and more than three hundred communities. More than sites along Route 66 are individually listed on the National Register of Historic Places, and over 5.5 million people live along the route. Route 66 provided a vital transportation corridor connecting the Midwest with southern California after it was established on November 11, 1926. It includes a cross section of urban areas, panoramic scenery, Native American communities, small rural towns, and, of course, quirky roadside architecture to comprise a "living, evolving thoroughfare of American discovery." Over the years, Route 66 came to symbolize freedom and mobility. Following World War II, it epitomized the new optimism that pervaded the nation's postwar eco-nomic recovery. While Route 66 was officially removed from the U.S. Highway System on June 27, 1985, it has continued to be a nationally and internationally popular heritage tourism destination, providing an appealing alternative to Interstate highway travel for recreational motorists seeking an authentic American experience.
Threats to Route 66
Despite Route 66's name recognition and popular appeal, there are threats to Route 66's future. When Inter-state highways began replacing Route 66 in the 1960s, communities and business districts along the road began experiencing the decay and decline of their once thriving economies. As a result, the idiosyncratic culture of independent businesses and kitschy roadside architecture that developed along Route 66 has diminished and continues to be threatened. Sections of the road that had benefitted from the Federal Highway Administration's National Scenic Byway Program (NCBP) lost a major funding opportunity when the NSBP grants were eliminated in 2012. Additionally, the National Park Ser-vice's Route 66 Corridor Preservation Program, which has been a valuable resource for organizations and individuals along the route, is scheduled to end in 2019 after serving as a stable and unifying voice for Route 66 for twenty years.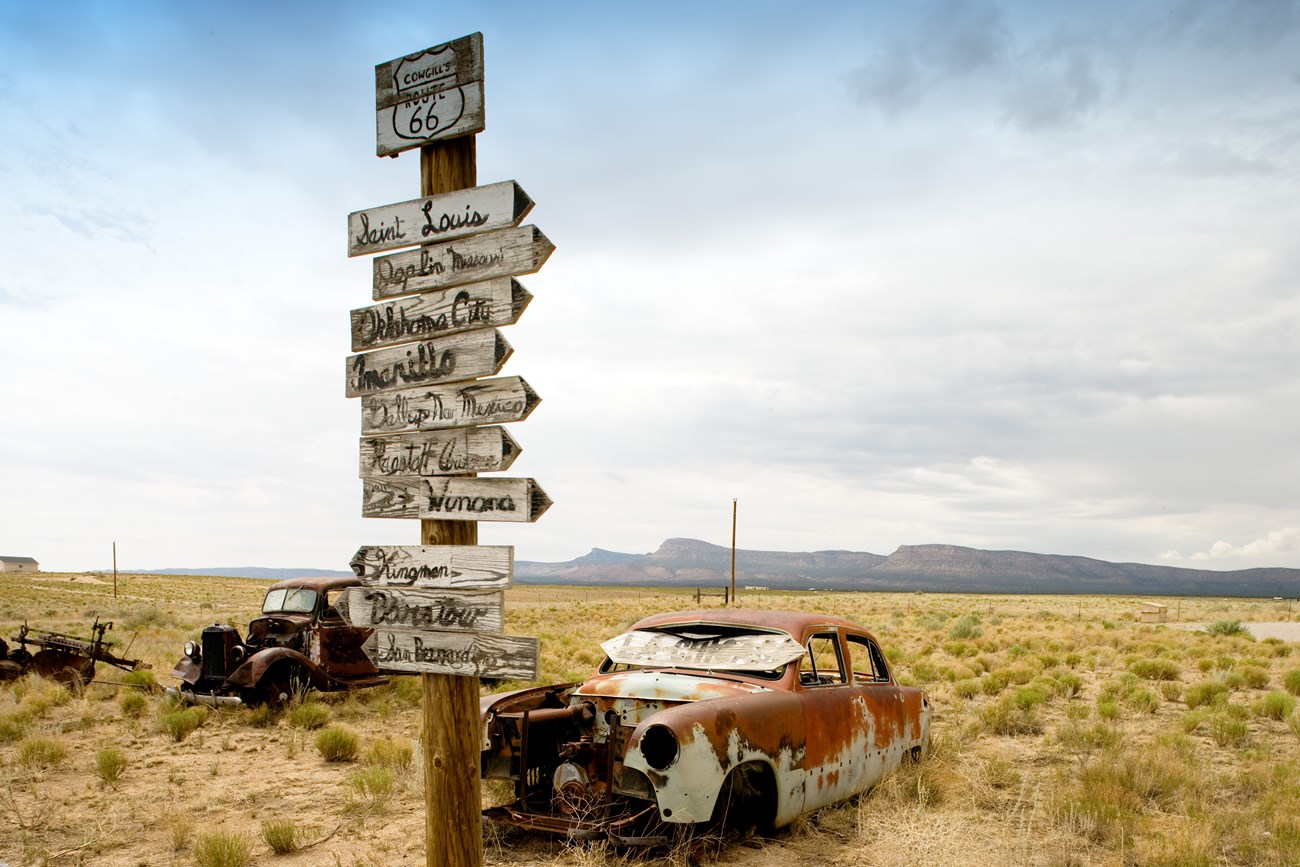 The National Trust and Route 66
The National Trust for Historic Preservation has been involved with Route 66 over the years in different ways. In 2007, the "Motels of Route 66" were listed on the National Trust's Eleven Most Endangered Historic Places list. The threat to motels was both because of demolition threats in hot real estate markets as well as disinvestment and abandonment of vintage motels in cold real estate markets. Since 1988, the National Trust's annual list of Eleven Most Endangered Historic Places has been an effective marketing and advocacy tool to shine a national spotlight on more than 270 significant, yet endangered, places across the country.
In 2013, the National Trust began conversations with Kaisa Barthuli at the National Park Service's Route 66 Corridor Preservation Program about new ways the National Trust could support historic preservation efforts along Route 66. One outcome of this discussion was the National Trust's participation as a presenter at the "Road Ahead" roundtable in Anaheim, California in November 2013. This in turn led to the National Trust's participation as a member of the Road Ahead steering committee, a group that participated in a two-day strategic planning retreat in Albuquerque, New Mexico in November 2014.
The Road Ahead steering committee's discussions focused on the opportunity to strengthen collective efforts through an umbrella private entity as well as a public entity to provide a unified voice for Route 66. Discussions led to a vision for a new national private, non-profit entity which has now become the Route 66 Road Ahead Partnership nonprofit organization. The vision was that this new entity should represent the many Route 66 organizations at the local, state, and regional level along the length of the route, with representation from all states and working groups to focus on areas such as tourism promotion, historic preservation, economic development, and education.
At this same retreat, a number of different federal programs were considered to provide a strong public partner for this new nonprofit. In addition to considering seeking a second renewal of the Corridor Preservation Program for another ten-year period (an option that was determined to not be politically viable), other federal programs such as National Heritage Areas, National Parks, and National Historic Trails, were considered. After careful consideration, the steering commit-tee unanimously agreed that seeking permanent federal designation as a National Historic Trail had the greatest potential to help Route 66 and has the best chance of being realized, despite the fact that every new National Historic Trail requires an act of Congress in order to be designated.
At the retreat, it also became clear the National Trust could best provide strategic assistance to Route 66. The National Trust has a strong government relations department and has provided strategic advocacy assistance for a number of federal designations, from the designation of Birmingham Civil Rights National Monument (Birmingham, Alabama), to the Manhattan Project Historic Sites National Historical Park (Oak Ridge, Tennessee; Los Alamos, New Mexico; and Hanford, Washington), to the designation of the Pullman Historic District (Chicago, Illinois) as the Pullman National Monument.
As a government agency, the National Park Service can provide education about what National Historic Trails have to offer. However, they are legally prohibited from advocating for this or any other any federal designation. The National Trust, however, is able to advocate for federal designations. In addition to bringing experience with advocacy and government relations, the National Trust also offers a national voice to engage local preservationists and raise awareness of the importance of significant historic places. Thus, out of this Albuquerque retreat was born the beginnings of a partnership be-tween the National Trust and several Route 66 entities.
Under the auspices of the newly formed Road Ahead Initiative (later to be renamed the Road Ahead Partnership) nonprofit organization, a task force was formed to seek the National Historic Trail designation. This task force consists of members of the Road Ahead Preservation working group, including a representative from the National Trust for Historic Preservation.
What are the Benefits of becoming a National Historic Trail?
An important first responsibility for the task force was to educate stakeholders about what a National Historic Trail is and what benefits designation could offer. National Historic Trails are nationally significant land or water long-distance routes that were originally established by historic use. In addition to recognition, a National Historic Trail designation would provide permanent federal designation for Route 66 as part of an established program, unlike the Route 66 Corridor Preservation Program, which requires reauthorization after ten years. The National Historic Trail designation authorizes the trail administration to "enter into cooperative agreements with states and political subdivisions, landowners, organizations, and individuals to operate, develop and maintain any portion of the trail." (Chapter 2: Legal Authorities, 2.1 NPS Authorities for Cooperative Agreements, https://www.nps.gov/hfc/ac-quisition/pdf/agreements/chapter-2.pdf.) In layman's terms, this could allow partners on the road access to technical and financial assistance from the National Park Service for preservation, interpretation, signage, promotion, research and other efforts related to eligible historic resources, subject to the availability funding. Unlike grants, cooperative agreements include substantial shared involvement on the part of both the National Park Service and the recipient of the cooperative agreement funds.
It is equally important to understand what a National Historic Trail does not do. National Historic Trail designation does not affect private property rights and does not add any new burdens or requirements to state or local governments. While the National Historic Trail could be an important component to help preserve and revitalize Route 66, it is also not a panacea that will solve all of Route 66's challenges on its own. However, a National Historic Trail in partnership combined with a private non-profit partner, such as the Road Ahead Partnership, could be a strong force for preservation, eco-nomic revitalization, and positive change on Route 66.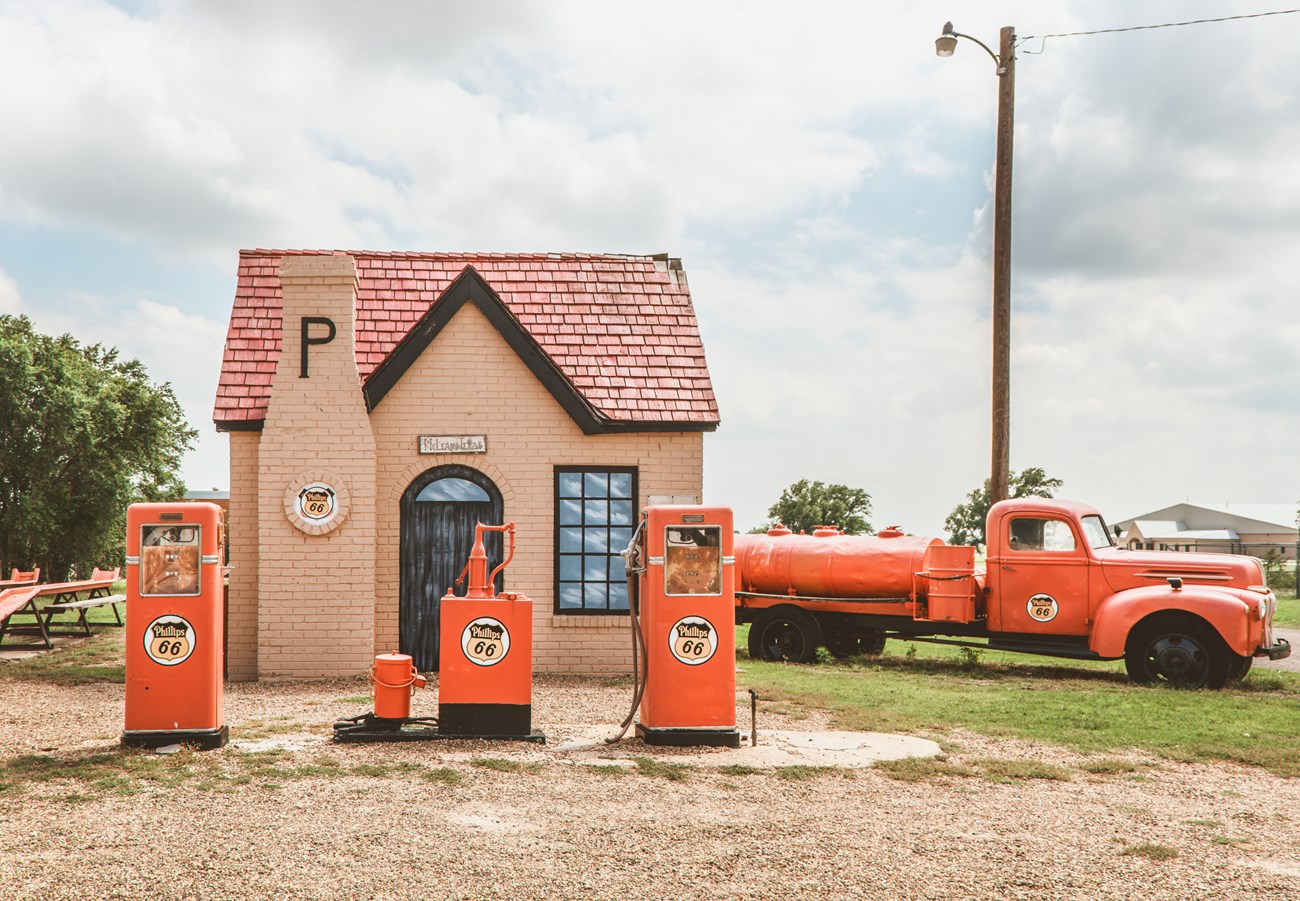 How does Route 66 compare to other National Historic Trails?

Since National Historic Trails were first established in 1968, nineteen National Historic Trails have been designated in the United States (see chart below). National Historic Trails range in length from fifty-four miles (Selma to Montgomery National Historic Trail) to 5,665 miles (California National Historic Trail). All eight Route 66 states currently have at least two and as many as five other existing National Historic Trails, though Route 66 is the only one that would commemorate modern motorized traffic.
National Historic Trails

Trail Name

Year
Est.

Distance
(Miles)

Administering
Agency

# States
States
Included

Oregon NHT

1978

2,170

NPS

6
MO, KS, NE, WY, ID, OR

Mormon Pioneer NHT

1978

1,300

NPS

5
IL, IA, NE, WY, UT

Lewis and Clark NHT

1978

3,700

NPS

11
ID, IL, IA, KS, MO, MT, NE, ND, OR, SD, WA

Iditarod NHT

1978

2,350

BLM

1
AK

Overmountain Victory NHT

1980

275

NPS

4
NC, SC, TN, VA

Nez Perce (Nee-me-poo) NHT

1986

1,170

USAD-FS

4
ID, MT, OR, WA

Santa Fe NHT

1987

1,203

NPS

5
MO, KS, OK, CO, NM

Trail of Tears NHT

1987

2,200

NPS

8
NC, GA, TN, AL, KY, MO, AR, OK, IL

Juan Bautista de Anza NHT

1990

1,200

NPS

2
AZ, CA

California NHT

1992

5,665

NPS

10
MO, KS, NE, WY, UT, ID, CO, CA, NV, OR

Pony Express NHT

1992

1,966

NPS

8
CA, CO, KS, MO, NE, NV, UT, WY

Selma to Montgomery NHT

1996

54

NPS

1
AL

El Camino Real de Tierra Adentro NHT

2000

404

NPS & BLM

2
NM, TX

Ala Kahakai NHT

2000

175

NPS

1
HI

Old Spanish NHT

2002

2,700

NPS & BLM

6
NM, CO, UT, NV, AZ, CA

El Camino Real de los Tejas NHT

2004

2,580

NPS

2
TX, LA

Captain John Smith
Chesapeake NHT

2006

3,000

NPS

6
VA, MD, DE, DC, PA, NY

Star Spangled Banner NHT

2006

290

NPS

3
DC, MD, VA

Washington-Rochambeau
Revolutionary Route NHT

2009

600

NPS

10
MA, RI, CT, NY, NJ, PA, DE, MD, VA, DC

Route 66 National Historic Trail

2,400

NPS

8
IL, MO, KS, OK, TX, NM, AZ, CA
This year (2018), the National Trails System is celebrating the fiftieth anniversary of the National Trails System Act which was passed in 1968. Creating a new Route 66 National Historic Trail in 2018 would be a wonderful way to celebrate this anniversary, designating a twentieth century National Historic Trail as the twentieth addition to this collection.
Grasstops Campaign to Create a National Historic Trail
While the process of becoming a National Historic Trail is admittedly daunting, the good news is that the initial step towards determining eligibility was completed more than twenty years ago. In 1995, the Nation-al Park Service conducted a special resource study for Route 66 and determined Route 66 meet the eligibility requirements to become a National Historic Trail. Having this determination already completed eliminated the first step in the process to seek National Historic Trail designation, saving the considerable time and expense involved in securing support for and completing a feasibility study. Indeed, completion of the Special Resource Study: Route 66 was one of the end results of the Route 66 Study Act passed by the U.S. Congress in 1990.

Building from this determination of eligibility, the National Trust worked in partnership with John Conoboy, chairman of the Road Ahead's National Historic Trail Task Force, to put together handouts to answer questions about this effort. As a former National Park Ser-vice staff member who had worked extensively with National Historic Trails, and a passionate supporter of Route 66, John is the ideal chairman for this effort. The National Trust worked with John to coordinate a series of conference calls for key Route 66 stakeholders to share information and to listen and respond to questions and concerns. Based on these discussions, informational materials were created to respond to frequently asked questions.

During the summer of 2015, public workshops were held in each of the 8 states as an opportunity for Route 66 stakeholders to discuss the proposed new organizational structure for a nonprofit organization as well as the idea of seeking National Historic Trail status. Based on the feedback from these workshops, the informational handouts about National Historic Trails were re-vised to respond to questions and concerns.

A significant step forward was realized on February 1, 2017, when Representative Darin LaHood (R-IL) introduced H.R. 801 in the House to seek designation of Route 66 as a National Historic Trail. To support this proposed legislation, the Road Ahead's Task Force designated an "ambassador" in each of the eight Route 66 states to help with outreach to Congressmen and to Route 66 state associations. Through this effort, the Road Ahead has secured letters of support from all eight statewide Route 66 associations. Coupled with advocacy efforts by Representative LaHood's office, the National Trust's government relations staff, and others in DC, twenty-one cosponsors have been secured for H.R. 801 as of March 2018. Congressional cosponsors include nine Republicans and twelve Democrats. These cosponsors include at least one Congressman or Congresswoman from each of the eight Route 66 states, as well as one Congressman from Oregon.

Another benchmark came on January 10, 2018 when the National Resources Committee of the House of Representatives passed H.R. 801 by unanimous consent. Next steps include approval by the House and the intro-duction and passage of a companion bill in the Senate.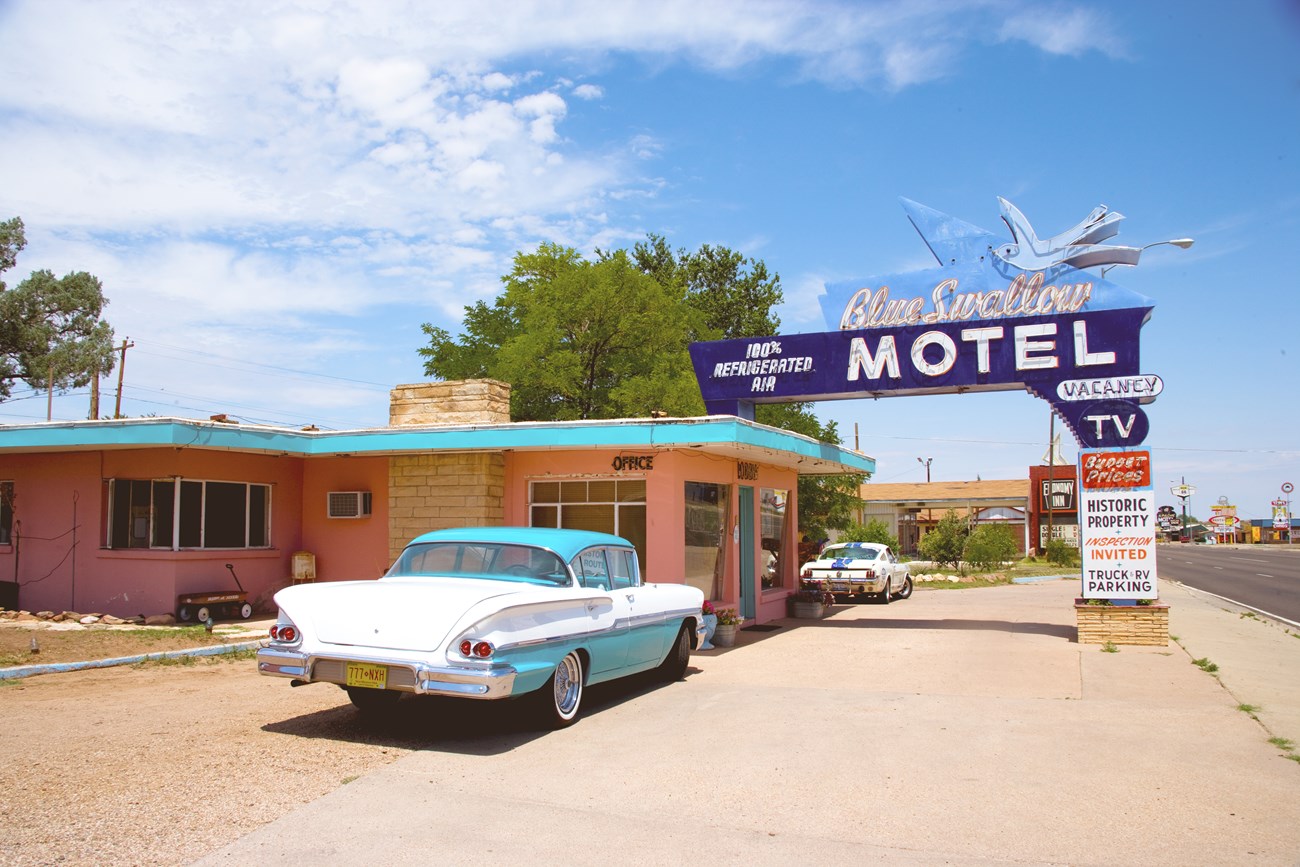 Summer 2018 Grassroots Campaign

While continuing to build grasstops political, organizational, and local government support for the Route 66 National Historic Trail is important, the National Trust intends to bolster these grasstops efforts for Route 66 with an ambitious grassroots campaign.

The National Trust team, in partnership with local and statewide groups, has led several grassroots campaigns. Some of the larger examples include a get-out-the-vote "Save the Domes" campaign in support of a bond referendum to rehabilitate the Houston Astrodome, successful passage of a short-term sales tax increase to provide much-needed rehabilitation funds for Union Terminal in Cincinnati, OH, and a "Down to the Wire" awareness-building campaign about threats to Historic Jamestowne and the James River in Virginia. In addition, the National Trust has developed significant capabilities with targeted online Congressional advocacy, social media, and compelling online storytelling, which have been utilized for general awareness and advocacy for historic sites and smaller campaign.

The summer 2018 grassroots campaign, which is being supported by a major corporate sponsor with a significant presence along the route, will include a road trip to travel the full length of Route 66 from Chicago to Los Angeles. The campaign goal is to tell the story of Route 66 and to encourage Congress to protect and pre-serve it as a permanent National Historic Trail. Many opportunities for public engagement along the way will drive stakeholders to an online presence where they will have an opportunity to learn more about Route 66, learn more about National Historic Trails, and to sign an online petition directed towards national elected officials in support of the National Historic Trail designation. The Route 66 Road Campaign, which will be staffed by the National Trust's marketing department as well as a photographer and journalist from National Geographic, will be a national celebration of Route 66, including the places, people, and stories that make it an irreplaceable part of the American landscape. The campaign will engage hundreds of thousands of people and enlist their support in protecting Route 66. In addition to this in-person engagement, millions more will follow the journey through earned local and national media, as well as unique social media activations, and other inter-active online experiences.

During this road trip, the team from the National Trust and National Geographic will stop in towns big and small to host a series of meetups. From eclectic motels to quirky roadside attractions, the meetup locations will have two things in common: they will all be historic places where people have compelling stories, and they will all have Route 66 as their address.

Recognizing that Route 66 is not just about places, it's also about people. The road trip will include a "por-trait" project. At each meetup, participants will share a one-sentence story about why the location matters to them and have a professional portrait taken with Route 66 in the background, and will be invited to sign the online petition to protect Route 66 by supporting the National Historic Trail designation. In return they will receive a special digital card with their photo and story that they can share online, encouraging their friends to also show their support.

The entire road trip experience will be captured and broadcast live online and on social media, allowing Route 66 enthusiasts everywhere the chance to follow the journey and get involved. This will include live dash cams, Facebook Live Check-Ins from meetup locations, Instagram stories of roadside attractions and behind-the-scenes content from the traveling staff.

Working with the Road Ahead Partnership and the National Trust's network of traditional preservation partners, the Trust will active dozens of smaller organizations and institutions, each of which is dedicated to some aspect of Route 66. This national campaign will galvanize and unite a devoted and passionate constituency of Route 66 supporters, all in support of the National Historic Trail Designation.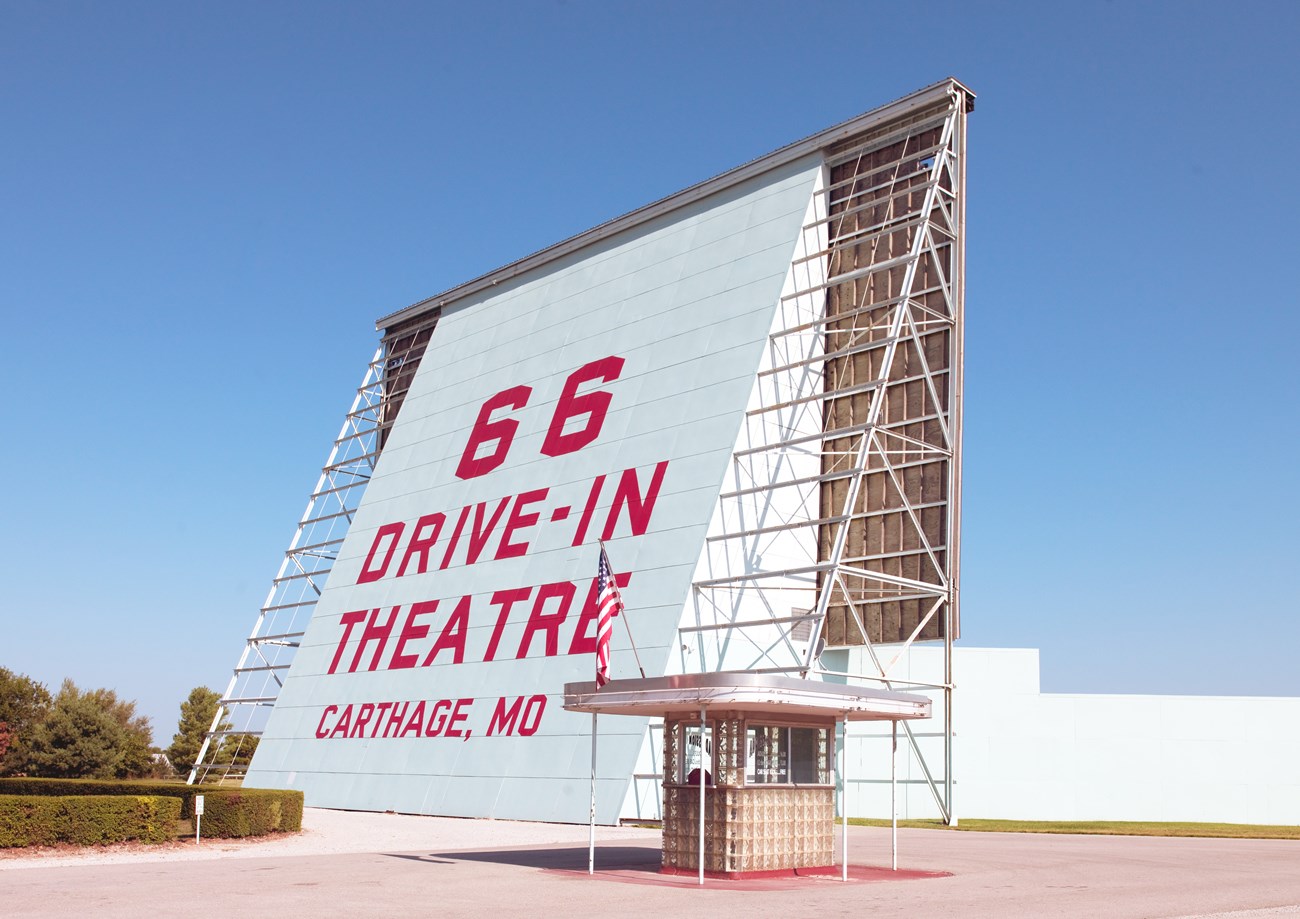 Conclusion
The National Trust hopes that the combined efforts of advocacy and marketing at both the grasstops and grassroots levels will propel the proposed legislation to success. While the progress thus far has been promis-ing, there are still challenges and uncertainties ahead, especially as the bill moves out of the House and to the Senate for review. In the coming months, we will be completing the planning for the summer road trip, and we anticipate having many more stories to share about this experience in the future. Our hope in sharing our in-progress plans with the group of roadside architec-ture aficionados assembled at this conference is to ask for your support, and also to hear your ideas to help us achieve our goal.