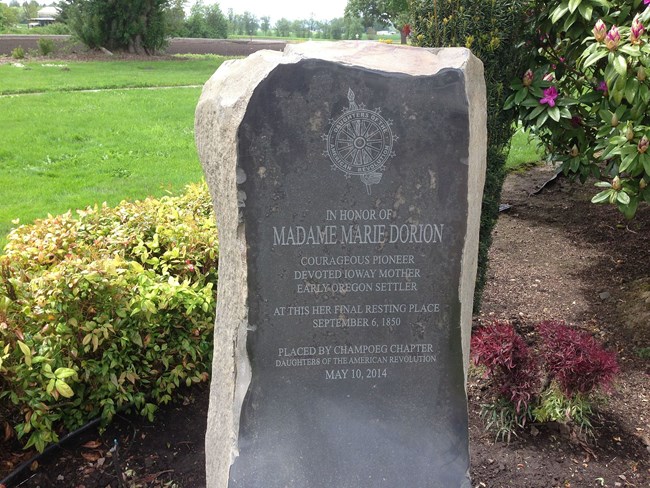 The story of Sacagawea is one of the best-known aspects of the Expedition. But five years after the return of the Corps to St. Louis, another American Indian woman would positively impact an expedition to the west.
Born in 1786, Marie was an member of the Ioway people who, as a teenager, married Pierre Dorion Jr. (the son of the trader/trapper who assisted Lewis and Clark with the Yankton Sioux). Like Sacagawea, Marie served as an interpreter to help guide a party of white explorers -- the Wilson Price Hunt expedition to Oregon in 1811-1812. This group would establish the earliest fur trading post in the Pacific Northwest -- Fort Astoria.
While on a trapping party two years later, Pierre was killed by Shoshone-Bannocks in their home territory along the Boise River in present day Idaho. It was January 1814 and Maria learned that the Bannock were planning to attack her husband's hunting party, so she took a horse, her children, and set off for her husband's camp. After three days of fighting through mountainous snow, she reached the campsite – only to find that her husband was dead. Although too late to rescue them, she and her sons managed to flee. Gathering some food supplies, she loaded the boys onto the horse and headed west, away from hostile territory.
For three months, Marie and her children crossed deep snow in the Blue Mountains of what is now eastern Oregon and Washington. After a journey of about 250 miles, they arrived at the Columbia River and found refuge with the Walla Walla people. Once the winter ended, Marie later explained they "awaited the arrival of the canoes that she knew would be coming up-river in the spring."
Marie ultimately settled near St. Louis, Oregon, remarried and lived in the area until her death in 1850. When she died she was buried inside the original St. Louis church. That church burned in 1880 and her remains were forgotten. The current St. Louis Catholic Church was built on the original 1880 site, but the exact location of Marie Dorion's remains is not known. A large stone commemorative marker can be found on the church grounds. St. Louis, an incorporated town, is about 35 miles south of Portland.