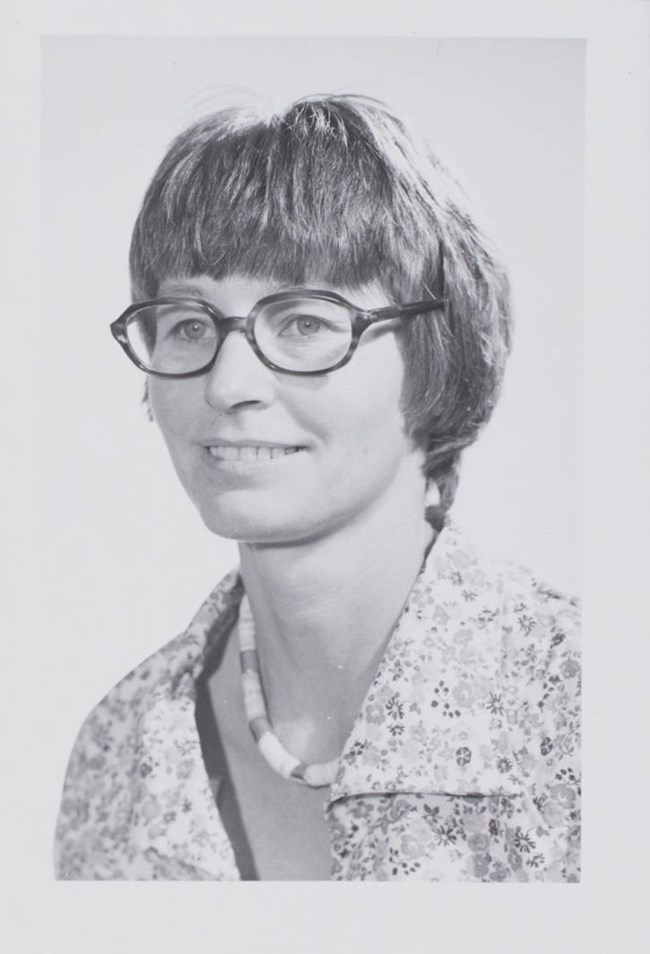 Article Written By Faith Bennett
---
Margaret Lyneis was one of the few women present at the Tule Springs Fossil Beds "Big Dig" from 1962 to 1963, which aimed to test whether humans interacted with Late Pleistocene animals at this site as well as possible associations of Pleistocene animal fossils with charcoal and tools. Lyneis broke through limiting expectations for female archaeologists and went on to an influential career that included vital work in cultural resource management. The coordinated investigation of archaeologists, paleontologists, and geologists that she took part in at the Tule Springs Fossil Beds and the Moapa Valley site continues to inspire archaeologists and anthropologists to study the Virgin Branch of the Ancestral Puebloan culture.
Margaret Lyneis was born in Fond Du Lac, Wisconsin in 1938 to Mary and Claude Lyneis.1 Her family moved to the state of Washington, where she attended high school and college before moving to California to attend graduate school at UCLA for archaeology. While there, she wrote to the Tule Springs Expedition team led by Richard Shutler and geologist C. Vance Haynes to ask if she could contribute. They offered her a position typing field notes. Clerical work was a common profession for women. She declined; and pressed for a place on the field crew where she was then employed.2 The expedition, which lasted from October 1962 to February 1963, investigated the theory that early man and Pleistocene megafauna coexisted at Tule Springs. Spurred first by the 1930s discovery of an obsidian flake next to Late Pleistocene fossils at the site, and then by the 1956 discovery there of a scraper that suggested possible early human presence, researchers believed that the Tule Springs would yield evidence of early humans' interactions with pre-historic mammals.
Lyneis later reported that "we spent the first month out there walking behind bulldozers."3 Although she believed that humans were around Tule Springs "20,000 or 30,000" years ago, characteristics of the soil and rock fill in the valley made this difficult to prove. Instead, much of the important work that Lyneis conducted at Tule Springs focused on analyzing its ancient streams. Shutler subsequently appointed Lyneis as a lead for the Tule Springs Archaeological Surface Survey, which began in 1964. She published her findings from this project the same year under her married name Margaret L. Susia.4 In 1966, Lyneis married her second husband David Weide.5 Though she gained professional advancement through her work in the fossil beds, she said that "I didn't go looking for early man anymore after Tule Springs."6
After completing her Ph.D. at UCLA in 1968, Lyneis went on to faculty positions at California State University, Long Beach, and the State University of New York at Binghamton, where she became Director of the Pueblo Archaeology Facility. Lyneis was well known for open collaboration with the graduate students she mentored throughout her career. One of her graduate students at SUNY-Binghamton was future National Park Service chief archaeologist Frank McManamon, who remembered that "Margaret taught what must have been one of the earliest public archaeology courses in the United States. It was a two-semester seminar that covered the legal and regulatory, professional, and public issues that I have found myself dealing with ever since!"7
Subsequently, Lyneis felt the call to move back west and accepted a professorship at the University of Nevada, Las Vegas, where she worked primarily in continuing research on the Moapa Valley. From 1980 to 1981, Lyneis served as president of the Society of Conservation Archaeology. In 1992 she published work on the ancestral Puebloan people that many researchers consider her most lasting contribution to the field. The work, titled The Main Ridge Community at Lost City: Virgin Anasazi Architecture, Ceramics, and Burials, explores Virgin Branch Ancestral Puebloan ceramics and burial sites found in the Main Ridge of Nevada's Moapa Valley.8 This project was influential both in its effort to revisit a region that was largely unresearched in the prior half-century, as well as in stoking interest in the "Lost City" of Nevada and its early inhabitants in a way that shaped decades of research that followed.
Following her retirement from teaching in 2001, Lyneis maintained relationships with the generation of public archaeologists that she mentored at UNLV. She also learned to make pottery herself which informed her late research by giving her insight into Moapa clay sources.9 She continued to publish research about the Moapa Valley and in 2006 she was presented with a Lifetime Achievement award from the Nevada Archaeological Association.10 She spent her final years in Flagstaff, Arizona. She died in 2016 at the age of 78.
---
1
- Year: 1940; Census Place: Fond Du Lac, Fond du Lac, Wisconsin; Roll: m-t0627-04479; Page: 10B; Enumeration District: 20-34 Ancestry.com. 1940 United States Federal Census [database on-line]. Provo, UT, USA: Ancestry.com Operations, Inc., 2012.
2
- Karen G. Harry, James R. Allison, and Sachiko Sakai, "New Findings from the Far Western Puebloan Region: Papers in Honor of Margaret Lyneis," Kiva 85, no. 4 (February 2019): 281-88, https://www.tandfonline.com/doi/full/10.1080/00231940.2019.1692170, 282.
3
- "Dig This: 50 Years of Archaeology At Tule Springs," KNPR's State of Nevada, Nevada Public Radio, January 7, 2013.
4
- Harry, Allison, and Sakai, "New Findings," 282-83.
5
- Ancestry.com. California, Marriage Index, 1960-1985 [database on-line]. Provo, UT, USA: Ancestry.com Operations Inc, 2007.
6
- "Dig This: 50 Years of Archaeology at Tule Springs," KNPR's State of Nevada, Nevada Public Radio, January 7, 2013.
7
- "Federal Archaeologist - Interviews," Archaeology: A Publication of the Archaeological Institute of America, June 30, 2006, https://archive.archaeology.org/online/interviews/mcmanamon.html.
8
- David B Madsen, "Lyneis: The Main Ridge Community at Lost City: Virgin Anasazi Architecture, Ceramics, and Burials," Journal of California and Great Basin Anthropology 14, no. 2 (July 1, 1992): 271-73, https://escholarship.org/content/qt9vr4g7bk/qt9vr4g7bk.pdf.
9
- Lyneis, Margaret. 2013oh456_sfaa099_lyneis_acc003. Other. Nunn Center for Oral History, 2019.
10
- Laureen Perry et al., "NAA Lifetime Achievement Award Nomination," In-Situ: The Newsletter of the Nevada Archaeological Association 10, no. 2 (2006): 11-12,
http://nvarch.org/amcs/wp-content/uploads/2017/09/2006-Summer-In-Situ-Newsletter-Nevada-Archaeological-Association.pdf
; Margaret Lyneis, "New and Revised Prehistoric Pueblo Pottery Wares and Types from North and West of the Colorado River: Gray Wares from the Western Area," Pottery Southwest 27, no. 1 (June 2008): 3-30, https://potterysouthwest.unm.edu/PDFs/Volume%2027-1%20Spring%202008.pdf.
---
Acknowledgements:
This project was made possible in part by a grant from the National Park Foundation.
This project was conducted in Partnership with the University of California Davis History Department through the Californian Cooperative Ecosystem Studies Unit, CA# P20AC00946