Article
Lewis and Clark Trail Eastern Extension 2021 Updates
Eastern Extension Auto Tour Route Mapping
This year, staff from the Integrated Resources Stewardship team have been actively engaged in identifying, mapping, and signing the system of roads and highways that follow along on each side of the Lewis and Clark National Historic Trail. Known as the Lewis and Clark Trail Auto Tour Route, this designated route along existing roads follows and commemorates a historic path of travel and is the primary way visitors from across the country and globe visit historic sites, communities, and local businesses and attractions along the Lewis and Clark National Historic Trail.
For decades, visitors to the Western United States have followed the Lewis and Clark story via auto tours. In 2019, the Lewis and Clark National Historic Trail was extended to add 1,200 miles from Wood River, IL to Pittsburgh, PA. Staff have been coordinating with state and local officials to designate and sign new auto routes in the East. Proposed routes in Ohio, Kentucky, Illinois, and Missouri have been finalized and signs have been fabricated and distributed to partners in Kentucky and Ohio.
— Ryan Cooper | Geographer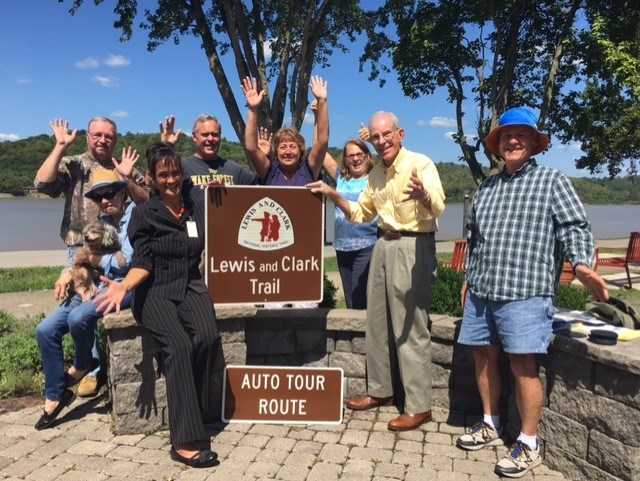 Eastern Extension High Potential Historic Sites Update
Thanks to the efforts of SVM Historical Consulting, the Lewis and Clark National Historic Trail is proud to announce that we have a first draft High Potential Historic Sites (HPHS) Report for the 1,200 miles of the Eastern Trail Extension. HPHS are historic sites related to the route which provide unique opportunities to interpret the significance of the trail. These can include buildings that Lewis and Clark once stood in, vistas they viewed over two centuries ago, sites of importance for the Expedition, and more.
We completed our last HPHS Report in 2018, before the Eastern Extension of the Lewis and Clark NHT from St. Louis to Pittsburgh was approved by Congress. Identifying these eastern sites and what makes them special is essential in our efforts to preserve and promote the Lewis and Clark legacy. Funding from a generous donation via the National Park Foundation made this possible.
— Ryan Kephart | Cultural Resources Program Manager
Last updated: January 24, 2022