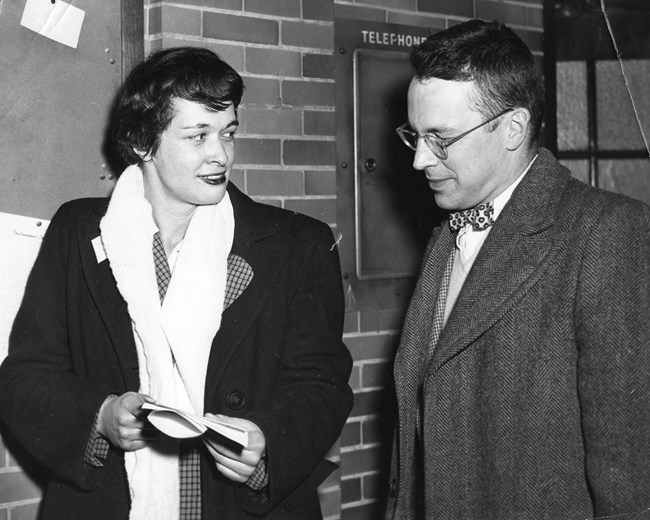 Article Written By Faith Bennett
---
Dr. Leona Woods Marshall Libby was the only female member of the team that built the world's first nuclear reactor—the Chicago Pile—and the only woman present when the reactor went critical. Her creation of the boron trifluoride counter and role in the diagnosis of the B-Reactor's xenon poisoning were key in the production of plutonium at Hanford Engineer Works. The plutonium produced at Hanford was used in the "Trinity Test" of July 1945 and the detonation of the "Fat Man" bomb dropped on Nagasaki, Japan in August that year.
Leona Woods, born in 1919 to Weightstill Arno Woods and Mary Holderness Woods in Proviso, Illinois, was an exceptional student who graduated from high school at the age of fourteen and completed her bachelor's degree at the University of Chicago in 1938, at nineteen.1 She continued her education at the University of Chicago where she earned her PhD in chemistry in 1942. As she was finishing her degree and demonstrating a particular aptitude for the handling of vacuum technology, she was recruited by Enrico Fermi to join the Manhattan Project, the US government-backed research and development effort to build nuclear weapons.2
As part of the Manhattan Project, Woods created the boron trifluoride counter, which detected neutron activity and was used in the Chicago Pile 1 (CP-1) experiment to determine if nuclear fission could be created through graphite and enriched uranium oxides and metal. Through this experiment, she and Fermi were able to complete the first step in developing the world's first nuclear weapon.3 Her signature is visible on the chianti bottle that Eugene Wigner passed around to the scientists who were present at the first human-engineered self-sustaining nuclear chain reaction in history.4
In 1943, soon after this breakthrough, Woods married her first husband, physicist John Marshall, and gave birth to a son, Peter.5 Fearing that the chief operations would disapprove of her working at the site, she concealed her pregnancy from most of her colleagues by dressing in baggy clothes stuffed with miscellaneous tools.6 European women physicists and chemists had been instrumental in early nuclear energy research, and there were female scientists at the sites of the Manhattan Project. Their opportunities to advance, however, were more limited in comparison with their male colleagues.7 The Marshalls moved to Hanford, where they worked to "babysit" or oversee the reactor in alternating shifts.8 When the B reactor stalled and lost power in 1944, Marshall Libby and John Wheeler diagnosed the problem as xenon-poisoning, a problem that occurred as a result of the presence of xenon-135.9 Following the diagnosis, the scientists on site were able to add additional tubes, which gave the reactor space to overcome the poison.10
After the war, Marshall Libby—as she became known after marrying a second time—served as faculty and held research positions at multiple universities and laboratories. In 1973, she followed her second husband Willard F. Libby, to the University of California at Los Angeles, where he was a professor of chemistry. As was common for married women academics, her position at UCLA was less prestigious and untenured. She developed interests in environmental science and engineering and published prolifically, garnering multiple honors.11 Her final paper was published in 1984. In a 1986 interview about the Manhattan Project, when Marshall Libby was asked if she believed dropping the second nuclear bomb on Japan had been necessary she replied, "I have no regrets. In wartime, it was a desperate time. I think we did right and we couldn't have done differently."12 She died in November 1986 at the age of 67.
---
1
- Ancestry.com. Cook County, Illinois, Birth Certificates Index, 1871-1922 [database on-line]. Provo, UT, USA: Ancestry.com Operations, Inc., 2011. "Illinois, Cook County Birth Certificates, 1878–1922." Index. FamilySearch, Salt Lake City, Utah, 2009. Illinois. Cook County Birth Certificates, 1878–1922. Illinois Department of Public Health. Division of Vital Records, Springfield. FHL Film Number: 1308570.
2
- Kelly A Spring, "Leona Libby," National Women's History Museum, 2017, www.womenshistory.org/education-resources/biographies/leona-libby.
3
- Spring, "Leona Libby."
4
- "The Chicago Pile 1 Pioneers," Argonne National Laboratory, accessed December 24, 2020, https://www.ne.anl.gov/About/cp1-pioneers/.
5
- Caroline Herzenberg, "Hyde Park Women and the Manhattan Project," (Presented at Hyde Park Historical Society, Chicago, Il, April 27, 2004), HPHSweb.doc, 5.
6
- Jason Kelly et al., "Pioneers and Inheritors: The Scientists who Made CP-1 Possible, and the Thinkers Tending Its Ambivalent Legacy Today," University of Chicago Magazine 113, no. 1 (2017), https://mag.uchicago.edu/science-medicine/pioneers-and-inheritors.
7
- Herzenberg, "Hyde Park Women and the Manhattan Project."
8
- "Leona Marshall Libby's Interview," 1986, Voices of the Manhattan Project, National Museum of Nuclear Science and History, https://www.manhattanprojectvoices.org/oral-histories/leona-marshall-libbys-interview.
9
- "November 10, 1986: Death of Leona Woods Marshall Libby," APS News 23, no. 10 (November 2014),
https://www.aps.org/publications/apsnews/201411/physicshistory.cfm
.
10
- "John Wheeler's Interview (1965)," Voices of the Manhattan Project, National Museum of Nuclear Science and History, https://www.manhattanprojectvoices.org/oral-histories/john-wheelers-interview-1965.
11
- "Dr. Leona Libby, 67; Worked on Atom Bomb," New York Times, November 12, 1986, 27, https://www.nytimes.com/1986/11/12/obituaries/dr-leona-libby-67-worked-on-atom-bomb.html.
12
- "Leona Marshall Libby's Interview," Voices of the Manhattan Project.
---
Acknowledgements:
This project was made possible in part by a grant from the National Park Foundation.
This project was conducted in Partnership with the University of California Davis History Department through the Californian Cooperative Ecosystem Studies Unit, CA# P20AC00946