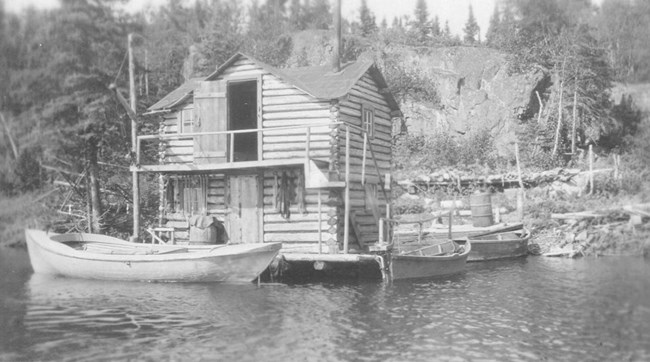 History
Known to the general public as Chippewa Harbor and to the Isle Royale fishermen as Johnson's Resort, this fish camp began in the mid-to-late 1800s (see also Vodrey). The operation was for fish oil from the fat trout, or Siskiwit, that was a popular catch during the 1800s. Chippewa Harbor begins at the outlet as a big, deep, narrow pool with depths from 30' to 200' feet, then extends into Isle Royale for approximately three miles before becoming a half-mile portage to Lake Whittlesey. It also connects to Lake Ritchie along a one-mile portage, and along a short, winding drainage to Lake Mason.
Along the length of the harbor are two constrictions that create the impression of three separate harbors. Johnson's Resort sprawled along the north shoreline of the first segment with a broad, sheltered view of the lake. Godfrey Vodrey wintered in Chippewa Harbor in the 1880s when he began fishing. Sam Johnson, and later his nephew Holger from 1910s to the mid-1950s, also fished from this site. When Holger and his wife Lucy added a resort and store to their fish camp in the 1930s, Chippewa Harbor became known to the local fishermen as Johnson's Resort. Unlike most of the other Scandinavian fish camps, Johnson's Resort was used year round as a residence, for fishing and trade, and, at one time, as a school. County funds provided a schoolteacher briefly, Dorothy Peterman Simonson, who taught the Johnson and Hansen children, along with her own son.
The fishing area of this site was prime herring and good lake trout habitat. By the late 1940s and into the 1950s, the fish market experienced a price drop. Not long after, the sea lamprey affected a decimation of the lake trout population. Although the site provided protection and safe harbor, and was deep enough for larger boats, other sites were "perhaps better suited for fisheries." With the added pressure of the depression of the 1920s and 1930s, the Johnsons added the resort to supplement their income. Several people occupied this fish camp over the years, most of them members of the Johnson family. Extended family was scattered around the Island creating many connections between this site and other fish camps around the Island. A land trail to Rock Harbor was used during the winter when boat use was not possible. Generally, people were not very mobile during the 1940s and 1950s but at Johnson's Resort, they had formed their own faction.