2020 marks the 150th anniversary of the 15th Amendment, which granted black men the vote. However, prominent African American leaders, like John Jones, had begun the struggle for civil rights, including the right to vote, long before the passage of amendment. Although lesser known than some of his contemporaries, his work is no less important.
---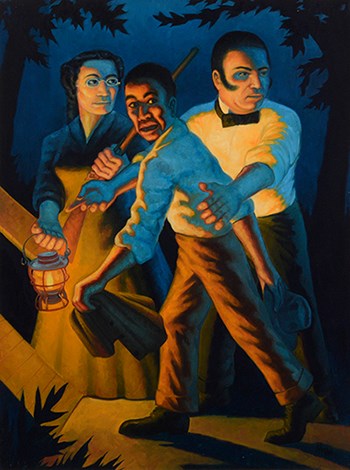 Born in North Carolina, John Jones (1816-1879) was the son of a free African American woman and a white man. Apprenticed as a tailor, he was working in Memphis, Tennessee, by 1837. Held as an indentured servant after his term of apprenticeship had expired, Jones ultimately won his freedom in court. Settling in Alton, Illinois, in 1841, he there married Mary Jane Richardson (1820-1910). The couple moved to Chicago in 1845 and became active in the struggle for African American civil rights. In Chicago they became active in the Underground Railroad, harboring in their home people escaping slavery. John Jones quickly rose to a position of prominence, serving as a vice president at the
National Convention of Black Freemen
held in Cleveland in 1848. Espousing the cause of political and social equality, the convention spurred Jones to organize African Americans in Illinois in pursuit of that objective. The convention movement provided a key means for organizing the civil rights cause and provided Jones and other participants a blueprint for action in securing voting rights for African Americans. The 1848 convention was also notable for passing a measure allowing the participation of women in its meetings.
While establishing a successful tailoring business, Jones grew in his role as activist, organizing petition drives that urged the Illinois legislature to repeal state
black laws
which denied African Americans the basic rights of citizenship. After years of work on the issue, Jones finally attained his goal in the closing months of the Civil War. In late 1864, he wrote a booklet in favor of repeal, stating that African Americans were citizens "by the hardships and trials endured, by the courage and fidelity displayed by our ancestors." When a bill ending the black laws was introduced into the state legislature, Jones worked tirelessly as a lobbyist and "every legislator, no matter their political stripe" was made aware of his presence. Following passage of the bill in February 1865, Jones was heralded as the "right man in the right place."
No man is benefited by defrauding another man of his inalienable and political rights. If John Jones, colored man and tax-payer, is excluded from the polls In Chicago… A wrong is done to Jones... Jones owes allegiance to the same government, is obliged to help support it, must obey its laws, pay taxes to it and fight for it … Why, then, is he not entitled to the protection from it, and to the same voice at the ballot-box? There is no answer in the negative to this interrogatory, founded in reason. Jones is disfranchised and wronged in person and rights, solely because the wrong doers have the power to injure him, and have a prejudice against the shade of his complexion. There is no other reason or cause in the world.
"
The Naturalization Bill,"
The Chicago Tribune,
26 January 1866.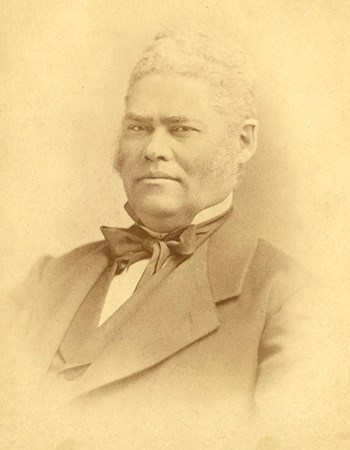 After the war, Jones championed efforts to attain full citizenship. In February 1866 he was part of a delegation of African Americans including Frederick Douglass that met with President Andrew Johnson. Maintaining that it was in the best interest of the country to extend civil rights, including the suffrage, to African Americans, the delegation was rudely rebuffed by Johnson who urged colonization as the only solution to the problem of racial inequality. Following the meeting, a public gathering held in Chicago decried Johnson's position and commended Jones. In 1867 a new petition drive pressing for black suffrage was organized in Chicago, with Jones, "an earnest advocate of his colored brethren," once again playing a key role. A convention of African Americans was held in Chicago in 1869 with passage of the 15th Amendment among its primary objectives, Jones making a "powerful and telling speech" in favor of the amendment. While the fight for civil rights was far from ended, ratification of the 15th Amendment in 1870 was in many respects the culmination of the struggle so tirelessly waged by activists such as John Jones.
Note: In 1871, Jones was elected as Cook County Commissioner, and is believed to be the first African American to be elected to public office in the State of Illinois.
Dennis Naglich
who authored this article,
was an Archaeologist with the Illinois State Museum Collection Center in Springfield, Illinois. Sadly, he passed away on April 6, 2020.