Article
James & Lucretia Garfield's Love Story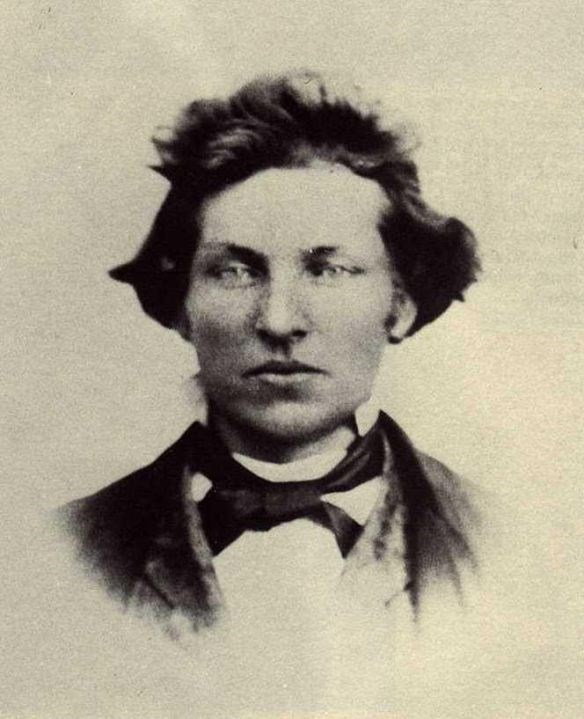 What began as a marriage in November 1858 "based on the cold stern word duty," turned into a 19th century love story.
James Garfield and Lucretia Rudolph probably should have never married. They were of very different upbringings ~ and temperament.
Born in a log cabin in November 1831, James was the baby of the family, the youngest of the Garfield children, the one who was doted upon. He was precocious and busy as a toddler. His mother sang to him, held him on her lap and hugged him, and told him that he would grow up to be someone special. He grew to be charming, with a good sense of humor, and loved to be the center of attention!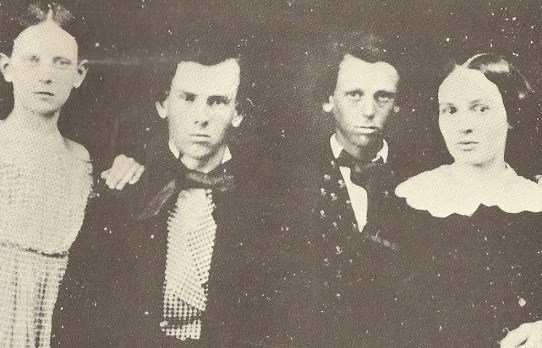 Lucretia was born five months later, the eldest of the four Rudolph children. She had chores and responsibilities ~ and was taught the virtue of "self-government" by her mother. Neither of her parents openly showed much affection; she didn't ever remember being kissed by her father. Despite growing up in this rather serious household, she knew she was loved. However, her nature was more quiet, shy, reserved, and some thought, "cold." She could express her thoughts and desires to her diary or in letters, but struggled with showing her emotions in person.
The two crossed paths in school. Both families emphasized the importance of education and sent their adolescent James and Lucretia off to the Geauga Seminary in Chester Township, OH. It was a co-educational (high) school where they both received the same classical courses ~ and lived away from home for the first time. Lucretia roomed with other girls on the third floor of the school. James found lodging with other boarders nearby. They were just classmates, but Lucretia noticed the tall, blue-eyed, "strange genius" who had the look of "an overgrown, uncombed, unwashed, boy." They both had other love interests.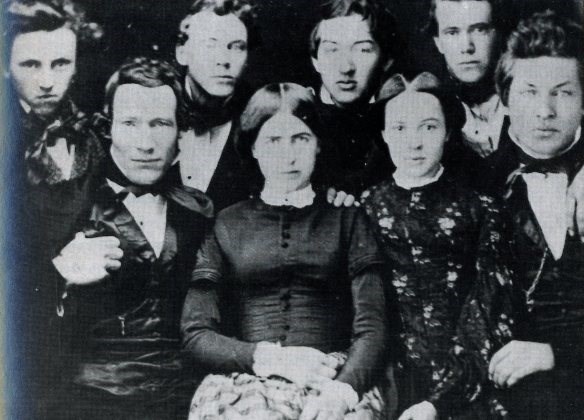 Fate brought them together a second time: in the fall of 1851 at the Western Reserve Eclectic Institute in Hiram, OH. This co-educational college, started by Lucretia's father and other elders of their Disciples of Christ Church, is where their interest in one another grew. Their Greek teacher became ill and James, far ahead of the other students, was asked to take over the class. He began to notice the petite, delicate, pretty girl with the dark, deep-set eyes. They both had intelligent, curious minds and loved learning, literature, and reading.
Their courtship officially began when James sent Lucretia the first of what would become 1,200 letters the two shared during their relationship. He visited Niagara Falls in 1853 and wanted to convey his impressions to Miss Rudolph. They shared their first kiss in 1854. The courtship endured many ups and downs due to their very different personalities and expectations. James wasn't sure that Lucretia was the right woman for him, that she was passionate enough for his nature.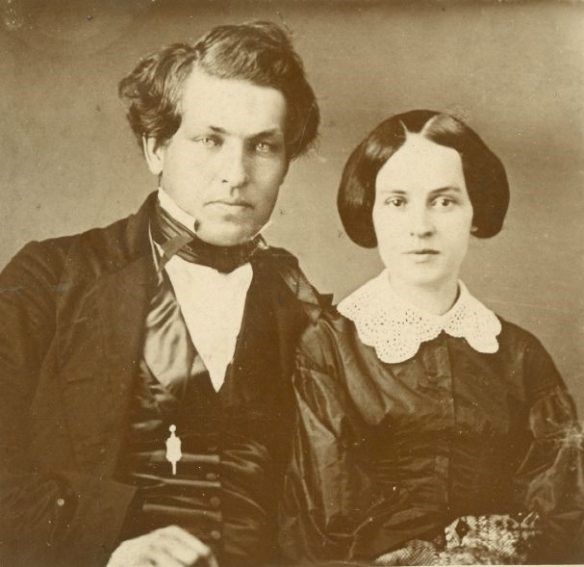 They finally decided to "try a life in union" during a buggy ride in the spring of 1858 and married on November 11 at the Rudolph home in Hiram. At her family's suggestion, the bride even sent an invitation to her groom (to be sure that he showed up)! The newlyweds didn't have enough money for a honeymoon or their own house, and instead moved into a rooming house near the Hiram college. They always had someone living with them.
Separations soon put a strain on their marriage. Due to his many jobs and duties, James was away from home for long absences ~ but also wanted to be away. He wasn't yet truly prepared to be a husband and father. Even the birth of their first child in 1860 didn't keep her restless, somewhat selfish, father home. James and Lucretia called these the "Dark Years." During their first five years of marriage, they were only together 20 weeks.
Lucretia was trying to be "the best little wife and mother she could be," but she admitted that her reserved personality was also to blame for their grim situation. She showed her diary to James and he read about her true emotions for him. They needed each other – they made each other better.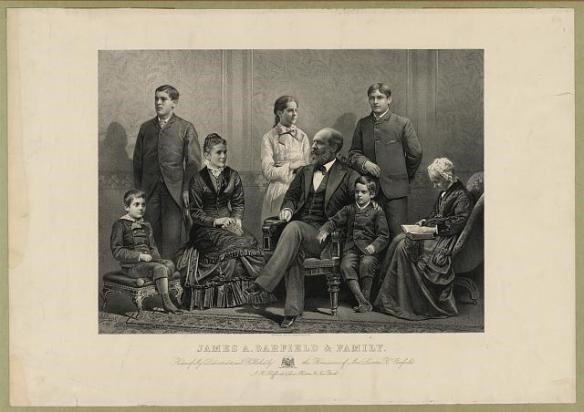 Many factors contributed to them drawing closer together: the importance of family brought home to James during the Civil War, the birth and loss of children, a regrettable affair for which James sought Lucretia's forgiveness and guidance, a Grand Tour together, their mutual interests, their strong religious faith. His political career allowed them to spend more time together as a family during sessions of Congress when he moved them all to Washington with him. He became a "family man."
Lucretia noted that "the forces drawing the two of us together were stronger than the differences pulling us apart." When President James Garfield died in 1881, the two were close to celebrating their 23rd wedding anniversary. They were an established married couple who spent much time together as their children were growing up. They were supportive partners ~ Lucretia was her husband's most important political confidant and fierce ally. They wrote about their loneliness for one another when apart ~ and of a new-found devotion to one another.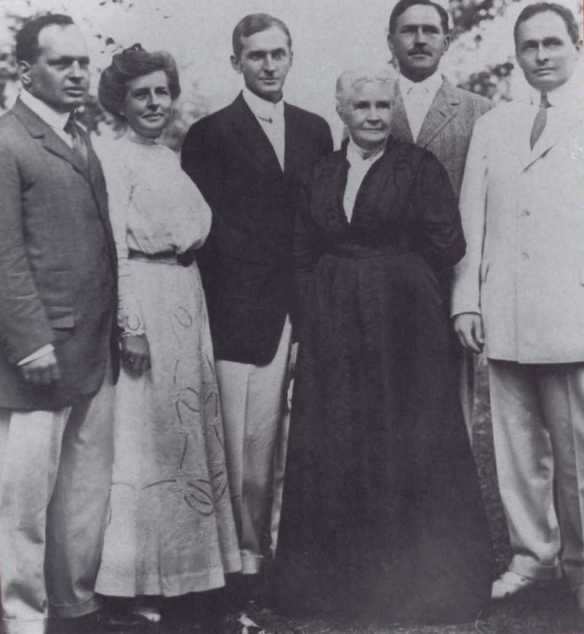 James to Lucretia – December 1867:
"We no longer love because we ought to, but because we do. Were I free to choose out of all the world the sharer of my heart and home and life, I would fly to you and ask you to be mine as you are."
Lucretia to James – September 1870:
"…I stopped amazed to find myself sitting by our fireside, the loved and loving wife, …lifted up from the confusions and out from the entanglements…I felt that we are not living on the same plain [sic] as heretofore, that we are scarcely the same beings, but like conquering sovereigns we live in high isolation, wedded in heart and soul and life."


Postscript: "Dearest Crete" kept the letters from her "Darling Jamie" and shared them with her adult children to show the progression of the Garfields' marriage. She wanted them to understand the metamorphosis of the relationship and depth of their love.
Written by Debbie Weinkamer, Lead Volunteer, James A. Garfield National Historic Site, February 2017 for the Garfield Observer.
Last updated: October 25, 2020