This is a transcript of a presentation at the Preserving U.S. Military Heritage: World War II to the Cold War, June 4-6, 2019, held in Fredericksburg, TX. Watch a non-audio described version of the presentation on YouTube.
The Positive Impact of the United States Army Airborne and Special Operations Museum on the Surrounding Civilian Community
Presenters: James Bartlinski and Denise Wald
Abstract
As one of the most populated military bases in the world, Fort Bragg is largely responsible for putting the city of Fayetteville, North Carolina on the map. This military installation, along with the 57,000 military personnel, 23,000 military family members and 11,000 civilian employees, are the reasons that Fayetteville ranks as the 5th largest city in the state. Without the existence of Fort Bragg, Fayetteville would most likely be little more than a rural farming community.

The impact of the Army installation on the surrounding community has not always been a positive one, however. From the mid-1960s to approximately 1970, more than 200,000 soldiers from neighboring Fort Bragg trained at the installation before deploying to Vietnam. As a result, bars, massage parlors, and strip clubs sprung up in downtown Fayetteville to cater to this influx of soldiers. Its connection with Fort Bragg, coupled with a growing crime rate, spawned the city's unflattering nickname of "Fayettenam."

Although the U.S. Army Airborne & Special Operations Museum is located approximately 10 miles off Fort Bragg, in downtown Fayetteville, it is still considered part of the military installation. While the Museum's primary mission is to educate soldiers about the U.S. Army's Airborne and Special Operations history, it has had a significantly positive impact on the surrounding civilian community as well. Since its establishment in August of 2000, the Museum was and still is the catalyst for a resurgence of the downtown area. Fayetteville has effectively overhauled its prior notorious image, into one of a vibrant historic and cultural hub for the region.

In the nearly two decades since the U.S. Army Airborne & Special Operations Museum opened, so have emerged a number of other museums, businesses, restaurants, cafes, parks, cultural institutions, theatres, high-end condominiums, along with a state-of-the-art Minor League Baseball stadium and a luxury hotel. There are continuous efforts by local developers for pursuing the adaptive reuse and preservation of historic buildings, as well as environmental clean-up in the city. Fayetteville is now known as the "All American City," due to this renaissance sparked by the Museum.

The U.S. Army Airborne & Special Operations Museum successfully bridged the gap between the military and civilian population by basing itself off of the military installation and within the community, essentially making the institution the public face of the Army and Fort Bragg for the region. The Museum is a model for other military installations wishing to foster a positive relationship with their communities.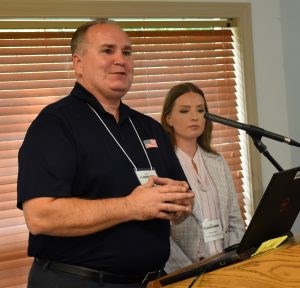 Presentation
James Bartlinski: We really have looked forward to talking about this because we think it's a very unique subject.
We are the Airborne and Special Operations Museum, and if you don't know where we're located, we're located in downtown Fayetteville, about 10 miles from Fort Bragg. But we are still a US Army museum, and when you step foot inside of our museum it's like being on Fort Bragg. And, well, I'll talk a little bit later about how that can be a unique environment to work in.
But we're part of the US Army Center of Military History and the Army Museum Enterprise, and our mission is to tell the US Army Airborne and Special Operations story from 1940 to the present. And that also exposes the challenges, but that's for a whole different paper to talk about that.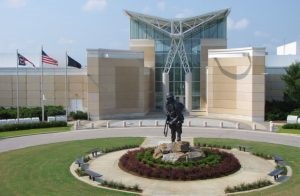 Because we're located downtown, we get approximately 140,000 visitors a year, which is pretty significant for the army, especially since the majority of army museums are behind the gate and it can be intimidating for some people to try to get on that.
But just to give you a little bit of background. Fayetteville has been around a long time and was founded in 1749. It was a town called Cross Creek. And later on there was a town, 1762, another town close by Campbellton was created. And my colleague here, Denise, she's a fan of Outlander, and if you're a fan of Outlander they do talk about Cross Creek if I'm not mistaken?
Denise Wald: You outed me.
James Bartlinski: Yes, I outed her, her dirty little secret there. But I found it on Netflix so I'm going to start watching it because she said it's worthwhile. But in 1783 during the close of the revolution those two towns merged and became Fayetteville in honor of the Marquis de Lafayette. So, we started military connection there. And also during the Civil War, during Sherman's march to the sea he stopped by Fayetteville. Fayetteville surrendered so the town did not get burned, but there was an arsenal that the Confederates had taken over at the start of the war that the Union Army did burn.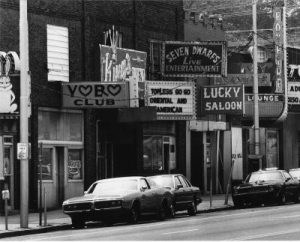 But we move onto World War I. And during the close of World War I, the army decided to build a post near Fayetteville, 10 miles outside, for the training of artillery troops. It was completed in September of 2018, which we just celebrated our hundredth anniversary believe it or not. It was named for a Confederate General, a North Carolinian, Braxton Bragg, but our PAO at Fort Bragg tells everybody it was named not for his service to the Confederate Army but his service during the Mexican War to alleviate any issues there.
But to talk about its World War I service. It really almost, in the 20s, got closed, but they decided, "Hey, we need this base here," and they made it officially a fort. So, it became Fort Bragg in 1922. But it stayed pretty much a quiet post ... Oh, thank you.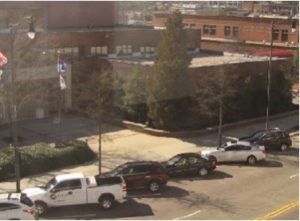 And, as you can see here, this is a picture during the Second World War. And basically it was a boom town. It went from 5,400 troops to 100,000 during World War II, by 1943. And then, just to give you an idea though, in 1942 it became the home of the 82nd, or the Airborne, and they were doing training at Camp McCall which is nearby. And then again in 1951 the 82nd Airborne and the 18th Airborne Corps, that became their permanent home, became the home of the airborne.
Then in 1952, the Special Forces, the Green Berets, their headquarters was established there and we became the home of the airborne and Special Operations forces. And if you go to Fort Bragg today, they very proudly say that we are the center of the military universe, and that when the President calls 911 Fort Bragg picks up.
But to talk a little bit about the museum. Is it ... that one? Yeah, thank you. Well, Fayetteville was not the best of towns when the Vietnam War took off. A lot of troops were coming in and deploying from Fort Bragg. And the locals, they were entrepreneurs and were looking for something for these young soldiers to do, so they developed these cultural institutions that you see here, got the Seven Dwarfs and the Lucky Saloons and so forth.
And it started to get the nickname Fayettenam, not only because these troops were deploying from there, but because of how dangerous it could be in Fayetteville at the time. And we have plenty of volunteers at the museum who were here during the Fayettenam era, and they talk about how Friday and Saturday nights a deuce and a half would come down from Fort Bragg and with the Fayetteville PD they would load up the drunk soldiers and rowdy soldiers and take them back to the post.
So, it really did get a bad reputation. A reputation, frankly, that they're still trying to fight today. It was funny, when we're preparing this paper we're getting ready to come here, and last week before I left to come I saw a gentleman wearing a t-shirt that said Fayettenam. So, that still does persist there.
But to talk about how the museum got started. The idea for an Airborne and Special Operations Museum started as early as 1982. Then Commander of the 18th Airborne Corps, General James Lindsay, he wanted to build a museum to talk about not just the 82nd Airborne, which was at Fort Bragg, and the Green Berets at Fort Bragg, which they both have their own museums there by the way on post, but talk all airborne units and special operations units in the army.
So, he actually was able to get some money from the government and broke ground on Fort Bragg in 1984, believe it or not. But the then mayor of Fayetteville and city council members, they started talking to General Lindsay and the army and they said, "Hey, why don't you build this museum downtown." And they thought, "Wow, wait a minute. This would be a good idea because Fayetteville is such a big part of the community with Fort Bragg and vice versa." They decided that they would do this, and also that it would help with the urban renewal.
So, in 1990 the Airborne and Special Operations Museum was created and they started raising money and building the museum. The museum was built, opened in August of 2000. It was owned by the foundation. The employees working here, collections managers, curators, so forth, worked for the United States Army and the collection belonged to the US Army, but it was the foundation building. Then in 2007, and this was always the intention, the Airborne and Special Operations Foundation, they gifted the museum to the United States Army. So, now we are a US Army museum. That's why when you walk through our doors it's like being on-post.
But then we do get some unique situations, because five feet out from our museum belongs to the city of Fayetteville that our foundation leases. So, even though we've been there for almost 20 years now, there is a little bit of an identity crisis. People, even on-post, they think we are still ... "Well, you're not on-post so how could you be an army museum." We go, "Yeah, we really are. Here's my CAC card, my GS ID. Yes, we are an army museum." We still do fight that, but we're working to fix that.
But what I'd like to do now is just say the picture on the left shows where the museum ... what it looked like before the museum was built. And then the right side talks about the museum. I talked enough about the old, because I am old, so I'm going to hand it over to Denise to talk about the new and innovative changes that are happening in Fayetteville because of the museum.
Denise Wald: We have a good time at the ASOM, if you can't tell. I'm sure if any of you spent time in the army, the 70s to the late 1990s, you would know the reputation that Fayetteville had. It's been a few decades of overcoming that reputation of Fayettenam. From the time the museum opened in 2000, the Fayettenam image of the downtown area has rapidly faded, which is great.
There's Hay Street, which is this street you're overlooking here on the far, well, both images. That's the rear entrance to our museum. It was the red light district of Fayettenam, so you might remember that if you spent any time there. But now it's undergone a cultural renaissance if you will. So, we have coffee shops, restaurants, boutiques, art galleries, museums, theaters, town homes, condominiums, and now a new Minor League team. So, it's really family-friendly and quite a departure from what we've experienced in the past.
This is another view of Hay Street in the 70s versus fair recently in 2012. These are just some of the buildings that have undergone the adaptive reuse that has led to the cultural renaissance. The Amtrak station is our next door neighbor and it is a historic monument marker I guess, in Fayetteville. It was built in ... well, the early 1900s. It was placed on the historic register in 1981 so they were limited to what they could do to the façade of the place, but they redid it and they have wheelchair accessibility and made it adaptable for today's clients that they have.
Fayetteville Area Transport and Local History Museum was originally built as a railroad depot in 1890, but the museum reopened, it reopened as a museum in May of 2006 with again accessibility in mind.
And then Fascinate-U is a children's museum, so we have children now instead of red light district on goings. Really cute place but it was built in the 1940s. It's a historic structure so they had to keep the façade, but it has all the amenities inside so updated electric, updated HVAC systems, elevators, everything that you wouldn't have had in the 1940s but we have now.
Now, we have theaters. This is the Cameo Theatre. A side note about the Cameo Theatre, we recently had a very famous visitor come to Fayetteville, Oscar-nominated actor Tom Hardy came to visit the special forces community and he premiered his film, Venom, for two audiences, one at the Cameo and then the other at the ASOM'S. So, we were very honored to have him. But that's shows where we've come, if we're getting highfalutin actors in Fayetteville.
This is another one that went through a lot of restoration and they now show modern productions and a very family-friendly place.
The Arts Council and Moonlights Communications. The Arts Council building was an old post office building. It was left abandoned for a while and they received an award for Achievement in the Field of Historic Preservation in North Carolina.
Most recently, the Prince Charles Hotel. This is adjacent to the Amtrak station. There's an empty lot and then the hotel, so this is kind of our next-door neighbor. If you talk to any of our volunteers that have spent a significant amount of time at Fort Bragg, they say that this was the happening spot. They would go to dances in the ballroom, just had a lot of fun, a lot of good memories made at the Prince Charles. But, as you can tell, it is completely dilapidated. It's been abandoned I think since the 1980s. And it was bought in 2017 I believe and renovated. It opened to the public, or opened for renting or purchase in April. And it has 59 apartments, retail space, upscale restaurants, the whole nine yards. It had to be outfitted with restored windows, HVAC systems, the whole nine yards, but the historic structure had to stay.
A side note about this one. Babe Ruth stayed here when he hit first professional home run in Fayetteville. It's a little known fact about Fayetteville. But in talking with the developer, he used to ASOM as a key anchor in attracting capital for building for his project. So, it showed that restoration and the crowds will come, you just have to build it.
But it's not just that. We have new stuff going on in Fayetteville. Like I mentioned before, we have a Minor League team. They play at Segra Field. They're a Houston Astros affiliate. I have not been to any games, Jim has, a lot of fun. But yeah, it shows a different side of Fayetteville that we're quite proud of.
Also, there's condominiums built across the street from our ... Hard to give the geography here, but they're built across Bragg Boulevard from us. Iron Mike is our little mascot here, he's in the ... Iron Mike is right here, he's in front of our museum. But these condos take the place of what was once a seedy Days Inn hotel that had a very nasty reputation. And-
James Bartlinski: Rented by the hour.
Denise Wald: Rented by the hour, if you didn't catch that. But it was nasty. It was torn down. It was purchased by the city in 2006. They tore it down, it sat vacant for a little while. A board member of the foundation purchased the land, he's a local developer, and made these beautiful town homes and condos. They actually go anywhere from $300,000 to $500,000, which is outside any soldier's BAH for Fayetteville which shows that it's attracting a new clientele to the area.
Now, you might be asking how do we do this. First of all, we like to think we connect the military to the civilian community. And as Jim touched on before, Fort Bragg just celebrated its 100th anniversary. And we worked with the civilian community, local museums, local business people, to bring this exhibit to our museum. It showed the partnership that Fayetteville has with Fort Bragg community and we're very proud of it. That's one example of how we connect everyone together.
Second, making special forces history accessible to the public. Special forces history is just inherently cool and I think part of that is the secrecy behind it. And we're authorized as GS employees to tell their story, albeit a sanitized version of what they do, but it offers a window into their lives. And we recently had two very special exhibits.
This one right here was from the battle of ... What am I doing? Okay, there we go. This is the rotor from Super Six One. It's from the Battle of Mogadishu. So, if you've seen Black Hawk Dawn, we're very lucky to have this rotor as part of our collection. And it was part of a greater exhibit on the Battle of Mogadishu and that's something the public really didn't know much about until we were able to present this story in a way that it had never been told, aside from the movie. And we also were able to do that with 12 Strong, the recent movie on the initial actions in Afghanistan after September 11th.
Also, we celebrate military history with the public and we do that mostly through National Airborne Day. So, it celebrates every year the commemoration of the first American airborne jump. And our parade field is overrun with soldiers teaching children and everyone all about what they do. Again, I cannot seem to get this to work. Anyway, it's the third picture there.
Our lobby is overrun with special forces soldiers teaching children, everyone in the community about what they do, and we have reenactors all through our gallery showing different aspects of history. And this is a big event for us. We average about 3,000 guests, which is significantly more than what we do average on a daily basis.
And then we invite the community to participate in commemorative events. Our example of this is the first picture on the slide. It's the Field of Honor. And this to commemorate every patriotic holiday we have over the summer. It runs from Memorial Day to the 4th of July. The community's invited to place a flag in honor of a service member in this field, and it's really just the most stunning we could have. The pictures don't do it justice. It's up right now if you're going to pass through Fayetteville any time soon, it's worth a stop.
Next, Jim and I and our colleagues, we frequently go to local organizations to give talks about on goings at the museum. We feel it gives them a buy-in to what we do at the museum. It connects everybody really. And then lastly, we engage with local universities through special projects and internships, but we go above and beyond the normal internships.
Recently, in 2017, this rotor, the word got out that we had it. A professor at the Citadel acquired this new 3D scanning technology and wanted to teach the students how to use it, so they came and scanned this. And mutually beneficial, we get to preserve this for all time and get to use it in a variety of ways when we redo our permanent gallery and can incorporate this. But it also taught them how to use it. So, we're very proud and happy that they chose us as their guinea pigs.
Really that concludes our presentation. So, the ASOM has used the last 20 years to try to overcome this Fayettenam image and we're proud that we have a part in how we're turning that around for the community.
Questions
Mary Striegel: Thank you. Questions? I see that Nancy has one.
Nancy Bartlit: What is the difference between your museum with the US Army Airborne and Special Operations and the Air Force Museum in Dayton?
James Bartlinski: Well, it's strictly US Army history, like the 82nd Airborne, 101st Airborne, during World War II, 173rd Airborne. We don't tell the story of the planes, the Air Force do. They say they put the air in airborne, but we tell about the US Army soldiers after they've jumped out of the airplanes during the special operations.
Nancy Bartlit: So, airborne is defined as?
James Bartlinski: : As paratroopers. Men, women who, like on D-Day, jumped out of the airplanes of the US Army and once they hit the ground, they're infantry.
Nancy Bartlit: Thank you.
James Bartlinski: : You're welcome.
Mary Striegel: Other questions?
Speaker 1: Yeah, my question. I visited there years ago, back when the Army Museum system still had training conferences and the museum hosted it. What always caught me is what's going to happen if you want to expand your display areas and you need to build on it, when you're dealing with the city and trying to find space?
James Bartlinski: Well, that's a good question James. That's a good question James, and Denise you can jump in too. But basically what would have to happen is that our non-profit, the ASOM Foundation, they would have to approach the city to see if they could lease more ground and they can get permission to do so. And then they would go through the whole rigmarole of raising the money to build that structure and then again gift it to the army. We haven't broached that subject yet, but I know that we will probably in the next 15, 20 years because our story is ongoing.
We are already bursting at the seams and we're doing pretty much a stop-gate thing right now because our foundation, they're now starting to get a little more proactive in raising money, and we're going to reconfigure our gallery. And with the use of technology be able to consolidate some of those old exhibits from 20 years ago where you have to lots of photos and panels, and maybe shrink that where we're showing videos or something like that and be able to add in more artifacts, particularly to tell the story of the war on global terrorism. Because that's where we're along in this war, and where we're lacking right at the moment.
Speaker Bios
Jim Bartlinski has been the Director of the U.S. Army Airborne and Special Operations Museum (ASOM) in Fayetteville, NC since 2010. Jim earned his MA in Historical Studies from the University of Maryland, Baltimore County in 1998. He brings to his position a diverse range of museum experience in both the private and public sectors. Additionally, over the course of his twenty year career, Jim has taught history at the secondary school level, worked as a research historian, as well as served as a consultant for various historical sites and committees.
Denise Wald currently works as the Collections Manager for the U.S. Army Airborne and Special Operations Museum in Fayetteville, North Carolina. She holds a master's degree in Public History from Royal Holloway, University of London, and a master's certificate in Museum Collections Management and Care from George Washington University. Her previous professional experiences include the Imperial War Museum, London; Benjamin Franklin House, London; Coronado Historical Association, California; and Thomas Jefferson's Monticello, Virginia. She lives outside of Fort Bragg with her husband, Rob, a JAG officer in the U.S. Army, and their two daughters, Charlotte (5) and Bridget (4 months).