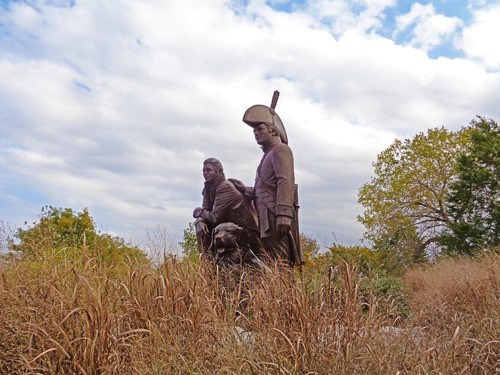 Fossilized poop has helped tell the stories of human civilization across centuries and around the globe. For example, 50,000-year-old coprolites, which is the term experts use for fossilized poop, have helped scientists to determine that Neanderthals, who once had the reputation for being serious carnivores, balanced a very meat-rich diet with plenty of fibrous vegetation. But, story-telling stool is not limited just to fossils or to pre-history! It also turns out that number two, occasionally, can be our number one resource for retracing the original steps of Lewis and Clark.
"Paleo" before it was cool, members of the Corps of Discovery ate roughly nine pounds of meat per day. But unlike middle-paleolithic Neanderthals, their diets were not always balanced with fruit and veg. Now, you're probably saying, "well this story is headed straight for the toilet!" Not so fast, dear reader. With nine pounds of meat creeping through their intestines, we doubt the members of the Corps were very often headed straight for the toilet. Enter Rush's Thunderbolts. These mercury-laden laxatives, of which Meriwether Lewis sourced 600 prior to his departure down the Ohio River, might have not only provided much needed relief to members of the Expedition! Rather, the specific signature the mercury leaves behind has also given researchers relief in their quest to map the Corps' specific camp sites.
Mercury, which does not decompose, is what ultimately lead researchers to what is now the most famous latrine, and one of only a few confirmed camp sites, along the Trail. Now inside the boundaries of Travelers' Rest State Park, researchers were able to use journal entries, maps, a military guidebook Lewis and Clark used, and that specific mercury signature to corroborate their hypothesis that this was in-fact the site where the captains and crew spent three days in September 1805 resting and preparing themselves for what turned out to be the most difficult part of their journey.
Photo Caption: Rush's thunderbolts may have given Corps of Discovery members relief as they traveled across the interior of the country eating an average of nine pounds of meat per day. But, these mercury-laden laxatives have also provided relief to modern archeologists as they try to retrace the Corps' steps.
Alt Text: A statue of Lewis, Clark and Lewis' dog Seaman. Tall, brown grass is in the foreground, and trees and a partially clouded sky are in the background.