Article
Highlighting the Historic Values of the Concord River
Content submitted by: Marlies Henderson
The Talbot Dam in North Billerica, Massachusetts, prevents the Concord River from flowing freely. While the dam and impoundment are located downstream of the Wild and Scenic segment of the Concord River, the Sudbury, Assabet, and Concord Wild & Scenic River Stewardship Council (RSC) voted to help fund an observation deck with an interpretive panel at this location to highlight some of the historic values for which the river was designated.

The RSC saw the observation deck as the common ground where interests of Wild & Scenic river stewards met those of the fans of early industrial engineering. Funding the creation of an interpretive historical exhibit made sense, especially if the sign not only depicted the dam's history, but also the previous millennia of civilization here. A timeline reaches back 9,000 years and displays artifacts highlighting the presence of Indigenous People. Should the defunct dam be removed in the future, then the historical sign will still contain accurate information.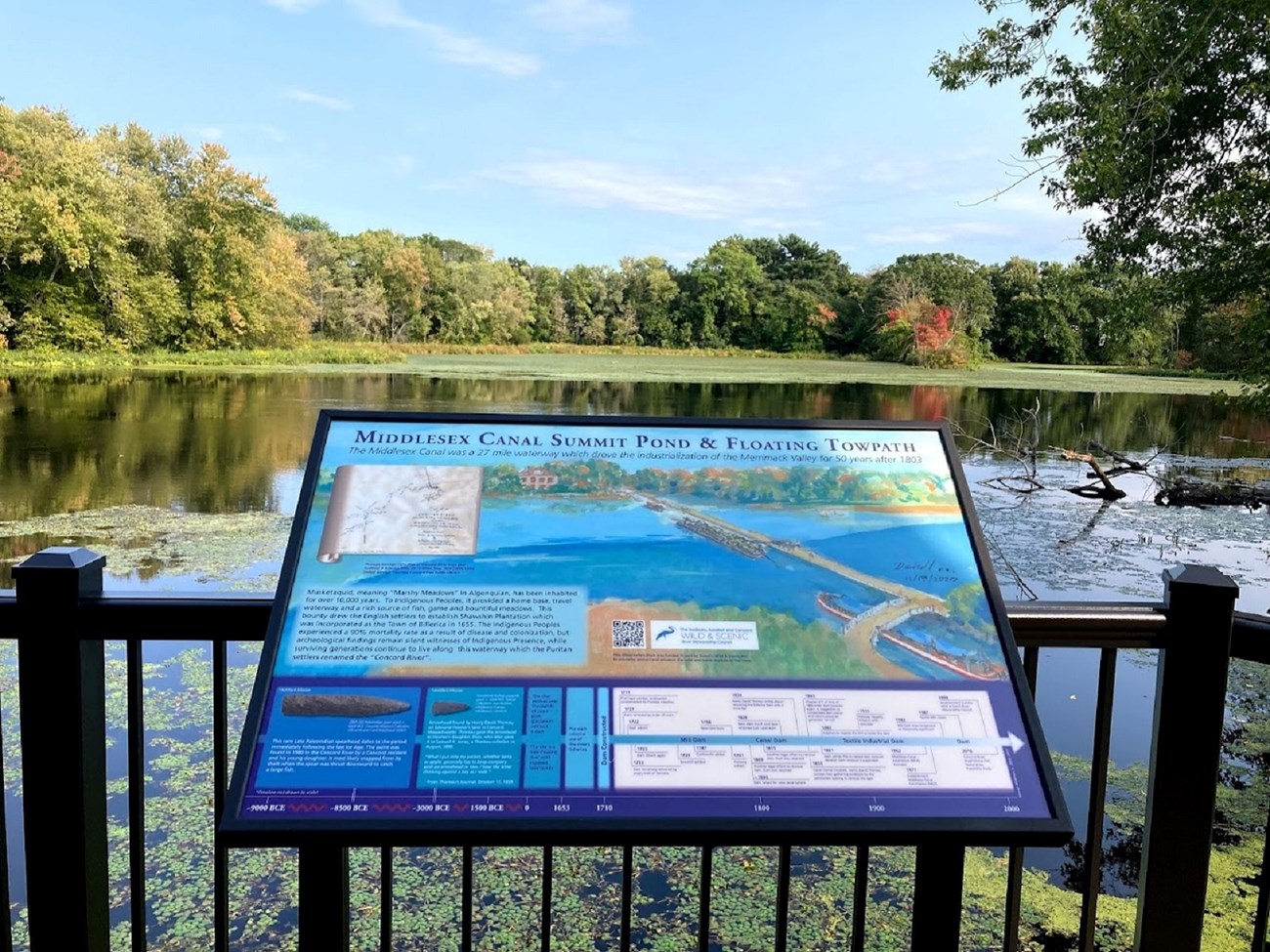 The historical panel title is Middlesex Canal Summit Pond & Floating Towpath. At this location, during the Early American Republic, the Concord River fed the northern and southern sections of the 27-mile canal between Lowell and Boston. Being the highest point in elevation for the canal, a pontoon-type bridge supported a person or horse to pull a tow-boat across the pond before the river rushed over the dam. The canal provided a smooth 'high way' for freight barges and passenger boats alike. However, before the earliest 1710 dam, rapids in this area provided passage to an abundance of migratory fish, and the meadows here were so rich, the river area was known as Musketaquid (Henry David Thoreau translated the name as grass-ground river).

On October 3, 2021, several dignitaries attended a hybrid (in-person-and-virtual) ribbon cutting ceremony, cablecast live on local TV. Among them, State Senator Cindy Friedman and State Representative Marc Lombardo jointly revealed the panel, after which Linda Coombs (Aquinnah Wampanoag Tribe) spoke via Zoom about this "first step" in addressing the East Coast Indigenous history.

Then followed a recorded comment by Emma Lord, RSC staff member and NPS Natural Resources Specialist. She elaborated on the Community Grant initiative and its objective to improving local connections, and growing awareness of river history, which ultimately protects the river resources.

Next, the President of the Middlesex Canal Association expanded on the restoration project of the Historic Mill District former warehouse and its adaptive reuse as Museum & Visitor Center. He gratefully considered the observation deck the first fruits of the project.

To see this this mingling was truly blissful: Residents of Billerica and beyond, members of the Select Board, River Stewardship Council members, Middlesex Canal Association Directors, Historical Board members, Conservation Commissioners, all gathered on this observation deck; a peaceful patch of common ground, and a contented blue heron watched the formalities from his perch in the pond.
Last updated: January 21, 2022