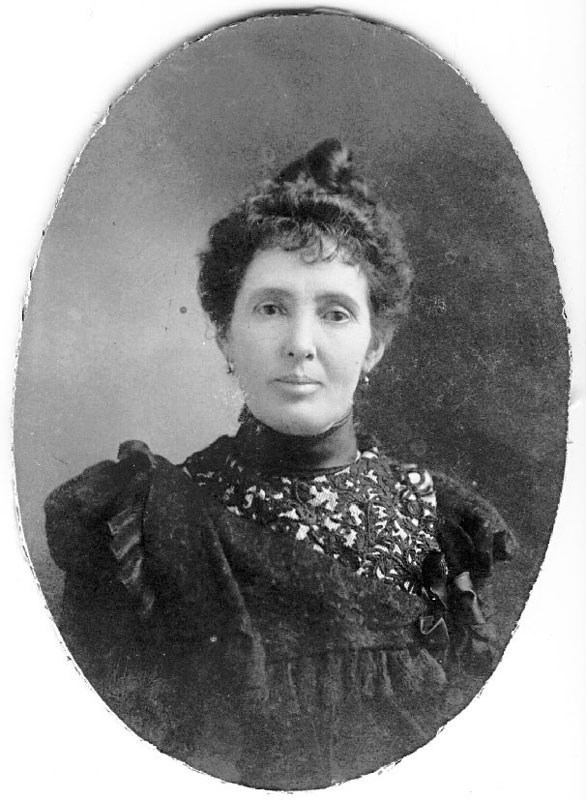 Introduction:
"Women's History to Teach Year-Round" provides manageable, interesting lessons that showcase women's stories behind important historic sites. In this lesson, students explore the life of Helen Stewart and the history of how a prosperous ranch became the city of Las Vegas, Nevada.
This lesson was adapted by Talia Brenner and Katie McCarthy from the Teaching with Historic Places lesson plan, "The Old Mormon Fort: Birthplace of Las Vegas, Nevada." If you're interested in more information on this topic, explore the full lesson plan.
Grade Level Adapted For:
This lesson is intended for middle school learners but can easily be adapted for use by learners of all ages.

Lesson Objectives:
Learners will be able to...
Understand how Las Vegas grew from native land and ranches into a permanent city.
Describe the experience of Helen Stewart, one of the first non-native women to inhabit the Las Vegas Valley.
Analyze primary and secondary sources to determine the central idea.
Research Las Vegas post-1930s.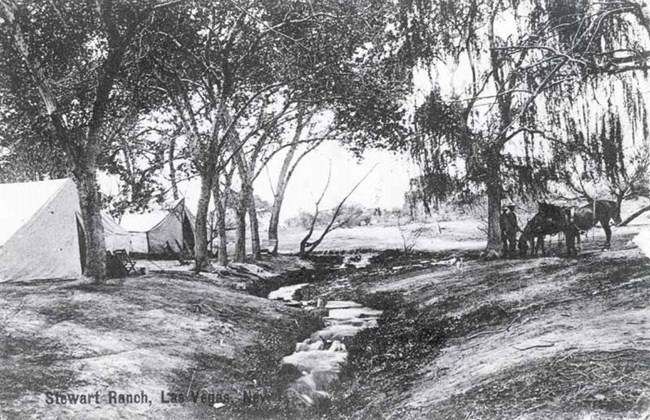 Inquiry Question:
This parcel of land went from being a distant outpost to a bustling city. How do you think that affected the people who lived there?
Background:
The land that is now Las Vegas, Nevada, was originally the territory of the Paiute Native American people. As white Americans colonized western North America, they found abundant spring water in the Las Vegas Valley, making it an ideal resting point in the desert. From 1829 until 1848, Western travelers used the Old Spanish Trail to journey between Santa Fe, New Mexico, and Los Angeles, California. "The meadows," or Las Vegas, were a stop on the trail. In 1848, the discovery of gold in California led to booming numbers of people venturing west through southern Nevada. Many of these travelers stopped at Las Vegas.

Permanent U.S. settlement on this land began with the Mormons (also known as LDS, or Latter-Day Saints), who journeyed west with the plan to establish their own religious communities. A group of Mormon men built a fort at Las Vegas in 1855, which they abandoned a few years later in 1858. Ranchers then began to move to the area that had once been the Mormon fort. Helen Stewart was one of the first non-Indigenous women to inhabit the Las Vegas Valley.

Reading:
Helen Wiser first met the man who would become her husband in 1872 in California. She was 18 years old and Archibald Stewart was 20 years her senior. Helen's parents had decided that their daughters should marry successful older men. Archibald Stewart, who had a successful freighting business near Pioche, Nevada, certainly met those requirements.

By 1882, Helen had given birth to three children and was pregnant with a fourth. Archibald decided to move the family to the isolated Las Vegas Ranch, a property he acquired from a miner who could not pay back a loan. The miner, Octavius Gass, had built the ranch on the ground of the old Mormon fort, possibly using walls and building materials from the abandoned building.

Helen did not want to move, preferring to live in an established community with more stimulation and schooling opportunities. Yet Archibald Stewart promised that the family would only live there for two years, and they arrived in Las Vegas in April 1882. Helen's fourth child, Evaline, was born soon after.

Shortly before the two years were up, a neighbor shot and killed Mr. Stewart. Helen Stewart buried her husband on a knoll west of the ranch house in a coffin made from the doors of the house. A few weeks later, she gave birth to Archibald, named after his father. Though she had planned to leave the lonely ranch after two years, Helen remained at the ranch and continued to operate the property with her father, Hiram Wiser.

By 1888, exciting rumors were spreading throughout Lincoln County that a railroad would be built through the Las Vegas Valley. Knowing the prosperity that a railroad could bring, more and more people started buying land in the area. During the 1890s, Helen and her father bought large tracts of land, dealing in real estate until Helen was the largest property owner in Lincoln County.

The railroad's planners were interested in Helen's ranch because of its water supply, which they needed for steam-powered locomotives. They figured that the ranch could also provide beef to feed the railroad workers. In 1902, Helen sold nearly 2,000 acres of the ranch--including its water sources--to the San Pedro, Los Angeles and Salt Lake City Railroad (later called Union Pacific). The railroad paid her $55,000.00, over $1.5 million in today's money. Helen kept the Stewart burial plot, "Four Acres." She then bought land next to Four Acres and built herself a second home. In 1903, Helen married a ranch hand, Frank Stewart--no relation to her first husband.

With the coming of the railroad, Las Vegas became a town. Railroad officials laid a grid for the city and auctioned off land. A tent house resort opened in 1905, followed soon after by a meat market, supply store hotel, dance floor, and primitive swimming pool near the creek. That same year, railroad service to the eastern United States opened. As more people arrived, the number of farms and ranches grew.

After retiring from ranching, Helen Stewart continued to be an influential member of the new town. She served as the first postmaster of Las Vegas for ten years, from 1893 to 1903. Considered an authority on local history, Helen served as a member of the Nevada Historical Society and the Society of Nevada Pioneers. She was also the first woman elected to Clark County School Board and the first woman to sit on a jury in Nevada.

The town drew many new people to the area, including many more women. After many years of being one of few women in the area, Helen enjoyed socializing with female friends. Her nickname became "the first lady of Las Vegas." Helen attempted to contribute to the Paiute Tribe, the original inhabitants of the land. She collected Paiute baskets, contributed a parcel of her land for a Paiute colony, and helped establish a school for Paiute children. Of course, Helen's success was due to the lands she owned, territory that white Americans had taken from the Paiute.

When Helen Stewart died in 1926, she was buried in the old Four Acres burial plot. Many well-known people came to mourn the "First Lady of Las Vegas."
Discussion Questions:
Why do you think Helen Stewart stayed at the ranch after Archibald Stewart died?
How did Helen Stewart use the new railroad as a business opportunity?
In what ways was Helen Stewart's relationship with the Paiute Tribe complex?
Look at the photograph of Helen Stewart. How would you describe her clothing? Do you think she would have worn clothes like this every day? Why or why not?
What kind of image do you think Helen Stewart is trying to convey in the photograph?
Activities:
The following activities encourage learners to actively engage with the Helen Stewart's personal life and the history of Las Vegas in order to think both creatively and analytically. Educators should choose one of the following activities to complete with their participants.

Activity 1: Document Analysis
Have participants read the documents below and answer the following questions, working either individually or in groups.

In the late 1890s, Helen sent her younger children to Los Angeles for a formal education after the tutor she had hired for them died. Helen wrote these letters to Archie, her youngest son, while he was away at school. Archie was killed at age 14 while corralling horses during a school vacation.
Document 1
(undated)
Dear Archie,
Your letter has not come. Why don't you mail to your mamma. Are you going to school, sit down and tell me all about it. The cattlemen will be here in seven days or lose their money. Then hurrah fore Los Angeles and the children I love.
-Mamma

Document 2
Emeryille, California January 25, 1899
Dear Son Archie,
This is your birthday. You are fourteen years old. I wonder what course you will pursue. What you will do? What kind of man you will be. I think you have pride and manliness about you to try and be one of the best. Remember always I love you and always think of you every day and wonder what you are doing.
-Your loving mamma.

Dare to do right
Dare to be true
Dare to be good
Everything will come right for you.

Documents 1 (MS 1 F2) and 2 (MS 1 F3) are available in the Nevada State Museum and Historical Society's Collection.

Questions for Documents 1 and 2
Identify the date of Document 2. Based on the date of Document 2 and the information you have about Archie's death, estimate the year that Helen would have written Document 1.
What was happening in Helen's life when she wrote the letters? What was happening in Las Vegas?
What do you think the poem in the second letter means? Why do you think Helen included it in her letter to Archie?
Based on the information in the letters, how do you think Archie felt about school?
Activity 2: Research And Creative Presentation
Have participants research the history of Las Vegas since 1931, when construction on the Hoover Dam began and gambling was legalized in Nevada. Using the information in this lesson and their research, have participants creatively depict the ways that Las Vegas has changed since Helen Stewart's lifetime. Possible formats include digital presentations, comics, or posters.
Wrap-up:
Helen Stewart faced a lot of change and upheaval throughout her life. What were some of the challenges she faced?
How do you think Helen Stewart felt at different points in her life. When were times that you felt similarly?
This lesson focused on Helen Stewart's role in the building of early Las Vegas. Whose stories are we missing?
Why is the story of the founding of Las Vegas important? What can we learn from it?