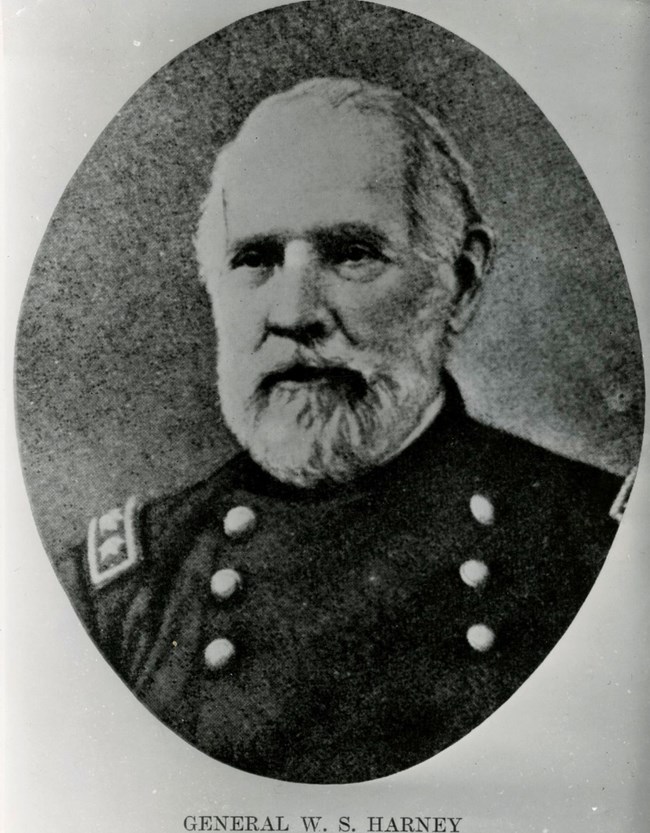 William Selby Harney,was born in a small town on the outskirts of Nashville, Tennessee. Harney was an important figure in midcentury America who has since slipped into obscurity. In his time he was important enough to merit Americans to name a lake, county, school, streets, channel, mountain, park, and hot springs after him but he is little known today. A modern reexamination of Harney reveals a leader who disobeyed orders, committed acts of racist violence, and who used political connections to escape consequences for disobeying the chain of command and mistreating his soldiers. Nonetheless, exploring his problematic record provides a better and truer understanding of our past.
Harney's family was close to future president Andrew Jackson who arranged for Harney, at the age of 17, to join the Navy. Harney, however, wanted to serve under Jackson himself and instead entered the Army as a lieutenant under Jackson's command. Even at a young age, other officers were impressed by Harney's appearance and demeanor; future Confederate President, Jefferson Davis described the 6 feet, 3-inch, broad chested, blue eyed Harney as "physically, the finest specimen of a man I ever saw."
Harney's early career included a broad range of duties that reflected the diverse expectations and obligations of the early US Army. Within a few weeks of his commissioning, Harney led an anti-piracy task force that targeted Jean Lafitte and his band of Louisiana buccaneers. Harney also helped construct frontier fortifications, recruit soldiers, serve on military court martial juries, commanded a team of military lumberjacks, and led campaigns to invade indigenous territory. He also maintained his close connection to Andrew Jackson, serving as a personal aide to Jackson when he oversaw the surrender of Spanish Florida to the United States.
Harney became renowned for his cruel temper, high ambitions, and his use of connections to fulfill that ambition. Utilizing his friendship with Jackson, Harney gained a post commanding troops on a major expedition to map the interior of the upper Midwest and make diplomatic treaties with indigenous people. During that expedition, Harney successfully won 1 of 2 races with the fastest runner in the Crow tribe, fathered a child with a Native American woman that he would later abandon, and got into an argument with his commanding officer that was so vociferous that Harney faced a court martial for disobeying orders.
While serving at Fort Winnebago, Harney saw a fellow soldier's dog uprooting the fort's vegetable patch and brutally beat the post pet in retribution. This was not his only act of public brutality at this post; Harney also violently lashed an iron miner who sold alcohol to his enlisted men. Once, Harney's pride led to his own embarrassment when he decided to flog a Native American man who had broken a minor fort rule; Harney, recalling his race with the Crow champion, told the man that he would let him go if he could win a race across a frozen river. Prideful Harney allowed the Native American a head start and chased him with a rawhide strap in hand. The Native American intentionally ran over some relatively thin ice which would not hold the much heavier Harney who fell into the icy waters, enabling his intended victim to get away. These incidents were a premonition of future actions Harney took.
In January of 1833, Harney married Mary Mullanphy, daughter of the reputedly wealthiest man in Saint Louis. Wishing to live near his new bride and thirsty for career progress, Harney called upon his old mentor, Andrew Jackson, now President of the United States, for a promotion to Major as the paymaster at the
Jefferson Barracks
, a large military installation in St. Louis. When a St. Louis auctioneer publicly mocked Jackson, Harney repaid his mentor by throwing the auctioneer to the ground. Though Harney's work often took him away from home, in 1834 the Harneys settled into Harney's wife's sister's mansion while their in-laws stayed in France.
On April 26, 1834, 33-year-old Major William S. Harney attacked a young woman named Hannah. Unable to find the keys to his in-laws home, Harney blamed Hannah and beat her with a rawhide strap until she told him where the keys were. This torture went on for three days, until Hannah died at Harney's hands. Word spread of Hannah's suffering and a coroner's inquest, ruled on June 28, 1834 that Hannah "came to her death by wounds inflicted by William S. Harney."'
Hannah was a young mother; Her 8-year-old child, Fannie, was almost certainly the product of rape by her enslaver, John Mullanphy, Harney's father-in-law. Even in slaveholding St. Louis, Harney's actions were considered shocking and he fled his home for the east coast to avoid criminal justice and mob vigilantism. Harney was wise to flee; shortly after he left "a mob...assembled to pull down [his] house & it required great exertion [by his best friend] to prevent it."
This newspaper article from Cincinnati demonstrates how Harney's behavior was received, even when slavery was legal: "A MONSTER! A fellow by the name of HARNEY, a few days since, MURDERED a Negro woman, by whipping her to death in St. Louis.! It has been stated by gentlemen who were on the coroner's inquest that from circumstantial evidence, and testimony of individuals to Harney's own confessions to them, that this horrible act was committed under circumstances of peculiar barbarity…and for successive days, and that the corpse of the poor creature exhibited a most shocking sight. It is said the monster fled from the city, and that the citizens are peculiarly excited,--having formed the resolution to take him into the bushes, and leave him in precisely the same fix as he left the woman, and that measures are in train to offer a heavy reward for him. Harney is represented as an officer connected with the army , and has fled to Washington City. It is hoped and believed there is virtue and firmness enough in the army to declare non-intercourse with SUCH A MURDERER."
Harney never suffered professionally or personally for his actions. Harney was granted a transfer away from St. Louis because of the public opinion against him there. Facing an indictment in St. Louis for this murder, Harney secured a change of venue into the circuit court of Judge Lawless, a renowned pro-slavery politician, who acquitted Harney of his crimes. Harney would continue to rise in the United States military and was the general in charge of the Pacific Northwest when his actions led to the Pig War. In a future post, we will detail an even more deadly atrocity that Harney perpetrated and how his temper led to and exacerbated the Pig War crisis.