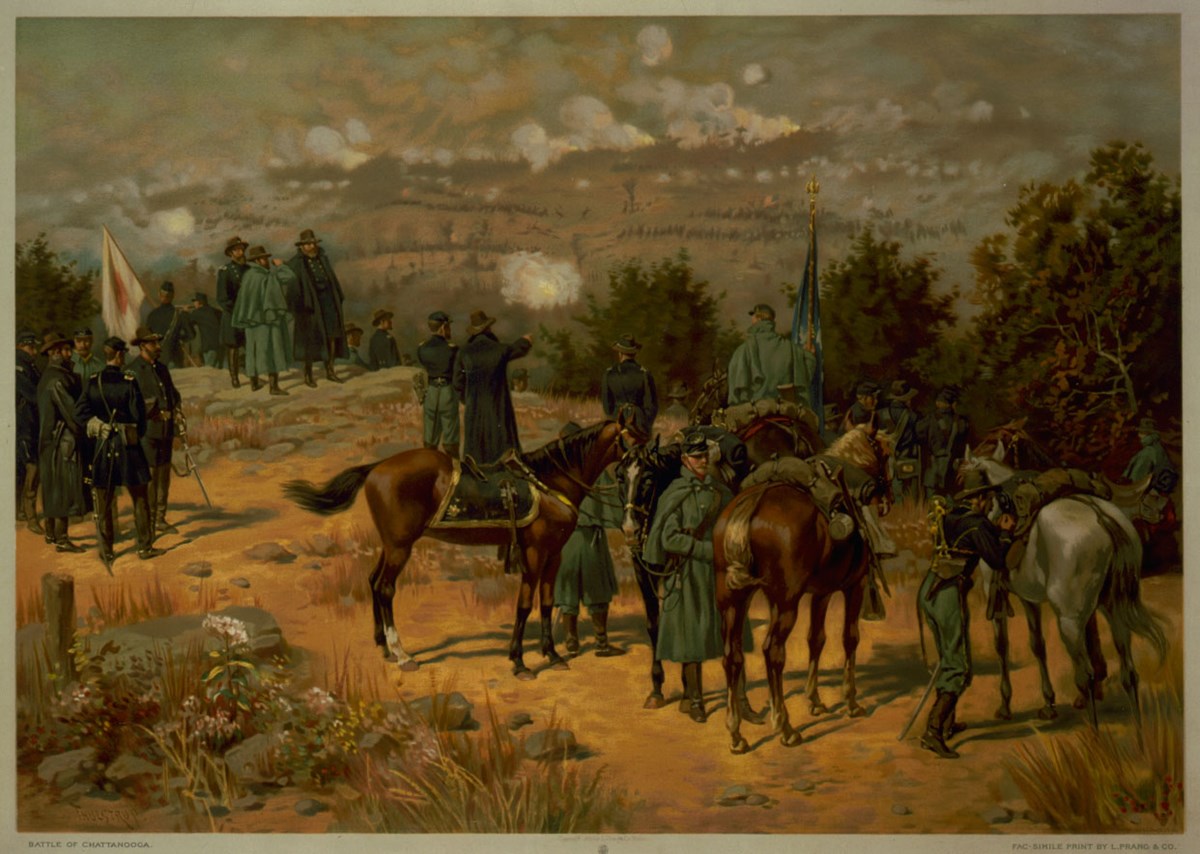 by Frank Kohl
As the sun rose on November 25, 1863, Ulysses S. Grant looked out from his field headquarters on Orchard Knob and saw his plan to take Missionary Ridge and defeat the Confederates at Chattanooga spring into action. Union forces were in a good position and attacked from three different directions. However, Grant watched his plans fall apart. One general was delayed as his men repaired a bridge, while another was held up in bitter fighting. Refusing to give up, Grant gave orders to take the ridge base. When no movement was made, he found the general in charge and angrily demanded:
"I ordered your attack an hour ago. Why has it not been made?"
"I have been ready for more than an hour, and can attack in five minutes after receiving the order"
"I order you to attack."- General Grant to General Thomas J. Wood
The Charge
Within minutes, thousands of Union soldiers charged Missionary Ridge. They overtook the first rifle pits, but instead of stopping as ordered, they continued charging. Grant watched a wave of blue uniforms crash against the ridge, quickly reach the top, and force the Confederates to retreat down the other side. After the fighting, a Confederate soldier ominously wrote, "This...is the death-knell of the Confederacy." The Union victory ended the Chattanooga campaign and opened the "Gateway to the Deep South" of Georgia and Alabama. A few months later, Grant was appointed General in Chief and given command of the entire Union army. Driven out of Tennessee, the Confederates moved to Georgia. Confederate generals realized a defeat in a stronghold such as Chattanooga meant they would have serious trouble in future battles.
Missionary Ridge Today
Missionary Ridge is preserved as part of Chickamauga & Chattanooga National Military Park. Though much of the ridge is now residential property, the history is enshrined across Phelps Monument and seven military reservations, each home to monuments, tablets, and cannons. The park has 80 miles of trails that lead through these historic battlegrounds.

The Odyssey of Ulysses explores the saga of U. S. Grant from his first battle to his final resting place. For information on this Article Series project, contact us.