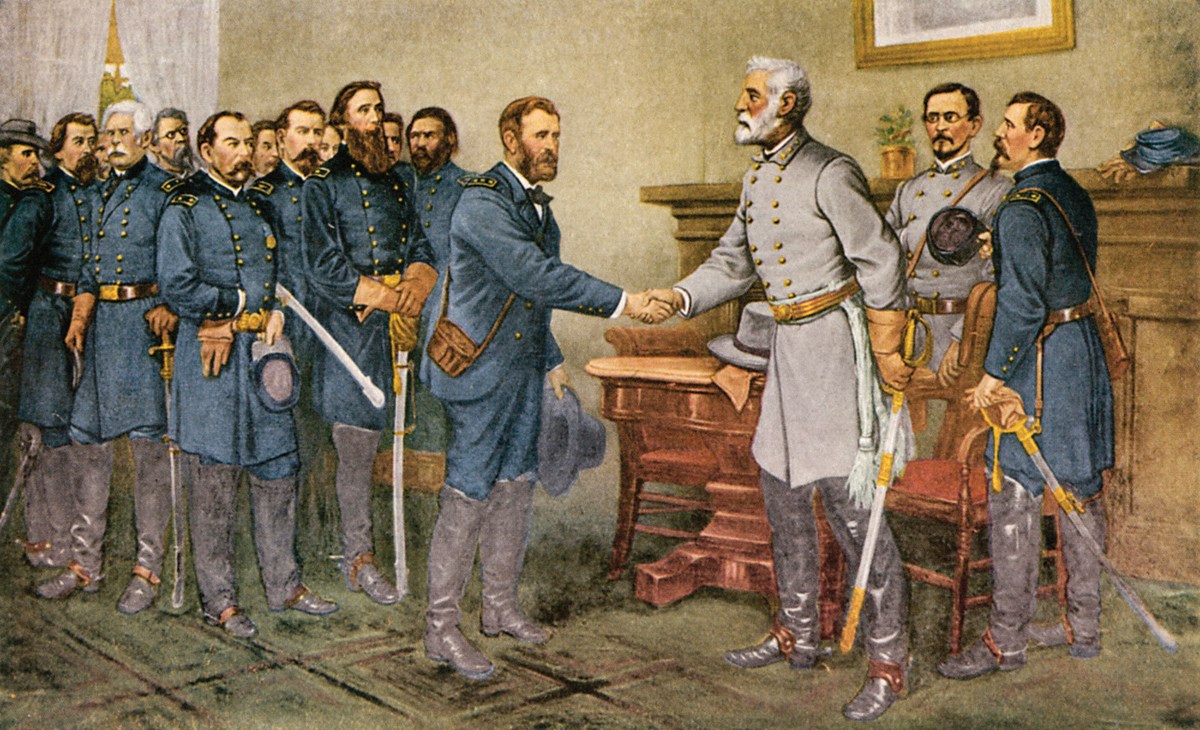 by Frank Kohl
On April 3, 1865, Ulysses S. Grant left the ruins of Petersburg. The surviving Confederates were falling apart as exhaustion, hunger, and desertion took a toll on the men. Grant immediately pursued Robert E. Lee's forces. Three days later, he began sending letters to Lee to discuss surrender. Union troops were low on rations as they approached Appomattox Court House, Virginia on April 8. Grant, plagued by headaches and trouble sleeping, needed Lee to surrender immediately or the war would continue. Finally, the Union cavalry cut off the Confederates line of retreat. With his forces crumbling and no sign of relief, Lee was forced to write Grant and ask to meet and discuss surrender. Upon receiving the message, Grant smiled slightly as he read it and his headache ceased. He wrote a reply and informed his officers the fighting was over.

The Meeting
On April 9th, Grant and his mud-splattered staff arrived at Appomattox Court House. They were in stark contrast to Lee's new uniform. In a fine brick home, the two men discussed the surrender terms. Lee expected to be treated harshly. He was relieved the terms allowed Confederate soldiers to be paroled to return home and grant immunity from charges of treason. In a gesture of goodwill, Grant allowed soldiers with horses or mules to keep them for farming.
"I felt like anything rather than rejoicing at the downfall of a foe who had fought so long and valiantly, and had suffered so much . . ." -Ulysses S. Grant, "Memoirs."
After shaking hands in agreement, Grant offered to send 25,000 rations to feed Lee's troops, who had eaten little for days. Although several more battles were fought, Lee's surrender was the symbolic end of the Civil War. ". . . our men commenced firing a salute of a hundred guns in honor of the victory. I at once sent word, however, to have it stopped. The Confederates were now our prisoners, and we did not want to exult over their downfall." - Grant, "Memoirs."
Appomattox Court House Today
The history of this momentous meeting is preserved at Appomattox Court House National Historical Park. People can wander through the historic village and see the McLean House where Grant and Lee met. In the Visitor Center, housed in the reconstructed courthouse, people can see artifacts, exhibits and a video.

The Odyssey of Ulysses explores the saga of U. S. Grant from his first battle to his final resting place. For information on this Article Series project, contact us. contact us.