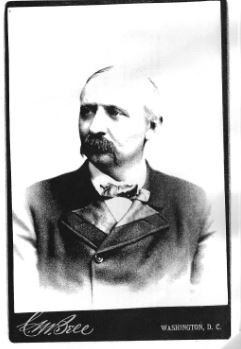 In his forty-nine years, James A. Garfield had a remarkable number of friends. They came from a wide variety of backgrounds including politicians, businessmen, college classmates and soldiers. Of all the colleagues he accumulated, it appears the ones he valued most were those he met as a young man.
Garfield's diary reveals acquaintences dating back to his early years at the Western Reserve Eclectic Institute. He never lost sight of his friends, often writing letters and visiting whenever possible. It was a rare occasion when Garfield quarreled with a pal and put an end to the relationship. During the summer of 1880 he was inundated with trainloads of visitors at his family farm. His nomination for President prompted his legion of friends to travel to Mentor, leaving the candidate little time for the business at hand.
In examining all of Garfield's friendships, one of the men closest to him was a Williams College grad and an old army buddy. When the day was finished and all political obligations complete, Garfield looked to Colonel Almon Rockwell to help him relax. It might be a spirited card game or several rounds of billiards or just some friendly talk. When there was a springtime lull at the Capitol Building, Congressman Garfield would duck out of his office to meet Rockwell and catch a Washington Nationals baseball game. The club was mediocre at best, but the two friends had a grand time watching the ball games.
Almon Ferdinand Rockwell was born October 17, 1835 in Gilbertsville, New York. The village is located in the lower part of the state, southwest of Cooperstown. His American ancestors traced back to 1641 when John Rockwell arrived in Stamford, Connecticut. In later years several family members would serve under General George Washington and the Continental Army.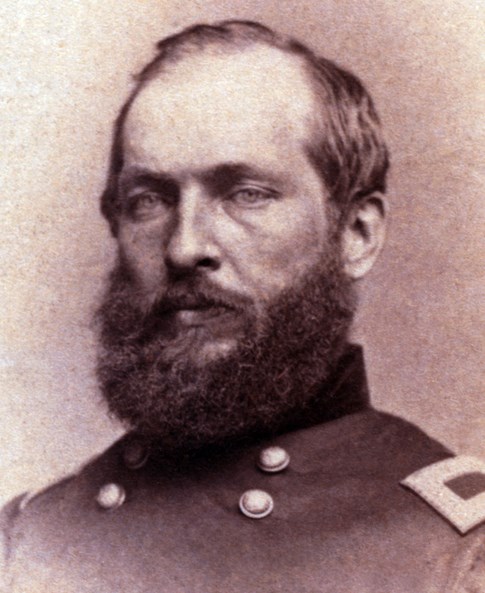 Rockwell went to the area public schools then enrolled in the Gilbertsville Academy and Collegiate Institute. He met his requirements which allowed him to enter Williams College in September of 1852. In his junior year he made a new friend, an older boy from the Midwest. Rockwell and Garfield began a warm friendship that would last until the President's death in 1881.
After graduation, Rockwell studied medicine in Philadelphia. In 1858 he received a license to practice. While reviewing source material on Rockwell's life it is difficult to determine if he actually practiced medicine at any time. Even if he did not, he still had a valuable skill that would be used at various periods during his lifetime.
All of this became a moot point when the Civil War began in April of 1861. In the fall of that same year Rockwell received a commission in the Army of the Ohio. Serving as a first lieutenant, he was assigned to the staff of General Don Carlos Buell. After a brief stay in Louisville, Kentucky, Rockwell saw action at Fort Donelson. He moved on to the Battle of Shiloh where he ran into his old classmate, James Garfield. The two pals reminisced after the fight, then later on the march to Corinth.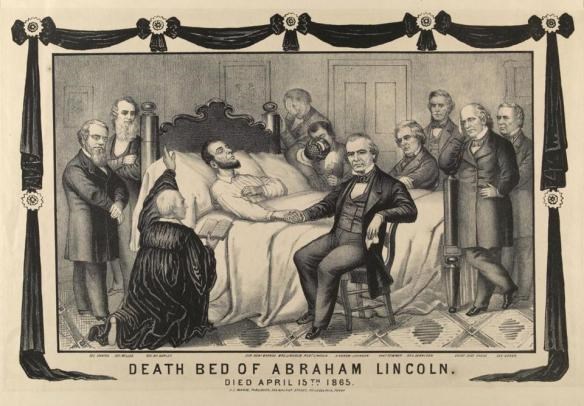 The reunion did not last long as Rockwell came down with malaria and Garfield took sick leave with a severe case of dysentery. Rockwell was the first to recover, being transferred to the provost marshal's department then reassigned as an assistant adjutant general. His new responsibility was to help organize and outfit the new regiments of African-American soldiers. That responsibility lasted until the end of the war.
Rockwell was in Washington D.C. on April 14, 1865. He received a frantic message that President Lincoln was shot and he was needed immediately at the Petersen house. Lincoln had been carried from Ford's Theatre to the home across the street. Rockwell raced to the President's bedside and remained through the night and early morning hours. He witnessed Abraham Lincoln slip away, one of the most dreadful events in our American history.
Though his army commission had expired, Rockwell did not stay unemployed for long. He was offered a position in the Quartermaster Corps of the regular army. The job took him out west where assisted in the construction of several forts including Fort Larned, Fort Gibson, and Fort Sill. He served several years at Fort Yuma, Arizona before being summoned back to Washington D.C. His new detail gave him responsibility for the nation's national cemeteries.
Rockwell quickly found the occasion to call on his long-lost friend, Congressman Garfield. Living in the same city allowed the two buddies to catch up on old times. Garfield would write in his diary, "In the evening dined at Welcker's with my old classmate Capt. Rockwell of the Army and had a delightful reunion after seven years of separation. The Captain presented me with a beautiful matchbox of gold with this inscription, "From an old fellow to another."
Once they were up to date, the two found the nearest billiard parlor and shot pool for hours. One could see them with coats off, shirt sleeves rolled up and calling out their shots. They made a point to play billiards at least several times a week. It is not known how competitive they were, but based on their accomplishments one has to believe they played for keeps.
In addition to shooting pool or a game of casino, they studied the financial markets. After some consideration shares were purchased in the Silver King Mining Company located in Colorado. Shrewd investors were doing quite well with gold and silver mines. It is not clear if the two saw any sizable gains from the stock.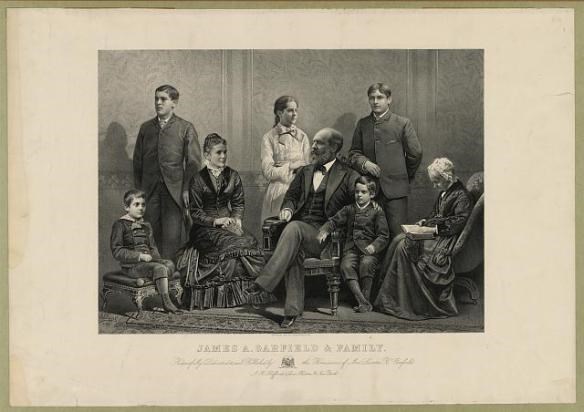 The Rockwell- Garfield friendship extended on several levels. The children of both families became close friends. Sons Hal and Jim Garfield and Don Rockwell roomed together at St Paul's Prep School. In January 1881 the President-elect arranged for a tutor that gave instruction to the boys at the Rockwell's Washington home. Later that year, all three began classes at Williams College. Daughter Mollie Garfield spent time with Lulu Rockwell, who was regarded as one of the great beauties. As an adult Lulu would marry a French count and live well for many years in Europe.
Before President Garfield took office he arranged for Rockwell to be Superintendent of Public Buildings for Washington D. C. A President could always find a way to hire friends for government jobs. By all accounts, Rockwell took this job seriously, being retained by President Chester A. Arthur until his term expired in 1885.
At the time of Garfield's assassination, Colonel Rockwell had gone ahead to the Washington train station. There he made plans for the President's trip east to Williams College. The two loyal alumni were intending to visit the school for their latest reunion. Rockwell was startled to hear the sound of gunfire behind him. He turned around to see his best friend lying on the ground, blood pouring out of his side. Rockwell, a trained medical doctor, had to know the President was in a life-threatening state. He organized a party to carry Garfield to a makeshift ambulance and back to the White House.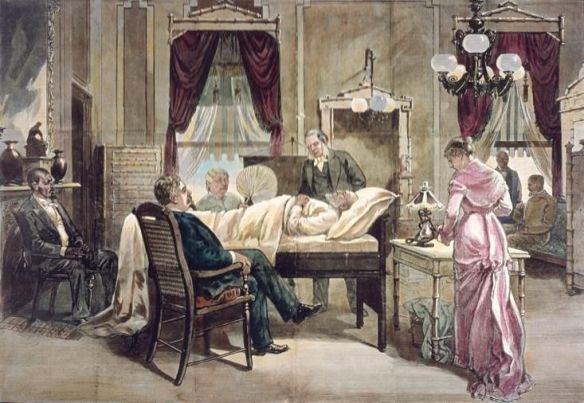 For the next eighty days, Rockwell never strayed far from Garfield's side. He visited every afternoon and evening. When the President asked to be moved from Washington to the seashore of Elberon, New Jersey, Rockwell made the trip with the family. Just hours before Garfield passed away on September 19, 1881, he had one final conversation with his old friend. The President had concerns that his legacy was incomplete and in time he might be forgotten. Rockwell assured him that was not the case. He told Garfield that the American people would always have a special place in their hearts for the twentieth President of the United States.
Almon Rockwell completed his term as Superintendent of Public Buildings. He then returned to active duty with the Quartermaster Corps until his retirement in 1897. He died on July 31, 1903 in Paris, France. Rockwell had an extensive collection of papers which the family donated to the Library of Congress. The archivists had to be surprised when they discovered a bullet among the papers. After careful examination it proved to be the bullet removed from President Garfield's body during the autopsy. Why Colonel Rockwell had possession of the bizarre artifact is uncertain. Perhaps it served as a grim reminder of the events of July 2, 1881. Though he lived to be sixty-seven years old, Rockwell never forgot his old college classmate and dearest friend. He remembered the good times and most certainly the bad.
Written by Scott Longert, Retired Park Guide, James A. Garfield National Historic Site, September 2015.