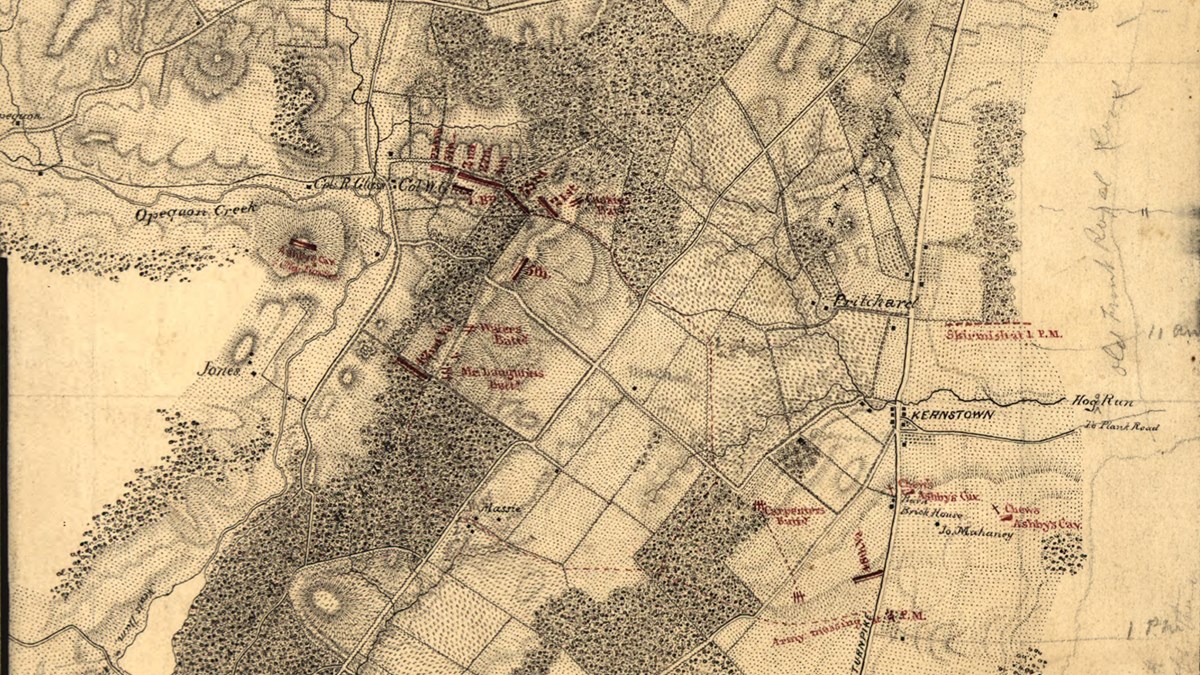 The U.S. Army won the First Battle of Kernstown, just south of Winchester, on March 23, 1862, but Jackson's aggressiveness caused great alarm in Washington. Believing Jackson had a larger number of men, Lincoln sent thousands of Federal soldiers back to the Valley. Though this battle was a tactical loss for Jackson, he scored a strategic win by keeping the Federals from Richmond.
First Kernstown Battlefield
The Kernstown Battlefield Association (KBA), an all-volunteer non-profit organization, preserves the 388-acre Kernstown Battlefield on the Pritchard-Grim Farm in Frederick County, Virginia. Visit Kernstown Battlefield »
Rose Hill Park, operated in partnership by Frederick County Parks & Recreation Department and the Museum of the Shenandoah Valley (MSV), was the scene of the battle's conclusion at Rose Hill Farm. Visit Rose Hill Park »
Outnumbered in the Valley
Maj. Gen. Thomas J. "Stonewall" Jackson, commander of Confederate forces in the Shenandoah Valley of Virginia, faced a dilemma in early March 1862. Jackson was ordered by his superior, Gen. Joseph E. Johnston, to prevent Federal forces in the Valley from moving east to reinforce Maj. Gen. George B. McClellan's offensive against Richmond. Yet, Jackson could count on barely 4,000 under his command at Winchester, hardly enough to counter the 20,000 troops under U.S. Maj. Gen. Nathaniel Banks. Thus, on March 11, 1862, when Banks advanced south towards Winchester, Jackson led his outnumbered command south to Mount Jackson.
On March 22nd, Col. Turner Ashby, commander of the 7th Virginia Cavalry, skirmished with Federal outposts south of Winchester. He reported back to Jackson that most of Banks's force was leaving the Valley and that only a small number of Federal troops remained in Winchester. Jackson now had an opportunity to strike back, regain control of Winchester, and potentially accomplish what his superior had ordered – to keep Federal forces in the Valley and away from Richmond – so he immediately started his division back north. However, Ashby's information was wrong. Winchester was still home to Gen. James Shields's division of nearly 8,000 Union soldiers. 
Morning on Sunday, March 23, 1862, broke cold and raw in the Shenandoah Valley of Virginia. Recently fallen snow still lay in patches on the ground. South of Winchester, near the small hamlet of Kernstown, Federal outposts watched as Col. Turner Ashby's 7th Virginia Cavalry approached again, accompanied by an artillery battery and four companies of the 2nd Virginia Infantry. The Confederate guns unlimbered, and around 9 a.m., opened fire – the first shots of the Battle of Kernstown.
In command of the Federal troops facing Ashby was Col. Nathan Kimball. Kimball had taken charge of Shields's division after Shields had been wounded during the previous day's action. Kimball brought more troops into the action, and placed ten rifled artillery pieces on Pritchard's Hill, a dominant position just west of the Valley Pike. Thus, Ashby's attempts to outflank the Federal forces were unsuccessful, and he had to pull back in the face of heavy artillery fire. 
While Kimball and Ashby sparred, Jackson was leading the rest of his command north from Strasburg, nearly twenty miles to the south. This Confederate force began to arrive around 2 p.m., and as his men rested after their exhausting march, Jackson reconnoitered the Federal position. He determined that an attack against Pritchard's Hill would not be advisable, so instead, Jackson ordered some of his artillery and two of his three brigades, to march west. The two brigades, those of Brigadier General Richard Garnett, who commanded the Stonewall Brigade, and Col. Samuel Fulkerson, marched across the Middle Road to Sandy Ridge, and from there, went to outflank the Yankee position on Pritchard's Hill. As those Confederates reached Sandy Ridge, they took position behind a stone wall that stretched across the width of the ridge.Observing this from the rear, Jackson had his staff officer, Sandie Pendleton, ride to Sandy Ridge to further reconnoiter the Federal position on Pritchard's Hill. When Pendleton returned to report his findings, the news was grim – he told Jackson he believed they were facing as many as 10,000 enemy troops. "Say nothing about it," Jackson told Pendleton. "We are in for it." Indeed, they were. 
Seeing the Confederates advance to Sandy Ridge, Kimball soon countered his opponent's move by ordering Col. Erastus Tyler's brigade to attack the Confederates there. Instead of advancing his brigade in one line of battle, with his regiments lined up side-by-side, Tyler had them advance one behind the other. This meant that only the leading regiment could fire on the Confederates behind the stonewall, and that the Federals would have to form their battle line while under fire. This formation almost proved disastrous for the Federal, only saved by reinforcements sent over by Kimball and the heavy artillery fire from Pritchard's Hill. 
Despite taking heavy casualties, Tyler eventually got his five regiments into one long line of battle. Now, together with the reinforcements sent by Kimball, the disparity in numbers began to tell. After several hours of battle, the Confederates started to run low on ammunition, and although no orders arrived from Jackson to do so, Garnett ordered a retreat from Sandy Ridge.Jackson was furious with Garnett for retreating. He would later bring Garnett up for charges. However, retreat was the right decision, and as evening fell, the Confederates withdrew south on the Valley Pike. It had been a costly day for Jackson – nearly 740 killed, wounded, and captured, over 22% of his force of some 3,700 engaged. Federal losses came to about 575, just over 8% of the 7,200 engaged. Although this was a tactical defeat, Jackson had achieved a strategic victory. 
The Lincoln administration, always sensitive about the safety of the Federal capital, had heard that Jackson's command was much larger than it was and worried that the Confederate general might intend to invade Maryland. As a result, Lincoln sent substantial reinforcements, troops originally meant to support McClellan's campaign against Richmond, back to the Valley. Thus, Jackson's defeat at Kernstown actually accomplished what General Johnston wanted.Kernstown ended up being Jackson's only defeat during his two years of service in the Confederate army, and the first of his remarkable 1862 Shenandoah Valley Campaign.
Order of Battle
The order of battle shows the hierarchy of army units in the field at the First Kernstown.
Brig. Gen. James Shields (wounded)
Col. Nathan Kimball
Approximately 8,500 men
FIRST BRIGADE
Col. Nathan Kimball
14th Indiana

8th Ohio

67th Ohio

84th Pennsylvania
SECOND BRIGADE
Col. Jeremiah C. Sullivan
5th Ohio

13th Indiana

62nd Ohio

39th Illinois*
THIRD BRIGADE
Col. Erastus B. Tyler
7th Ohio

7th Indiana

1st (West) Virginia

29th Ohio

110th Pennsylvania
CAVALRY
Col. Thornton F. Brodhead
1st squad Pennsylvania

Independent Companies Maryland

1st (West) Virginia (Battalion)

1st Ohio (Co. A, D)

1st Michigan (Battalion)
ARTILLERY
Lt. Col. Philip Daum
(West) Virginia Artillery - A Battery

(West) Virginia Artillery - B Battery

4th United States Artillery -E Battery

1st Ohio Artillery - H Battery*

1st Ohio -L Battery
*Unengaged
Maj. Gen. Thomas J. "Stonewall" Jackson
Approximately 3,500 men
GARNETT'S BRIGADE
Brig. Gen. Richard B. Garnett
2nd Virginia

4th Virginia

5th Virginia

27th Virginia

33rd Virginia

Rockbridge Artillery

West Augusta Artillery

Carpenter's Virginia Battery
BURKS' BRIGADE
Col. Jesse S. Burks
21st Virginia

42nd Virginia

48th Virginia*

1st Virginia (Irish) Battalion

Pleasant's Virginia Battery*
FULKERSON'S BRIGADE
Col. Samuel V. Fulkerson
23rd Virginia

37th Virginia

Danville Artillery*
CAVALRY 
Col. Turner Ashby
7th Virginia
Chew's Virginia Battery
* UNENGAGED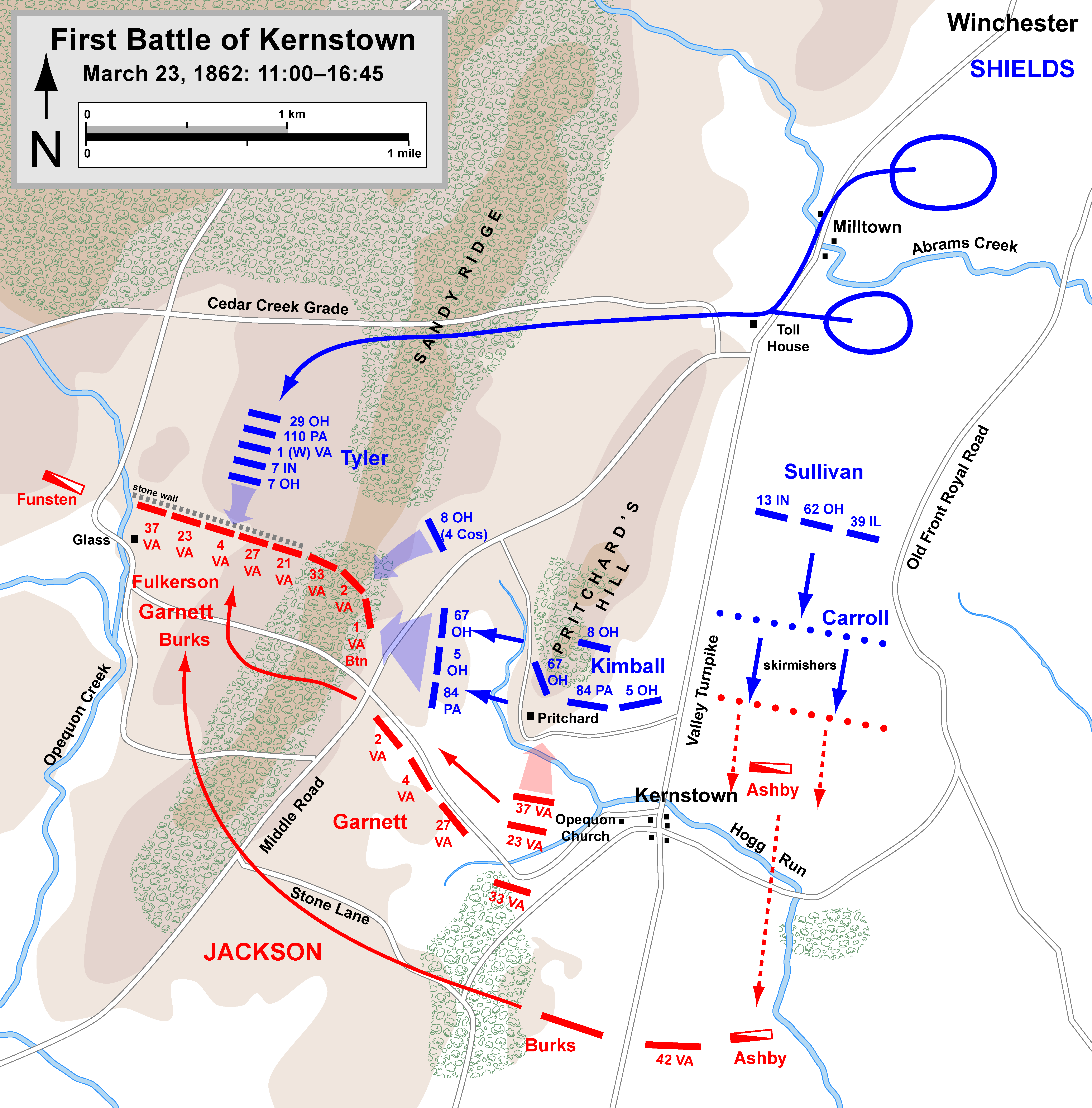 A battle map by Hal Jesperson, www.cwmaps.com, shows Jackson's Confederates (red) taking positions on Sandy Ridge, west of Kernstown and the Valley Turnpike. Shields' Federals (blue) assaults their position from the north. Federal skirmishers push Confederate cavalry south of town east of the turnpike.