Initially established as the Emergency Relief Administration by President Hoover in 1932 to loan money to states for relief programs, Roosevelt asked Congress to authorize the FERA for the same purpose. This was done under the Federal Emergency Relief Act passed during FDR's first hundred days. Direct aid given to the states was distributed through local agencies to those most hurt by the Depression, and within two hours of its birth the agency gave out five million dollars. During its roughly two and a half years of existence it provided work for over twenty million people at a cost of $3.1 billion. It was replaced in 1935 by the Social Security Administration (SSA) and the Works Progress Administration (WPA).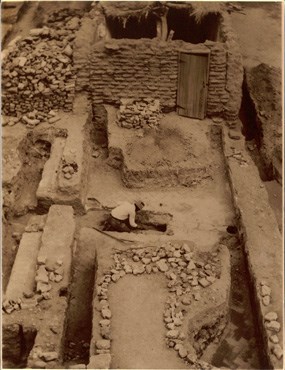 The FERA at Tumacácori
Local men hired under the FERA continued to work on the boundary wall after the dissolution of the CWA. Work stopped temporarily in October, 1934, when funds ran out. Boundey recorded in his monthly report:

"The Nogales office is very anxious to have us go on with the work as they say this is the only project where there has never been a complaint from any worker in regard to time and money earned or quality of work furnished."

With renewed funding, FERA workers completed the boundary wall in 1934 then went on to make additional adobes for repair and construction, and to assist with the 1934 - 1935 excavation of the convento ruins, the area to the east of the church, under the direction of archaeologist Paul Beaubien. Beaubien supervised excavations designed to locate subsurface walls of structures associated with the visible remains. More than seventy features were identified before funding was exhausted, and every one had been damaged by treasure hunters.