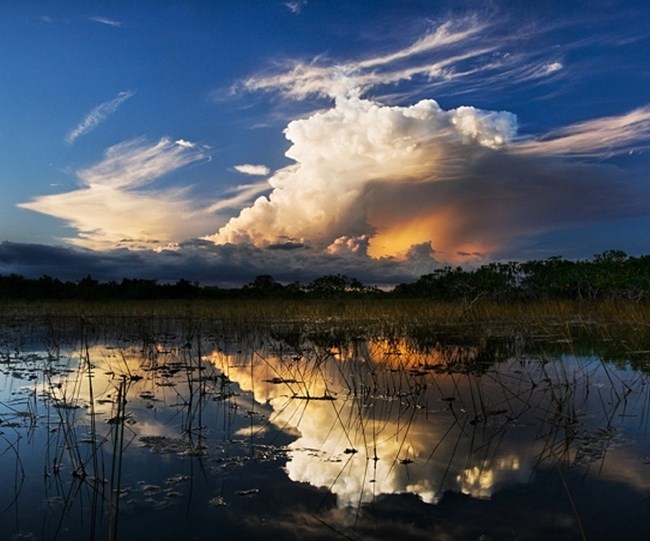 The largest subtropical wilderness in North America is located in south Florida within Everglades National Park, the only site in the US to have been designated as globally significant by three different international initiatives: World Heritage, UNESCO Man and the Biosphere program, and the Ramsar Convention on Wetlands. The park is bounded by Miami and its suburbs to the east; the Gulf of Mexico to the west; the Tamiami Trail, Big Cypress National Preserve and state lands to the north; and the Florida Keys to the south. It includes most of Florida Bay.

Everglades National Park protects more subtropical land and water than anywhere else in the US. It protects some of the rarest and most endangered species in the US -- including Florida panthers, West Indian manatees, American crocodiles, and wood storks. It is home to some of the largest colonies of wading birds in North America and is a significant stopover for migratory birds. The park contains the largest mangrove ecosystem in the Western hemisphere.

The park is located at several interfaces: between temperate and subtropical climates, between fresh and brackish water, and between shallow bays and deeper coastal waters. These habitats support a diversity of flora and fauna. Unfortunately, many of these attributes are threatened due to human pressures generated outside park boundaries. Due to these threats, the park was placed on the World Heritage in Danger List in 2010. An extensive, long-term restoration initiative is underway.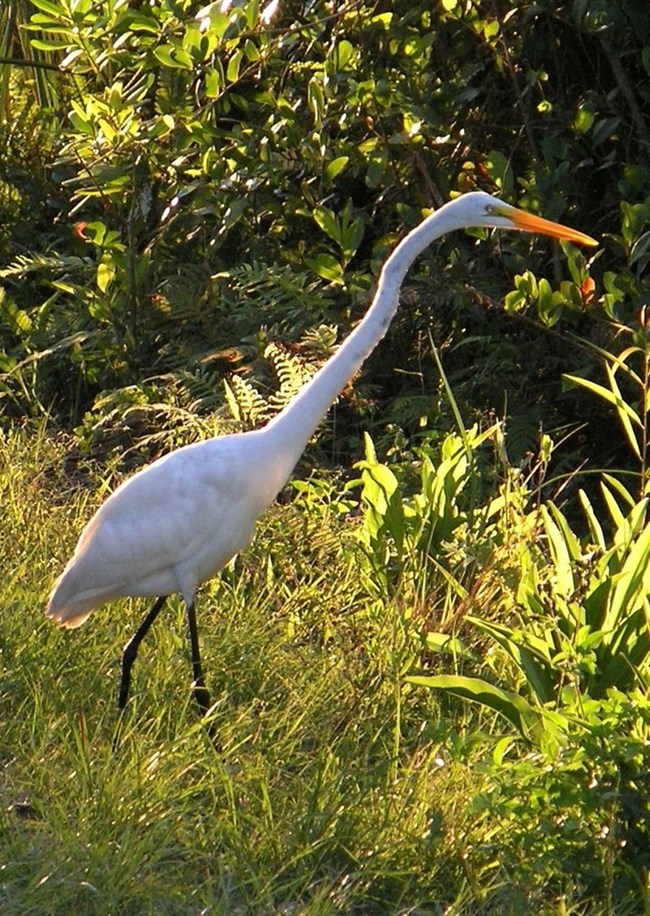 The Everglades protect 800 species of land and water vertebrates, including over 14 threatened species, and 25 mammals, over 400 bird species, 60 known species of reptile, amphibian and insect, including two threatened swallowtail butterfly species. Over 20 species of snake have been recorded, including the threatened indigo snake. More than 275 species of fish are known from the Everglades, most inhabiting the marine and estuarine waters.

The park is also rich in both pre and post European contact heritage containing 200 known archeological sites. Shell mounds and shell works found throughout Everglades National Park date back to the Calusa tribe's dominance in the area, before the arrival of Europeans. Spanish accounts suggest that the Calusa tribe was the major political organization in the region and operated a complex Chiefdom that was comprised of a number of village communities all organized within a chiefly hierarchy. Calusa village communities were concentrated along the Gulf coast among the coastal mangroves.

The Calusa created mounds out of discarded shells used as tools, and made other shell formations, called "shell works," by piling shells and earth upon each other. They used shells to form high ridges, mounds, platforms, canals, and courtyards. Over several generations, these shell works became a noteworthy part of Calusa villages. The Calusa tribe's shell works and shell mounds remain in the park as evidence of their way of life.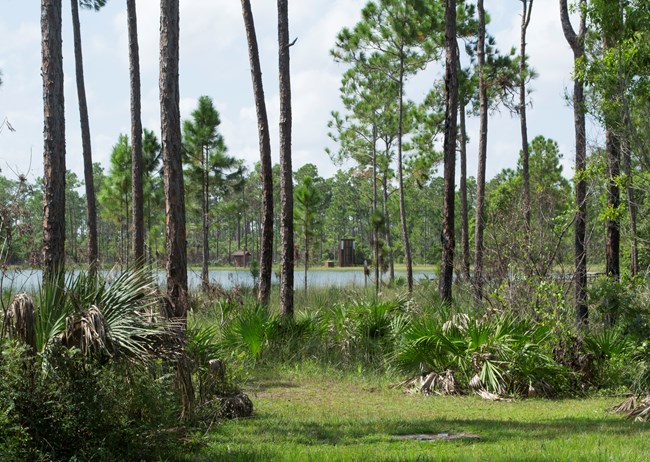 The Mud Lake Canal is a National Historic Landmark and one of only a few surviving precontact canoe trails in North America. The canal is attributed to the Tequesta peoples and their ancestors. It demonstrates the engineering skill that was required to construct this rare and well-preserved example of long-distance canoe canals, which are unique to Florida. The canal was likely a major travel route and hub of activity that connected the Everglades, Ten Thousands Islands, and the Florida Keys. Although diseases brought by the Europeans decimated both the Tequesta and the Calusa by the 1700s, the Mud Lake Canal remains and provides information about the Tequesta culture just as the shell works and mounds recall the Calusa.

Today, a wide range of activities are available to anyone who visits the park such as biking, boating, camping, canoeing, fishing, geocaching, and hiking. The National Park Service offers numerous ranger-led programs that provide tours and more in depth information about different areas of the park.

Everglades Park Page: https://www.nps.gov/ever/index.htm

World Heritage Information: https://whc.unesco.org/en/list/76