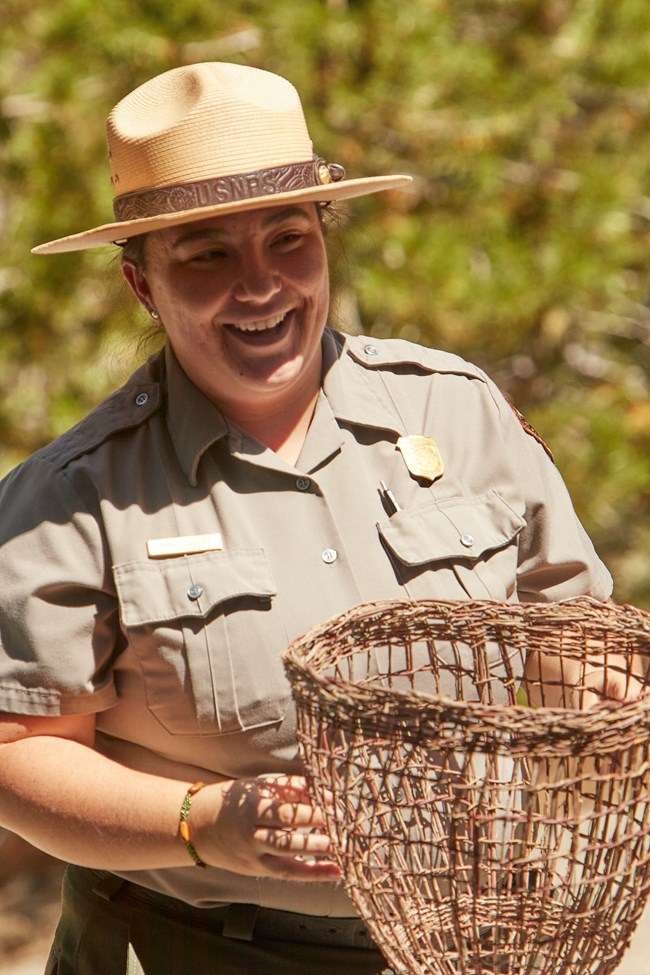 My name is Emily Dayhoff and I am a member of the Southern Sierra Miwuk Nation, a non-federally recognized tribe located in California. I am also Chukchansi Yokut. These tribes are two of the seven affiliated tribes to Yosemite National Park.
For me, working in Yosemite is different than it is for most of the people I've come to know. We all have a story that brought us here and why we ended up here, but my connection is vastly different. I interpret myself, my ancestors, and a culture that has been mistreated, broken down, and only ever talked about in the past tense.
My Official Road to the National Park Service
I have a Bachelor of Arts in History from Sonoma State University and I recently obtained my Master of Arts in Cultural Heritage Management from Johns Hopkins University. I grew up in Mariposa, California, a gateway community to Yosemite National Park.
A lot of my school field trips were into the park. I think my first time visiting Yosemite was in a stroller while my mom worked for the park's concessioner. I attended tribal ceremonies in the park when I was in high school. I would go hiking on weekends and we would take our family when they came to visit.
To me, Yosemite was just there. Most people find it surprising when I say that I never expected to work for the National Park Service.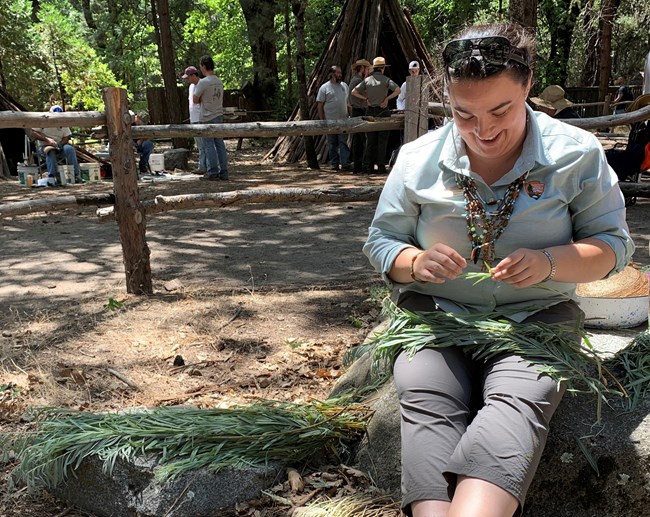 I graduated from Sonoma State University in 2015 and I had plans to get my teaching credential to teach high school history. I had applied for an internship through the Student Conservation Association to work in Yosemite as an Indian cultural demonstrator at the Yosemite Museum for three months.
I essentially never went back. A conditional admittance came two weeks before the school semester was to start, and I deferred. The internship got extended and I became a critical-needs hire for part of the winter at the park. When Yosemite couldn't figure out how to keep me any longer, I left to intern for the U.S. Fish and Wildlife Service and the U.S. Forest Service for the next two years outside of California before being able to come back. All of this allowed me to obtain a Public Land Corps Hiring Authority, which paved the path for me to get hired for my first permanent position.
Fast-forward eight years and I'm now working as an interpretive park ranger and an Indian cultural demonstrator at Yosemite. I tell the story of my people, their relationship to the park and how that changed. More importantly, I tell the story of a people very much alive and present.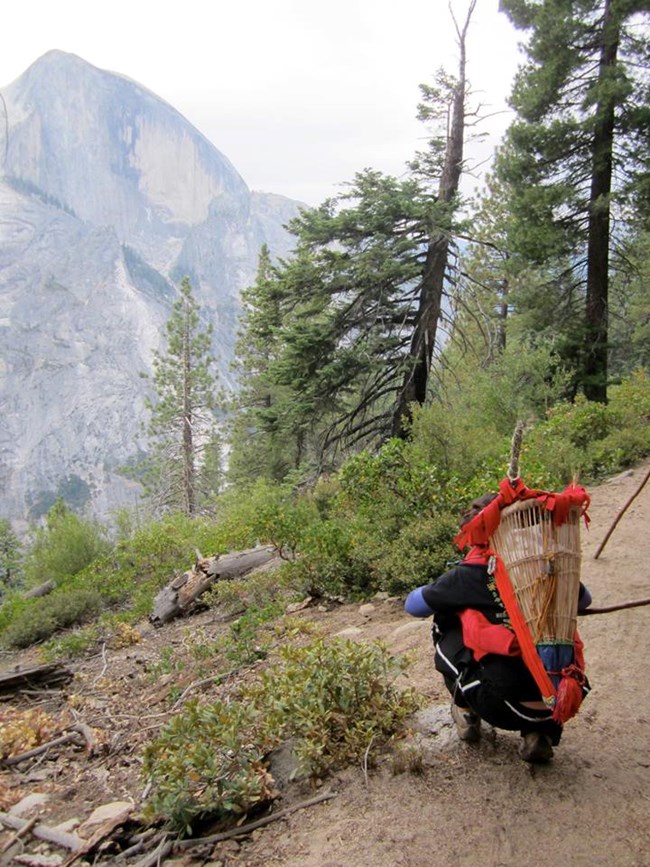 My Real Road that Brought me to the National Park Service
When I was growing up, I knew I was Native, but I didn't know what that really meant. My family wouldn't talk about what happened, and we didn't do a lot of traditional things. I spent a lot of time with my great grandma growing up. I'd ask her questions and she'd answer the ones she wanted to and become quiet with other ones.
As I got older, I'd ask the questions she didn't answer. She'd answer them but then quickly change the subject. My great grandma taught me how to bead when I was 14 and taught me my first Miwuk words at around the same time. I didn't attend my first ceremony until I was 16. It was a backpacking trip through Yosemite's backcountry. I walked in the footsteps of my ancestors and really learned the stories that were in Yosemite.
When I got that internship in Yosemite, I showed up to work with a lunchbox full of beads. I brought stories I had just begun to learn never imaging what I would accomplish all these years later. I knew my great grandma worked and lived in the park, but I didn't know how far back it went until I started working here.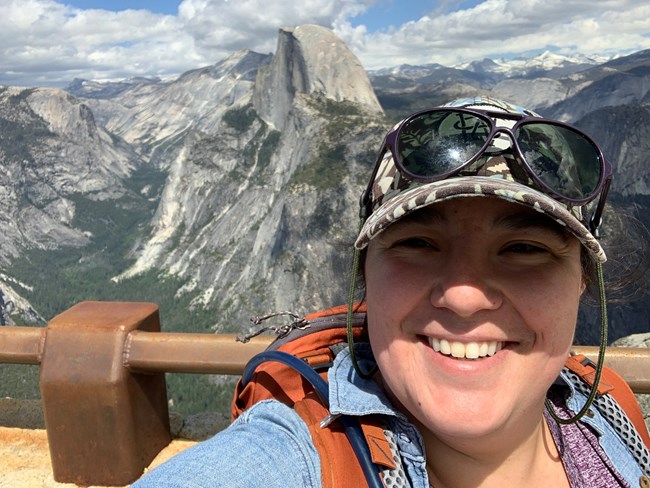 My great-grandma lived in the last Indian village in Yosemite Valley with her grandma, my great-great-great-grandma. That Indian village was occupied until 1969, before the National Park Service destroyed it. In terms of history, that's recent!
I get asked all the time how I can work for an agency that took the land of my ancestors and my usual response: "I tell this story because it resonates with the public differently coming from me, a Native person, than it does hearing it from a non-Native person."
Everything I do comes from my personal interests and the urge I have to tell an accurate story. It's so difficult these days to get hired on by the National Park Service and there aren't very many Native people working here like in the past. So many of my elders worked for the National Park Service across divisions, but now there is only a handful.
The most rewarding part of my job doesn't always come from the visitors, but from tribal elders. Part of my job entails assisting with the tribal ceremonies that are held within the park. I'll typically swing by them while in uniform and on my way to do something else. The elders see me approach and they will wave. A smile comes across their faces, and they will comment "Look, one of our own in uniform!" Those words and their smiles are engrained in my brain. This is why I choose to tell our story.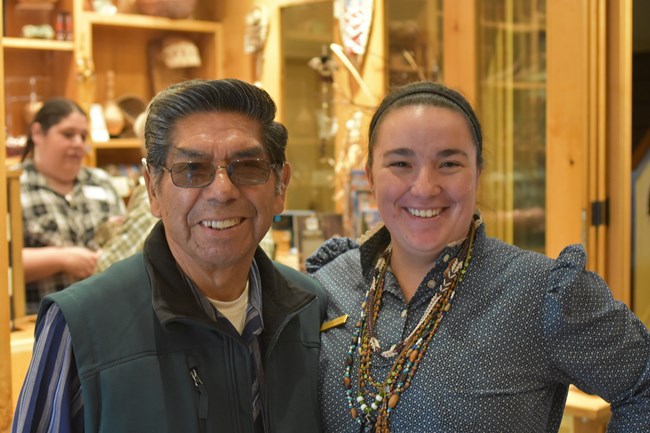 I break down stereotypes and common assumptions that have been placed on Native people from the media and history textbooks. I have family members in books, and I've seen pictures I never knew existed. I've held baskets and beadwork I've heard stories about.
I know the Indian villages where my family lived before the National Park Service came to be. I wish I could go back and see the valley the way it was before the roads and all the development. I wish I could see my home treated differently by the millions of visitors each year.
I may not have gotten a teaching credential to teach high school history, but I still teach. I do it while in uniform and wearing a ranger hat or my button-down arrowhead shirt with several necklaces given to me by my elders.