Article
El Punto: the "Open Air Museum" and a Little Taste of Home
My name is Maryana Carreón and I am interning with the Latino Heritage Internship Program (LHIP) in partnership with Environment for the Americas this summer (2020) at Salem Maritime and Saugus Iron Works National Historic Sites. In honor of Latino Conservation Week, I present the following reflection on the historic Salem neighborhood, El Punto (also known as the Point).
Just around the corner from Salem Maritime National Historic Site, there is a lively neighborhood filled with art, music, and history. Describing itself as an "Open Air Museum" by the Punto Urban Art Museum and located in "El Punto" Neighborhood in Salem, Massachusetts, the museum features 75 large-scale murals created by 30 worldrenowned and 25 local artists.

Moving from the West Coast to the East Coast, I was able to find a little taste of home within the El Punto community. While walking through the neighborhood, I heard familiar sounds of Bachata, Merengue, and Reggaeton blasting from apartment complexes and cars passing by. The language of home rang through my ears. Smiles and laughter of the people walking around spoke for itself. The art pieces I came searching for, all located within a 3 block radius, add extra color and vibrancy to the neighborhood. Below are a few of my favorite pieces I encountered and my reflections on them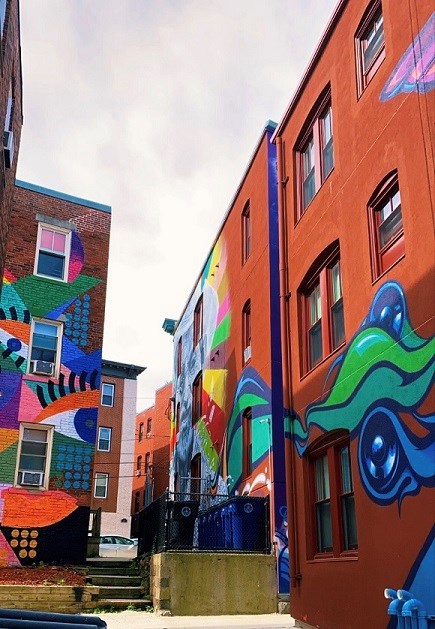 The art found on these walls reminds me of my community. Social justice, identity, the Latinx experience, the artists' personal lives, and the environment inspire the art found here. Community member's ideals, beliefs, hopes, and dreams are seen represented through this art. This creative freedom and expression runs rapid throughout the neighborhood through these murals.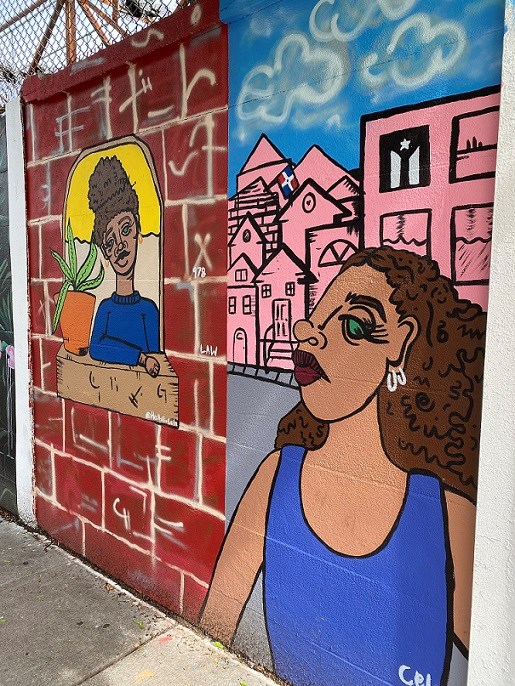 Many of the faces in these pieces remind me of people I know. My family, friends, and neighbors are reflected in this art, looking back at me and accompanying me on this journey. The "Untitled" pieces by Celeste Cruz, Carly Cummings, Gabriela Marshall, and "The Farmer" by Ruben Ubiera all evoke a sense of familiarity and add to the sense of community and culture within the neighborhood.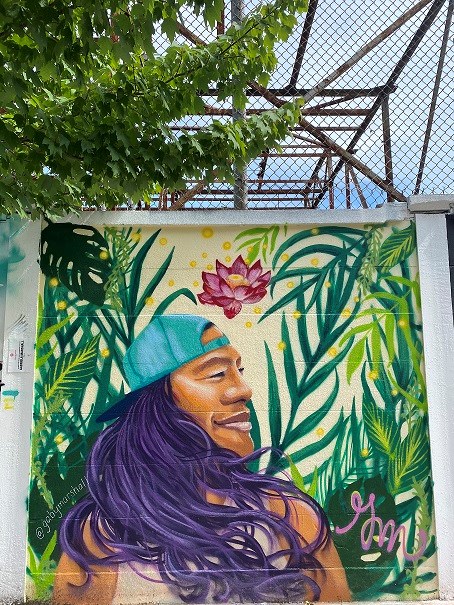 Whether or not one can relate to the art pieces mentioned above, there is something here for everyone. One is sure to find their own meaning in any of these pieces, but there are also familiar patterns and funny characters everyone can remember. Whether it's a futuristic design, cartoon characters, nature, or encouraging messages, there's something we all recognize and can feel a part of.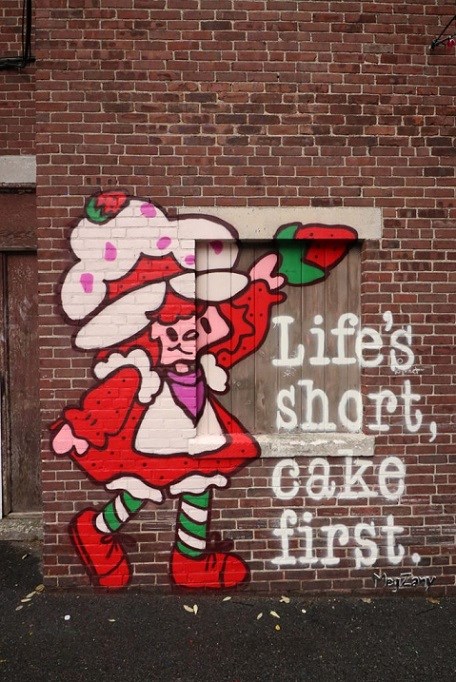 Visiting "El Punto" neighborhood felt like home, and I encourage others to explore the art here as well. I'm excited to work with this community not only to strengthen its relationship with Salem National and Saugus Iron Works National Historic Sites, but also to encourage and advocate for the community to continue telling their stories and histories within the city of Salem.
This article was written by Maryana Carreón, who joins Salem Maritime and Saugus Iron Works from the Latino Heritage Internship Program (LHIP) with Environment for the Americas. She graduated from the University of California, Santa Barbara in 2019 with a BA in Cultural Anthropology and a minor in History. Carreón is originally from Hemet, California

Last updated: June 28, 2023