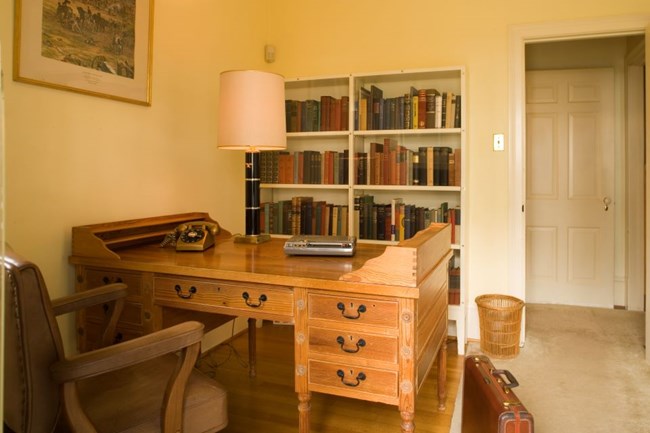 "For me, the reading of history was an end in itself, not a source of lessons to guide us in the present or to prepare me for the future…. I did not know what opportunities were there for learning. I read history for history's sake, for myself alone."

Dwight Eisenhower, writing in his memoir, At Ease, of his early interest in reading.

Dwight Eisenhower was a man of many interests, passions, and hobbies. He had a well-publicized love of golf, a deep affinity for painting, and was quite the card player as well. While these passions emerged in Eisenhower's adulthood, there is one interest he maintained as a hobby from his early boyhood until his final days: reading.

As a boy, Eisenhower was captivated by books. Initially, he was drawn to the Classics, writing in his memoir, "My first reading love was ancient history." One of seven boys growing up in the Eisenhower family in Abilene, Kansas, young Ike's days were full of chores, sports, and playing outdoors, yet he still maintained a deep love of reading books. When daily chores became too burdensome, he read to escape back to Ancient Greece and Rome. In fact, his love of reading was so great that his mother had to hide young Dwight's books in a closet and lock them up in order to get him to do his daily chores. The ploy worked until Ike discovered the key to the closet. When Ida Eisenhower left home to run errands, or whenever he had the chance, young Ike preferred the type of trouble that involved breaking his books out of their isolation and pouring through them, transporting himself back to ancient times.

As Dwight Eisenhower grew, so did his reading list and his interests. By the time he was a cadet at West Point, he had expanded his reading to more contemporary history, as well as texts on engineering, mathematics, and military doctrines. Politics and history—especially military history—remained a staple of his personal library throughout his life, though, whether it was Plutarch's Lives, biographies of George Washington and Abraham Lincoln, or battle histories covering the campaigns of Napoleon. For a man who would one day own a farm located adjacent to the Gettysburg battlefield, it should also come as no surprise that Eisenhower also loved reading about the American Civil War, and by the time of his retirement in the 1960s, his personal library had numerous volumes on that era of American history.

Ike's literary loves were not only based in nonfiction. Like many of us, Eisenhower enjoyed a good novel, especially at the end of a long, difficult day. For a man who grew up in Kansas, no fictional setting captivated Eisenhower more than the Old West. Ike loved thumbing through the pages of a western novel featuring Cowboys, cattle drives, and the prairies, deserts, and mountains of the American frontier. He was drawn to them for their settings and the storylines that often-had strong moral undertones.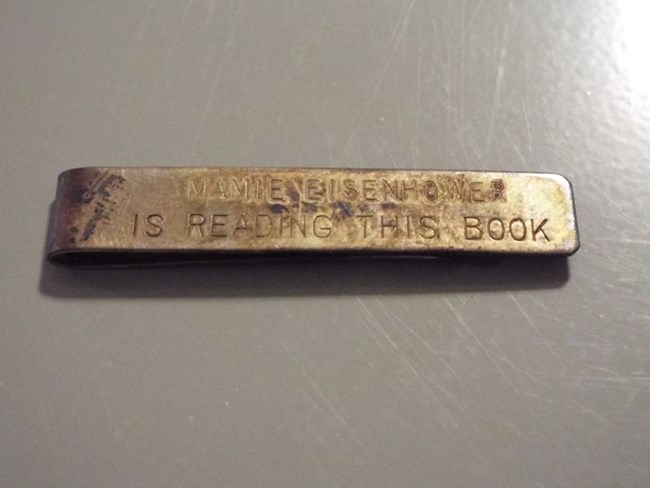 While Ike loved reading, Mamie certainly did too. In the 1970s, after Ike's passing, Mamie was even in a book of the month club. Many of her personal books were at one time on shelves in the Eisenhower sunporch, but now they are in our park storage facility for preservation.

Today, the Eisenhower home contains much of Dwight and Mamie's personal library as part of the museum collection of the Eisenhower National Historic Site. In the Eisenhower home, there are 982 of books on exhibit, and our storage facility has an additional 395 titles. Altogether, the site has 1,377 books from the Eisenhowers' personal library as part of our museum collection. For a listing of the books on exhibit in the Eisenhower home, click here.

These titles provide a remarkable window into the literary world of one of the 20th century's most important leaders. By seeing what figures in the past liked to read, we gain a sense not only of their interests, but how they thought and what they believed.
General Eisenhower's Love of Reading
Explore this topic further with this video from Park Ranger Dan Vermilya, done for the 2021 Gettysburg National Military Park Winter Lecture Series. This program explores General Eisenhower's love of reading and takes a look at five specific books in Eisenhower's personal library.
For this Winter Lecture, we join Ranger Daniel Vermilya inside Dwight Eisenhower's library. An avid reader, Eisenhower's collection of books offer a unique window into the mind of the 34th President of the United States.

Duration:

17 minutes, 20 seconds