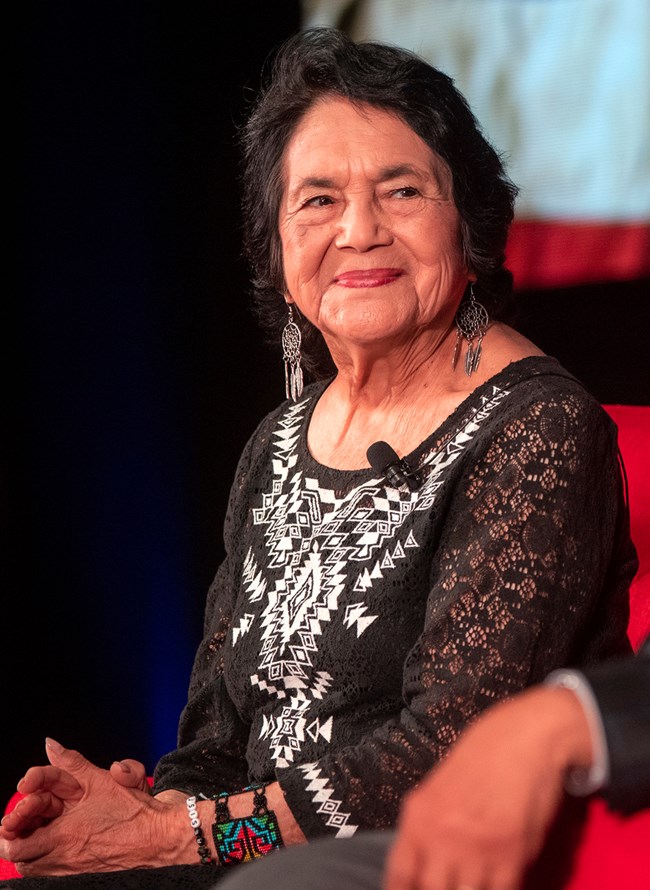 Article Written By Faith Bennett
---
Co-founder, with César Chavez, of the National Farm Workers Association (NFWA) Dolores Clara Fernández Huerta was born in 1930 in Dawson, New Mexico and grew up in Stockton, California. Her organizing and activism has focused on improving the lives and working conditions of agricultural laborers, especially among the Lantinx and Chicanx living in the United States. Her leadership in the United Farm Workers (UFW) union successfully drew national attention to exploitative working conditions in California and the movement for civil rights of migrant workers from Mexico, the Philippines, and their families. Her rallying cry of "Si, se puede!" (yes, we can) continues to motivate movements for social justice.
After graduating from college in Stockton, California with a teaching credential, Huerta worked in the Central Valley as a schoolteacher while raising two children with her first husband Ralph Head. Through her time in the classroom, Huerta became increasingly interested in the families of farmworkers whose children she taught. Within a few years, Huerta quit teaching to pursue community organizing full time. In 1955, she married Ventura Huerta with whom she had four more children while working with Fred Ross to start the Community Service Organization (CSO) in Stockton, California.1 Through this organization, Huerta met Cesar Chavez who shared her commitment to advocating for farmworkers' rights. In 1962, Huerta and Chavez founded the National Farm Workers Association (NFWA), which would later join with the Filipino-led Agricultural Workers Organizing Committee (AWOC) to become United Farm Workers.
In 1965, the NFWA embarked on the long-running campaign to convince distributors and consumers across the United States to stop buying grapes in protest against working conditions of those who worked in the grape fields. Initially, Huerta directed the boycott on the East Coast and Chavez the West Coast. In order to do this, Huerta moved to New York for four years and employed the tactic of starting with small stores before attempting to lead boycotts at large chains such as Safeway.2 The Grape Strike resulted in a collective bargaining win for the workers in 1970. Huerta was both a lobbyist and lead contract negotiator for the union.
In contract negotiations, as a grassroots organizer, and on picket lines, Huerta has consistently demonstrated fearlessness in her fight for farmworkers and their communities. She has been arrested over two dozen times.3 In 1988, when she was 58 years old, Huerta participated in a demonstration against then-presidential candidate George H.W. Bush in San Francisco where police violence against protestors left her with two broken ribs and severe injuries to her spleen.4 A skilled trainer, lobbyist, and organizer, Huerta also built a public persona around fierce displays of emotion, which she believed worked to her advantage in advocating for the rights of others.5 In the field of political organizing many women have sought to downplay their emotions in public negotiations and appearances so not to feed into the misogynistic belief that a woman's emotions are irrational. Huerta, however has insisted that women have more freedom to express the feelings of anger, sadness, and jubilation that lie at the heart of labor organizing.6
Huerta is mother to eleven and once joked in 1976 that she had so many children in order to have her own picket line.7 While she has seen motherhood and family as intrinsically linked to her activism, through this activism, Huerta has expanded her family into a vast network beyond her blood relatives.8 Since 2002, Huerta has primarily worked through the Dolores Huerta Foundation and is a strong believer in the power of individual votes to influence electoral politics at both the federal and local level. In 2015, she stated "As long as I have the energy and health I am going to do as much as I can."9
---
1
- Ancestry.com. 
California, Marriage Index
, 1949-1959 [database on-line]. Provo, UT, USA: Ancestry.com Operations, Inc., 2013. Original data: California Department of Health and Welfare. California Vital Records—Vitalsearch (www.vitalsearch-worldwide.com). The Vitalsearch Company Worldwide, Inc., Pleasanton, California.
2
-
Maria Hinojosa Interviews Dolores Huerta, MariaHinojosa1on1
, 2011, https://www.youtube.com/watch?v=EMcFlWz2pIE.
3
-
Still an Activist at 82, Dolores Huerta Calls Herself a "Born Again Feminist", PBS News Hour,
2012, https://www.youtube.com/watch?v=ZR7OV6m6Po0.
4
- Dan Morain, "Police Batons Blamed as UFW Official Is Badly Hurt During Bush S.F. Protest," Los Angeles Times (Los Angeles Times, September 16, 1988), https://www.latimes.com/archives/la-xpm-1988-09-16-mn-2389-story.html.
Lori Santos upi.com/5409313, "Republican Presidential Candidate George Bush, Reaching out to California's...," UPI (UPI, September 14, 1988), https://www.upi.com/Archives/1988/09/14/Republican-presidential-candidate-George-Bush-reaching-out-to-Californias/5667590212800/.
5
- Stacey K. Sowards,
¡Sí, Ella Puede!: the Rhetorical Legacy of Dolores Huerta and the United Farm Workers
(Austin, TX: University of Texas Press, 2019), 107.
Still an Activist at 82, Dolores Huerta Calls Herself a "Born Again Feminist", PBS News Hour,
2012, https://www.youtube.com/watch?v=ZR7OV6m6Po0.
6
- Sowards,
¡Sí, Ella Puede!
, 89.
7
- Sowards,
¡Sí, Ella Puede!,
3, 13.
8
- Sowards,
¡Sí, Ella Puede!,
3, 13, 95.
9
- Melanie Bencosme, "Smithsonian Portrays Civil Rights Struggle Through Dolores Huerta," NBCNews.com (NBCUniversal News Group, July 3, 2015), https://www.nbcnews.com/news/latino/dolores-huertas-activism-profiled-smithsonian-exhibit-n384691.
---
Acknowledgements:
This project was made possible in part by a grant from the National Park Foundation.
This project was conducted in Partnership with the University of California Davis History Department through the Californian Cooperative Ecosystem Studies Unit, CA# P20AC00946