By Erik Johnson, Denali Historian
Every great culture in the world is known by their traditional foods and the survival of a culture depends on the people's ability to gather those foods. Katie fought for our right to access our traditional homelands because she knew that we need to be able to feed our families. It was a matter of cultural and human survival.
—Ahtna President Michelle Anderson (quoted in
Alaska Senate Bill 78 sonsor statement
)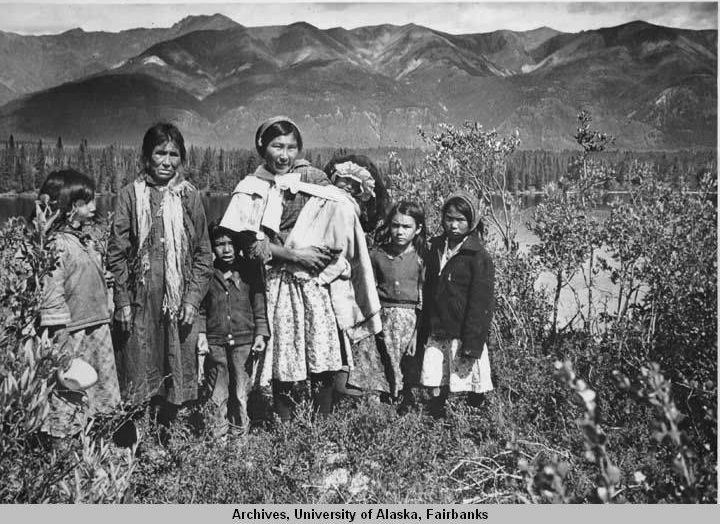 In 2019, Alaska Senate Bill 78 was signed into law and established May 31st as "Katie John Day." The bill formally recognized the contributions of Katie John, an Ahtna Athabaskan leader who spent her life fighting for subsistence rights and the preservation of her culture.
Katie John was born in 1916 and lived most of her life in the northern Wrangell mountains. Her family traveled seasonally between Tanada Lake and the Batzulnetas village (located at the confluence of Tanada Creek and the Copper River).
[1]
John was a member of the Mendaesde (Native Village of Mentasta) which is an Ahtna group in the Upper Copper River region. Besides teaching and passing on the skills and traditions of subsistence life to younger generations, she also taught her native language and was instrumental in developing an alphabet and pronunciation guides.
[2]
Perhaps John's most lasting legacy is something that garnered national and international attention—for
years she fought
the State of Alaska to reclaim fishing rights for her people and eventually achieved victory at the Supreme Court. The Katie John cases were held up during the 2019 Sturgeon v Frost Supreme Court ruling.
[3]
Katie John raised fourteen children and six foster children and was a pillar of the Lake Mentasta community.
[4]
She has become one of Alaska's most celebrated leaders. In 2011, the University of Alaska Fairbanks awarded John an honorary Doctor of Laws degree, and the Alaska Federation of Natives gives out an award in her honor called the "Katie John Hunter-Fisher Award." It recognizes an Alaska Native who "exemplifies and preserves the spirit of successful subsistence hunting, trapping and sharing, and ensures future generations carry on these traditions and customs."
Denali National Park and Preserve recognizes and celebrates the important legacy of Katie John.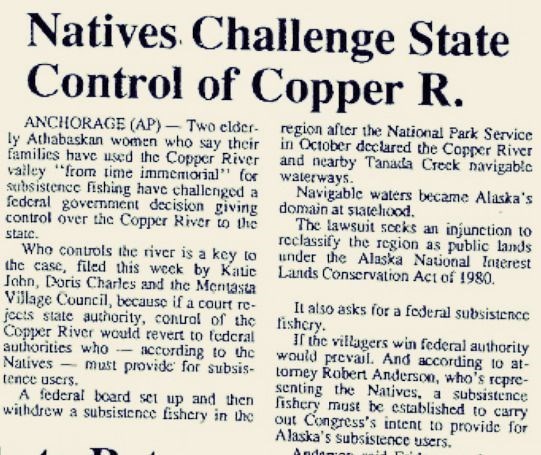 Natives Challenge State Control of Copper R.
ANCHORAGE (AP) – Two elderly Athabaskan women who say their families have used the Copper River valley "from time immemorial" for subsistence fishing have challenged a federal government decision giving control over the Copper River to the state.
Who controls the river is a key to the case, filed this week by Katie John, Doris Charles and the Mentasta Village Council, because if a court rejects state authority, control of the Copper River would revert to federal authorities who – according to the Natives – must provide for subsistence users.
A federal board set up and then withdrew a subsistence fishery in the region after the National Park Service in October declared the Copper River and nearby Tanada Creek navigable waterways.
Navigable waters became Alaska's domain at statehood.
The lawsuit seeks an injunction to reclassify the region as public lands under the Alaska National Interest Lands Conservation Act of 1980.
It also asks for a federal subsistence fishery.
If the villagers win federal authority would prevail. And according to attorney Robert Anderson, who's representing the Natives, a subsistence fishery must be established to carry out Congress's intent to provide for Alaska's subsistence users.
---


[1]
An
Ahtna history book
was published in 2018 and contains a section detailing some of Katie John's life, including language and land details. William E. Simeone. Ahtna: The People and Their History netseh dae' tkughit'e' "before us it was like this" (Ahtna Incorporated, 2018).
[2]
The
Ahtna
are one of five Athabaskan groups connected to the land that now makes up Denali National Park and Preserve. Denali National Park & Preserve consults with Yidateni Na' (the Native Village of Cantwell) who are a part of the Hwtsaay Hwt'aene (Western Ahtna or "small timber people"). The Ahtna were connected to the Denali region long before a national park was established and before Alaska became a part of the United States.
[3]
The high profile
Sturgeon v. Frost Supreme Court case
dealt with the jurisdiction of navigable rivers but
honored the Katie John precedents
in the decision.
[4]
When John passed away on May 31, 2013, she left behind nearly 250 children, grandchildren, and great grandchildren.