Article
Indigenous Artistry: Debra Martin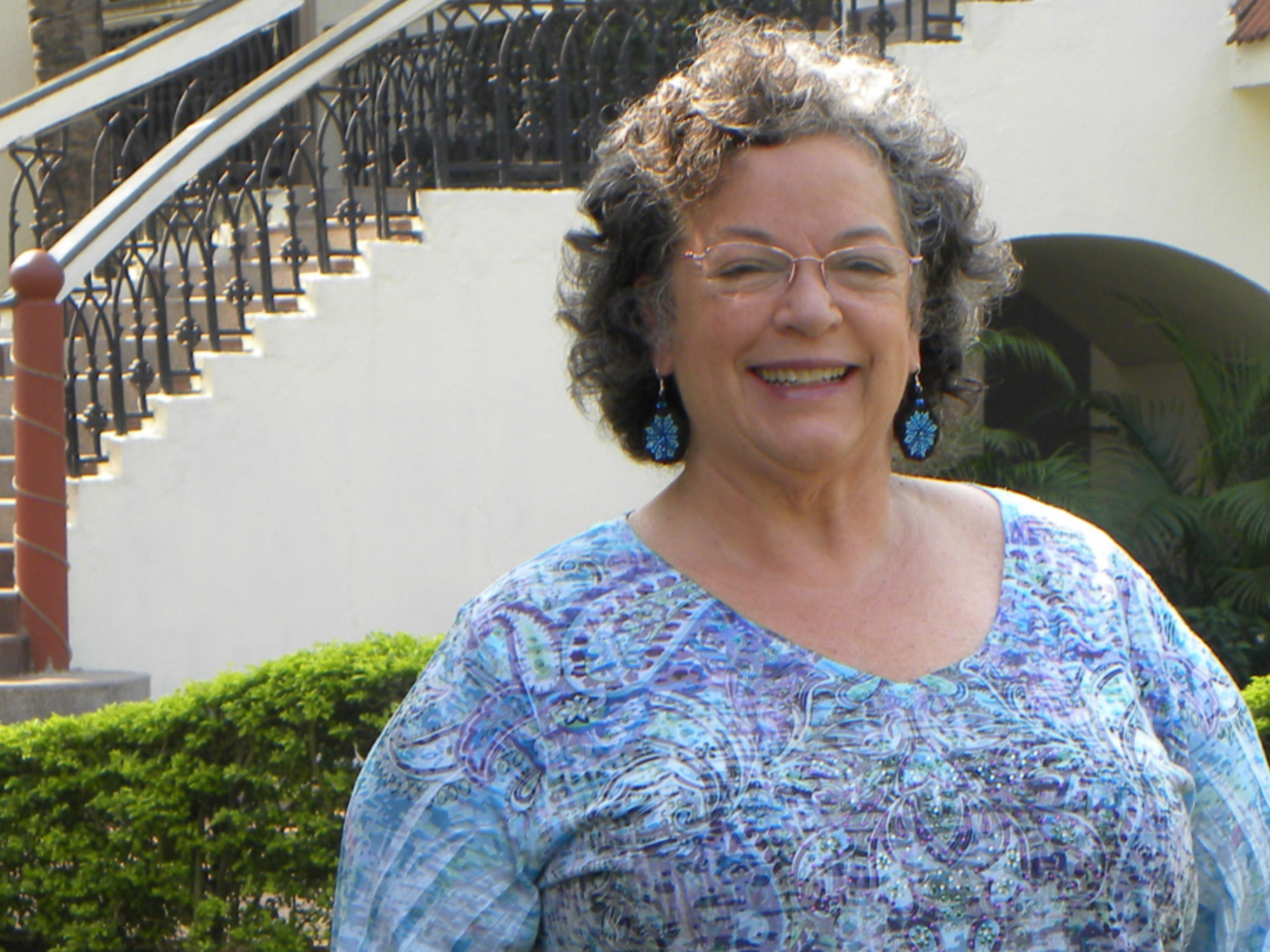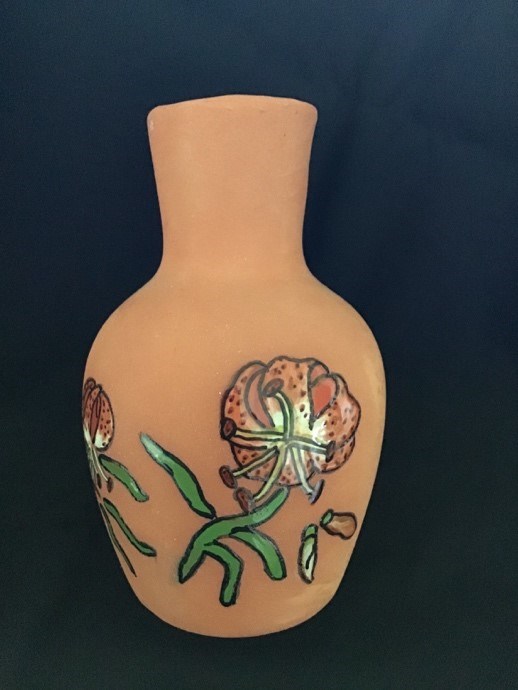 This article was originally published September 2, 2020 on FindYourChesapeake.com.
Exploring the Indigenous Communities of the Chesapeake: The Pamunkey Indian Tribe
Pamunkey Indian artist Debra Martin is the assistant director at the Pamunkey Indian Museum. The museum features exhibits of Pamunkey history, cultural heritage, and tribal art. Debra serves as a councilperson with the tribal government and resides on the Pamunkey Indian Reservation in King William, Virginia.
"I don't want the creativity of our people to fade away. I'm all about the future generations. That is my concern--to make sure that we continue on with our history and culture." -Debra Martin, Pamunkey artist
"Everything changes through the centuries, and it's the same with art.
Pamunkey pottery was used for cooking and storage way back in the day and maybe even used as part of ceremonies, but today, our pottery has become purely art… I don't think it's all about reproducing what was; we are still making pottery as did our ancestors, but it's not exactly the same as previous generations and the next generation won't necessarily look like my generation's." -Debra Martin, Pamunkey artist
Pamunkey citizen Debra Martin makes decorative pottery, along with beadwork and quilting.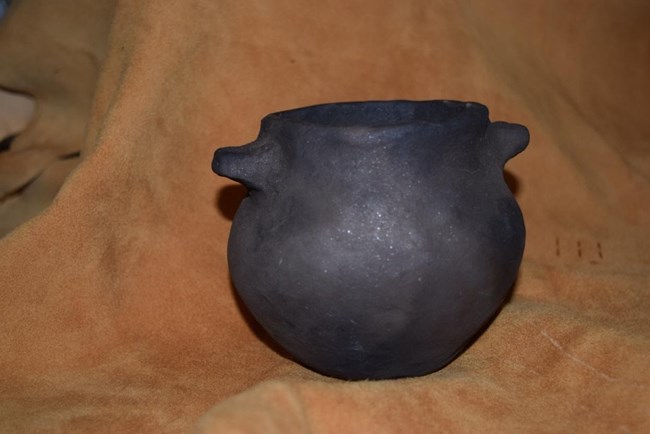 What specific types of pottery do you like to make?
I prefer to make the blackware pottery using the coil method; that is my favorite because it is free-form and the clay speaks to me as I work it. Sometimes, I think I want to make a shape that I see in my mind, and it usually ends up looking like something else entirely, usually something even better than what I'd thought I was going to create. I spend so much time on the creation and then sometimes hours burnishing it with a smooth stone to create the glossy finish, it becomes a part of me. When decorating the pieces, I tend to draw more on nature; such as birds, flowers, and wildlife.
Some of the pieces I made for a National Park Service exhibit were based on colonoware, which began showing up in the late 1600s, early 1700s. You can tell the influence of European stoneware; in this era, handles and "legs" begin to appear on the pottery. There is always a debate about who started making colonoware first: the African slaves who may have brought the skills from their homeland or the Native –American Indians. They were useful items for personal use as well as trading with the colonists.
How is your artwork continuing your tribal presence in the community?
It is something that has been our history for thousands of years, the Pamunkey people are known for making pottery. It's still an important part of our culture. Knowing that people all over the country collect it as art is a tremendous honor. I want to carry this forward by teaching the younger people the skills to keep creating Pamunkey pottery. As I get older, I am driven to make sure it gets carried forward into the future generations. So far, I've taught two classes and I hope to do many more.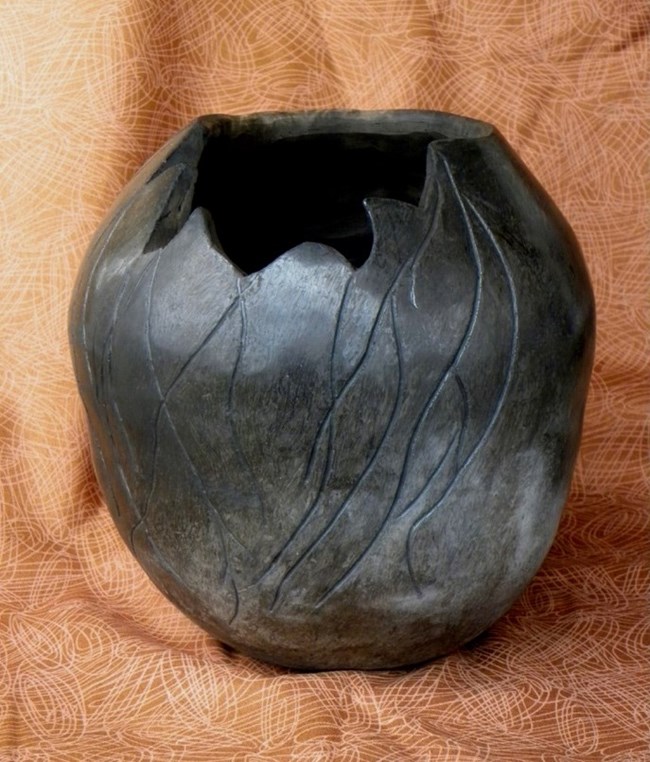 What are some of the most meaningful pieces to you?
Each one is special. As I sit working on a piece; forming it, deciding on a design, spending hours burnishing it with a smooth stone in order to make it shine; I get lost in it, just the feel of the clay. In the gift shop, when somebody buys a piece of my pottery, it's like I'm handing over one of my children to them.
"It feels good to see who wants it, because they don't just pick it up and buy it, they look at it, and they hold it – it speaks to them." -Debra Martin, Pamunkey citizen
Is your style of pottery specific to your tribe, or do other native tribes design a similar style of pottery?
I don't know if there is a style specific to our tribe. There are other tribes, especially tribes around us, in Virginia, that make some of the same style of pottery. I don't want to try to create only what I've seen from my ancestors-- either in my home, in pictures, or in the museum from 100, 150, or 200 years ago. I'm not here to try to make pottery just like my great-great-grandmother might have created. I don't mind reproducing some of that, but I prefer my own personal style, which usually isn't too different from the older pottery. It is a reflection of who I am today.
I always try to make some small items, so that most visitors can afford to take away a piece of Pamunkey pottery. That is important to me. It's not about selling it, it's about that piece of Pamunkey pottery going into someone's home to display and remind them of the Pamunkey Tribe. They can tell people, "This was made by a Pamunkey woman, a Pamunkey artist."
What do you wish for people to take away from your art, and how is your cultural heritage expressed through your art?
So many people didn't know we existed, and then finally they end up down here and are very taken with what they see. It is so gratifying, too, when people from other countries purchase my pottery or my other pieces of art because it's like, wow, people in Holland or England or wherever are interested in the Native American Indians in the United States, and specifically here in Virginia. That just tickles me.
In what ways does your pottery reflect your native history and stories?
Debra paints or engraves some pieces of her pottery relating to nature. Other times, she simply makes designs on her pottery.
Frequently, I put turtles on my pottery. Their significance is they are symbolic of longevity, not only to the Native American people, but to many indigenous people around the world. Hummingbirds are my favorite creature around here, and I tend to do a stylized version of them on some of my pottery. For me, I think it's all about the pottery itself and being a part of that culture and heritage, knowing that pottery has been made here for thousands of years and the clay to make the pottery still comes from the banks of the Pamunkey River carrying on the tradition of my people.
"Pottery shards, hundreds of years old wash up on the river shore all the time. Whatever I make today is still just as much a part of our history of who we were/are as a people as those pots that were once whole and now in pieces washed ashore."
How can visitors and the public learn to become better stewards of the land after visiting the Pamunkey Indian Reservation?
After visiting the reservation, I would hope visitors could speak to the peace and the tranquility down here, as well as the importance of keeping our rivers clean. None of our rivers today are as clean as they should be anymore. Some fish species are threatened, and there is pollution going on. You've got the quiet and you've got the peace here while looking at the land, the forest, fields and the river. You're looking at the river and you realize that you don't want to be responsible for destroying it, but for keeping it whole and clean. So, I think that would give people a heightened awareness of their responsibility to the environment. We have a couple spots down here that people can go and look over the river and see the eagles gliding overhead, the egrets, and white swans in the winter as well as the geese, all kinds of wildlife; deer, otter, muskrats to name a few. You're always going to want to keep this a pure place for them to thrive.
In what ways do you remain connected to the landscape and what do you hope people take away from your indigenous community and ancestral homelands?
I was born here and lived here the first year of my life and then moved away. Growing up off of the reservation, but always visiting my grandparents, there was always a feeling of homesickness when I wasn't here; a sense of yearning in heart and spirit to be here on this land. Twelve years ago, I moved back and I feel the spirit of my ancestors still walking this land. That being said, it gives me a sense of urgency to protect this land by protecting the shorelines from further erosion and protecting the land and forest from detrimental effects caused by humans. The shoreline restoration has begun with grants made available to the tribe. Agricultural practices are discussed; so important for keeping the land free of poisons. I photograph the wildflowers here to investigate and track their continuation as part of our landscape. It is amazing, the number of flowers down here.
Is there anything that you wish to convey about your tribe's history and traditions that you would want visitors to delve into?
I think the big thing that always troubles me is that people don't know that we're still here or never knew we were here. So much of our culture and heritage, including the ceremonies, are lost because there was a period of our history that you needed to assimilate so as not to call attention to your existence. Many of the East Coast tribes have a lot of the same cultural practices and traditions, therefore we draw on some of their historical traditions in order to revive ours.
I think a very interesting part of the Pamunkey history that most people are not aware of, is that we were on the side of the Union during the Civil War. Some of our folks were spies with Pinkerton's men, some were riverboat pilots and guides. The women washed and cooked for the Union troops when they were camped here. Some of the men were locked up at Castle Thunder in Richmond because of their involvement with the Union.
Also, people wonder why the Pamunkey Tribe wasn't already federally recognized. Keep in mind, our land treaties were made with the King of England in 1646 and another in 1677. There was no United States at that time, so therefore no federal recognition.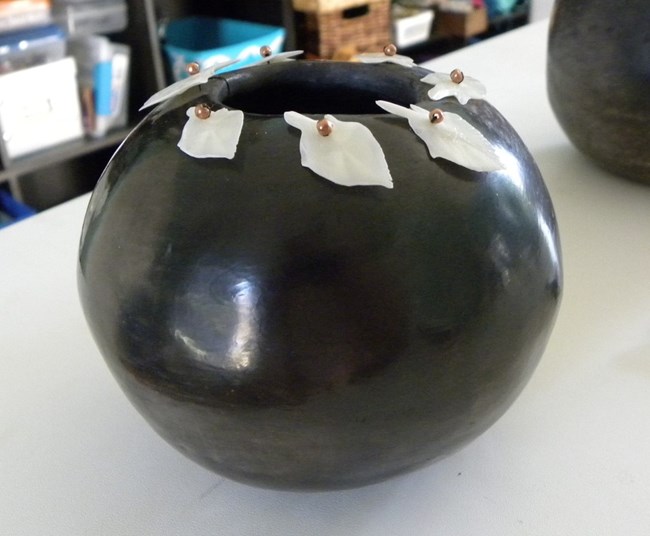 In what ways do tribes come together to celebrate their heritage and culture?
Pow-wows seem to be the main thing. Seeing how people come together and celebrate together--that always makes me feel good. You see family and friends, watching the dances, eating together, enjoying each other's company. I think federal recognition for the seven tribes has helped to promote even more unity. We meet with government departments to reach agreements that will benefit not only individuals, but our natural resources and habitat. All of that gives us even more of a common thread.
---
You can learn more about the Federal Recognition for the Pamunkey Tribe on their website.
The public can view and purchase Debra's artwork and pottery at the Pamunkey Indian Museum and Gift Shop. In addition to the museum and gift shop, the Pamunkey Indian Reservation has a cultural center, a fish hatchery, a pottery school and guild, and a schoolhouse. The pottery school was opened in the 1930's. Learn more by visiting this incredible historical place and site. For more information about the Pamunkey Tribe, visitation hours, and operations, go to Pamunkey Indian Tribe's official website.
---
CARLY SNIFFEN
As an Interpretive Outreach Assistant, Carly hopes to share her passion for the environment with the community by working to develop and promote community engagement and working to restore and protect the Chesapeake Bay watershed.

HANNAH DICKINSON
Hannah is an Oklahoma native and citizen of the Cherokee Nation, but grew up in a traveling military family. Currently pursuing a degree in Human Communicative Theory at the University of Oklahoma, she is passionate about working with ethnically diverse communities in hopes to strengthen interethnic communication. She anticipates using her skills in communication to attract more attention to tribal protection and nature conservation. Hannah's hobbies include cooking, taking care of her house plants, spoiling her cat, and traveling with her boyfriend to national and state parks whenever they can.
Last updated: November 10, 2021