Before 1819, the U.S. Customs Service occupied at least thirteen rented facilities in Salem. Eventually it became clear that Customs Service officials needed a secure and permanent headquarters; and the Federal Government wanted to declare a strong and impressive presence in Salem. So in 1818, the U.S. Treasury purchased property directly across from Derby Wharf. The following year construction began on the still-standing Salem Custom House.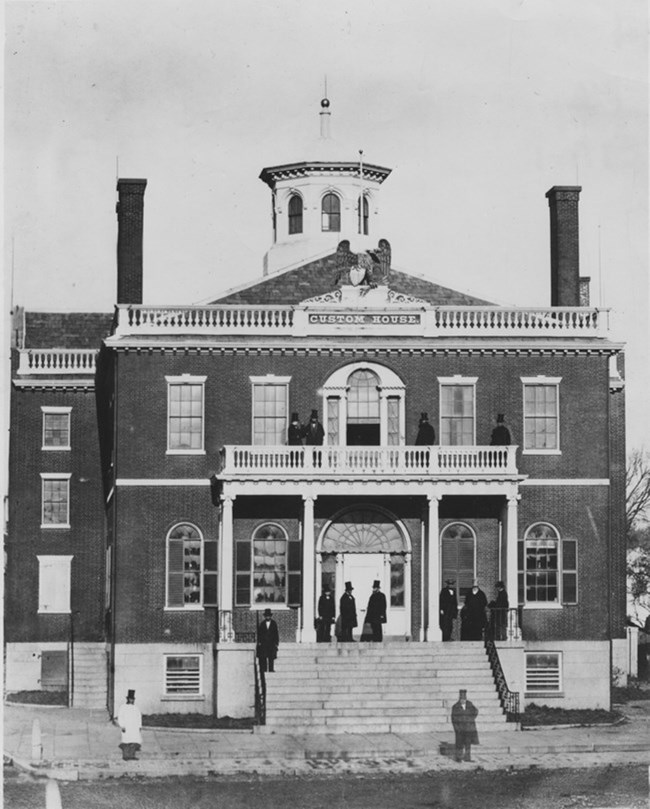 Employees
The officers of the Custom House worked for the Collector of Customs. The Collector of Customs was assisted by a Deputy Collector, mainly responsible for record keeping in the Salem Port. Third in command was the Surveyor of the Port, who supervised inspectors, weighers, and gaugers. Perhaps the most famous Salem Inspector of Revenue was Nathaniel Hawthorne, who occupied the post from 1846 to 1849.

Inspectors were authorized to board any vessel to inspect, search, and examine cargo. They were responsible for ensuring ship captains and merchants complied with federal law. Together with weighers and gaugers, these Customs Service officials weighed and measured the cargo entering Salem's harbor, and were responsible for calculating the duties (taxes) owed by merchants.

In 1789, inspectors were authorized a salary of one dollar and twenty-five cents ($1.25) per day. By 1816, this salary increased to three dollars ($3.00) per day.

A Naval Officer served as an auditor, assisting the Collector in estimating duties to paid. The Naval Officer kept separate books to verify the accuracy of transactions.
When a Ship Sails In
When vessels sailed into the Salem Harbor, the Custom House yard bustled with activity. Inspectors, weighers, and gaugers gathered up portable scales and headed towards the water. Giant scales were assembled on the wharf where Customs Service employees measured and counted all the incoming cargo. Accounting for cargo and assessing duties could be a long process, sometimes taking more than two weeks for one ship.
Inside the Custom House, in the Collector's Public Office, ship captains and merchants paid duties on their imported cargo. But what if the duties assessed were too high?
In 1790, the Derby owned ships Light Horse and Astrea, returned to Salem carrying a large cargo of tea from China. The newly established U.S. Customs Service assessed their value and determined twenty-five thousand dollars in import duties were due. Unable to pay cash upfront, and unwilling to flood the market with an over-supply of tea, Elias Hasket Derby petitioned Congress to establish a bonded warehouse system.
This new system allowed goods to be stored in a Customs Service warehouse for an extended period of time, until duties and storage fees could be paid. The concept proved popular, allowing merchants to store their cargo for a fee as they waited for market values to increase. When the new Salem Custom House was built in 1819, it included a bonded warehouse known as the Public Stores.
The Salem Custom House Today
Despite paying high taxes, it was not unusual for captains and merchants to turn upwards of a one hundred percent profit. Today you can visit the Collector's Public Office in the Salem Custom House, where the duties collected became an important source of revenue for the young United States. It was also in this room where Customs Service clerks kept meticulous records, on ship enrollments, crew lists, manifests, and various other forms filed by captains and merchants. This rooms still houses original ledger books in addition to numerous other artifacts, including inkwells, pens, bottles, and record books.