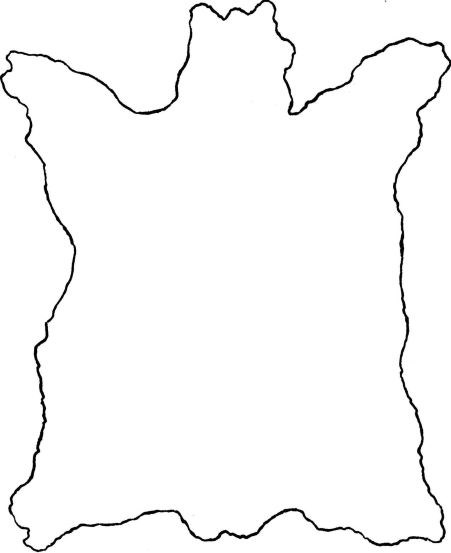 Winter counts are records of history for many American Indian tribes. Northern Plains tribes used winter counts extensively. A year typically went from the first snowfall to the next year's first snowfall. Elders would come together and discuss things that happened throughout the year. They would choose one event that was a reminder of the year, and that was the image painted as a pictograph on the hide.

The keeper of the hide had the duty to remember the stories of each year painted on the hide in order to remind the people of what had happened. This is known as an oral history. Events weren't in a written language, each pictograph represented an event that someone recounted and passed down.

How to make your own winter count
To make the Buffalo Robe:

Print and cut out the buffalo hide, you can use construction paper, craft paper or any paper you wish, or

Download the image and use a computer program like paint to make a digital winter count, or

Draw your own buffalo robe and make your winter count.

Decorate the hide with a specific or special event during the year.

Think about what was the most important event in your life, your family's life, and in your community in the past year.

Why was it so significant? Who was affected by it?

How will you create one pictograph to describe that event? What elements need to be in the pictograph to memorialize the event, so in 100 years someone would understand and remember the event you chose.

Share your Winter Count on our Facebook page!.
Alternate Activities
Write out an important memory as a story. What single symbol represents that story. Describe it. Post your description to our Facebook page.
Draw a circle. That circle is your buffalo robe. Decorate your circle to represent a significant memory. Post a picture of it to our Facebook page.
This video from the Smithsonian Institute describes the history of Lakota winter counts as well as how historians view them today.

To the right is a winter count created by Battiste Good, a Brul&#é; right is a winter count created by Battiste Good, a Brulé Dakota living at the Rosebud Agency in South Dakota. It was likely made at the turn of the twentieth century. Special characters denoted famines, the introduction of the horse, buffalo hunts, severe winter storms, smallpox epidemics, and other significant events.