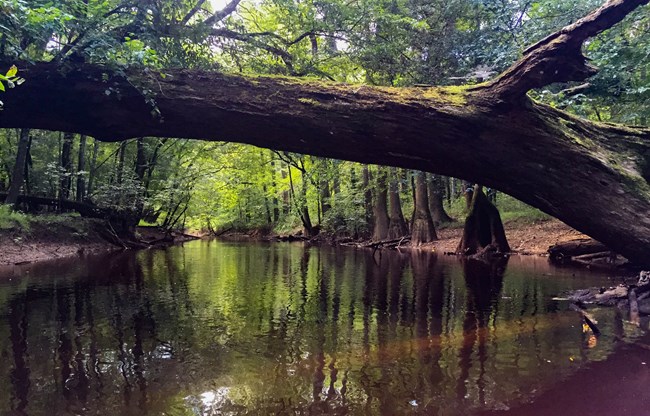 From the floodplain wilderness at Congaree National Park to productive farm fields to imperiled longleaf pine stands and historic earthworks, the Congaree Biosphere Region (CBR) is a rich mosaic of natural beauty and cultural legacies. Located southeast of Columbia in central South Carolina where the Congaree and Wateree rivers join to form the Santee River, the region is informally called the Cowasee Basin (an amalgam of the river names) and "the Green Heart of South Carolina."
The two dominant ecosystems—the bottomlands (floodplains and creeks) and the uplands—support significant biodiversity and ecosystem services. The floodplains encompass significant tracts of old -growth and mature second growth forest of cypress, tupelo, and dozens of other tree species. The uplands were historically home to abundant longleaf pine, shortleaf pine, and mixed hardwood forests; the longleaf pine ecosystem is considered to be one of the most biodiverse (especially in herbaceous biodiversity) and imperiled ecosystems across southeastern North America.
The CBR is the geographic center for rich and complex cultural legacies stemming from Native American traditions, African American culture (including slavery and a powerful Reconstruction story), colonial and Revolutionary war history, outdoor recreation heritage, agricultural heritage, transportation history (from railroads to steamships), moonshining, and more. A number of artists, writers, and performers have expressed—and continue to express—these evolving legacies.
Protected areas include federal, state, and county lands; non-profit operations; and private lands with conservation easements. A popular hiking, camping, and paddling destination, Congaree National Park "protects, studies, and interprets the resources, history, stories, and wilderness character of the nation's largest remaining tract of southern old-growth bottomland forest and its associated ecosystems." Fort Jackson, a United States Army Installation, contains a Globally Important Bird Area including a robust population of federally endangered red cockaded woodpeckers. While there is a long history of clearing for timber, agriculture, and development, significant tracts that were protected and managed in these upland ecosystems are thriving in the Congaree Biosphere Region today.
These natural and cultural legacies have sparked a surge in recreation and tourism. The Harriet Barber House (circa 1875) provides a glimpse into African American family life during the late 19th and early 20th centuries, with multiple events and celebrations throughout the year. The annual synchronous firefly display and festival at Congaree National Park attracts thousands of visitors. Other local events include SwampFest and the Sweet Potato Festival. The CBR's nutrient-rich soils and productive waters also support agriculture, forestry, fishing, hunting and foraging.
The Congaree Biosphere Region Steering Committee, an active forum for discussing regional issues, is in the process of creating an organizational structure to collaborate locally on fulfilling the vision and mission of the CBR into the future.
David Shelley david_shelley@nps.gov