Article
Coloring Page: Women's Suffrage Bluebird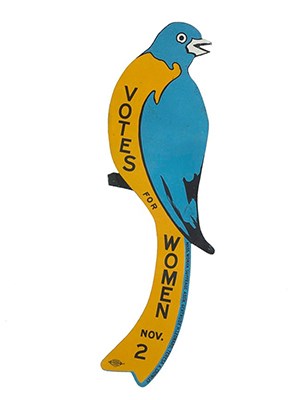 The Massachusetts Woman Suffrage Association chose the bluebird as their symbol leading up to a 1915 state referendum on women's access to the vote. On Suffrage Blue Bird Day (July 19, 1915) as many as 100,000 of these tin bluebird signs were displayed across the state. The 1915 Massachusetts referendum failed, and women did not get the vote in Massachusetts until the passage of the 19th Amendment to the US Constitution in August of 1920.
Manufactured in New York City, these tin signs measured 12 inches tall by 4 inches across (30.48 cm x 10.16 cm). They were put up on fences, posts, and walls across the state.
Read more about the symbols of the woman's suffrage movement
.
Click
here
or on the image below to download a suffrage bluebird of your own to color.
Last updated: January 5, 2021