The National Park Service posts notices of proposed deaccessions and museum items available for deaccession at this site. Notices are posted for 45 days.

The museum items posted at this site may be deaccessioned outside the Federal government only by exchange or conveyance (donation). The NPS does not deaccession museum items by sale.

The NPS may only convey museum items to institutions that are dedicated to the preservation and interpretation of natural or cultural heritage and qualified to manage museum collections. Private institutions must be exempt from federal taxation under section 501(c)(3) of the Internal Revenue Code.

NPS Clearinghouse
Harpers Ferry, WV 25425
Email: Email us
Harmony Hall in Fort Washington, Maryland – Objects Available
The two chairs below are determined to be outside the park's scope of collection. The chairs have no ties to the original families that lived at the site in its history and are out of scope for the collection. They are available for transfer to parks or other federal agencies, or conveyance to non-federal institutions.

For questions or interest contact:
Mike Antonioni, Curator - mike_antonioni@nps.gov.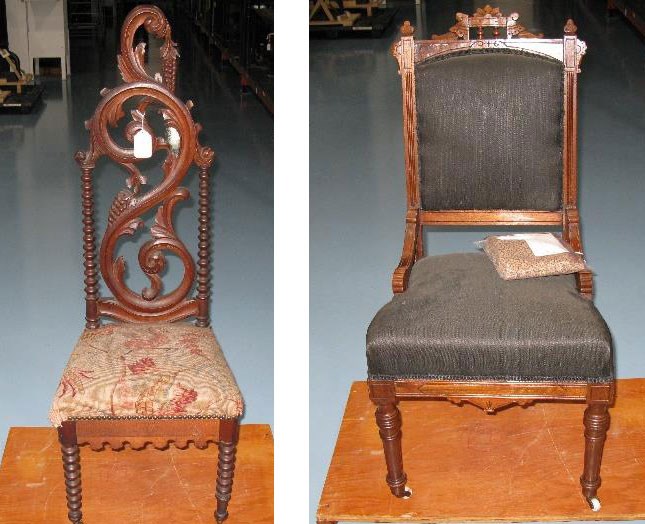 HAHA 10711, Chair
L: 44cm (cushion)
W: 42.5cm (cushion)
Depth: 7cm (cushion)
Height: 35.5cm (legs)
Height: 84cm (seat back)
Height: 124.5cm (full height)
HAHA 10712, Chair
L: 47cm (cushion)
W: 42.4cm (cushion)
Depth: 9.2cm (cushion)
Height: 34cm (legs)
Height: 50.2cm (seat back)
Height: 94.5cm (full height)
L: 17.5cm (arm length)
Fort Washington Park, Maryland – Objects Available
A pianoforte has been determined to be outside the park's scope of collection. It is available for transfer to parks or other federal agencies, or conveyance to non-federal institutions.

For questions or interest contact:
Mike Antonioni, Curator - mike_antonioni@nps.gov

Pianoforte, FOWA 205
BROWN IN COLOR.
43 BLACK AND WHITE KEYS.
HINGED TOP THAT RESTS OVER KEYS, BUT DOES NOT COVER THEM.
FOUR LEGS THAT ARE SEPARATE FROM OBJECT.
LEGS ARE WIDE, WITH TURNED AREAS FOR SCREWING INTO OBJECT.
GROOVES IN SEVERAL AREAS OF LEG.
GOLD LABEL OVER THE KEYS THAT SAYS, "MADE BY J. CHICKERING CO. BOSTON."
MANUFACTURED 1848.
72.5 L X 30 W X 14 H CM